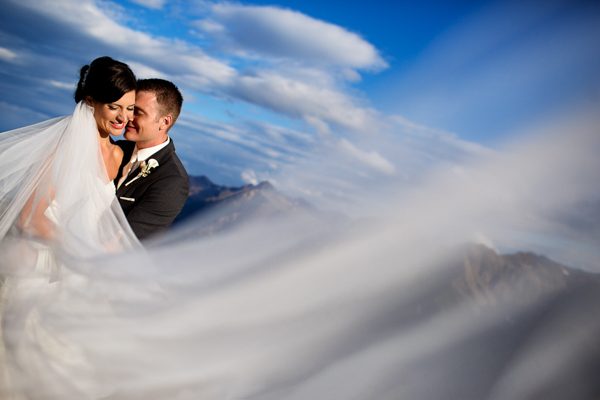 All Photos © Two Mann Studios
Set in the Canadian Rockies, Michelle and Phil's mountaintop wedding included one gorgeous veil, strikingly blue skies, adventurous climbs, and tons of laughs. I have never seen a bride smile as much as Michelle. Lucky for us all, Two Mann Studios was there to capture the emotions of the day flawlessly.
From the photographer:
Summer in the rockies is completely unpredictable. We can have all 4 seasons in one day…. such was the case with Michelle and Phil's mountaintop wedding at Kicking Horse Mountain Resort. It poured rain all morning (we're talking torrential downpour). About 10 minutes before the ceremony the rain stopped and we were treated to a ceremony among the clouds. There is so much planning that goes into a wedding day, but it's often the 'unplanned' that makes it truly unique. 'Spectacular' doesn't even begin to describe the feeling up there on that mountain top among the clouds with Michelle and Phil, exchanging their vows, and the love of their friends and family surrounding them. Lanny and I feel so privileged to be given the opportunity to document such a special event.
Michelle and Phil's happiness is contagious! Thanks so much to Two Mann Studios for sharing this truly beautiful day with us. For more work by Two Mann, head on over to their member portfolio.