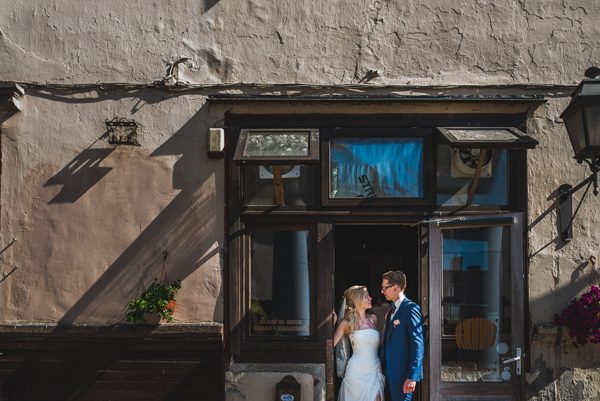 All Photos © Mantas Kubilinskas
Gabrielius and Agne hired Junebug member Mantas Kubilinskas to photograph their intimate wedding in Lithuania. Luckily for them, Mantas created a stunning set of images that we're sure this lovely couple will treasure for years to come.
From the Photographer –
"The moment I saw Gabrielius and Agne together it was hard to ignore how well they blend and work together by complementing each other's presence that results in a beautiful composition as a couple.
Their communication with each other and their attention to detail was noticeable throughout the preparation and the wedding celebration. One word comes to mind when watching them – unique. Unique in a way that you would expect a couple to be yet you know is so rare to see in this world.
What caught my attention the most were the non traditional wedding items that the couple managed to incorporate so masterfully into the wedding: Gabrielius' "Bow Tie" – nothing that I have ever seen in my life, "Grasshopper" – this is how they call it in Lithuania. Special box for wedding rings from another part of the world. Their favorite band with a special performance especially made for the bride and the groom. Just to name the few..They also mentioned that the favorite part of their day and that fit so well into the untraditional wedding was their photoshoot, which admittedly was my favorite part of the day: to work with such a couple who just truly show what real soulmates mean in this world."
Thanks so much to Mantas for sharing his gorgeous work with us. To view more work from Mantas, head on over to his Junebug member portfolio.