My heart jumped with joy when I first read the words "wedding" and "Polaroid" on Ash Imagery's blog. As instant film, photo booths, and all things vintage come back on trend, what could be lovelier for lovers of this style than to have wedding photos captured on instant film? If you have a soft spot for nostalgia this is the post for you, as Michael Ash takes us through his experience in photographing these gorgeous Polaroid wedding photos.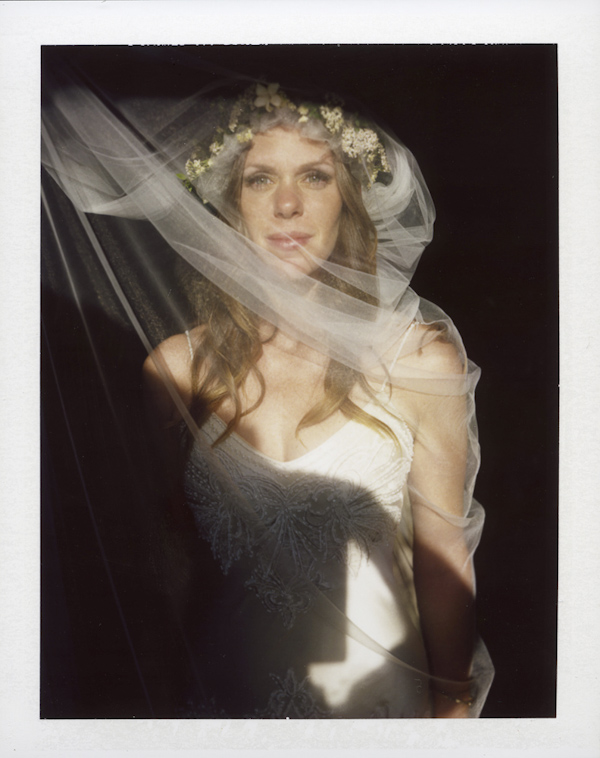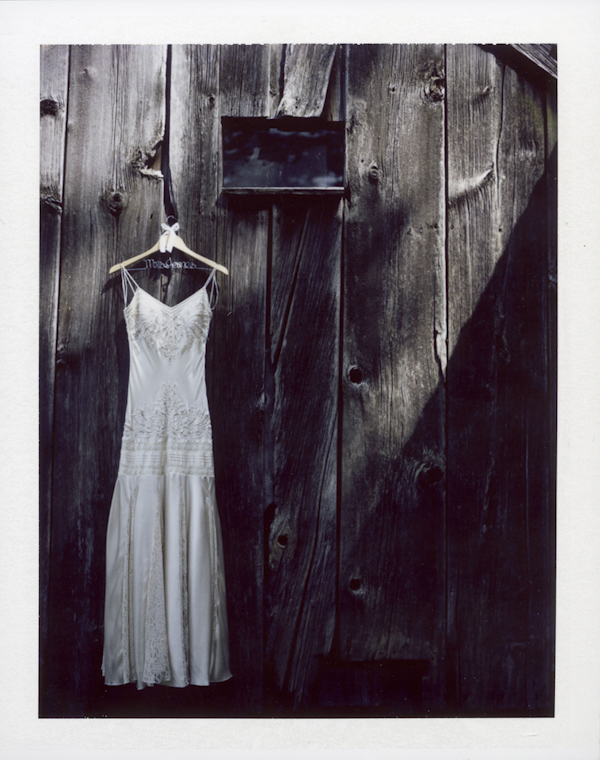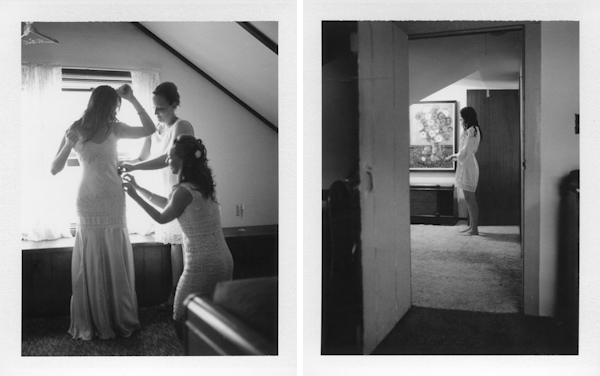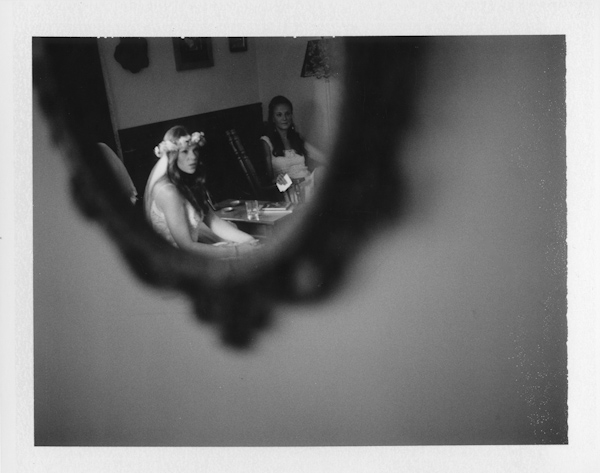 How long have you been shooting with instant film? What draws you to it? About 3-4 years. Honestly, in the beginning, I didn't understand the appeal at all. I had a photographer friend that was so upset when Polaroid announced they were ceasing production and I didn't get it. I remember saying to her .. "instant film is dead." haha. Man, I couldn't have been more wrong. Not only is it NOT dead at all…I had no idea how much love I would have for it in the future. I think at first the idea of having an image instantly in your hands was what drew me to it. After learning photography on digital, I definitely didn't do enough printing. And with instant film, you compose a shot and have it printed out for you right then and there. And not only that, it has the same flaws, color shifts, and atmosphere of regular film – which is a large reason I shoot with film to begin with. It was the best of both worlds for me.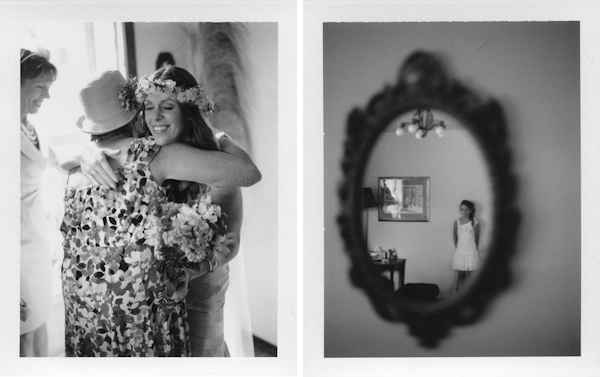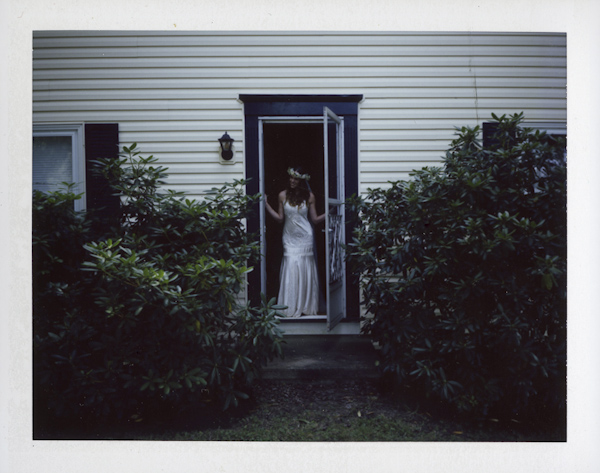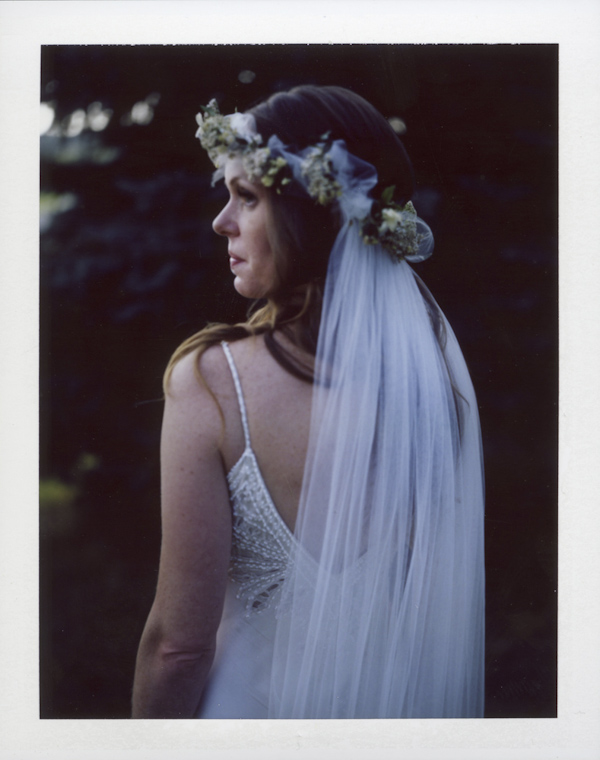 What type of camera and film do you shoot with? I have 3 main instant film cameras: Polaroid Land Camera 195, Polaroid 680, and an RZ67 with a Polaroid back. Those 3 cameras see the bulk of my work with instant film. In addition to those, I have a Polaroid Land Camera 360, a SX70, and a Fuji Instax Wide. The films I currently use are Fujifilm 3000b, Fujifilm 100c, IP BW 600, IP Color 600, and IP Color 70 (IP is short for Impossible Project). I use Fuji Instax film in the Instax camera but I rarely use that one. It's more a fun thing for parties.
What would you suggest to a couple who wants to include some instant film shots within their wedding day photography package? As of right now it's something I just do for the couple. It's not an extra cost or anything in a package. I show up to weddings with a multitude of cameras and usually shoot a few at each one. I've gotten good at determining which images will look good on instant film so I can be selective. If a client specifically wants instant film I encourage them to speak up. I currently talk to each of my clients before the wedding and I'll usually throw that in there. Lately, clients have been seeing it and asking for it specifically. Down the line, if it becomes more popular I may create an a la carte item that heavily involves instant film at a wedding but for now, I currently include it.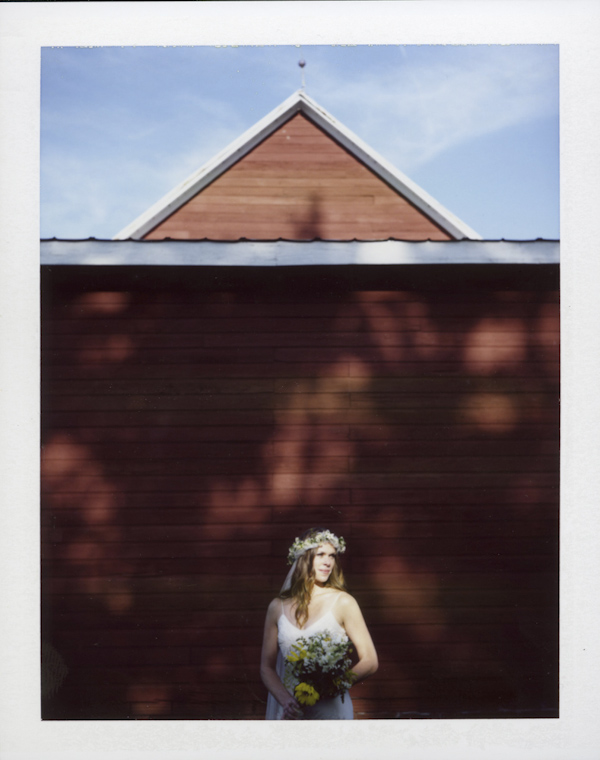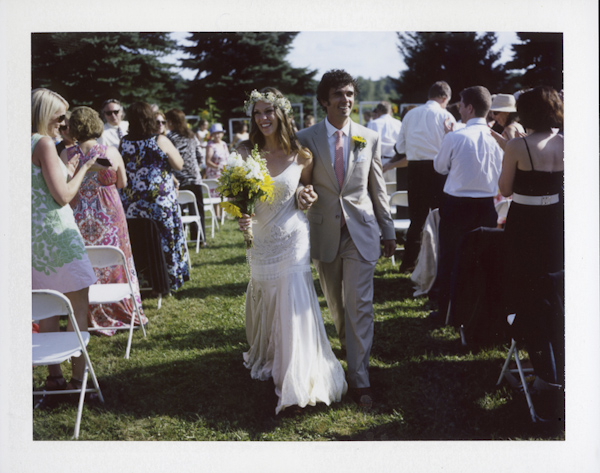 Of the photos from this recent wedding, which of these photos was the toughest to capture? Which one were you most happy/satisfied with? Easily, the images that involve heavy movement. As I mentioned, these cameras aren't geared towards photographing weddings so moving subjects is extremely hard. Especially with the land cameras which are rangefinder focusing and all around pretty slow. That being said, the one I'm most happy with is the pictures of the bride and groom walking back down the aisle (above) after completing the ceremony. For that shot I had to make sure the aperture was at something with a little leeway in case I was a bit off with focusing (I chose 5.6) and I had to pretty much line up the area of focus prior to them walking. BUT, I couldn't be in front of Gabe (the photographer I was shooting with) so I had to move with him and wait for him to be right next to me so he was out of my frame and THEN finally take the shot. I got 1 chance. 1 shot at an important moment to nail the focus, lighting, and emotion. And I think I got it right. I was so happy when I peeled that film and the print was revealed. haha. It's funny to think about now but its one of the best memories of that day.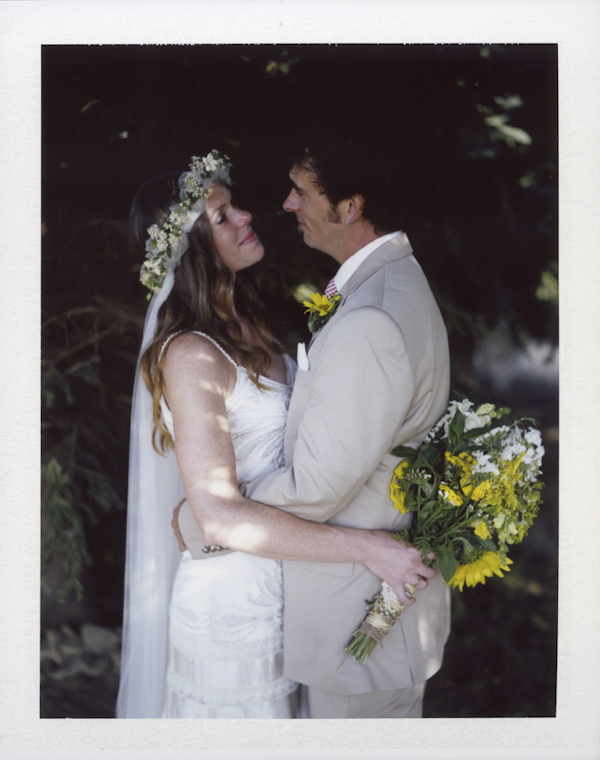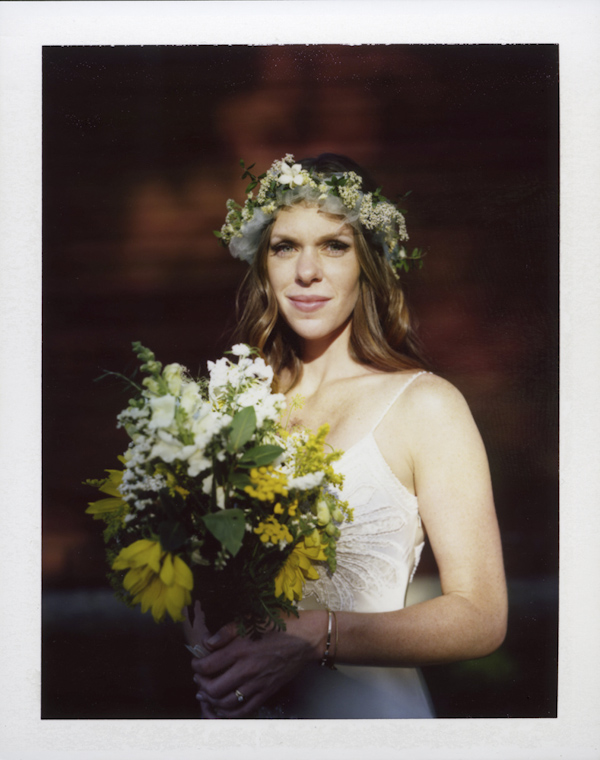 What do you see as the advantages of shooting with film, particularly instant film? The answer of this depends so much on the user but for me, the biggest advantage is ability to have a direct print right away. There isn't a concern for never printing the image. It's already done! Both digital and film shooters tend to not print their images (for the most part) and as an instant film shooter – every single one is printed! I have loads of prints right away. And on top of that, clients LOVE seeing them appear before their eyes. Now, I definitely don't show clients all the images I take (I don't believe that's a smart idea) but when I nail one and I know they are going to freak out – I may sneak a preview of it in on the session. And they always get so excited. It leaves them wanting more! On top of having each image already printed, instant film forces the photographer to "know their shot" even MORE than what a standard film shooter would do. You don't get many pictures in a pack. With Fujifilm you get 10. With a pack of Impossible Project film you get 8. So you really have to make sure your shot is well composed and you are accurate. It forces you to see things from different angles and take the time to compose the shot.
What are the difficulties of shooting a wedding in film? By far, speed. These cameras take time to use. And since you want to take even more time to compose the picture properly, you aren't wielding it like a digital camera. You tend to be slow and meticulous. This doesn't work quite well with weddings where, at times, things are fast paced. This is why I tend to use instant film primarily on portrait sessions only. I bring them along to weddings but they don't see a ton of action there. The camera process is slow and so is the loading, unloading, and developing of the film. It takes time and it also takes up space as you have to put your prints and negatives somewhere after they develop. It's quite the endeavor!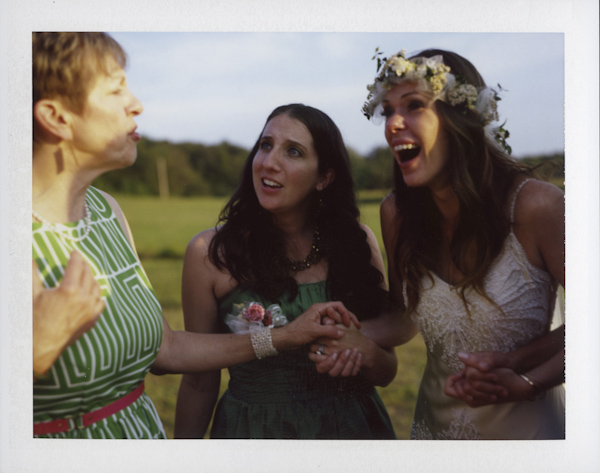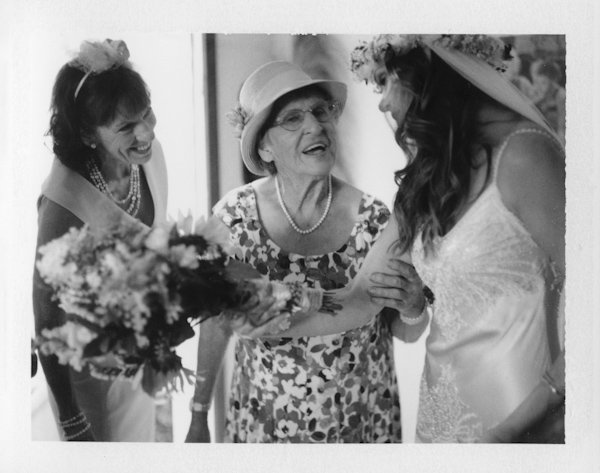 You are now offering all Instant Film portrait sessions. Can you tell us a bit about that? What couples would this be a good option for? Any tips for couples in how to get the most out of it? The main reason I did this was because I think instant film works quite well with portraits – especially boudoir. The client gets their whole session already printed and ready to go. How cool is that? Since I'm more careful with the images I make, all the pictures tend to flow nicely and be of value. There really isn't any "filler" shots at an all instant film session. If you shot digitally, you may take 500 pictures and cull it down to say 50-75 for a client. Maybe 100 if you are nice. As a film shooter I generally shoot about 125 shots per session and cull it down to about the same amount – 50 ish. With instant film my plan is to shoot 5 packs per session which is 50 shots. And since I'm more careful with pictures I create, I plan on giving a majority of those back to the client … perhaps 40. But those 40 will be already printed and I'm also planning to frame some as well. The images themselves will be the same quality image as any photographer using any medium would give out to clients – they just have a different vibe to them. And I feel that vibe better represents me as a photographer. Basically, instant film and my vision go well together. I will also be scanning each print at high resolution (and saving the negatives) so if I client does want one very large, I can do that. I honestly feel like this kind of session can work for anyone. My clients are already hiring me because they like my "vision" and the images I make – so naturally they will more than likely enjoy the instant film as it suits me well. If a client loves the work I'm putting out now, they are going to love a session like this.
What surprised you about shooting a wedding with instant film? I knew it was going to be a big undertaking and I knew it was going to be slow. What I never really thought about was what to do with all the images. I shot 6 packs of film that day. So there was 60 prints and 60 negatives laying out in a room drying, haha. It was hilarious. I basically took up a whole corner of the living room. It was a hot day so I had to peel the images fairly fast otherwise they can be ruined so I wasn't able to just carry around much. I had to take the picture, wait for a small moment to peel it, peel the image, and then find a spot for the print and the negative. By the end of the day I was exhausted. Because not only was I shooting instant film, I was also shooting my 35mm to backup Gabe. It was definitely more difficult than I imagined it would be. BUT, I had a blast and it was amazing. And I'm hoping to 2nd for photographers that want this type of shooting included in the wedding to give to clients. If I could do a couple weddings a year like this I'd be pretty stoked.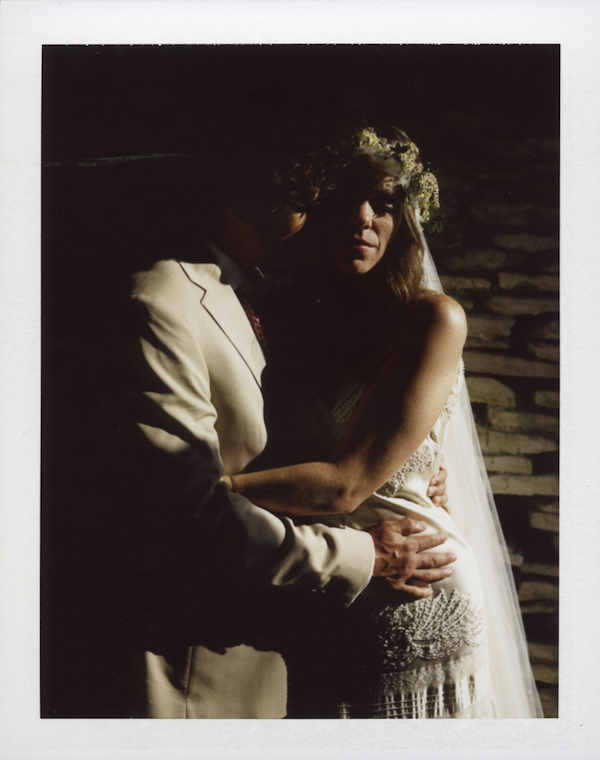 Follow more of Michael Ash's work on Instagram and his blog.