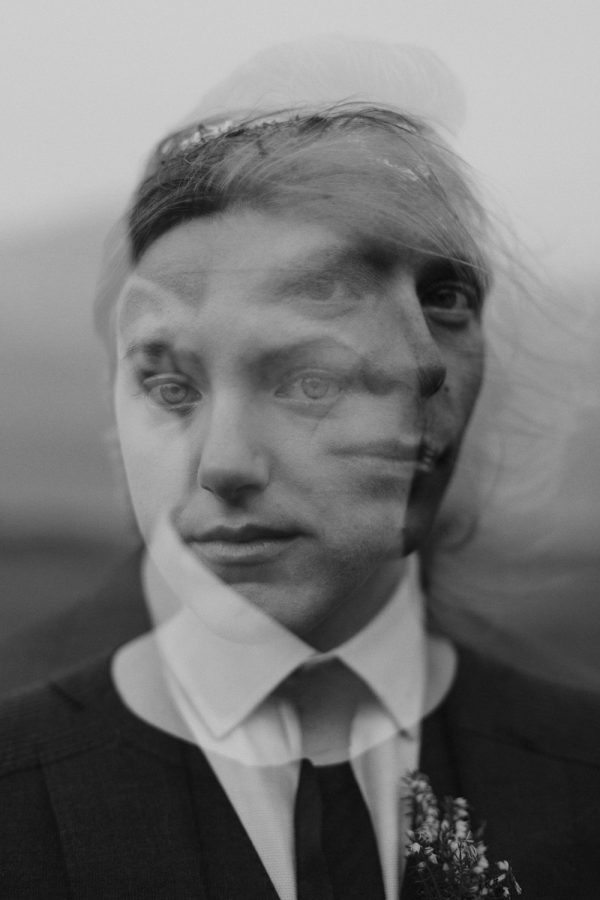 Photo by Tomasz Wagner
Recently, we challenged our Photobug Community to post their favorite double exposure images. We weren't sure how many responses we'd get, so we were pleasantly surprised when so many of you posted your work! Today, we're sharing a round-up of some of the community's favorite double exposure images from our challenge. Along with these beautiful photos, each photographer shared insight into how they created their image.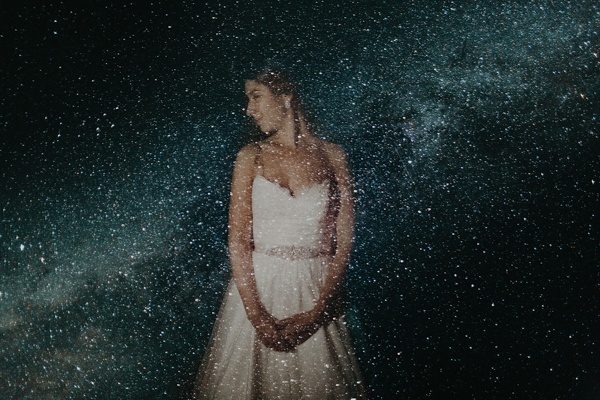 Photo by The Wayfarers
We created this image using the in-camera multiple exposure feature on the 5D MkIII. The bride mentioned that her favorite part of going to Vermont was seeing the stars. We thought we could create something cool for her. First, we photographed the Milky Way in the mountains, and we used that as a base image for the second exposure of the bride. It was nighttime, so we had no real light sources except an iPhone flashlight and some car lights. The color temperatures between the two lights ended up being pretty good, and it illuminated her enough to take the shot. We tried a few times before getting the right composition and exposure, and it produced a cool result.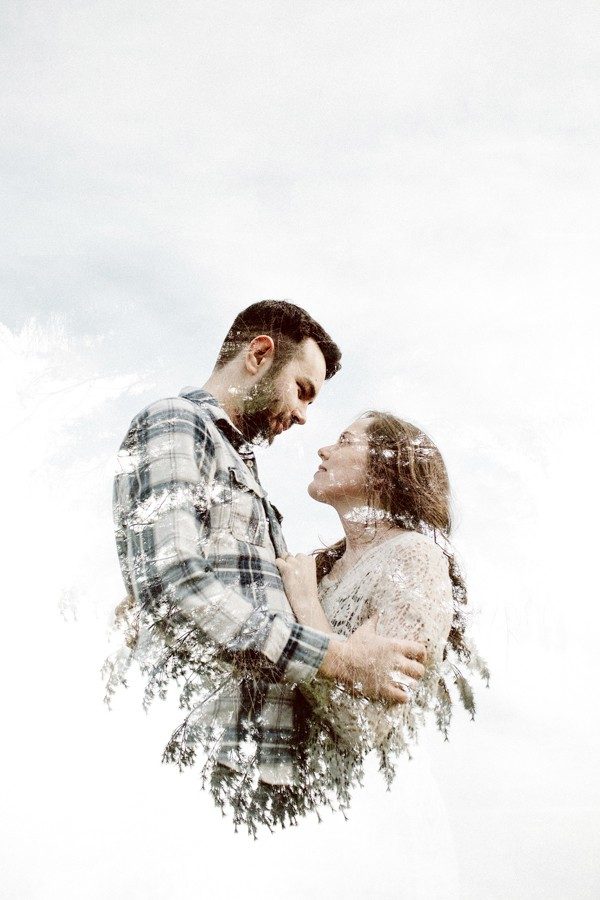 Photo by Eastlyn Bright
I created this simple double exposure in-camera with a Mark III using the live view mode. I positioned my couple so that there was nothing behind them except open sky, and then from below their shoulders, pointing my camera up toward them, I shot the first image underexposed. For the second image, I flipped my camera over so that the image of the couple was upside down, and then lined-up their silhouettes with the top of a fir tree. The camera automatically layered these two photos together so that no layering had to be done in post.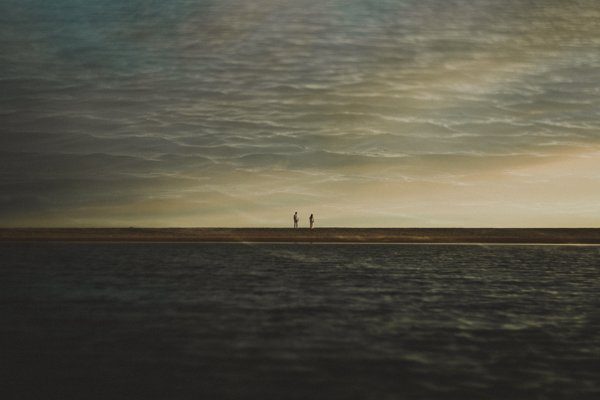 Photo by Martijn Roos
This shot was created when the sky was kind of boring, I wanted to fill the dark part with something interesting. When I walked up to the water, I saw the same stripey pattern in the water and clouds. I decided to try to make the clouds look like they were blending in with the water. As with most double exposures, it makes a photo more interesting and weird at the same time. I think that's what I like about double exposures, you have to look at it a little longer before you realize what is going on. This double is exposure is done in-camera with the Canon 5D MARK III. I still struggle with double exposures that include faces, I hope to become better at those. As with most things, getting a double exposure right means you need to practice a lot. I see great things happening with multiple exposures in the future, I am looking forward to seeing creatives like Jacob Loafman and Liam Warton go crazy on these kinds of visual compositions. I will try to incorporate more double/multiple exposure work into my wedding photography for the rest of the season.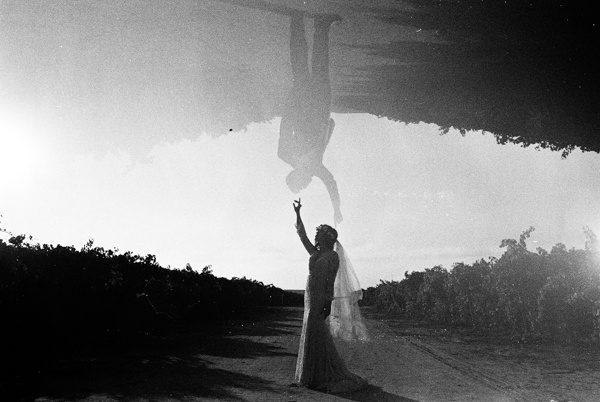 Photo by Liam Warton
So this image was taken at a wedding I shot alongside Jacob Loafman last year in California. I made it with my Contax g1 which has a multiple exposure menu option, just so easy to do! I took the first photo of the bride and then flipped the camera and took the photo of the groom (underexposed both shots by two stops). No wizardry involved…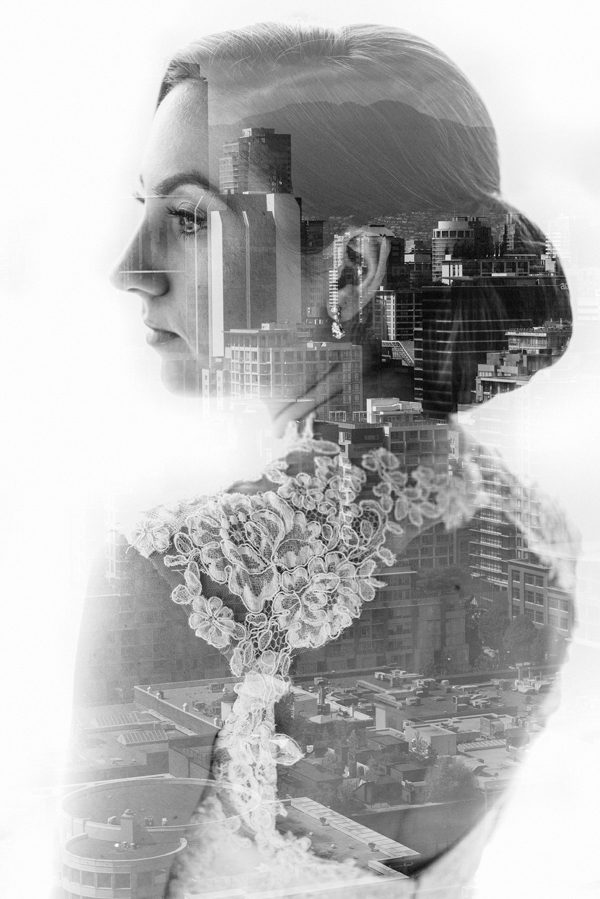 Photo by Mathias Fast Photography
Soon after entering the penthouse suite where Laura and her girls were getting ready I knew I wanted to try a shot like this. I wanted to combine a portrait of a completely calm and relaxed bride with the beautiful view she got to enjoy all morning. Double exposures on Nikon gear can be a little tricky without a live preview so the "calm" and "relaxed" part was essential to making this photo as it took a number of attempts. I shot two frames, one overexposed of Laura standing up against the window with only the sky in the background and the second slightly underexposed of primarily all buildings.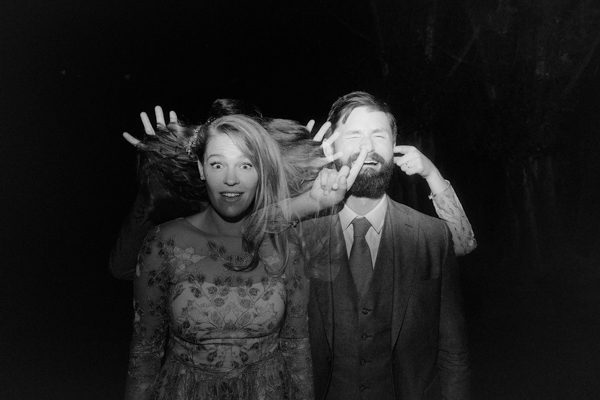 Photo by Tomasz Wagner
I wanted to get a playful photo of the couple that was a bit offbeat and fun during their reception. I had Andrew stand behind Jessica and instructed him to do something with his hands that I'd be able to see. I then asked them to switch positions, shifted my camera slightly to the right, and instructed Jessica to do the same. This was an in-camera double exposure using a direct flash.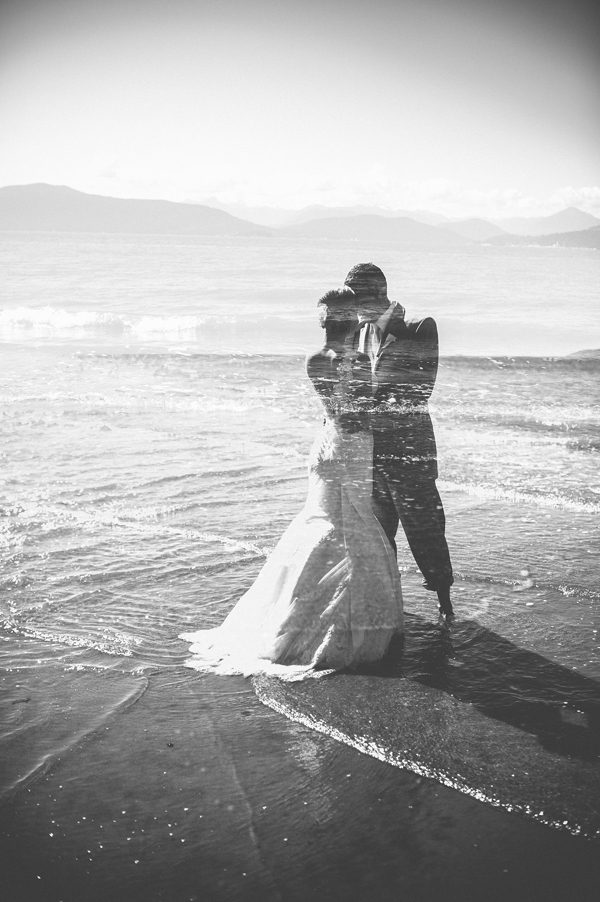 Photo by Dallas Kolotylo Photography
This double exposure image was taken in-camera, including one photograph of the couple together in the water and one of the water and mountains. I love how the waves over the couple in this image are subtle and don't overpower them, the two shots just seemed to compliment each other so perfectly and I'm so happy with how it turned out.
If you're new to double exposure, here's a really great tutorial for Canon 5D Mark III users from Sara K Byrne. Don't own a Canon 5D Mark III? Here's a list of cameras that have a multiple exposure feature.
Thank you to everyone who shared their work with us. What should we challenge the Photobug Community with next? Let us know below!