Photo by Ryan Chard Smith
When you spend all year creating thousands (and thousands) of images, sometimes it's nice to step back and really think about which images impacted you the most. With the close of 2016 fast approaching, we asked our Photobug Community to share the image that made them most proud in the past year. Today, we're sharing a small collection of those images along with why each image means so much to that photographer. Enjoy!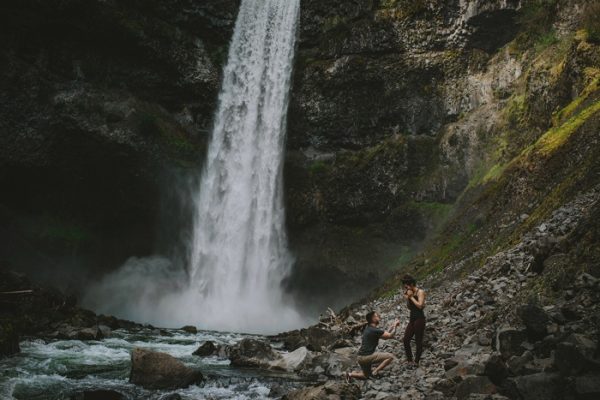 Photo by Joelsview Photography
My favorite image of 2016 is without a doubt this moment. It was one of the best days of my life, I asked my best friend/girl of my dreams to spend the rest of her life with me and she said yes! To top it all off, I captured it myself with a tripod & timer.
We drove to Whistler for a weekend getaway, and the whole time I mentioned an awesome hike to do and that we'll definitely have to grab a photo once we're there (which was why I was bringing my camera gear). Once we were at the bottom of the most breathtaking waterfall, I set my camera up on a tripod and told her to walk to where we'll be standing so that I could frame the photo. As she walked away I grabbed the ring out of my camera bag and slipped it into my pocket, set the camera on a 20-secondd timer, and ran over by her side. About 10 seconds in, I got down on one knee and asked her to spend the rest of her life with me. She said yes! We spent the weekend exploring Whistler and celebrating. I have a feeling that this will be a favorite photograph of mine for a real long time! – Joelsview Photography
We spent the weekend exploring Whistler and celebrating. I have a feeling that this will be a favorite photograph of mine for a real long time! – Joel Jaszczyszak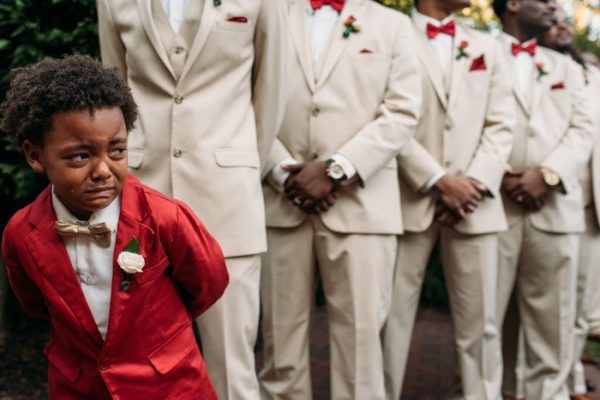 Photo by Wandering Woo
This has got to be my favorite photo of the year. This child is the son of the bride. All morning he was walking around with a pouting face because he couldn't get his baguette in the morning. When he saw is mother down the aisle he suddenly let his emotions run loose. It amazed me that he felt the wedding within himself, the love of all the family, friends, and mother's love. – Paul Woo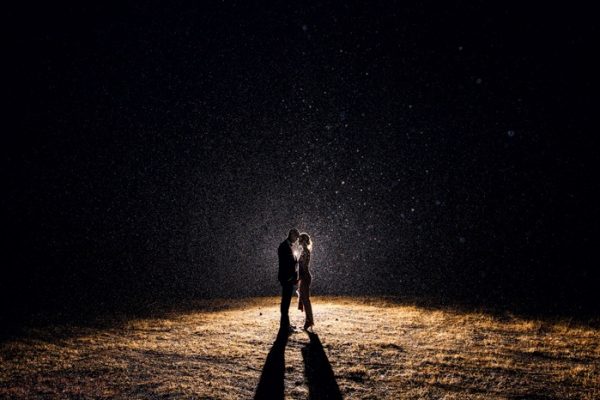 Photo by Life Photography
I'm proud of this image mainly because this couple got dragged around in the rain all day. It rained from the morning till night on their wedding day. They had an outdoor festival wedding planned and had to reorganize everything on the morning of the wedding. They took it all in stride. Never complained once, even after getting absolutely drenched during their photos.
Then after dinner (I swear they were only just getting dry and warm) I mustered up my courage to ask them to go outside with me in the rain. Again! I thought they would have had enough, but they were super excited about a night shot. So they just stood there, got absolutely soaked again and just lapped up the moment.
Taught me to fully trust my gut instinct and never be afraid to ask when a great photo opportunity arises. I'm proud that my clients trust me 120% and give me complete creative freedom. – Maz Pedersen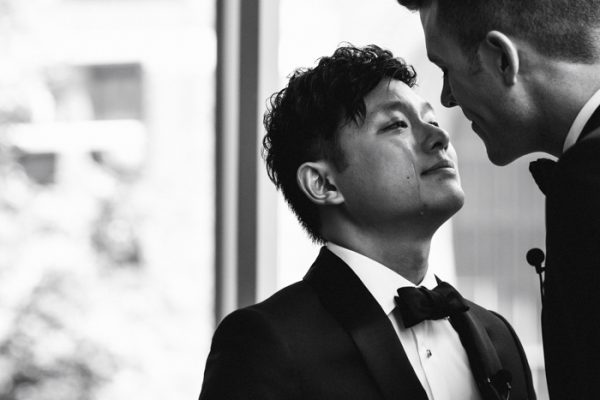 Photo by Frances Beatty
I've taken lots of pretty photos this year (in my humble opinion), but this is the one I always come back to. Just a quiet and tender moment. These two tugged on my heart strings in some serious ways over the last year + and I love them dearly. – Frances Beatty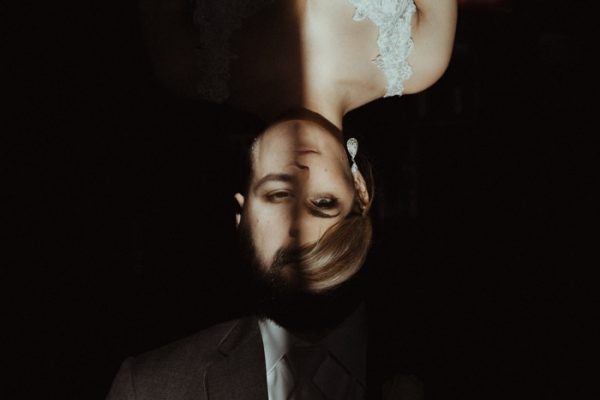 Photo by Jacob Loafman
This is from the very first wedding of the year. I'm proud of it because I executed the idea in one shot, which rarely happens. We were at the reception venue before everything started, and had about 15 minutes for portraits. So, I took them backstage to a storage room that had amazing light coming through the windows. I was taking a portrait of just the groom with the light splitting his face, and then I thought, "I could probably merge their faces together using a double exposure." So, I took a shot of him, asked her to step in, flipped the camera upside, and took the shot of her. I showed them the back of my camera and they exclaimed, "OH MY GOD! WE'RE DONE! That's all we need!"
I'm proud of it because the clients were just so ecstatic about what we created. It's a strange, but wonderful, feeling when you have clients that appreciate your creativity… even if it's a little out there. I was proud to hear them exclaim with joy. – Jacob Loafman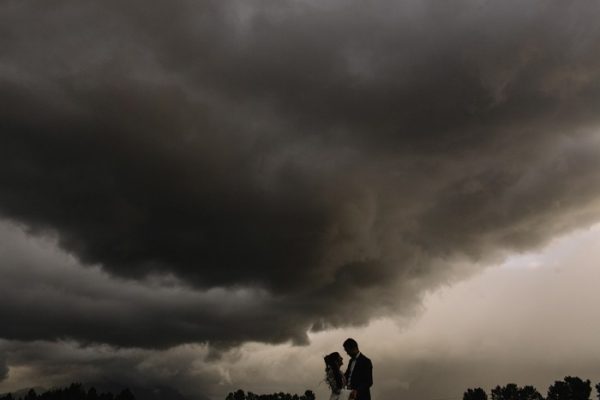 Photo by Justin Davis
Cape Town, South Africa has the most unpredictable weather. This image is one of my favorite shots from 2016. We took this on the way to the reception and as the rain stopped we had a chance to create some epic shots with the clouds. – Justin & Simone Davis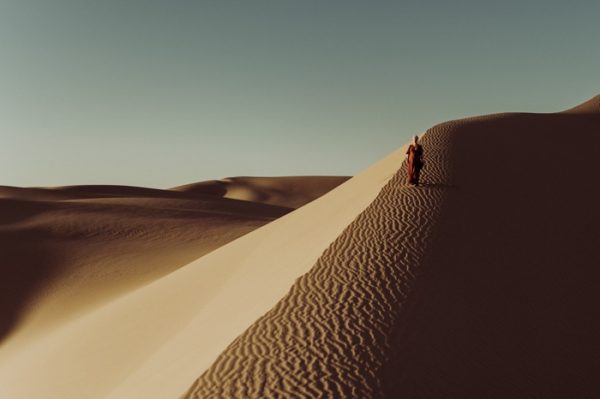 Photo by Singler Photography
This image is my favorite image of 2016 because it's my wife at 7 months pregnant. This is our first and she makes her debut in just over 2 weeks. CRAZY! As photographers, we sometimes don't make time to shoot for ourselves and this is one time we did. We woke up early, we made the drive, shot at sunrise and we are so glad we did. We are excited for our daughter to grow up and see this set and say 'Whoa, Mom was a babe!' – Dustin Singler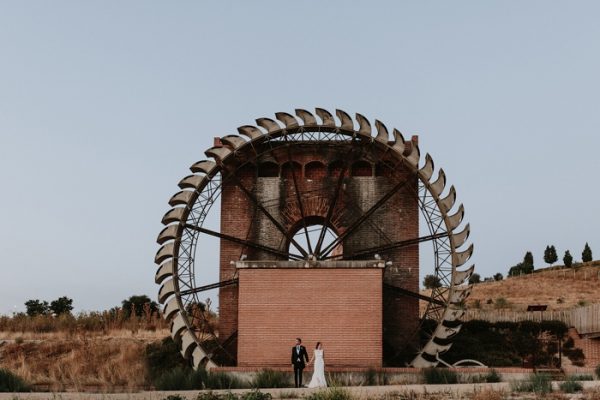 Photo by Prisma Blanco Fotografia
We are very proud of this image because we took it after 40 minutes of the session and the couple was really really tired and we almost lost this location… So it was worth it. – Prisma Blanco Fotografia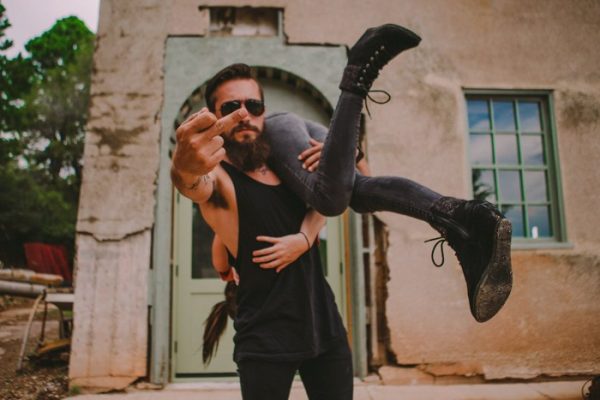 Photo by Pol Sena
Two reasons why this is my most favorite image of 2016;
One is that I like out-of-the-box thinking. I love work that challenges standards. I'm still trying to struggle out of mediocrity and be able to deliver my out-of-the-box visions, but unfortunately, it's not so easy to do in a service oriented industry because the bottom line is, we still need to satisfy our clients. This image inspired me to do more and challenge myself and go beyond my own box. I'm still on that journey and fingers crossed, I find what I'm looking for.
Second reason is that this couple has become my inspiration, both creative, loving and kickass… they embody a relationship I want for myself. This will sound cheesy but we all dream of a love story and a marriage for ourselves, the kind that makes us giggle and daydream. These two have it, spending time with them is like watching my favorite love story… very inspiring. – Pol Sena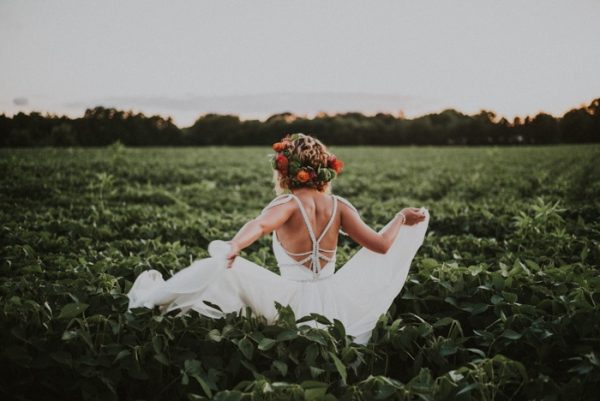 Photo by Hinterland Stills
This is one of my favorite images because of how it happened. She was a little drunk, the sun had just set and I told her to just run off into the field, spin around and have fun with it all! It's a little blurry and I don't even care. It's unplanned and perfect to me. – Kyle Wilson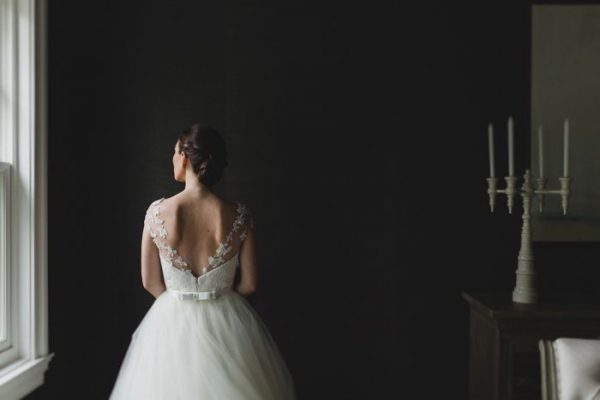 Photo by M Lindsay Photography
This has to be one of my favorite images from this wedding season because to me it conveys a sense of quiet and calm, and is even a bit painterly. It's ironic that the reality of this wedding day was that it was storming, the reception was to be in a tented backyard (with no backup plan), and people were a bit on edge due to the weather. It's my job as a photographer to help my clients breathe, take a moment to relax, and to create beautiful images no matter what kinds of weather or timeline related constraints (that are many times unpredictable) are thrown our way. Instead of doing portraits of the bride outside, we had to stay inside and make some magic. – Meagan Lindsay Shuptar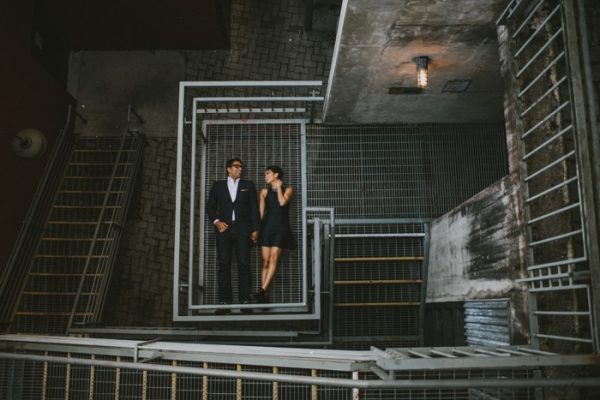 Photo by Sara Rogers
So hard to pick one favorite image from 2016 but I chose this one because I've been experimenting more with thinking outside the box this year. Cool things can happen if you just change your perspective! – Sara Rogers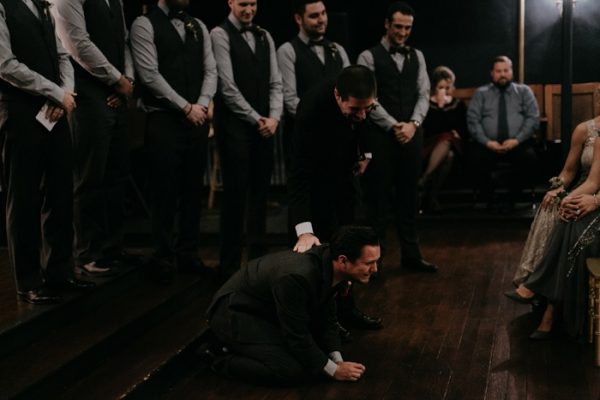 Photo by Summer Leigha Photography
I would say that this is my favorite image from 2016. It was taken just this past Saturday; and although it is dark and might not be perfectly composed, I love it because of the raw emotion from this groom/father and how it tells the story of just how much he loves his little girl. He started sobbing seeing her walking down the aisle (before his bride) to the point where he could no longer stand. – Summer Ghantous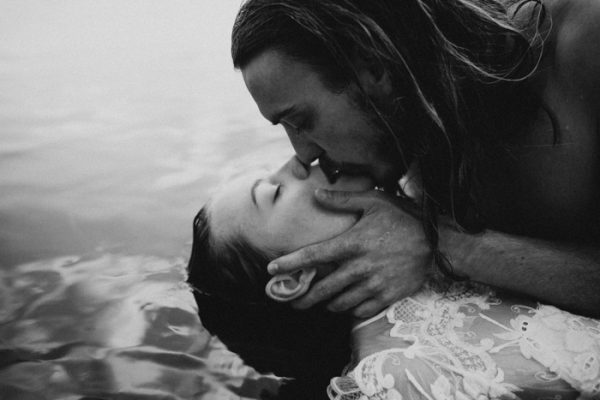 Photo by Martijn Roos
As a human, honesty and openness are very important to me. This first year of full-time photography was very hectic for me, yet beautiful and rewarding. When I look back at this year, I realize how much of an honor it is to play such an important role during a wedding day. When the couple sees you as a person and not as 'the photographer guy,' the connection is much stronger, and so are the results in terms of photography.
The couple in this photo trusted me with their hearts and allowed me to do whatever I wanted to do. We created an atmosphere in which we could all be relaxed and open, and made it possible for me to take very personal and intimate shots. Next year, I am hoping to experience this even more, with more amazing people, more beautiful stories. All the couples have backgrounds, have stories, hardships, but above all, much love. It is my job to open my eyes and see these things and use these to create meaningful images. That will be my goal for 2017. – Martijn Roos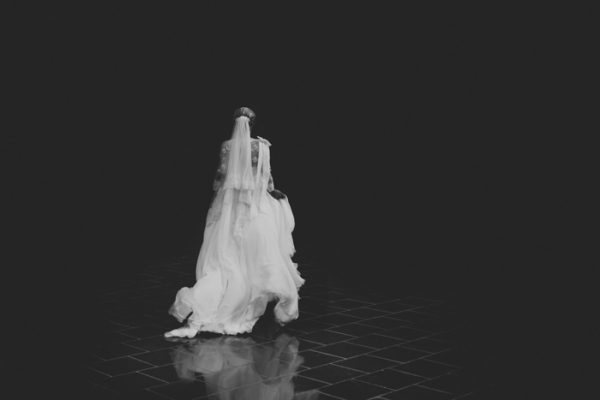 Photo by Anne-Claire Brun
Hard to pick but I think this one is my favorite this year. I've been struggling to get out of my comfort zone and create something different. Something I haven't done before.
Most of the time, the photos I like best are lucky moments. I always refuse to take that much credit because I find that most of the reasons that made the photos good are outside of myself. An incredible sunset or sunrise sky, the perfect moment with birds of confetti…. in others words: luck.
This year, I was more careful with what I created. I knew what I wanted to capture, in addition to the "key" moments/photos. This is one of the photos I saw in my head before I made it happen. We were about to leave for the ceremony location and inside an old building rebuilt into a hotel in the north of France. The light was pretty dim in this part of the hotel and only coming from high windows. I wanted to see the bride running away, towards the door to her wedding. I wanted the focus on her and the movement – her excitement. I had her running and took photos when the light of the window hit her.
I loved the reflection on the floor and I polished the image with Lightroom to darken the few visible parts in the background (not clear enough to be interesting – they were just distracting). – Anne-Claire Brun
Photo by Ryan Chard Smith
Favorite image 2016. Sometimes (ok, most of the time) I feel like I have no idea what the hell I'm doing. This image taught me that that uncertainty is my greatest strength as a creative. – Ryan Chard Smith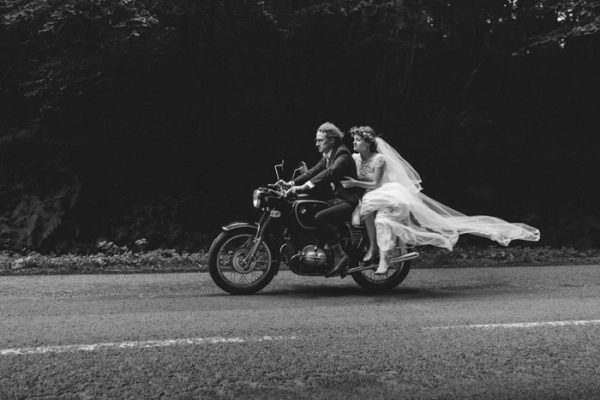 Photo by Megan Saul Photography
It was tough to choose my favorite image because, really, I have two but I selected this one because it was so thought out, planned and executed. I've always fallen more on the documentary side of photography and this year I dove more into editorial and I'm just still stunned I pulled this off. Always learning, always growing. – Megan Saul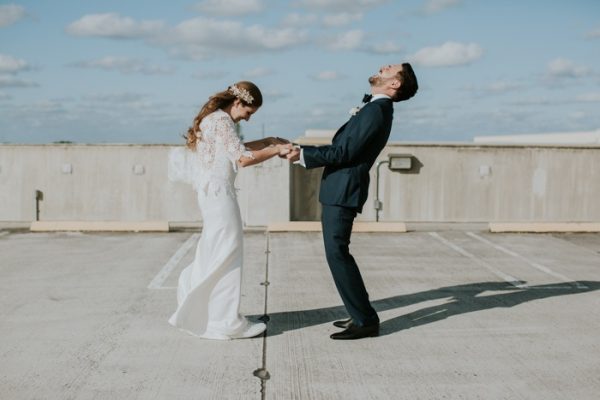 Photo by Lauren Louise Photography
My goal for the 2016 wedding season was to catch more genuine, less posed moments between my couples. I wanted to be intentional in documenting stories, rather than directing them; prompting my couples, rather than posing them. I learned that if you prepare your couples by setting the expectation and educating them on your style and philosophy beforehand, the authentic moments will come more naturally and effortlessly. Creating trust from the first email inquiry all the way up to the wedding allowed my couples to feel comfortable enough to be themselves in front of the camera. I was able to capture intimate interactions without feeling intrusive. To me, this image taken from my last wedding of 2016 represents that accomplishment! – Lauren Louise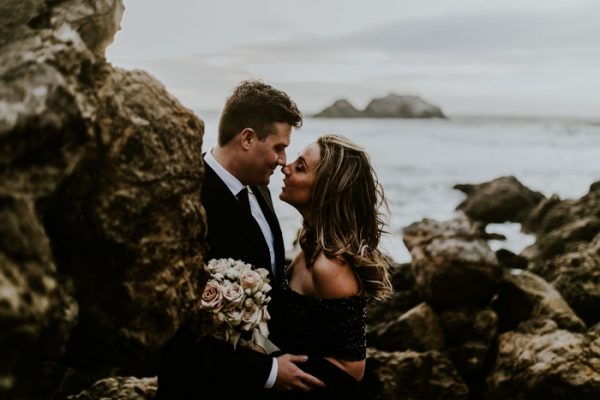 Photo by Lynn Chang Lewis
This June, I married the love of my life and little did I know that all the wedding planning would escalate into a newfound passion for couple photography. Though I had been doing landscape photography for years, I had never thought of doing it as a career. After the wedding, I sold my wedding dress and traded my Canon Rebel for my first professional camera and lens. Over the past few months, I did my first product shoot, my first venue shoot, my first family portrait shoot, my first senior portrait shoot…and my first engagement shoot! And also my first bouquet design, my first party as a planner, and first wedding as a coordinator! As I tried all these new projects, I found myself still falling more in love with engagement and wedding photography. Looking to next year to grow and learn from all of the amazing photographers in this community – and hopefully, land my first wedding shoot! – Lynn Lewis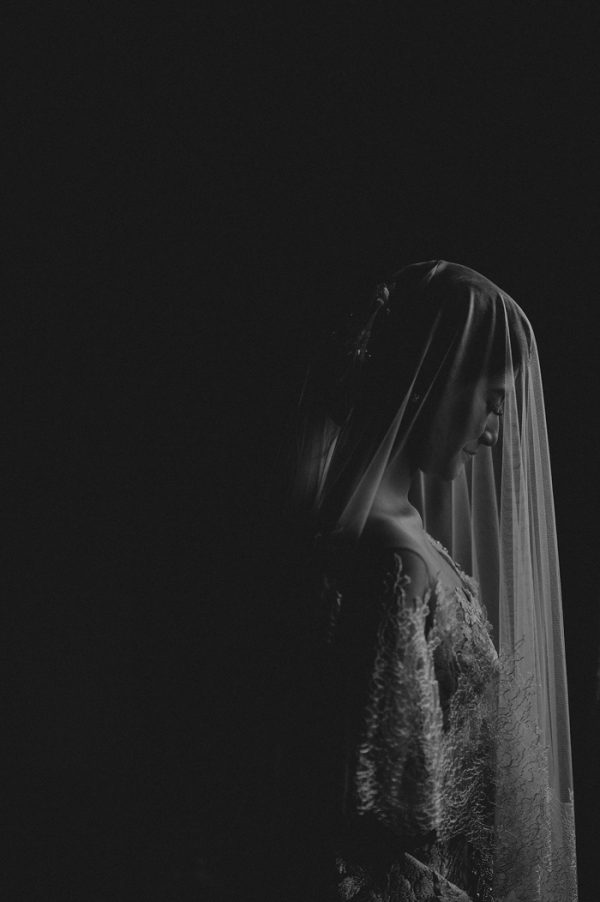 Photo by Bastian Najich
My favorite image in 2016. She's so nervous before the wedding, and every minute she prays for her wedding. She wants to cry, but can't. – Bastian Najich
Cheers to the New Year, everyone! We're excited to see what you create in 2017!