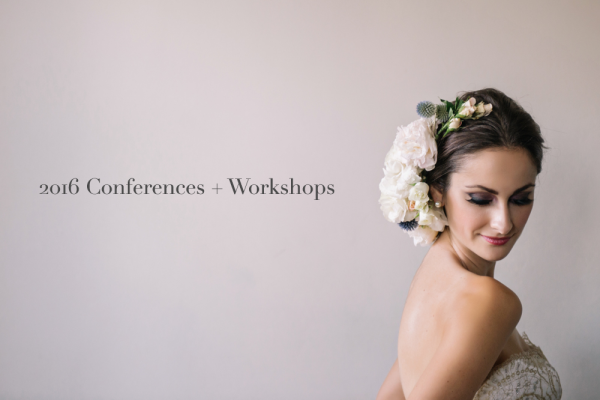 If you're looking for some extra motivation and drive in order to really kick some serious booty in 2016, take a gander at some upcoming events for this year that we think will give you just what you're looking for!
– Conferences –
Way Up North Rome 
Europe's biggest wedding photography event, Way Up North was started by world renowned photographers, Cole Roberts and Jakob Granqvist of Nordica Photography. Way Up North aims to provide relevant insights from industry leaders to benefit photographers in their local marketplaces. This year's speakers include Anna Kuperberg, Brian Morrow, Citlalli Rico, Davina & Daniel, Jonas Peterson, Lelia Scarfiotti, Logan Cole, Oli Sansom, Ryan Muirhead, Sam Hurd, and Tonhya Kae.
Dates: 4/11/2016-4/12/2016
Ticket Pricing: 495€-695€
Location: Rome, Italy
*** If you're a Junebug member, you qualify for a 50€ discount on your WUN tickets, but hurry! This promo expires on 1/31/2016. Get more details here.
Book it: https://www.wayupnorth.co/rome2016/book/index.php
Way Up North Stockholm 
Speakers include Gabe McClintock, Benj Haisch, Dan O'Day, Danelle Bohane, Kristen Marie Parker, Sara Byrne, and more!
Dates: 10/10/2016-10/13/2016
Ticket Pricing: €495.00
Location: Stockholm, Sweden
Book it: https://www.wayupnorth.co/stockholm2016/book/index.php
WPPI Conference & Expo 
If you're wanting to attend one of the biggest and extravagant wedding photography conferences this year, then you need to consider WPPI. Registration is now open. WPPI offers a little bit of something for everyone. From 80 different Platform classes to keynotes and special events (like awesome parties), you can custom tailor your WPPI experience.
Dates: 3/3/2016-3/10/2016 (conference) + 3/7/2016-3/9/2016 (expo)
Ticket Pricing: varies
Location: Las Vegas
Book it: http://www.wppionline.com/show/exhibitor.shtml
Canada Photo Convention
A business-focused, resource-rich conference, the CPC aims to help you master the business of photography and acquire your taste of success. Speakers at this year's CPC conferences (yes, there are two) include Ed Peers, Jim & Vicky Pollard, Benj Haisch, Caroline Ghetes, Amanda Marie Schwinghammer, Helena & Laurent Martin, Jennifer Moher, and Thierry Joubert. That's just naming a few. Topics range on everything from working with your partner in a business relationship to taking control of your ability to succeed.
Vancouver Conference:
Dates: 4/5/2016-4/7/2016
Pricing: CAD750.00
Toronto Conference:
Dates: 10/4/2016-10/6/2016
Pricing: CAD549.00 (early bird pricing)
Book it: https://canadaphotoconvention.com/
Snap photofestival 
If you like to camp and you love music, then Snap photofestival is literally the perfect situation for you. Described as a festival and creative retreat, rather than a conference, Snap is a combination of an array of inspiring workshops from industry leaders and activities that aim to accelerate your business.
Dates: 4/18/2016-4/22/2016
Pricing: ranges from £160.00 per person to £1450.00
Location: Wales
Book it: http://www.snapphotofestival.com/shop
Real Life Conference
Real Life is all about connecting women in the industry and helping them find purpose in the day-to-day. Brought to life by one of the industry's leading ladies, Erika Mann of Two Mann Studios, Real Life aims to give its attendees the courage to dig deeper and connect more meaningfully with their work.
Dates: 11/15/2016-11/17/2016
Pricing: $1,575.00
Location: Canmore, Alberta, Canada
Book it: http://reallife.myworkshops.co/workshops/8da91a79fd810acc
– Workshops –
Darling Wedding Workshop
Jenn from Darling Wedding Photography is hosting her 2nd Darling Wedding Workshop this November. Activities include 2 styled shoots in one day, workflow presentations, and more. Meet like-minded creatives in a beautiful lodge setting and get all the inspiration you need for your 2017 wedding season. Here are the details:
Dates: 11/18/2016-11/20/2016
Pricing: $1,750.00-$1,950.00 (includes accommodations and food and drinks)
Location: Granite Ridge Estate, Norway, Maine
Book it: https://app.shootq.com/public/~12279a/contact
WRKSHP 
We recently found out about WRKSHP (thanks, WRKSHP!) and can't believe we hadn't heard of it before (face to palm moment). 6 keynote speakers (including a National Geographic photographer) and an insane line-up of presentations from a diverse collection of 30 teachers make up the core of WRKSHP. On top of the many great learning opportunities, this event will also include fun networking opportunities, my personal favorite being the TWRKSHP dance party (yes, that is a twerk reference).
Dates: 9/13/2016-9/14/2016
Pricing: $1,500.00 (does not include accommodations or travel)
Location: Brooklyn, NY
Book it: http://www.wrkshpwrkshp.com/
One Day Storytelling 
We all know that Jonas can tell a story using his camera better than almost anyone. Learn how he does it in a relaxed and intimate setting.
Portland, Oregon – 5/2/2016
Houston, TX – 5/5/2016
NYC – 5/9/2016
Pricing: $895
Book it: http://jonaspeterson.com/workshop-2/2016/
Field Trip 
With just a few spots available, Field Trip 2016 – California promises to be one epic event that you don't want to miss. Advertised as a "summit for creatives who want to grow their business, expand their unique voice, connect with the community, and explore the new frontier of photography and image creation" in a fun, energetic atmosphere, Field Trip will surely be one hell of a time.
Dates: 2/22/2016-2/26/2016
Pricing: $1,600
Book it: http://photofieldtrip.com/
Possible – A Photography + Moment Design Multi-Workshop
Three amazing talents come together to create a learning environment that will make you look at photography differently. Led by Ed Peers, Jesh de Rox, and Gabe McClintock, Possible will teach you how to see differently and expand your craft.
Possible: Iceland
Dates: 5/4/2016-5/5/2016
Pricing: $975.00
Possible: Portland
Dates: 5/10/2016-5/11/2016
Pricing: $975.00
Possible: Singapore
Dates: 6/15/2016-6/16/2016
Pricing: $975.00
Book it: http://www.anythingis.com/
Wedding Workshop
Hosted by Tom Robak, Voyteck, and Slawomir Urban, the Wedding Workshop will be an intimate experience for photographers looking to build on their photography skills + to learn how to run a successful wedding photography business.
Dates: 9/27/2016-9/28/2016
Pricing: £395.00-£495.00
Book it: http://weddingworkshop.co/
NINE 
NINE is a retreat for women looking for education and relaxation in a supportive environment. Founded by Arizona photographer, Kym Ventola, this retreat promises to lift your heart and soul as a woman and as a creative.
Dates: 9/12/2016-9/16/2016
Pricing: $1,850-$2,150 (accommodations included)
Book it: http://www.nineretreat.com/registration/
Feel free to comment below if you'd like to nominate an event to be added to our list!
Wishing you all the best in 2016!