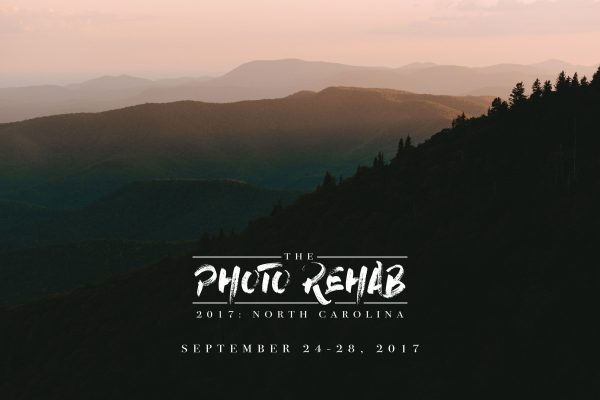 Looking for a unique photography workshop to help you take your business to the next level? It's not too late to put The Photo Rehab on your calendar! This year's lineup is incredible — photographers of couples, families and newborns, boudoir, musicians, and out-of-this-world portraiture — but what is most notable is that each is an industry leader in their region. During September 24-28 2017, The Photo Rehab is headed just outside of Asheville to showcase talent from North Carolina, allowing attendees to gain particular insight to growing a successful business in one's own home.
As if that weren't cool enough, two members from our team — General Manager and Editor-in-Chief Carrie Schwab and Executive Editor Nicole Seligman, will be joining The Photo Rehab mentor crew! We can't wait walk you through our editorial vision during two beautiful styled shoots, giving you the opportunity to go from shoot to submission with a live curation process and information on how to get your work published. Our goal is to remove the veil, so to speak, from the editorial process to help you be on the same page about what blogs are looking for and how getting published can advance your business.
The Photo Rehab is turning the idea of traditional workshops on its head with a combination of hands-on instruction and round-table discussion, giving you space to learn with real people in real landscapes. Come out and recharge your creativity, reinvent your vision, and revamp your business!
Love the sound of The Photo Rehab? Register today and join the mailing list to stay in the know!