Breathe. Wander. Feel. Slow down. Vibrate. Shiver. Run. Be alive. Love. 
This is how Baptiste Hauville describes himself, but it's not just a bio. If you look closely, every single word is weaved into his wedding photography. There are images where time seems to stand still, and you know it's a nod to his willingness to slow down. Then, in direct opposition to that thought, Baptiste shoots a couple dashing across a trail with a mindset that shouts, run!
When Baptiste shoots destination weddings, he does it with an adventurer's eye. Get to know him a little better by learning what inspires him to run, slow down, and vibrate all at once.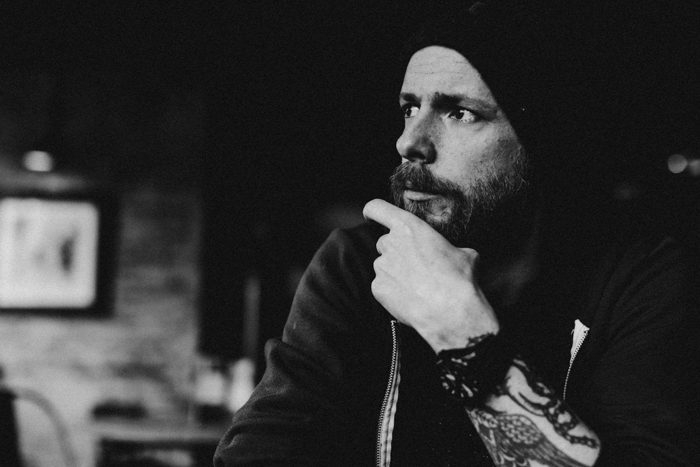 Photo by Laurence Revol. All others by Baptiste Hauville.
Introduce yourself! How long have you been shooting and how old is your business?
Hey! I am Baptiste, a destination wedding photographer based in a beautiful city (pretty well known for its wine) called Bordeaux, France. I'm pretty bad at writing a long text about myself, so I'll trust the few words from my website which sum up pretty well what's in my mind and who I am: Breathe. Wander. Feel. Slow down. Vibrate. Shiver. Run. Be alive. Love. 
I started photography nine years ago when I got my first camera and decided to go out with it, in the street. So it all started with street photography that I did for four years. I wouldn't have thought of doing weddings when I started photography. You know, I had that preconception about the wedding photography industry that it was kind of cheesy and kitsch (which was true in some way). But I came across the work of photographers like Sean Flanigan and Logan Cole at that time and felt that there was something different that could be done, especially here in Europe. Actually, if I'm honest, I'm a romantic guy, so shooting weddings felt instantly right for me. But more than that, I discovered that I could mix everything I loved already: traveling, exploring new places, meeting a lot of new people, shooting candids, and being my own boss!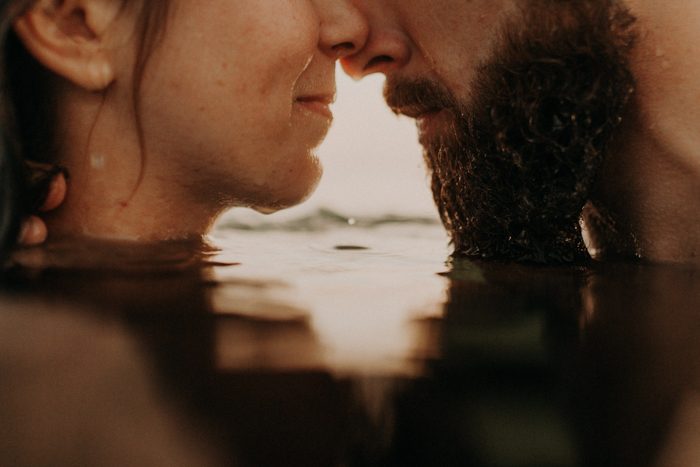 Where do you find inspiration?
I find most of my inspiration from movies, ads, and paintings.
For example, I just read a quick article this morning about Edward Hopper and how he created tension and/or mystery in his paintings. I found it interesting and inspiring that the key was what's not in the frame. It's something I was already aware of, but I find it really interesting that you can apply something from paintings to the photography world. Inspiration is everywhere!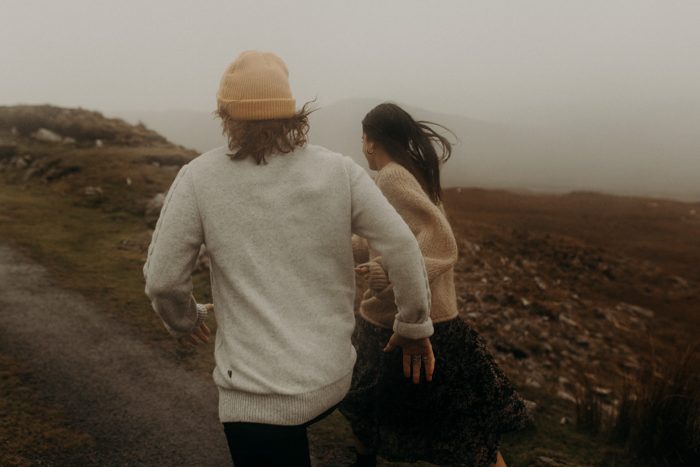 What achievement, moment, or success are you most proud of?
When I started to be interested in wedding photography, as I said, I came across the work of Logan Cole. At that time, he was one of the 30 Rising Stars of wedding photography by Rangefinder magazine. If I'm completely honest, I always swore to myself that I'll be part of this list someday. I know it's just a reward, but for me, it was more than that. I mean, it was a goal to achieve, a point to reach, and definitely just a step to prove to myself that I can do it. And I did it (yay to me!) in 2018. I remember the moment I received the email saying I made it. I literally raised my arms and screamed. I know it can sound ridiculous, but I was so proud to have made it. Nothing has changed in my life since except my ego, haha.

What's your favorite part of the wedding day to capture?
Definitely the couple photos! It is, for me, the most creative part of my job. I'm used to directing the couple, telling them where to put their hands, where to look, etc. That way, they won't think too much and won't be too uncomfortable. They will focus on each other, which is what I'm looking for, in order to catch the little gestures that come back naturally after a few minutes. Also, I think couples hire me after seeing my work, especially my couple photos, so I have to do everything I can to reproduce what I show in my portfolio.
I can try different things and do almost whatever I want with the couple. Of course, I love doing reportage which is obviously our job! But I find it more difficult to be creative.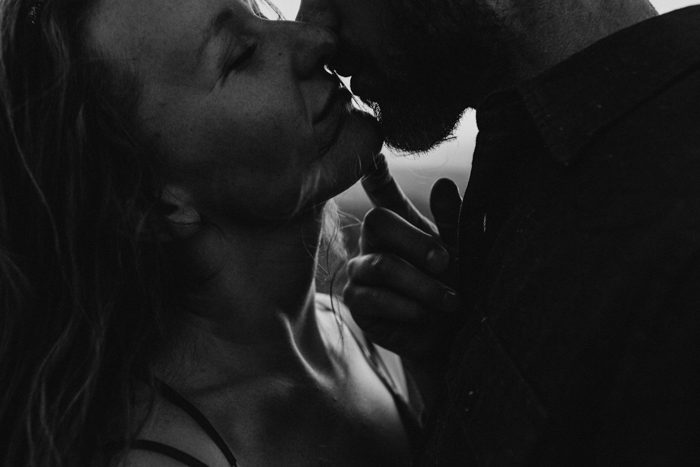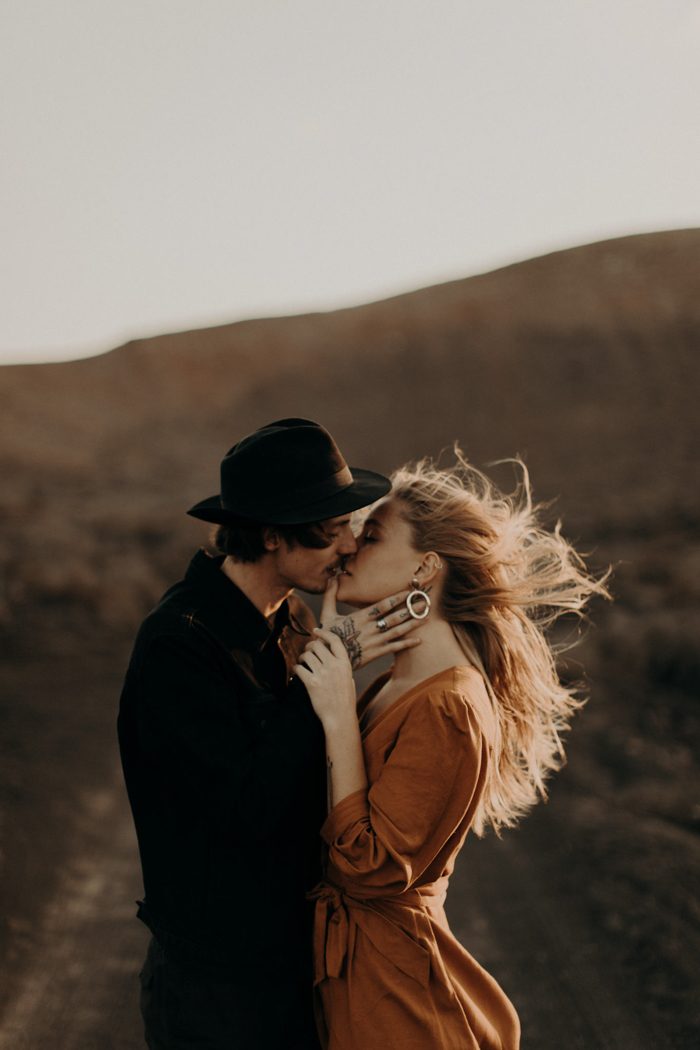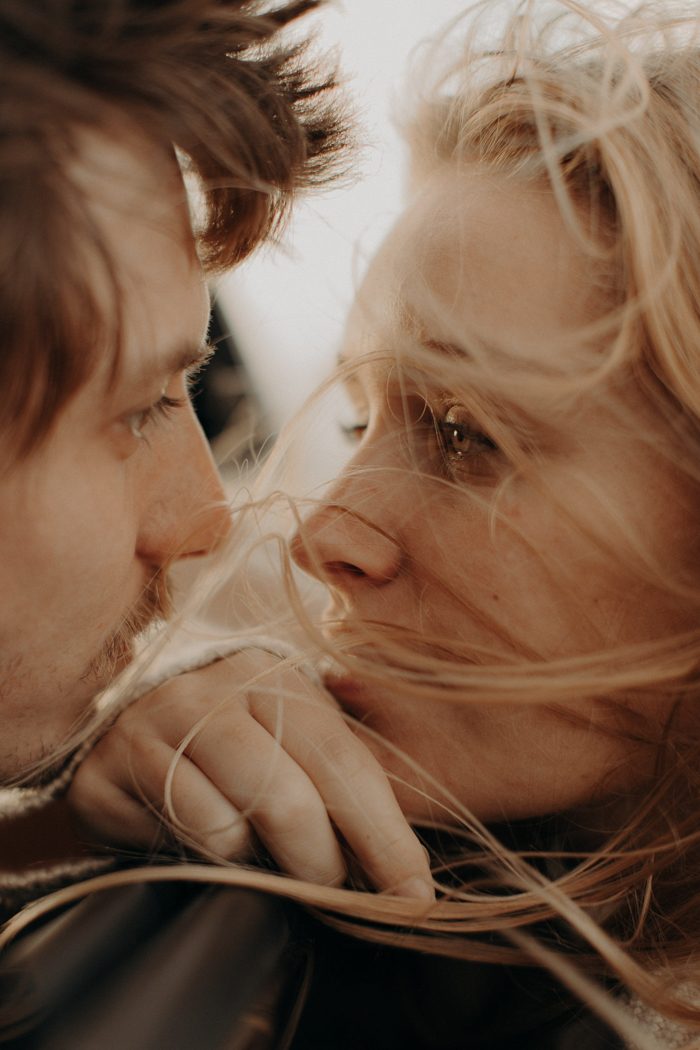 What are you doing to market your business to couples?
Oddly, this is quite a difficult question. I assume that clients will reach me for what I do and what I show on my website or Instagram. So basically, I only share what I want to do in the future. For example, I made the personal decision to share only outdoor ceremonies and no church ceremonies because I would love to do only outdoor intimate ceremonies and weddings – and also because I am an atheist.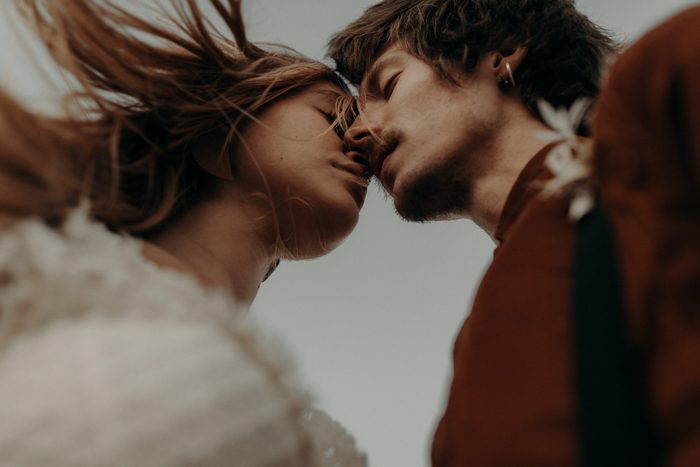 Tell us about an engagement session that stands out to you the most and why.
Without a doubt, the engagement session of Elif & Romain in the Pyrenees mountains. First, because these two are great and fun and because I love how the photos turned out! But more than that, this session is epic because we hiked for six hours back and forth with 900 meters of height difference (around 2,900 feet). We hiked 9 kilometers to reach the lake! We only had 40 minutes at the lake, then we had to go back. We finished the hike in total darkness! 
It was hard, but it was definitely worth it! Even if one of my shoes died right after we finished the hike.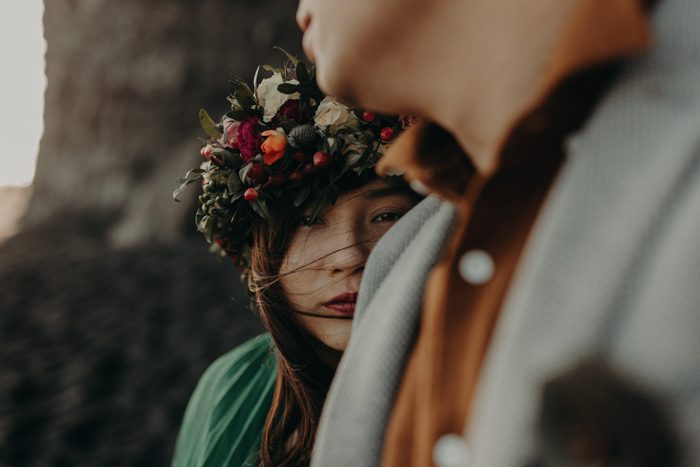 How do you get your clients comfortable in front of the camera? 
I spoke about that before, but basically, I speak a lot and try to find jokes to make them laugh. I also explain everything (well, almost) I do. If I'm getting really close to the couple and want to try something new or different, I tell them that I have an idea, but I'm not sure it will turn out well. Then I finally show them the photo if it's good… Or not!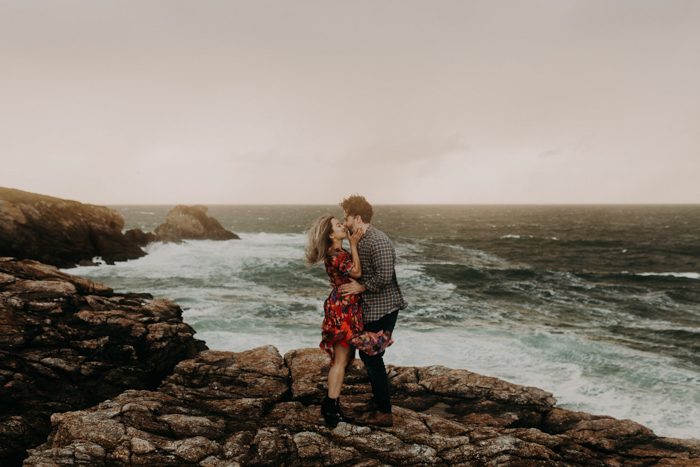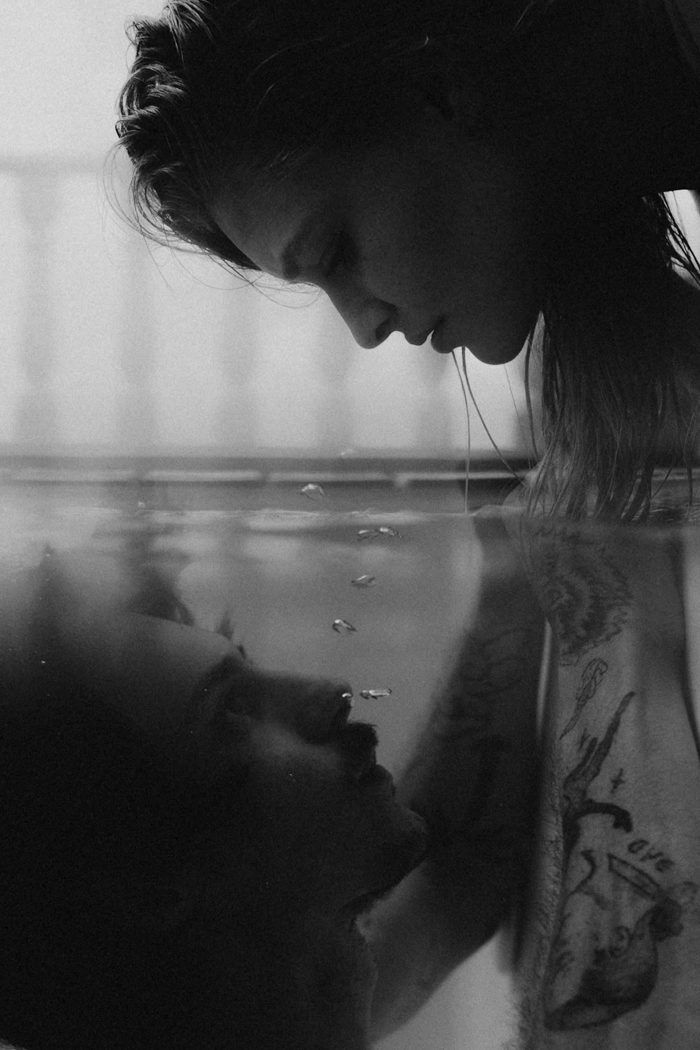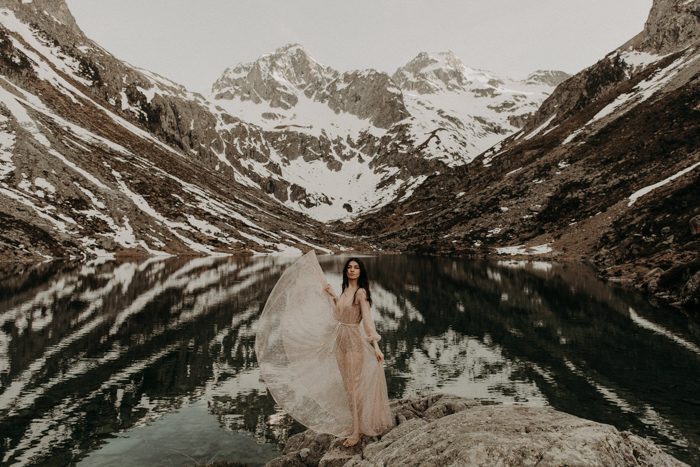 What is your data management workflow?
First, I shoot with two card slots. I've never had any issue, but it feels more secure that way! Then, when I come back to the hotel after the wedding, I immediately back up all the RAW photos in my external hard drive. Then when I'm back home, I upload everything in the cloud (using Backblaze) to have another backup.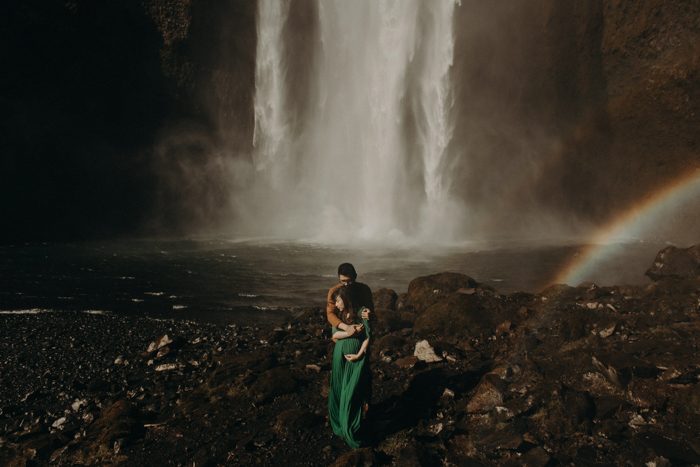 How has social media affected your business?
Well, it is double-edged. On one side, it's an amazing marketing tool, and I use it for that purpose. It helps me to connect with prospects and to book weddings, especially Instagram.
On the other side, there is a downside: the standardization of images, including wedding photography photos. I find it hard these days to differentiate the work of photographers because they are using the same preset and creating the same photos over and over (For example, the photo of a couple taken really close, with only their eyes in focus looking at the camera and half their faces in the frame). For me, there is no point in doing that again and again.
This is the IG effect. We are all (including me) looking for the wow effect with single shots. But I do think the difference can be made thinking in terms of series – showing more photos to create a little story because we are basically storytellers.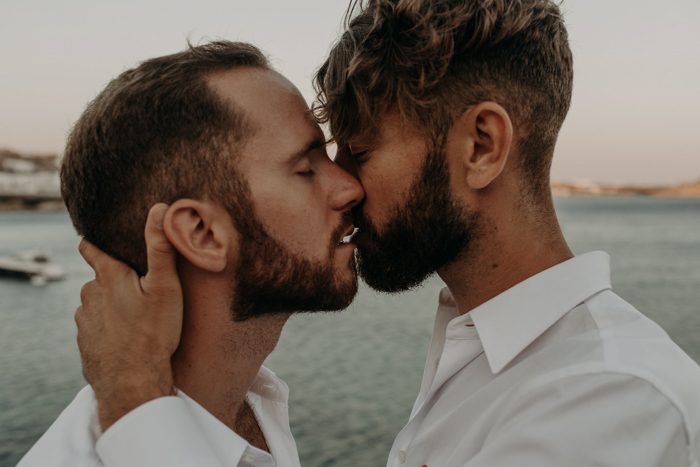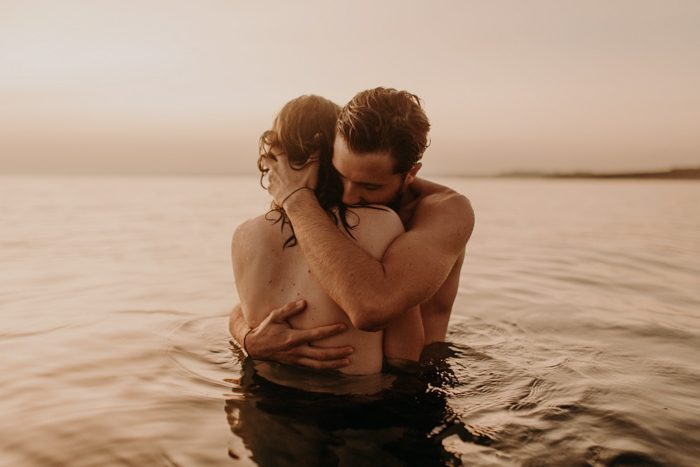 List all of the gear that you bring to your weddings: 
2 cameras (Canon 5D mark IV and 5D mark III)
Canon 35mm 1.4 mk II
Canon 50mm 1.2
My good old 85mm 1.8
2 flashes (Canon & Yongnuo as a backup)
HoldFast Money Maker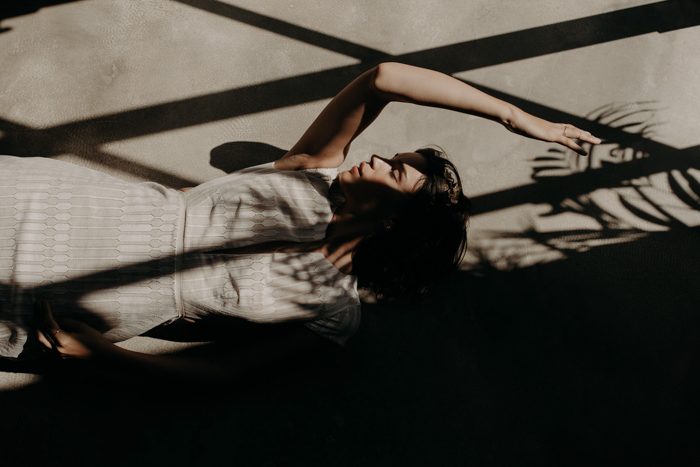 Do you have any bucket list locations that you hope to shoot at one day?
A lot! But I already crossed off of my bucket list two destinations: the Lofoten islands and Kenya! But yes, I have more locations in my head, like Hawaii (The light seems crazy over there!) or the Faroe Islands before it gets too touristy and crowded… If somebody can hear me, #fingerscrossed.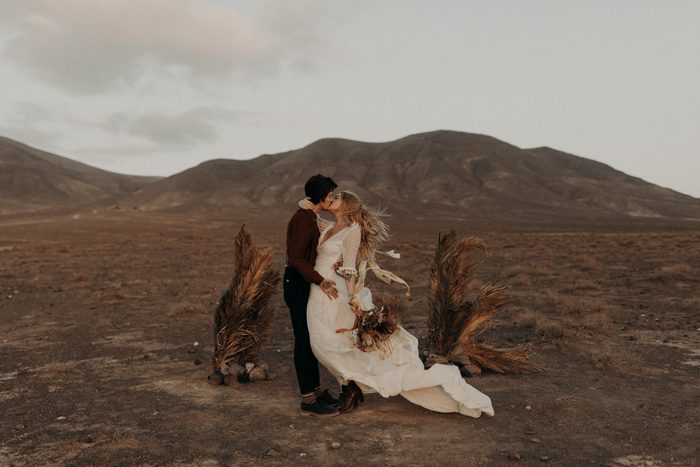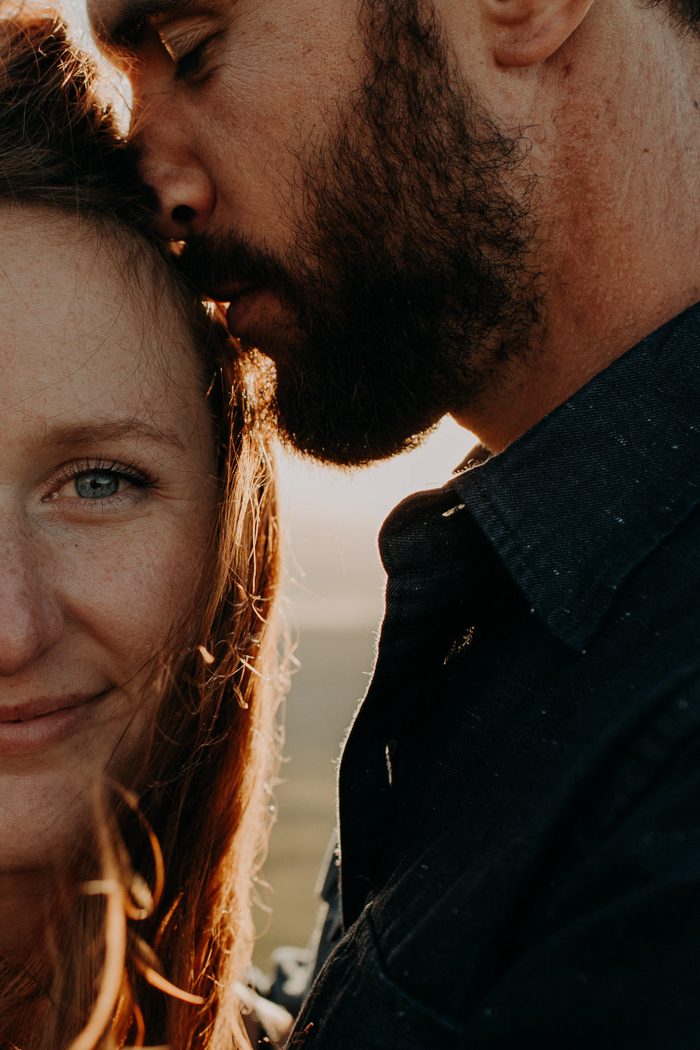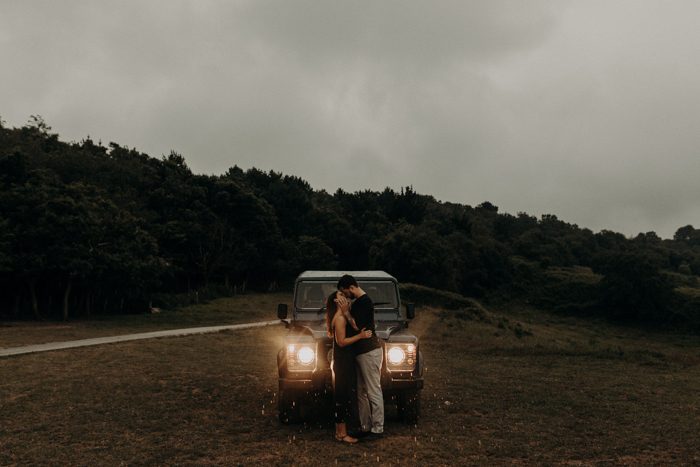 What's playing in the background while you edit?
It depends. Most of the time, I like having music like Radiohead (No. 1 fan), Bon Iver, and usually folk music. And sometimes, Netflix is my best friend!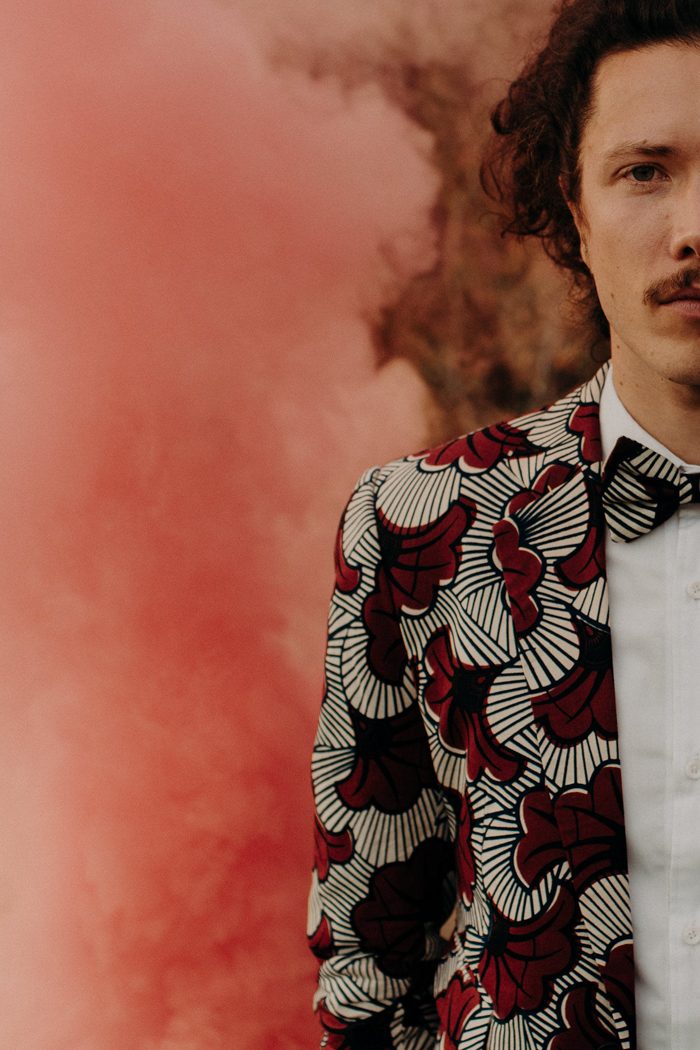 Best advice you've ever received about being an artist, business person, or happy human? 
A photographer friend told me once when I started wedding photography, to start at a reasonable price range, in order to enter the market without wrecking it. Also, it allowed me to raise my pricing every year and to make photography my main job.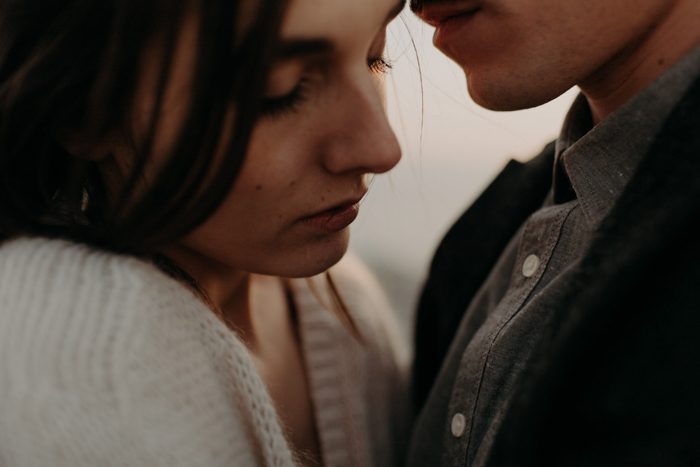 Is there anything you want readers to know about that you're working on or where they can learn more from you?
I offer one-to-one using Skype, but only in French. I'm currently working on offering it in English after receiving more requests from photographers.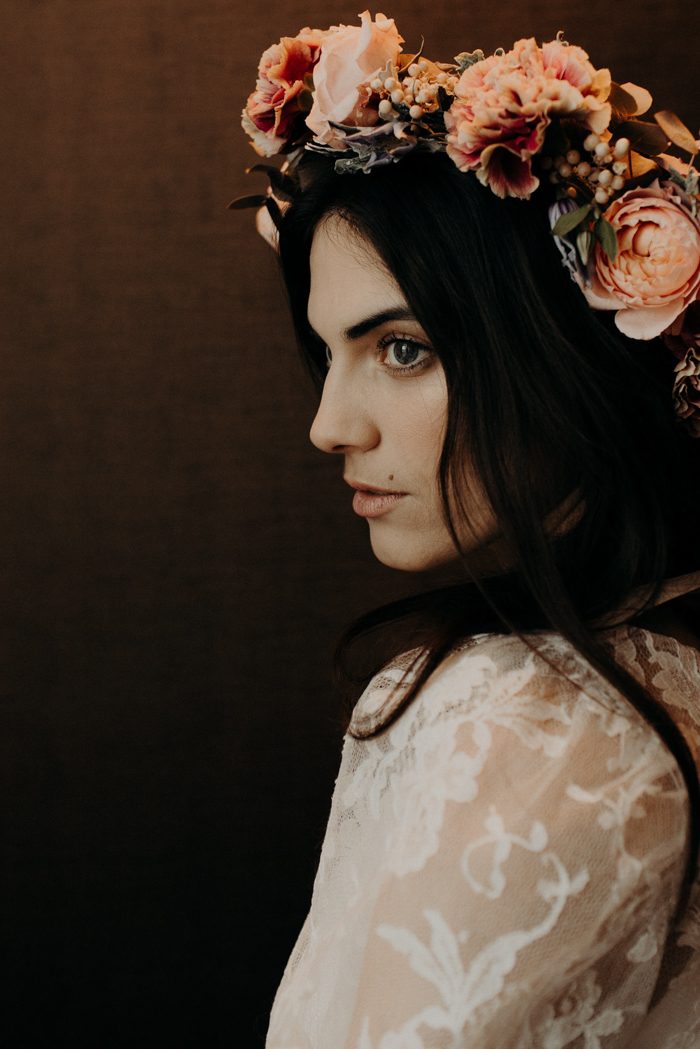 Where can people follow you and your work?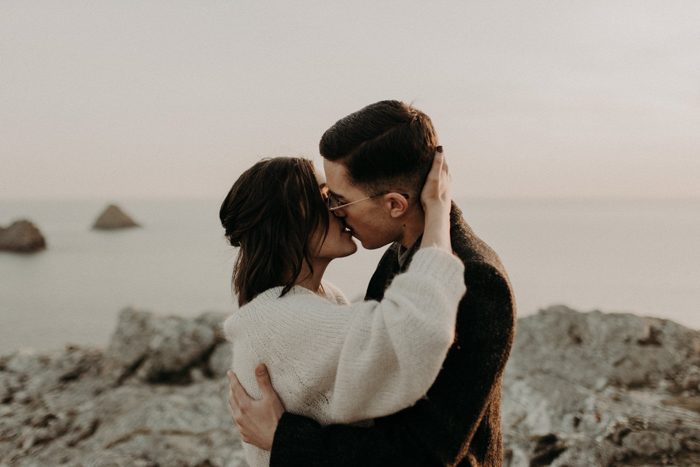 Is there a wedding photographer or videographer you're dying to know more about? Tell us below and we might just have them in an upcoming interview!