This photo may look familiar as it won an award in our 2014 Best of the Best Wedding Photo Contest. Taken by Ben Chrisman of Chrisman Studios, this haunting silhouette features two people on the edge of what appears to be a gigantic metal barrel. We spent so much time wondering how this shot was captured that we finally decided to reach out to Ben to get the scoop.
Location:
Sebastopol Community Cultural Center in Sebastopol, California
Time:
8:00 PM
Equipment:
Nikon Df, 28 mm lens and off-camera flash
Camera Settings:
3200 ISO, f4 @ 1/200th of a second
The Inspiration:
This photo was taken at Natalie and Cody's rehearsal dinner. The venue was a normal small town community center, which Erin and I loved because it felt very real. After the speeches, I was walking around outside trying to find another portrait idea and I saw a waiter walk through a doorway inside the room. That gave me the idea to silhouette Natalie and Cody against that door using the outside of the building to frame them within another doorway. However, I then realized that this door was the service entrance to the kitchen, and was being used constantly by the staff. Luckily, there was an exit behind the door we could use.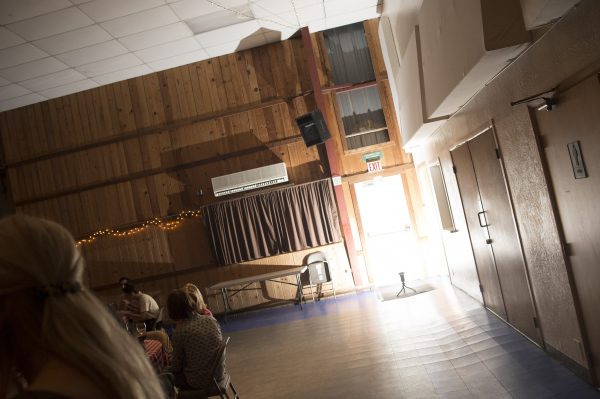 So, before we asked Natalie and Cody to come over, I tested the flash on Erin in the doorway. I then ran back outside while Erin grabbed them.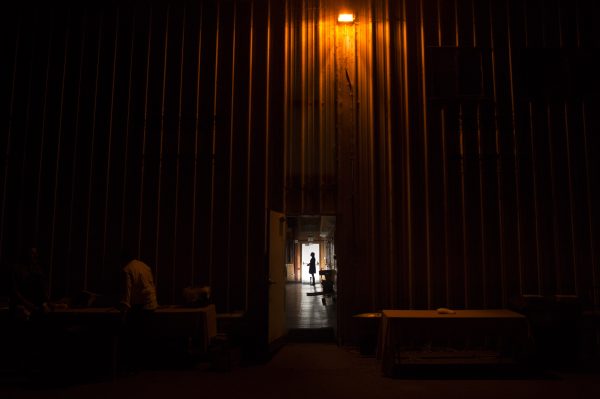 At first I was trying to use the roof of a car for a reflection to double up the symmetry of the composition.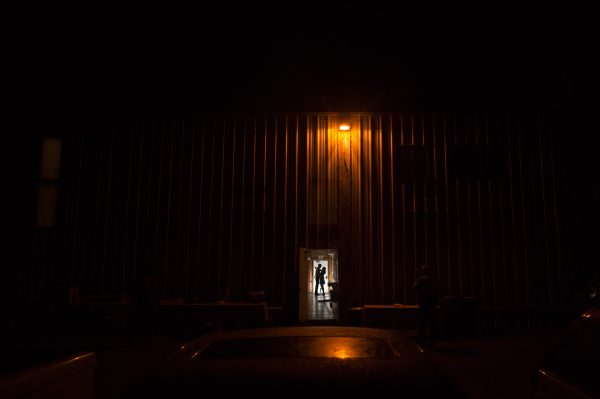 But I couldn't get that to work, so I just pulled out my cell phone and used that instead.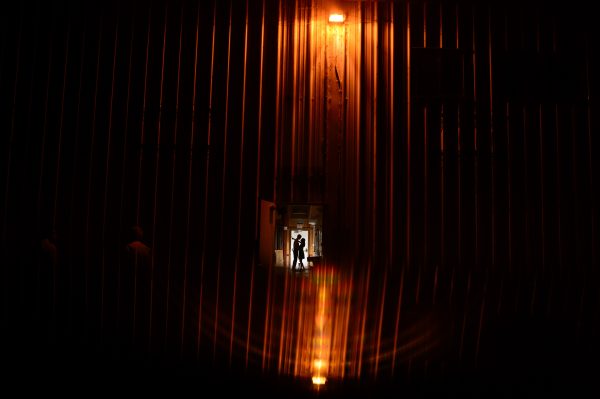 Erin and I love trying to take a normal situation and make it into something unique. And even though this photo wasn't taken on their wedding day, we still used this as the lead photo for their wedding. This was one of my favorite weddings I've ever photographed because Natalie and Cody were just overwhelmingly happy the entire weekend. That is all Erin and I really hope for because the photographs are so fun to take when that amount of love is obvious.
Post Production:
In the end I took 185 photos to get this one shot, and besides cleaning up some of the areas around the door (like the exit sign) in post production, the RAW photo and final photo look identical.
Thanks so much to Ben for sharing his process with us. I would have never guessed that this photo came from a small town community center. How cool is that? If you love Ben's work, check out his studio's Junebug portfolio. If you have a cool photo that you'd like to see on Behind the Photo, write to us at editorial(at)junebugweddings.com!