All Photos © jim pollard goes click
With New Zealand has his canvas, Jim Pollard creates some seriously stunning imagery, and we aren't the only ones who think so. Jim was recently named as one of the 30 rising stars of Wedding Photography, courtesy of Rangefinder Magazine. Whatever Jim's recipe for success is, it's working. We like to think that on top of being a master at capturing light and authentic moments, Jim has some of the most adventurous clientele around. His clients really do believe that the sky is the limit and helicopters are a normal mode of transportation on your wedding day. Today, Jim is here to talk about an image of his that recently won a spot in our 2015 Best of the Best Destination Photo Contest. We hope you enjoy this peek into Jim's world and learn something new!
Location:
Nr Griffel Peak, Wanaka, New Zealand
Time:
4:30PM June (Mid Winter)
Equipment:
Canon 5D Mark III, SIgman Art 35mm 1.4, AS350 "The Squirrel" Helicopter (Essential piece of photography gear)
Camera Settings:
1/4000 Sec at F1.4
The Inspiration:
Sarah and Tracey were married in a small intimate civil ceremony earlier in the day. They had booked a helicopter to get them up into some beautiful terrain. They were pretty keen to get into the snow and to find a spectacular view. On the day of the shoot I spoke to Alpine Helicopters about what possible landing spots we had available to them. We have a couple of locations that we have made it our policy to not land at. Sounds a bit crazy but too much of a good thing and all that. So we work to get a unique location for every wedding, it's just what we love to do. On this occasion the weather was closing in. If you look at the mountains in the background, the tops are covered in cloud, we had meant to land on those! But we figured out a spot and shot up to Criffel Peak with about 30 minutes of light left.
One thing I'm super mindful on our location shoot is that I want it to be about the experience and not about the photos. So in this case it was not only about them having a beautiful time together but also safety. It was probably below freezing up there plus the wind chill, so it's worth noting you only have a small window to work with.
I walked with the ladies around to a wee spot of snow and asked them to hang out nice and close together. I wanted to pop them out against the background so used a nice wide aperture and the darkness of the mountain behind them. I liked how the snow and mountain created a frame for them plus it balanced out the light and dark of what they were wearing. I also noticed that there was a touch of light reflecting off Tracey's blouse, so did a wee re-position to get that light onto Sarah's face. Then it was just a question of waiting to get them to relax and enjoy their moment.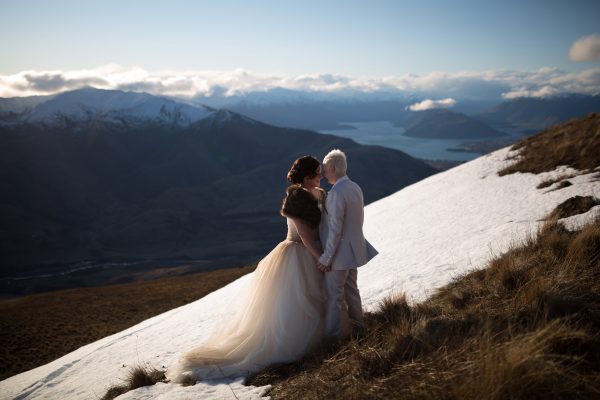 Post Production:
All in Lightroom CC. I'll often look at a drab RAW file and wonder what it felt like at the time. A great portion of the enjoyment of photography is trying to bring back the emotion I may have felt at the time, what was the light doing, how was the weather and wind and what was going on with the subjects? I think the overall thoughts in post for this pic was to bring out the golden evening winter light high up on the mountain. So to achieve that I had a play with the tone curve and in the split toning. I tend to use brushes a fair bit. So I brought out the reflected light in the faces, popped a little magic in the sun rays, and created a bit of depth by a bit of burning. And I like to get rid of any major distractions, in this case a bit of grass and a cheeky cloud on the border.
Feeling inspired to catch light? You can view more of Jim's work in his Junebug member portfolio. Congrats on a great year, Jim!