You may recognize this photo from a wedding we featured in June. This stunning silhouette reflection has stayed fresh in our minds since we featured Kat and Min's wedding. We decided it was time to reach out and ask Tito Rikardo of THEUPPERMOST for the scoop behind the photo!
Location:
Seseh Beach, Bali, Indonesia
Time:
6.00 PM
Equipment:
Nikon D750 + Nikkor 24mm F/2.8 AFD
Camera Settings:
1/400 , F/7.1 , ISO 200
The Inspiration:
I am a fan of shillouete, reflection, and sunset. Once I arrived in Seseh beach, I already have this frame in my mind. After a few portrait shots and right before the sun went down, I asked my friend to go to the the spot for the test shot before posing the client, I just wanted to make sure that the condition for this shot was doable for them.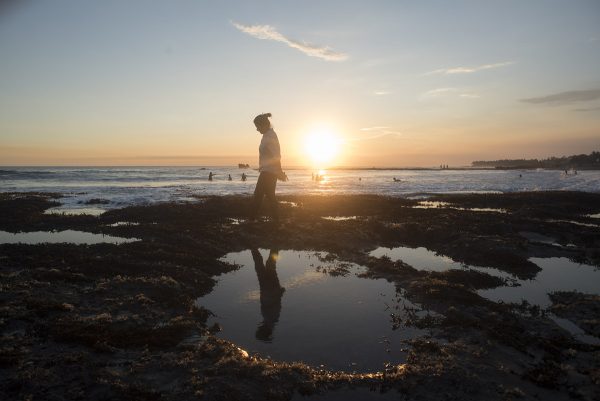 It's a fast shot. I asked Kat and Min to walked hand in hand and make sure that I got the good profile of their shape and body gestures while walking and framed their reflection below. I shot around 15 images for this scene, and this image is one of my favorites.
Post Production:
I do everything in Camera Raw. Push all the colour, more contrast, and at the end I had the idea to rotate the image. It makes the image more intresting to me.
Simply amazing. Thanks so much to Tito for sharing the story behind this gorgeous shot. We love learning the stories behind phenomenal photos. If you have a photo you would like to nominate for Behind the Photo, email editorial(at)junebugweddings.com. We can't wait to see what you send our way!