The Love Around the World contest is the first of its kind, and to be honest we were worried about whether or not the whole "destination + love" thing would resonate. It's always scary when you have an idea and you think it's really good, but you are still waiting for some sort of affirmation, and I think we definitely got that with the submissions and support we received.
In judging this contest, we were looking for three things:
1. love shared between two people
2. incredible destinations
3. photographic skill, talent, and creativity
We want to thank every single individual who helped us make this contest a reality. We can't wait for the 2015 Love Around the World: Best of the Best Destination Photography Contest.
Of course we would not have been able to compile such a wonderful collection if it weren't for our renowned judges: Cengiz Ozelsel of Adagion Studios, Davina + Daniel, and Ed Peers. Their knowledge on destination photography proved to be vital in the curation of our collection. Thanks, guys! Here are their thoughts on the contest and some of their favorite images. Enjoy!
"It was a complete honour to take a bit of time out and appreciate the way other photographers see the world and how they've captured the combination of a destination and the connection between a couple. There was so much inspiring work and each image was a joy to look at. So hard to make a short list… At the end of the day I personally am always drawn to photographs that capture a genuine connection between a couple, no matter what the emotion or the setting. It has to be real and authentic – nothing fake or too contrived. Being a destination competition, I was also looking for photographs that really captured a sense of the atmosphere and geography of the location. I love images that captivate you so much that they give you a sense of what it would've been like to have been there at that moment in time." -Ed Peers
Photo by: Elisha Stewart of Abby Photography
Location: Kelonwa, British Columbia
"We love the candid pose in this silhouette. It almost feels like the photographer just stumbled upon the couple while shooting the sunset. It makes it all seem just that much more romantic!" -Davina + Daniel
Photo by: Brian Callaway of Callaway Gable Studios
Location: Tahiti, French Polynesia
"Such a unique vantage point! It doesn't get more "destination wedding" than this!" -Davina + Daniel
"This image simply sparkles. The couple is wearing the masks and snorkels and is outside of the water, while the photographer is happily surrounded by curious fish in the water. It just happens that the two central fish display a similar body language as the couple. The way I look at this image is that the couple is looking in the same direction, signaling the path of marriage." -Cengiz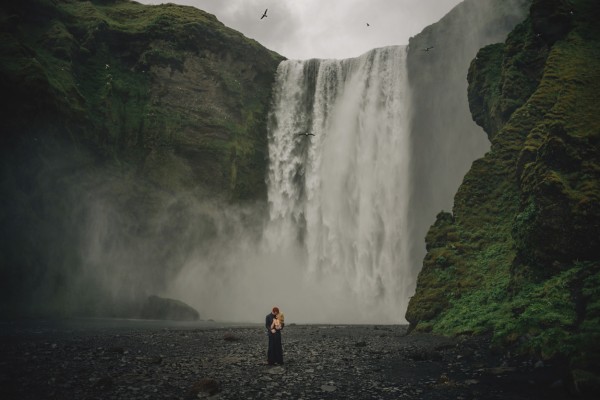 Photo by: Gabe McClintock of Gabe McClintock Photography
Location: Skogfass, Iceland
"Simply put. Epic!" -Davina + Daniel
Photo by: Erika Mann of Two Mann Studios
Location: St. Lucia
"Love the energy in this one!"-Davina + Daniel
Photo by Zabrina Deng of Zabrina Deng Photography
Location: GuangZhou, China
"I understand how I may get some push-back on this photo since it really doesn't meet my love criteria.With that said, the location and scene are brilliant. And there's something so globally harmonious and editorial in this particular image. Perhaps it's the bride's shy demeanor as she avoids eye contact while remaining confident in her skin" -Cengiz
Photo by: Benj Haisch of Benj Haisch
Location: Snoqualmie, Washington
"The square crop works well and so does the photographer's decision to place his subjects in the center of the frame. I could not be happier with how the photographer got the bride to scale the sharp, wet, and possibly slippery rock. For me that is all about the sake of imagery and being intentional about the results. Both the couple and the photographer need to be prepared to do things most people would not do if they want photos that most people do not have. A+." -Cengiz
Photo by: Komang Diktat of Diktat Photography
Location: Bali, Indonesia
"Gorgeous location and yet again a fantastic image that powerfully defies the well-known compositional rule of thirds. Hey, the ripples beautifully fill the frame and light and shadows work in perfect harmony. Has the visual appeal of a Monet." –Cengiz
Photo by: Nuno Ferreira of Nuno Ferreira
Location: Puy Saint Vincent, French Alps
"Brilliantly pure and unadulterated display of love. Hey, this couple looks like they would be happy anywhere as long as they are together. He's comfortably breathing on her—a testament to the chemistry the couple shares—and the viewer can almost visualize how deeply they are focused on each other as their eyelids remain relaxed." -Cengiz
Photo by: Erika Mann of Two Mann Studios
Location: Lake Louise
"Spectacular image and so in tune with the theme of this contest. Love? Check. Destination around the World? Double check. Hey, yet another image where the couple is squarely planted in the middle of the frame. And it works. Are we seeing a trend? This photo would have worked had it only been the couple sitting on the rock. However, the splash of red by the red boat with the 3 passengers ignoring the couple, just adds to the overall impact. Congratulations on a frame-able photo!" -Cengiz
Once again, thank you to our judges, contestants, and fans. We look forward to sharing the best of the best in destination photography again with you next year!
This contest was sponsored by Fotofafa, a post-production editing service.
We would also like to thank Zero Gravity Learning for their help in spreading the word and genuine passion for the wedding photography industry. Check out their upcoming workshop in Paris, France.