Adventure wedding photography may be all the rage right now, but it's more than a trend to Film and Forest Photography. Afton and Liam have always loved the outdoors and photographing landscapes, so it was a shoo-in as elopement and adventure wedding photographers! Soon after finding their niche, Afton and Liam continued to find ways to stand out in an oversaturated market to attract their ideal couples. Keep on reading their Fresh Faces interview to learn more about their business and tips they've learned along the way!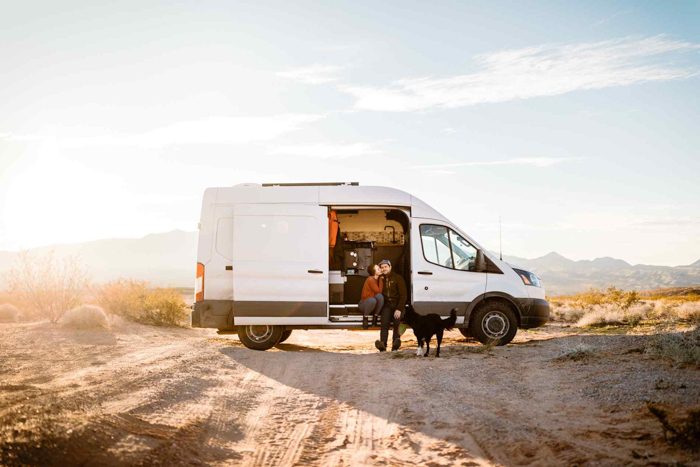 all photos by Film and Forest Photography
Introduce yourself! – where are you based, how long have you been shooting, how old is your business, etc.
We're Afton Flynn and Liam Roerslev, the outdoorsy couple behind Film and Forest Photography. We're based in Canmore, Alberta, where we spend our summers capturing couples in the Canadian Rockies and British Columbia. Once the frost comes to the Rockies, we spend our winters chasing warm weather in our self-converted campervan with our little black dog, Theo. 
Both of us took up photography in high school, but it wasn't until a few years later when we fell in love with the outdoors and with each other that our passion really took off. 
With a sparked interest in hiking, we became enthralled in landscape and adventure photography. Whether it was lugging pounds of gear up mountains for days or freezing our fingers off as we pressed the shutter button on a frozen lake at sunrise in -30°C degree weather, you bet we had our cameras out. 
When we started elopements and weddings together as Film and Forest Photography, that same spark for landscapes and adventure meshed into our work and became the cornerstone of our style today.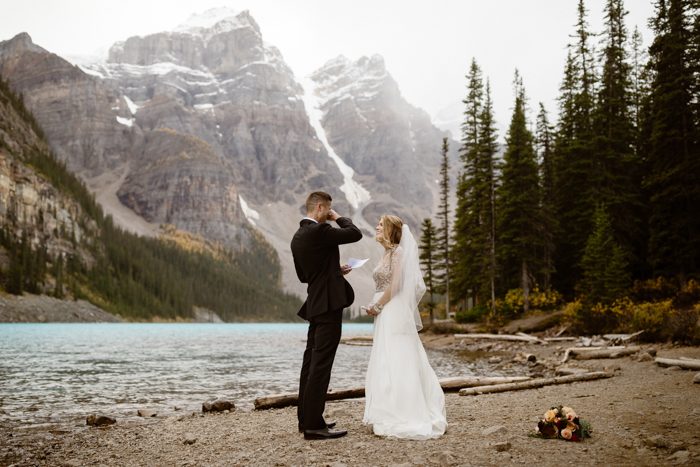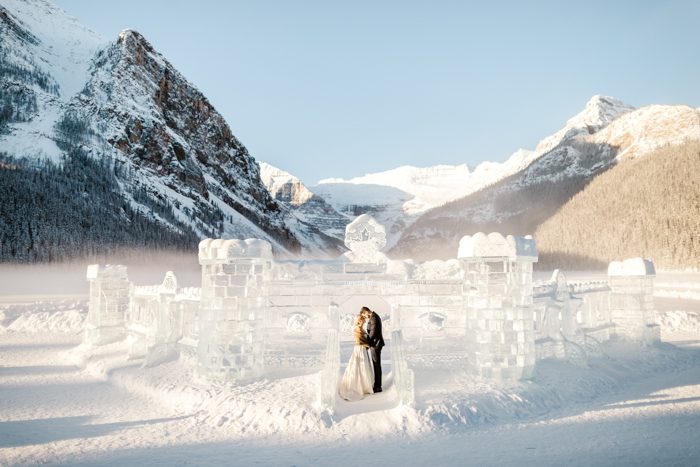 What got you interested in wedding photography?
Afton: I have always done portrait photography since I was a teenager; I'd make my friends dress up and take their portraits as I interpreted Beatles lyrics on a nifty fifty with a Canon Rebel for my Flickr feed, ha. It wasn't until I fell in love with landscape photography years later though that I could merge the two worlds into adventure elopements. The dots were always there, it was just a matter of connecting them.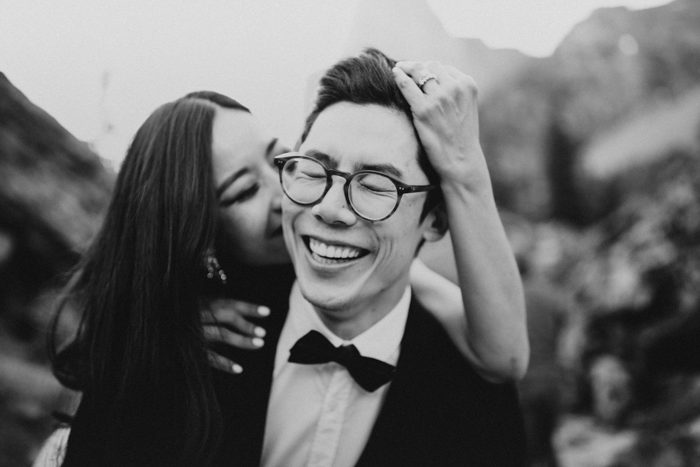 Are you full-time? What was the turning point to make the leap and "quit your day job?"
Liam: We're both full-time on Film and Forest. We had always planned to make this our full-time gig from the get-go and worked hard enough to do so within the first 6 months of launching our business together. 
We were both working 9-5 desk jobs at a national corporation in Calgary and didn't feel connected to the job. We escaped to the mountains every chance we could get, hiking and climbing as much as we could on weekends. Afton shot weddings on the side, but more and more we realized there must be couples like us with a love for adventure that want to tie the knot in the mountains and incorporate the adventures they love on their wedding day. The rest is history.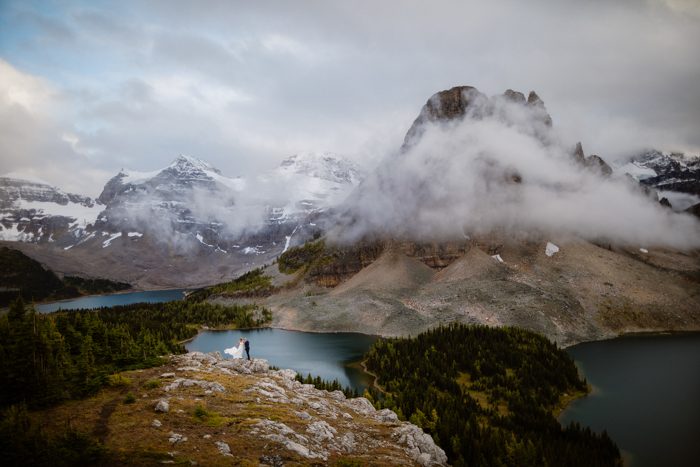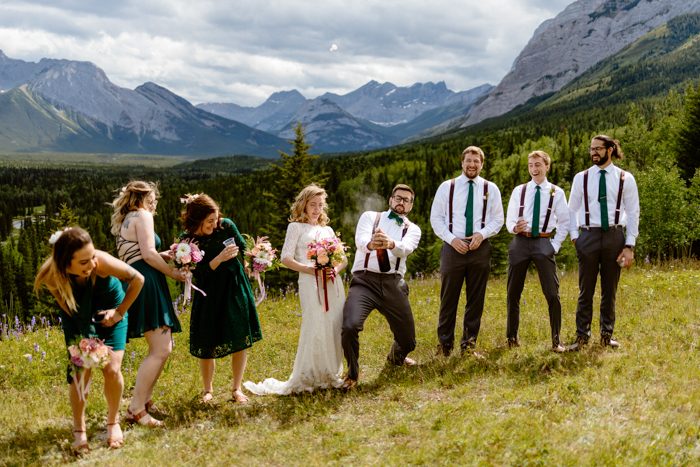 Is there any specific figure/person who has influenced your work?
Liam: There isn't a specific figure who has directly influenced our work, but we draw a lot of inspiration from the landscape world, especially from all the amazing adventure photographers in the Canadian Rockies.
Afton: Stevin Tuchiwsky, a local adventure photographer in the Rockies, has had a huge influence on our style in the way he ties big wide landscapes with people doing epic adventures. 
The Foxes Photography has also been a big inspiration for us. Behind every photo is a story, an adventure. They really showcase the adventure and perseverance of the mountains in every photo they take.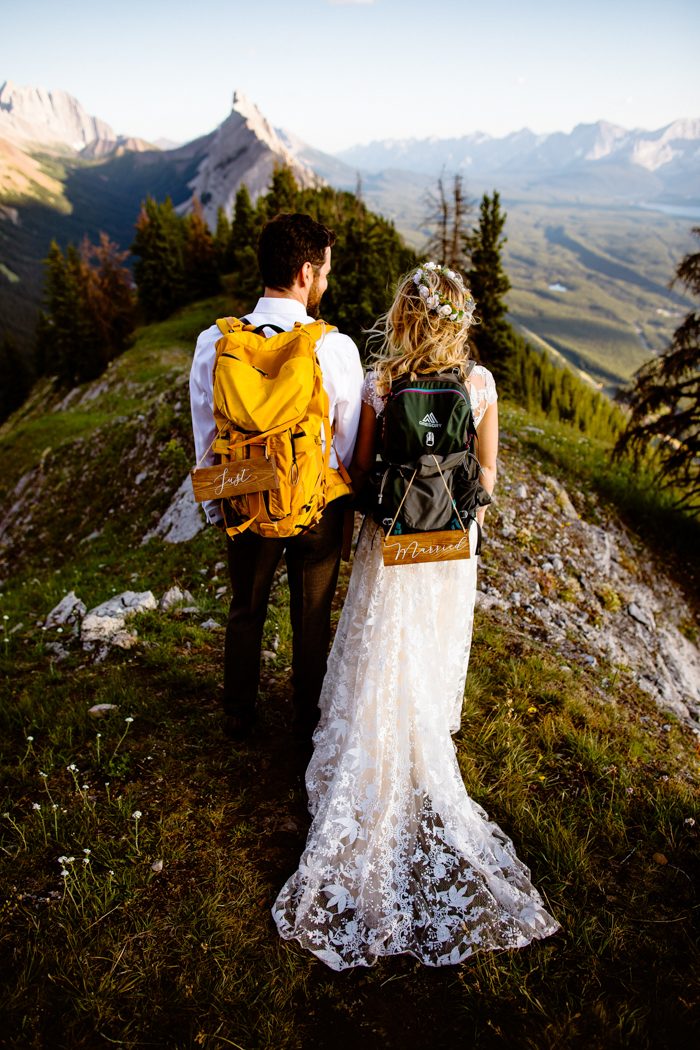 What's a goal that you're working towards?
Liam: We are trying to capture more photojournalistic-style images in our personal work that we wouldn't normally take, like doing street photography while in the city or making a travel blog when we go on a trip. In doing so, we can incorporate different elements into our wedding and elopement photography work and tell couples' love stories from more than just one traditional scope.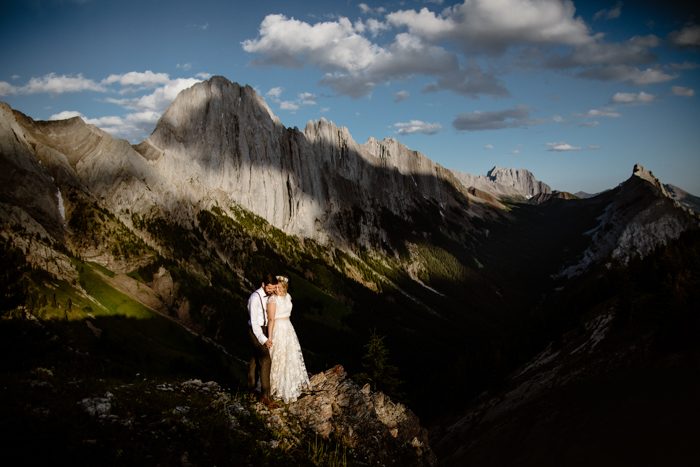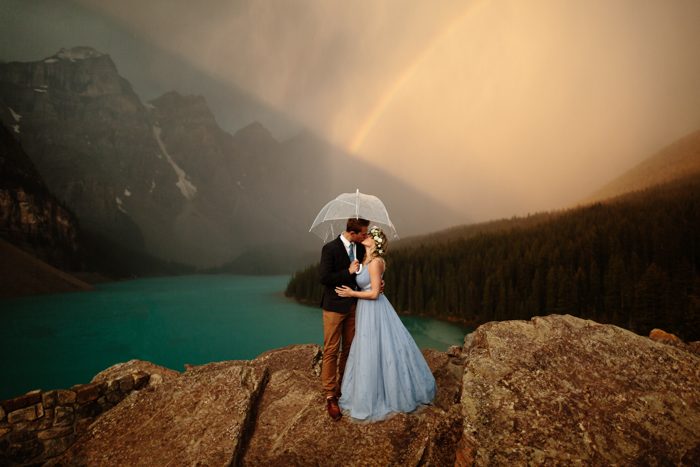 What are you doing to market your business to couples?
Afton: Most of our leads are driven by organic Google search and Instagram. In my previous work I was in user experience, so website usability and proper SEO are core to my skill set. Being able to optimize our website and rank high organically on Google has definitely driven our success in a short 2 years.
Liam: Since Banff and the Canadian Rockies are an international destination, we also photograph a lot of couples visiting who want photos while they're here. Being able to target travelers is a unique benefit to living in a tourist destination.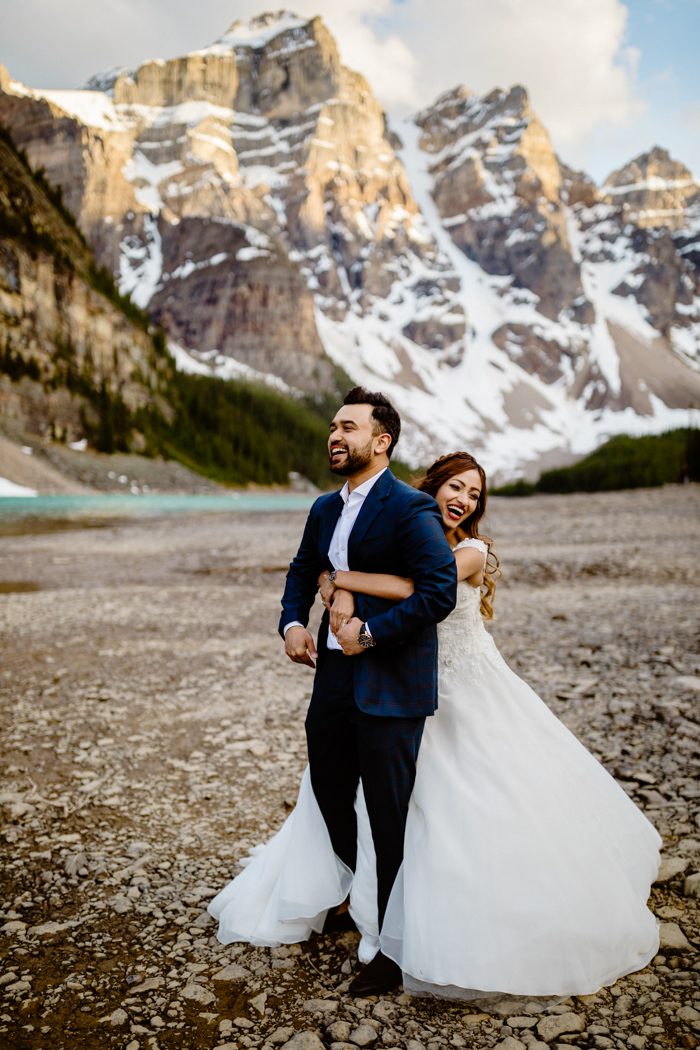 What do you think is something unique about your client experience?
Afton: I feel like being an international destination wedding photographer is all the rage right now, but, no matter how much research a destination photographer does beforehand, nothing can truly beat local knowledge of an area. We've explored these mountains for years before we ever became adventure elopement photographers, and that backcountry experience has become essential to making our clients' experience great. Things like reading weather patterns in the Rockies, traveling safely in the backcountry, and working in -30° degree weather, are all assets we bring to couples who choose us.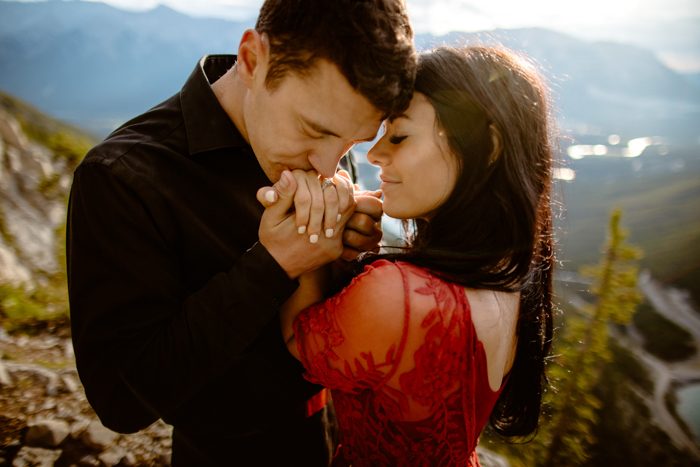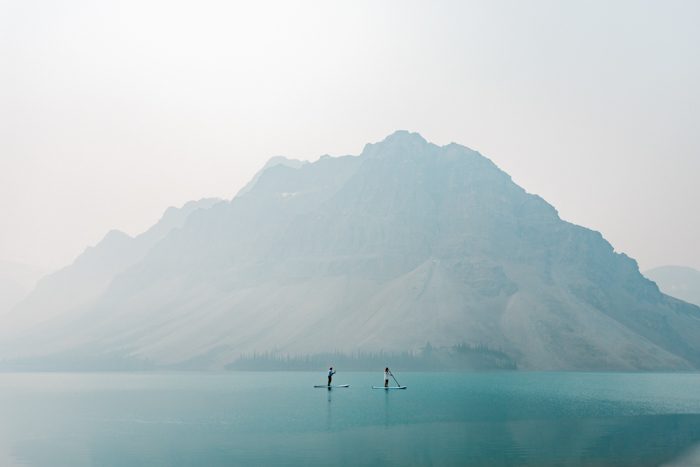 Walk us through how you connect with your couples prior to the wedding day?
Afton: Even before a couple books us, we jump on a video call to learn more about them beyond just their wedding plans. From that first call, we're able to tailor our recommendations to their interests, from locations to vendors to fun activities around the area and beyond. We don't have a cookie-cutter list of locations, so really getting to know what a couple's dream day looks like is key to finding them the perfect ceremony and photo spots.
Once locations are decided and we've crafted them a personalized timeline, we have the couple complete an easy questionnaire leading up to the big day. Getting these small details like a list for family photos and any 'must-get' shots is vital to ensure the day runs smoothly and no memento is missed.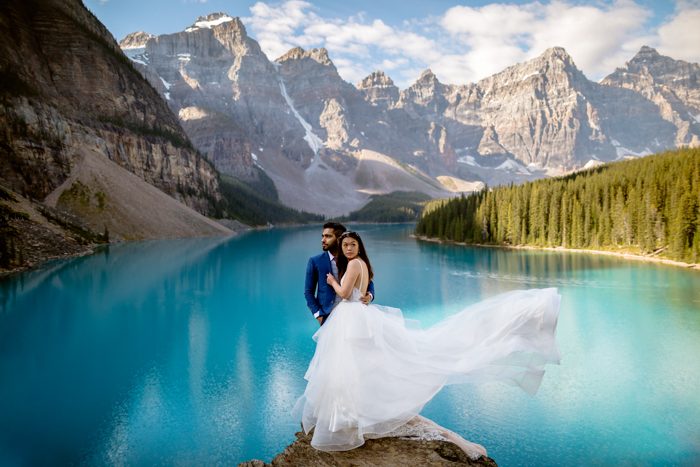 What are you doing with your branding to attract clients?
Afton: I've heard it a million times, but being yourself in your branding will ultimately attract clients. We're an outdoorsy couple and we show that in our marketing. Naturally, we attract outdoorsy like-minded couples. 
Liam: I also think our editing style attracts clients as well. So many photographers go dark and moody, but the mountains are a vibrant and colorful place! Our waters are bright blue and our mountains are lush green. Why hide that in your editing and branding?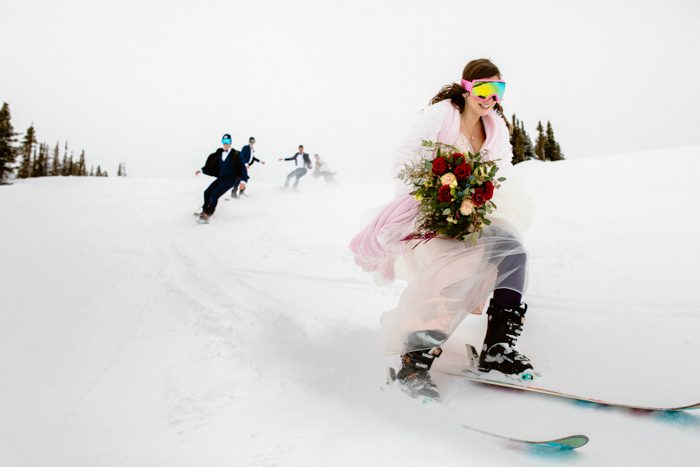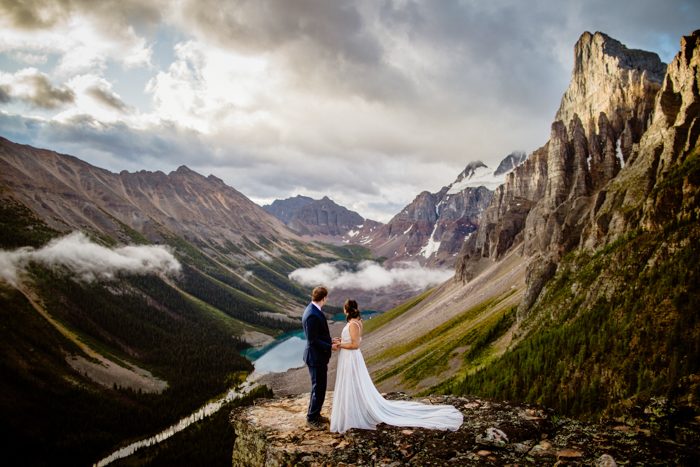 How has social media affected your business?
Afton: Social media has allowed us to connect with couples beyond a transactional business perspective. Countless times couples have told us how they follow our adventures on Instagram and subtly stalk us, ha! Having a boatload of followers is cool and all, but nothing beats the personal connection you can make with clients beyond the screen.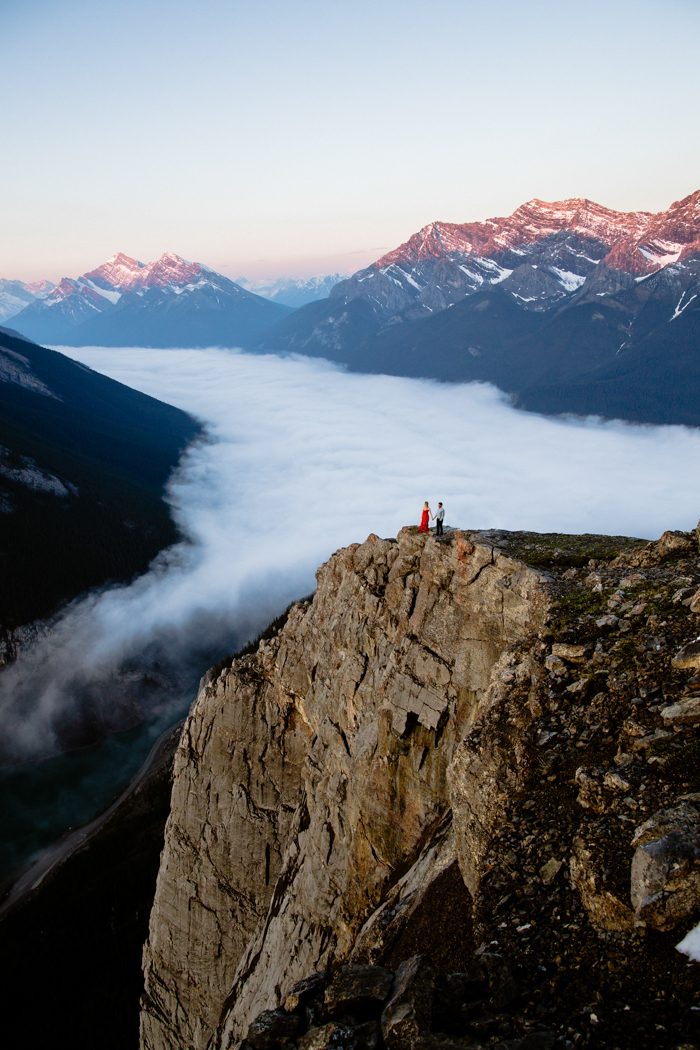 What do you think has had the biggest impact on growing your business?
Afton: Developing our unique photography style of landscapes and vibrant editing has had the biggest impact on growing our business. We live in an incredibly saturated photographer market, yet we've heard time and time again that couples chose us because we're different. We focus on candid moments in epic landscapes with an editing style that's punchy and vibrant, and that's what made us stand out in the market and grow our business.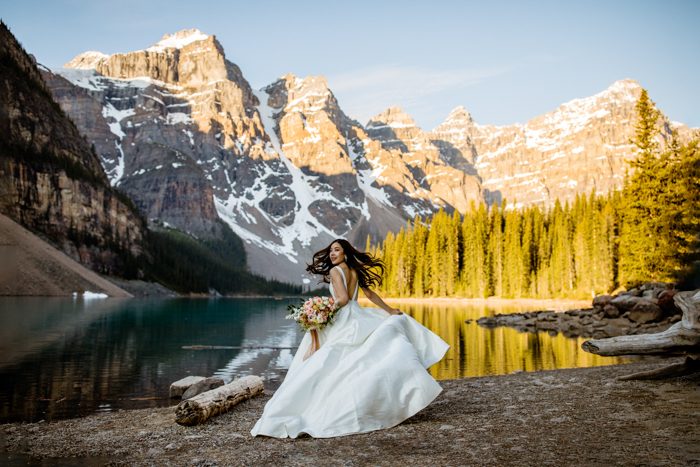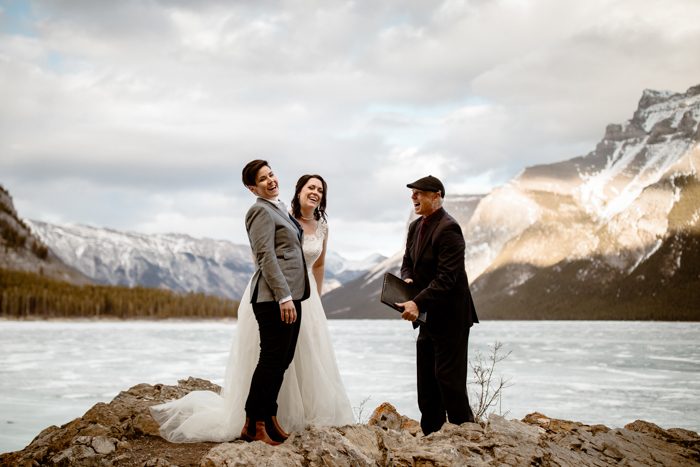 What's in your camera bag? List all of the gear and must-haves for a wedding day:
Liam: Definitely a 70-200mm lens. This is both mine and Afton's favorite lens and we fight over it so much we're going to buy a second one, ha! We love how it draws faraway landscapes in and brings so much attention to the subject. Beyond that, you can usually find a ton of snacks and a mini Bluetooth speaker for some good tunes while we shoot.
Afton: Lots of energy gels, ha! As trail runners, we always have a ton on hand, but they're so easy to scarf down – we started having them on wedding days, too. The Canon 35mm f/1.4 rarely leaves my camera, but, in the Canadian Rockies, it's essential to have a 24mm f/1.4 in the bag too because the mountains are so tall and close to the couple.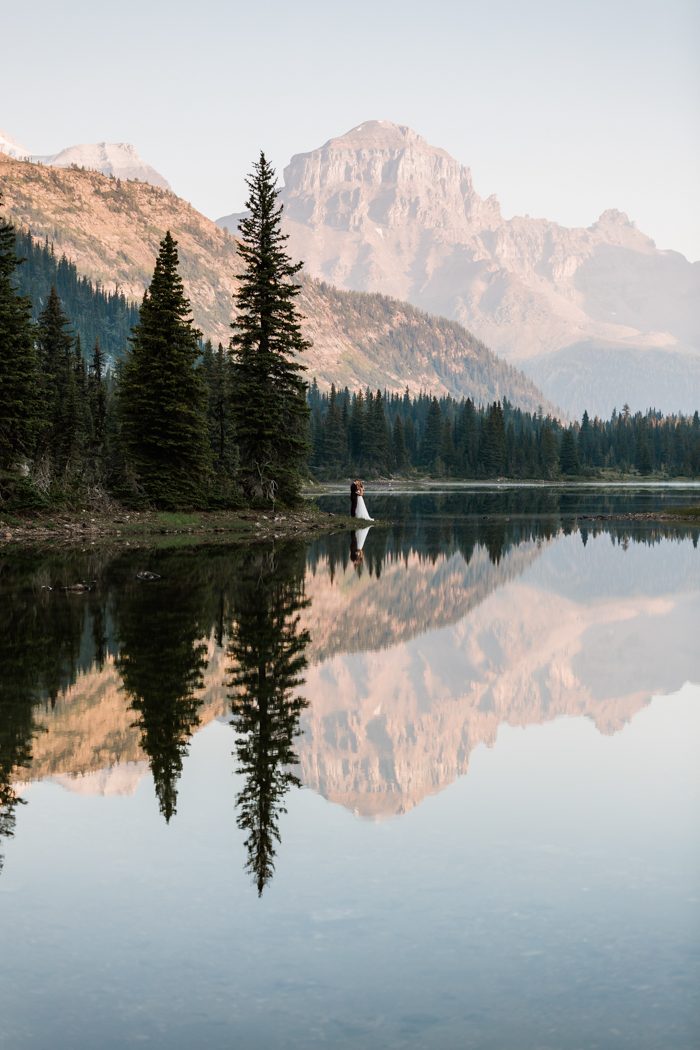 How have you continued your photography education?
Liam: We are always trying to constantly break out of our mold to ensure our work feels fresh and we aren't just capturing the same photos that work time after time. We've invested in a couple of online workshops from peers in the industry. It's refreshing to see fellow photographers' approach to things and how they capture moments.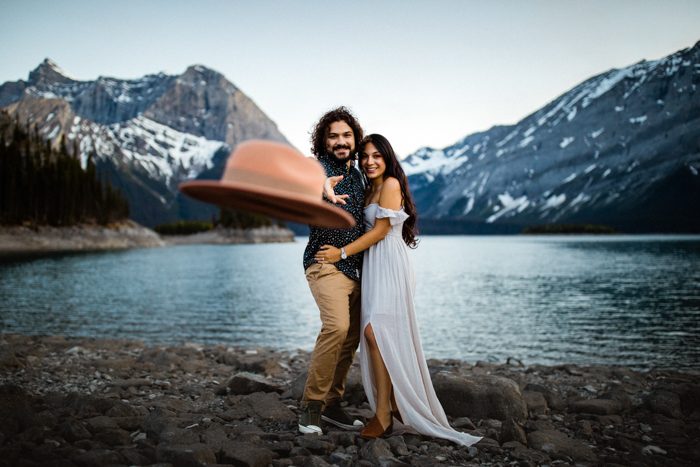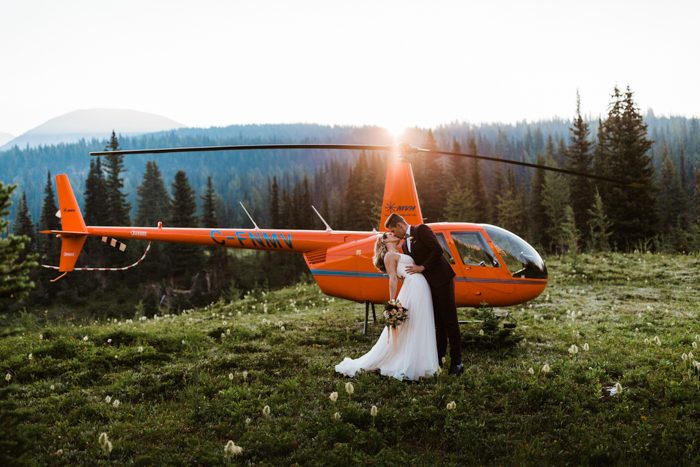 Do you have any bucket list locations that you hope to shoot at one day?
Afton: We always see far-off exotic places on bucket lists, but honestly our bucket list locations are all within Canada! Some places have been dreams of ours to visit for years like Gros Morne National Park during iceberg season in Newfoundland, while others are places we've explored already and fell in love with like the Berg Lake trail in British Columbia.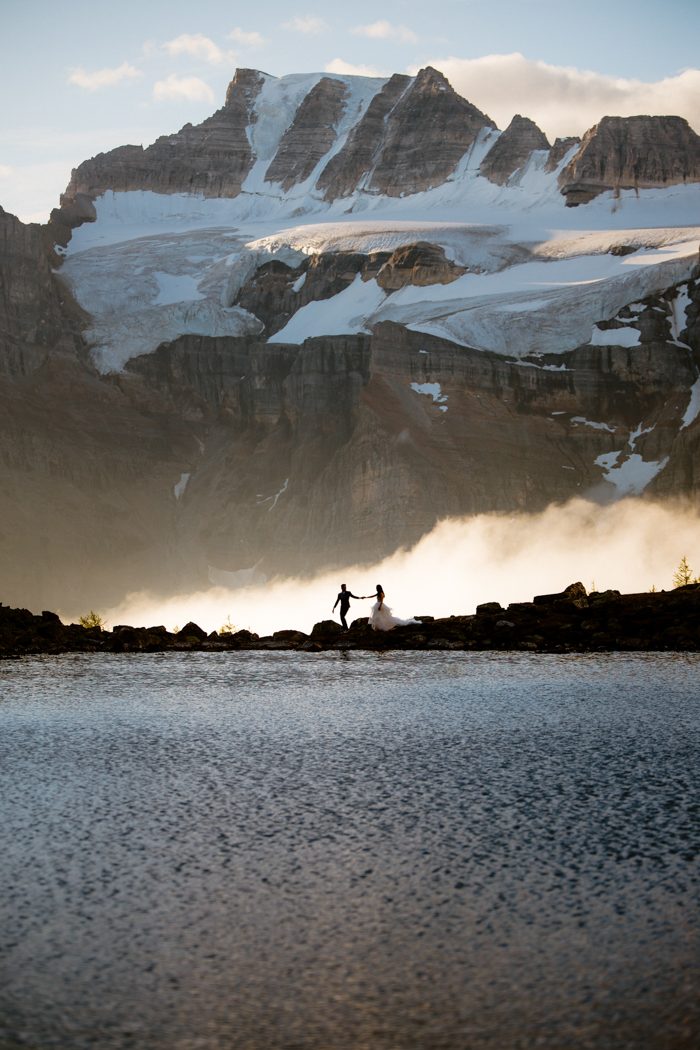 What is your favorite image that you've taken?  Can you describe how you created it? What is it that makes it different?
Afton: This couple chose to elope just the two of them to the remote mountains of Mt. Assiniboine Provincial Park. When we arrived, we only had a short weather window before the rain and clouds moved in. We hiked up to this overlook (shown below), but the wind was blowing so fast clouds had already crept in and hid most of the view.
Just before dusk, the sun suddenly burst through the clouds and shined a ray of light onto the appropriately-named Sunburst Peak. Although they were signing the legal paperwork back home in Idaho, the couple really wanted an officiated ceremony-style picture there. 
Liam pulled out his makeshift officiant book (a photography book of the Rockies), and we quickly set up an impromptu ceremony for them on the cliff's edge! These two couldn't stop laughing and grinning ear to ear as Liam read aloud in his most professional, authoritative officiant voice.
The burst of light only lasted a minute or so, but alas so did the ceremony. None of us could believe how beautiful the moment was. We wrapped things up and drank beers together, swapping stories and jokes as the last light of the day slipped away.
Overall, it's the story behind this image and the friendships made that make it my favorite. Storm clouds to the east, rays of light to the west. And a whole lotta laughs in between.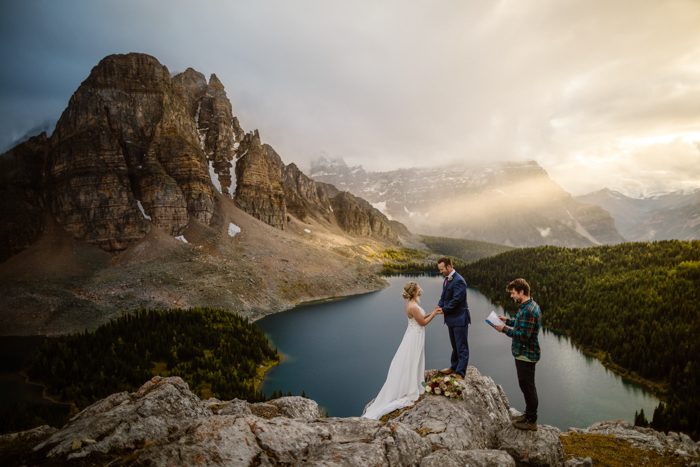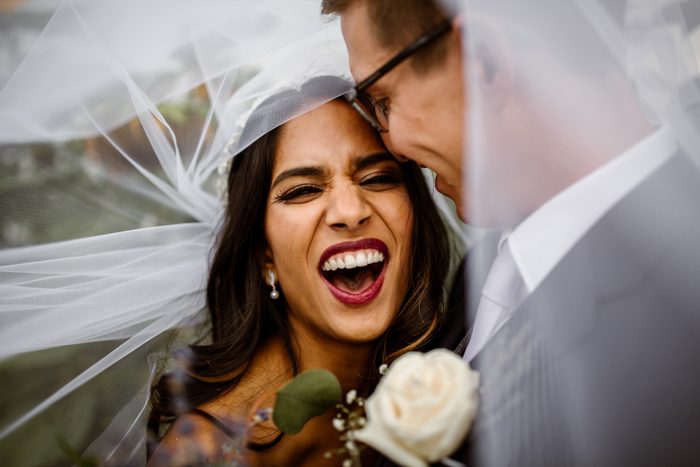 Best advice you've ever received about being an artist, business person, or happy human?
Afton: You have two users on your website: the customer and Google. Make sure you optimize for both.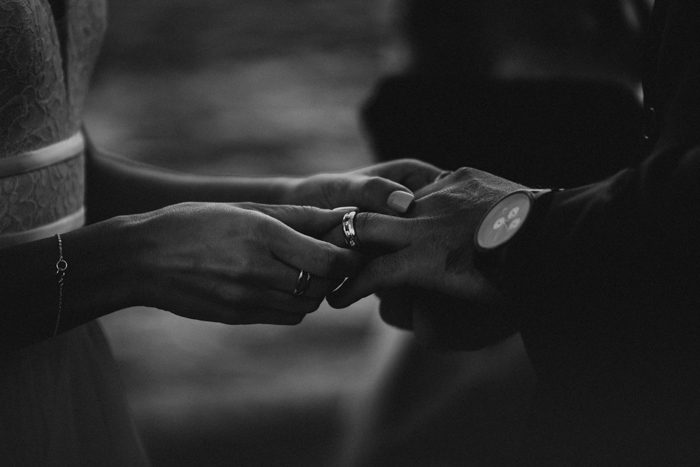 Where can people follow you and your work?
www.instagram.com/filmandforest
www.facebook.com/FilmandForestPhotography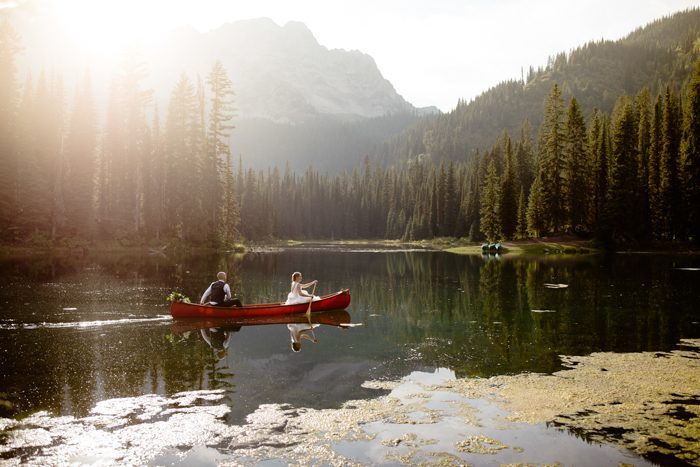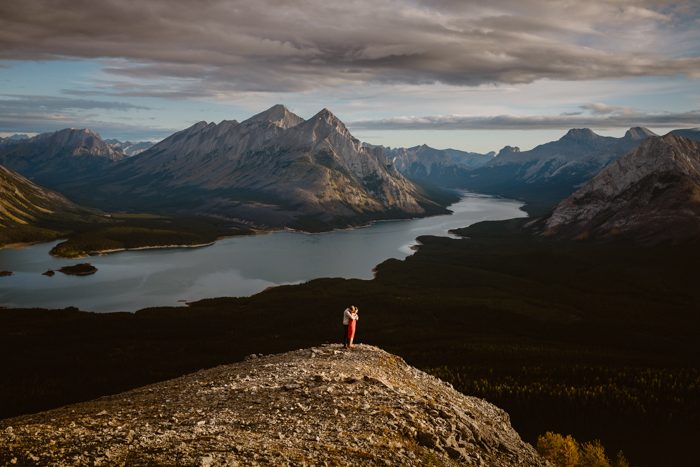 Is there someone you think the wedding photography industry needs to know about? Nominate them in the comments below!
Also, be sure to check out our other photographer interviews on the blog now!