Photo by JC Guzman
It's time for our monthly round-up of Instagrammers who've cracked the code and are totally worth the follow. Every month we try to select accounts that have a good following, but more importantly, great engagement – because that's what Instagram is all about! It's never too late to learn something new and if you've been putting off boarding the Instagram train, this post is for you! Enjoy!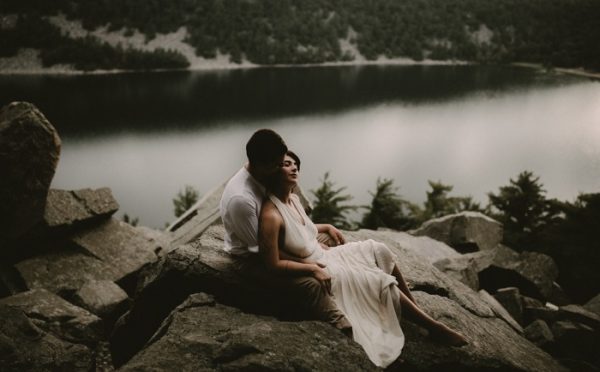 Photo by Hearts and Color Co.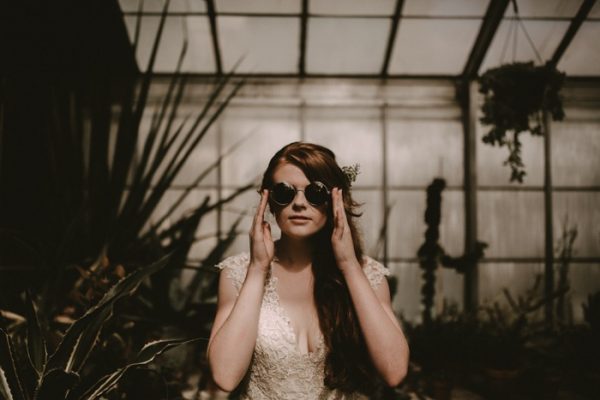 Photo by Hearts and Color Co.
Instagram has played a big part in the growth of my lil' business. I'd say roughly 85% of the couples who reach out find me through Instagram. It's a creative outlet for me as an artist and conveniently a freaking awesome marketing tool. It's become an extension of my website, but a more personal and vulnerable version that people can relate to.
There's no one right way to take on Instagram, but there are a few things that have worked well for me. Posting often and with intention, consistency in content, and creating emotive captions that connect with people beyond their phone screens. I think we've all experienced the drag that Instagram can sometimes bring. There are so many awe-inspiring photographers in the world and it's easy to feel lost in the mix. Stay true to who you are and people will take notice, I promise.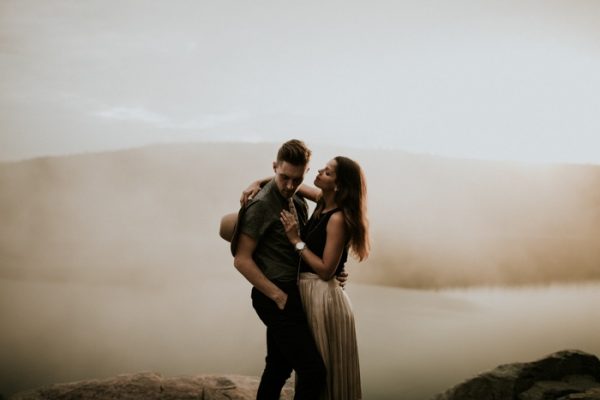 Photo by Hearts and Color Co.
I love all the things that The Ferros (@theferros) put out in the world – their photos take my breath away. A good friend of mine, Dani Carissa (@danicarissa) blows my mind every time she posts, no joke. And a bunch more that inspire me are Muse & Mirror (@muse.and.mirror), India Earl (duh), Jessica Perez (@whoajess), Greg Petersen (@gregpetersen.co), The Moody Romantic (@themoodyromantic), and Dylan + Joanna Kitchener (@thekitcheners).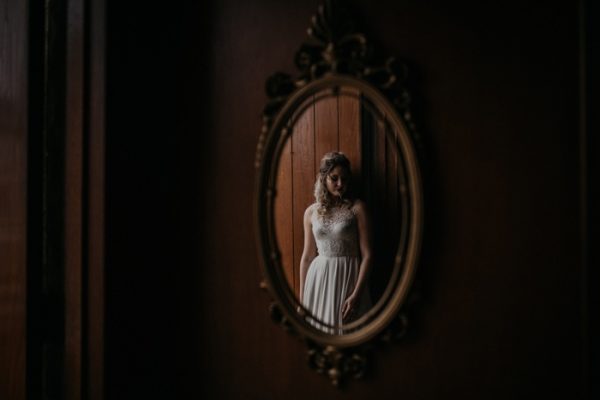 Photo by Hearts and Color Co.
The most popular post of mine is definitely an up close shot from a woodsy engagement session with my friends Marissa and Kees. I think this photo caught people's eyes because it's almost uncomfortably close to their faces (forget about personal space when you're shooting with me). It also helps that this post had two super cute love boats in it, ya know? I refuse to take all the credit for this photo's popularity!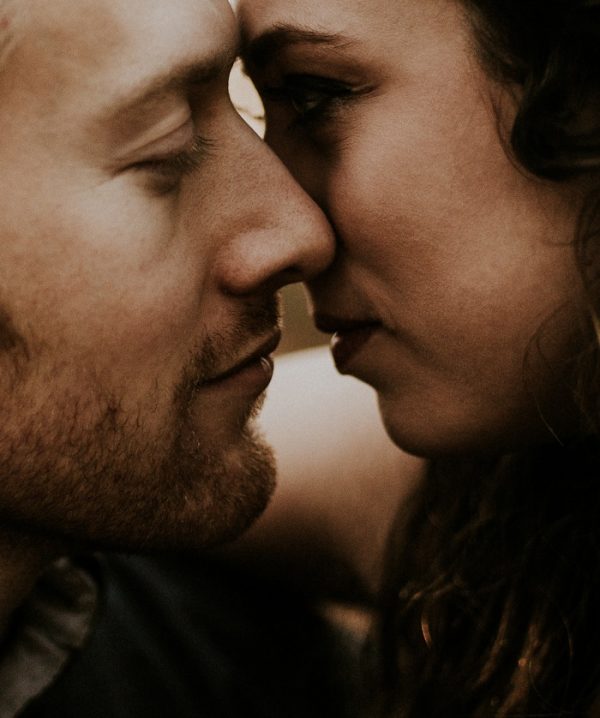 Photo by Hearts and Color Co.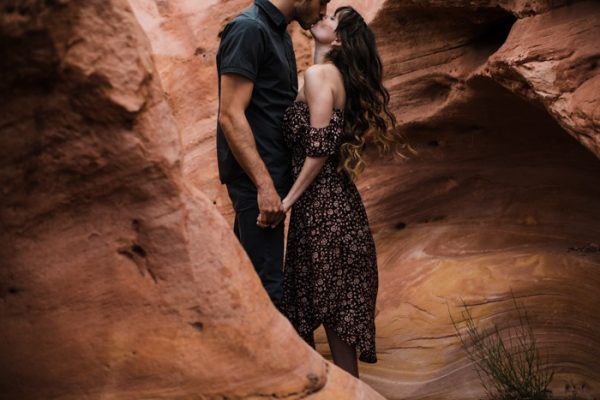 Photo by The Hearnes
While the majority of our inquiries still come from Google, I don't think our business would be anywhere near where it is today without the power of social media and mainly Instagram! We pull so much inspiration through Instagram, whether it's by following others who live on the road full time or following photographers creating beautiful work. For us, it's a portfolio that clients can easily access and browse as much as it is a way to connect with and encourage fellow photographers and adventurers. A lot of our brand is based on our personalities and our own adventures, so Instagram is a great way to express that! We are both extremely active on our personal accounts (@abbihearne and @callenhearne) and on our business account, @thehearnes, which helps people have an idea of who we are before ever meeting us.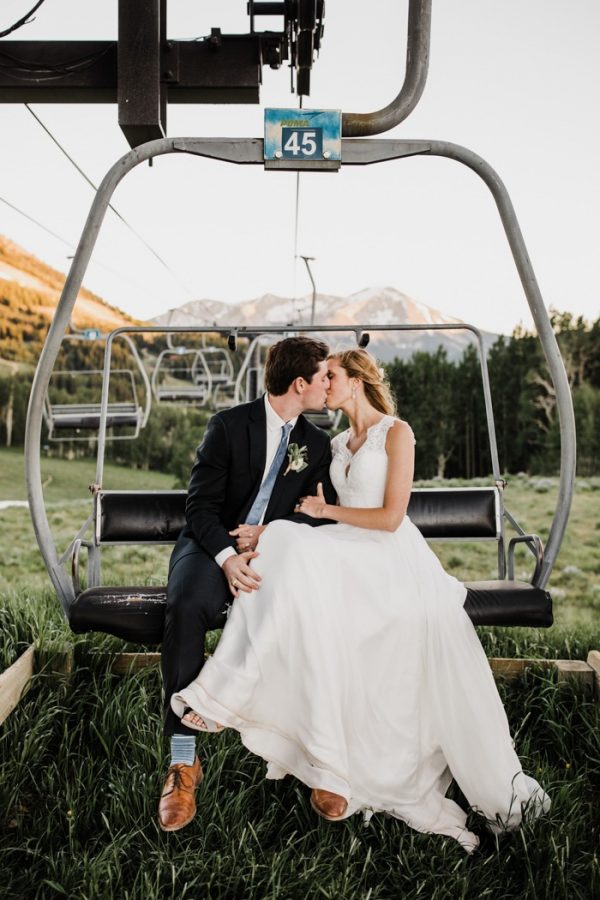 Photo by The Hearnes
You know the saying you'll find true love when you stop looking for it? As goofy as it sounds, I believe Instagram followers can be the same way. Sure, there are ways to boost your following (heck, you can even buy followers), but numbers mean nothing if they aren't engaging with your content! I have found that our followers enjoy real, raw captions that tell beautiful stories about our lives and our clients. We use hashtags on every post because that helps you get in front of new viewers (plus, we've booked a few elopements based on tags like #yosemiteweddingphotographer!). I also geotag every post with the general location (Yosemite National Park, not Glacier Point), and I make sure to comment on other's photos often!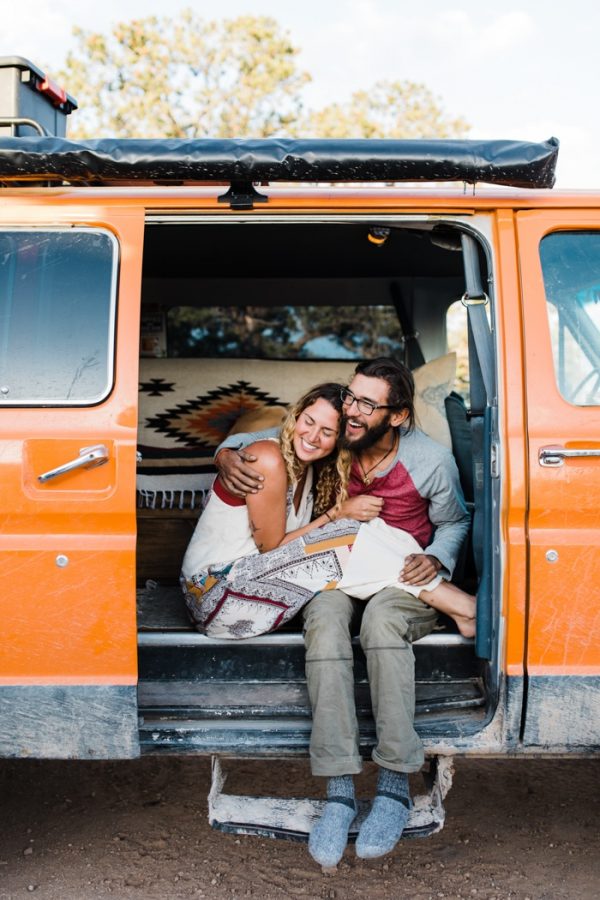 Photo by The Hearnes
My most popular post was a photo of our clients doing acro-yoga near a cliff in Moab, Utah. I think the post did so well because it's different, stunning, and shocking. The photo looks really scary (I was scared while taking it!) but the couple is so calm. They are both well-practiced and have been doing acro together for a long time, so they were perfectly comfortable with the exposure and level of risk involved in this high-consequence pose. I think people are drawn to the trust between the couple and the fact that the photo is well-framed and well-lit. I've seen a lot of photos with great composition, but not a great connection between the couple, and I've seen the inverse, but I think when photos have both they really stand out.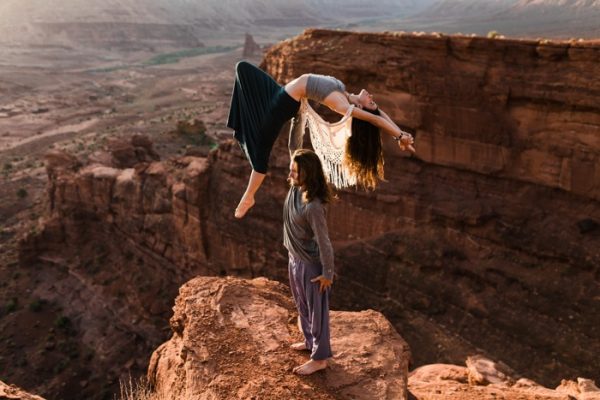 Photo by The Hearnes
I struggled to narrow down my favorite accounts because there are so many amazing photographers out there, but definitely @benjhaisch because of his timeless editing and shooting style, @maddiemaephoto because she shoots in amazing places and works HARD for her clients (like wake up at 2 am to hike up 5,000 feet hard), @megan.kantor because of her real, raw style and her captions show how much she pours into her job, and lastly @andrewmupchurch because he captures people and landscapes beautifully. I truly believe he is our modern day Ansel Adams, and I don't say that lightly!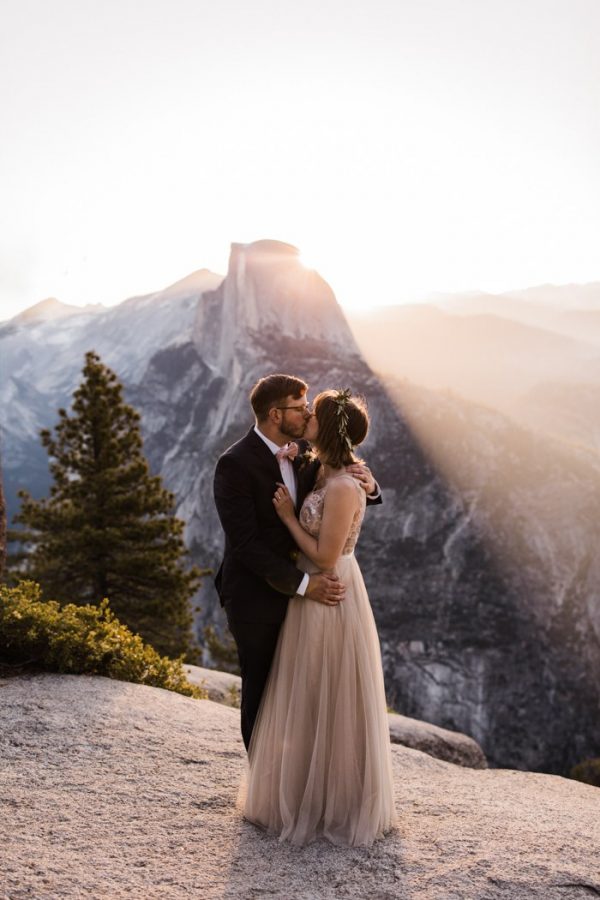 Photo by The Hearnes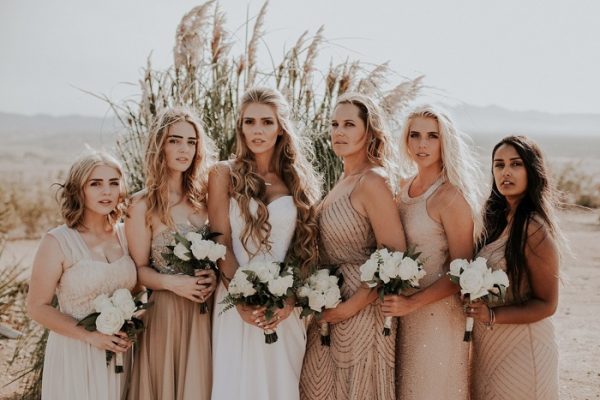 Photo by JC Guzman
Instagram has affected my business in the most positive way possible. In the initial inquiry or at the first consultation most of my couples let me know that they found me through Instagram. The wedding community has worked so well with Instagram and it has been rad to see the transformation that blogs have taken on through IG. Instagram made it easier to be noticed by my favorite blogs and photographers through hashtags.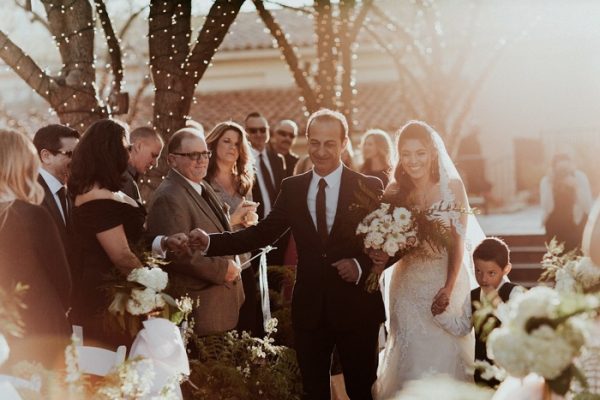 Photo by JC Guzman
Photographers can grow their following and engagement by shooting often, posting daily and using hashtags that pertain to their demographic. Having a solid brand on IG is super important in gaining and keeping a following. By posting images with consistent edits and content will only help solidify your brand.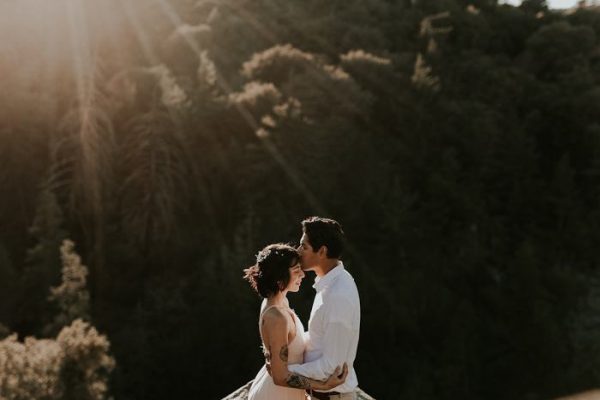 Photo by JC Guzman
My most popular post is one of my a bride tribes standing in our own little desert town of Apple Valley, CA. In front of some random Pampas Grass bringing me that fire ?. I'm always super pumped about this frame because it can be hard for people to pull this fierce and almost vulnerable look off. There has to be good energy and trust between the photographer and subject to get that look and I think people can just feel that.
Photo by JC Guzman
A few accounts that I follow for inspiration are @aaronandwhitneyphoto, @kyleepatterson, and @niravphotography. Good people and insanely talented!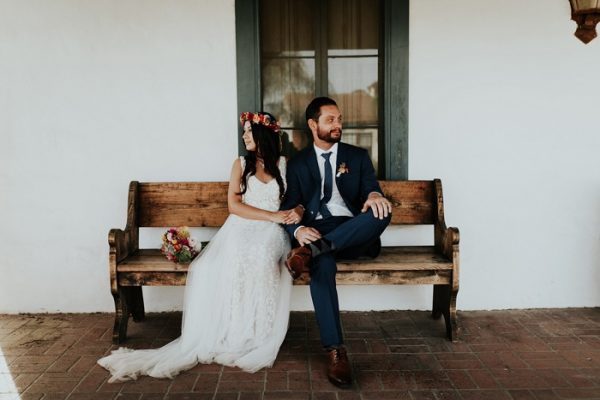 Photo by JC Guzman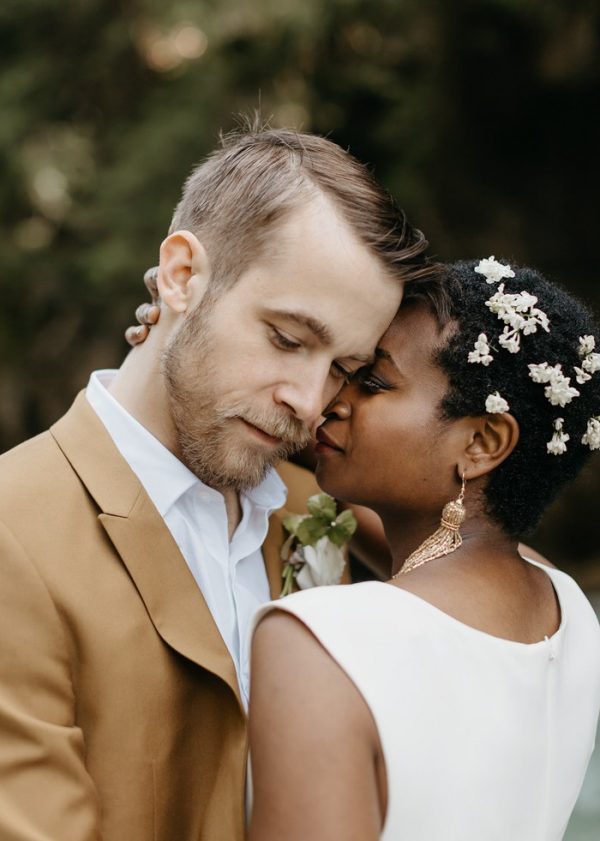 Photo by Justine Montigny
I put fairly minimal effort into my account and it still has impacted my business in a beneficial way. As I am typing this, I am preparing to go on a two-week long road trip out West. I posted about it only once on Instagram with travel dates and locations and now I am photographing three different couples along the way in some really beautiful locations. I have been wanting my work to be a catalyst for travel, so I am thrilled to be making more face-to-face connections outside of Michigan.
Any time I start going after social media with a game plan, I lose a lot of time and everything begins looking similar, even though I'm never photographing the same thing. I've stopped strategizing and post what I like, when I feel like it. I still book great couples and every year is an improvement from the last in terms of what direction I'd like my business to go – that's all that I'm really focusing on.
One thing that I never stray from is crediting vendors I really enjoyed working with by tagging their accounts (if they have one) in images where their product or service is evident. Artists like credit, and word-of-mouth is the real deal. Some bigger names and designers have shared my images because I gave them credit and I have received many followers this way!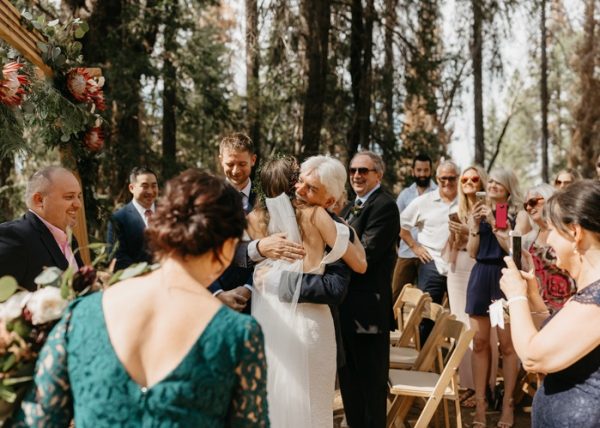 Photo by Justine Montigny
My most successful post is of a couple on their wedding day standing on a cliff jutting out over Lake Huron. I think it did well because the location is available exclusively through a private neighborhood the bride grew up in and it is not well known. The lower peninsula of Michigan isn't terribly rocky, so seeing cliffs is a bit of a surprise. It's also really beautifully lit and the couple is relaxed.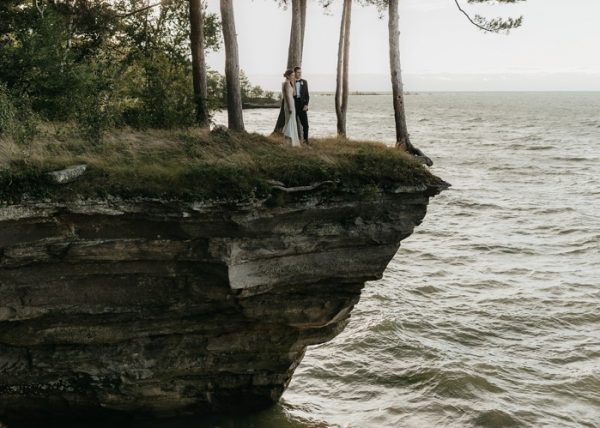 Photo by Justine Montigny
For inspiration through Instagram, I have a separate account where I exclusively follow non-wedding images, specifically cinematographers. I look forward to the work of @aero.h, @ryanbooth and @myrthemosterman because of their seemingly quiet approach and how they utilize light.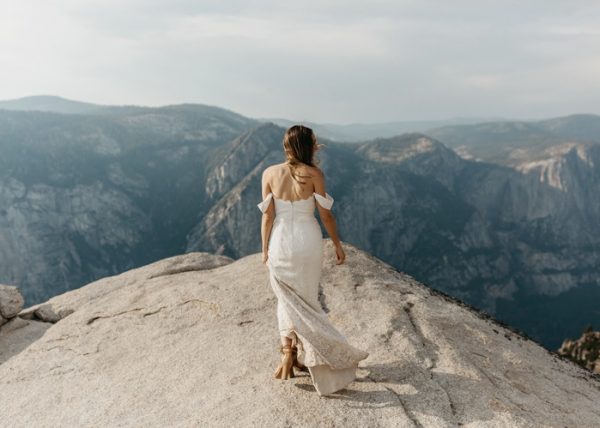 Photo by Justine Montigny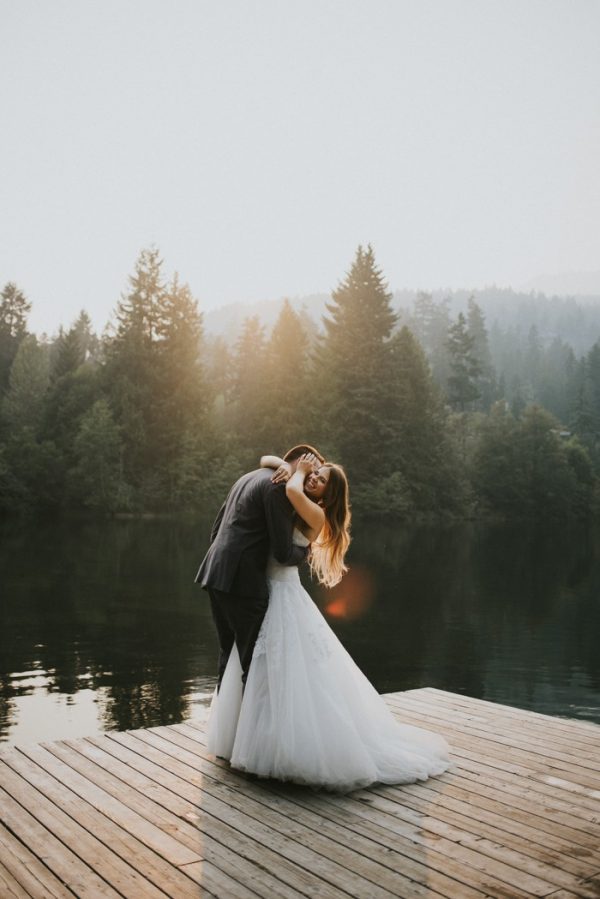 Photo by Sara Rogers Photography
Instagram has been an amazing marketing tool and has helped me book weddings both locally and internationally. It's also great for my clients to be able to see what I'm up to and get excited and inspired for their own upcoming weddings. Beyond just affecting my business from a client perspective, Instagram has also helped me connect with a huge photography community which has led to friendships, business opportunities, and also fantastic referral groups.
With the introduction of Instagram stories, it has been possible to share bits of my own personality and life by posting non-curated videos and pics of BTS, travel, and day-to-day stuff so people can get to know the real me. I love using this avenue to show people who the person behind the brand is, because it's adding the human element and making me more relatable to my audience. I try not to be precious about what I post here, it can be silly stuff, selfies, pics with Instagram filters, messy and inconsistent and the great part is that it will disappear in 24 hours! It's a great extension to the regular feed to use for marketing and with the new algorithm changes IG is now placing an emphasis on stories.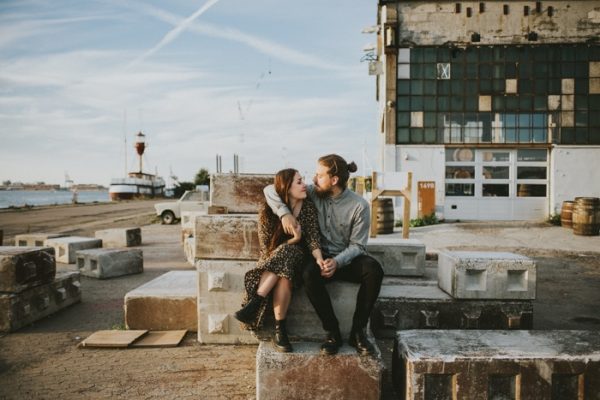 Photo by Sara Rogers Photography
I know that this has been said before but, be yourself. Try to post your own unique perspective instead of doing what everyone else is doing and people will be more engaged. I also find some of my most popular posts on Instagram are moments as opposed to just beautiful portraits. People can relate to the authenticity and it has more of an emotional impact. Lastly in terms of engagement, be a real person. Respond to followers, ask questions and try and have conversations with other people. Some of the most successful Instagrammers that I can think of are ones that take the time to genuinely interact with others, even those with a ton of followers.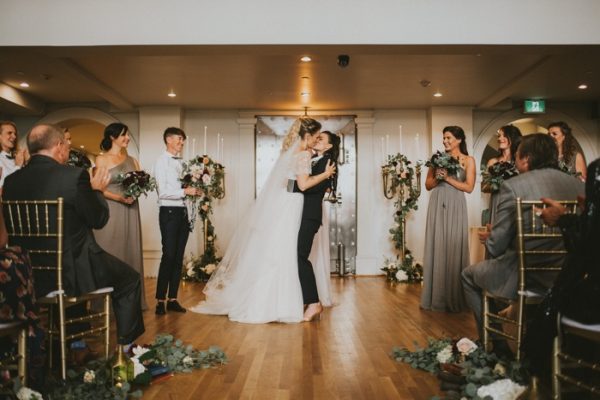 Photo by Sara Rogers Photography
My most popular post was just recently this image of a bride and groom on a dock in Whistler. The wildfires in BC this summer have created a lot of smoke in the air, giving the background a foggy look which I think helps separate the couple nicely from the background. I think people loved this Instagram post for the quality of the light but also, more importantly, because of the obvious connection between the couple. They look so "in the moment" as opposed to this looking like a posed portrait.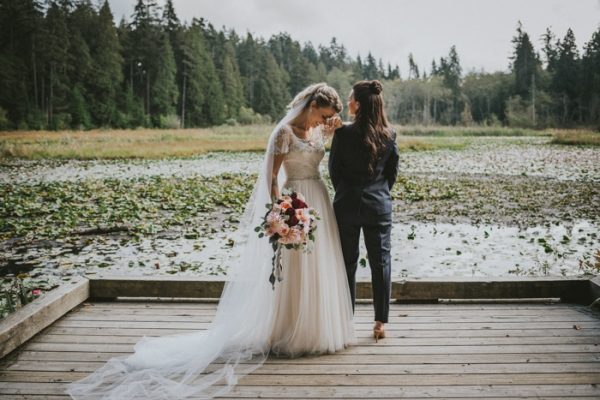 Photo by Sara Rogers Photography
I'm so inspired by a ton of amazing artists! For wedding inspiration, I love following @jordanvoth, @jennifermoher, @shariandmike, @laurenscotti, and @muse.and.mirror, but I also love looking at non-wedding work for inspiration. One of my favourite conceptual photographers is @georgiarosehardy, and I really admire portraits by @ryanmuirhead and travel/adventure photography by @chrisburkard and @elizabethgadd.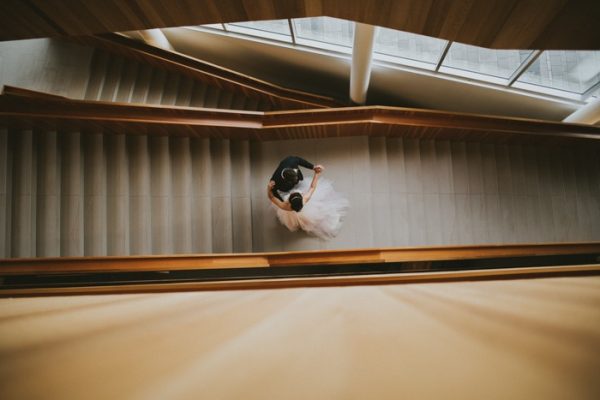 Photo by Sara Rogers Photography
Thanks so much to this month's Instagrammers to Follow for sharing all of their insight + advice.
Is there an account that you've got heart eyes for? Let us know below and we might feature them in a future Instagrammers to Follow!