Same algorithm woes, different day. But instead of waving the white flag and giving up on the 'Gram, read up on what these Instagrammers to Follow have to say! It seems like more and more photographers are embracing the uncertainty and shifting their focus on what they can control – and we think you should too! Go on and get inspired by how you can still create and find your community while not getting discouraged by the algorithm.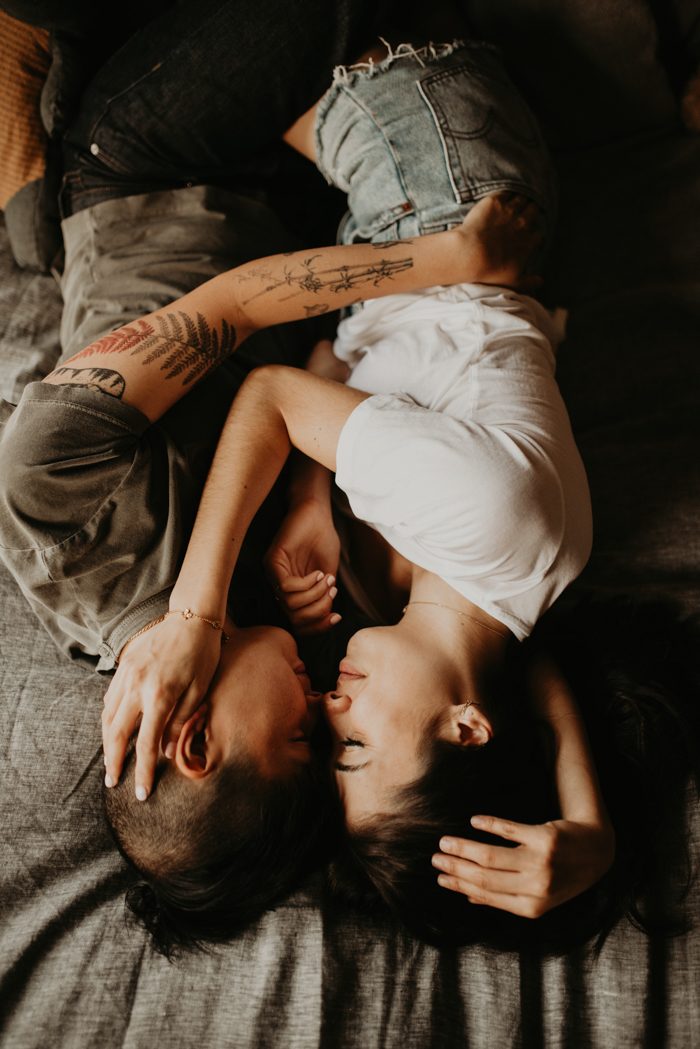 photo by Cheyanna De Nicola Photography
Something clicked for me a few years back when I started thinking of Instagram not as the sum of my success as a photographer, but simply as a visual storefront to accompany my business. It removed some of the pressure I was placing on myself and made it easier for me to feel confident about the images I was sharing, rather than trying to win any popularity contest. It's not my whole business, but it's where most of my leads come from these days and I think that's because I put a lot of thought into my feed's consistency, not perfection. I would like for anyone glance at my feed for 2.5 seconds and (hopefully) know exactly what brand is, and by extension, a little something about who I am as a person. I feel like in any business or industry you have to have a small edge that sets you apart from everyone else, and Instagram really is a great canvas for that. It's not your website, so it can be more personal, more vulnerable, less perfect.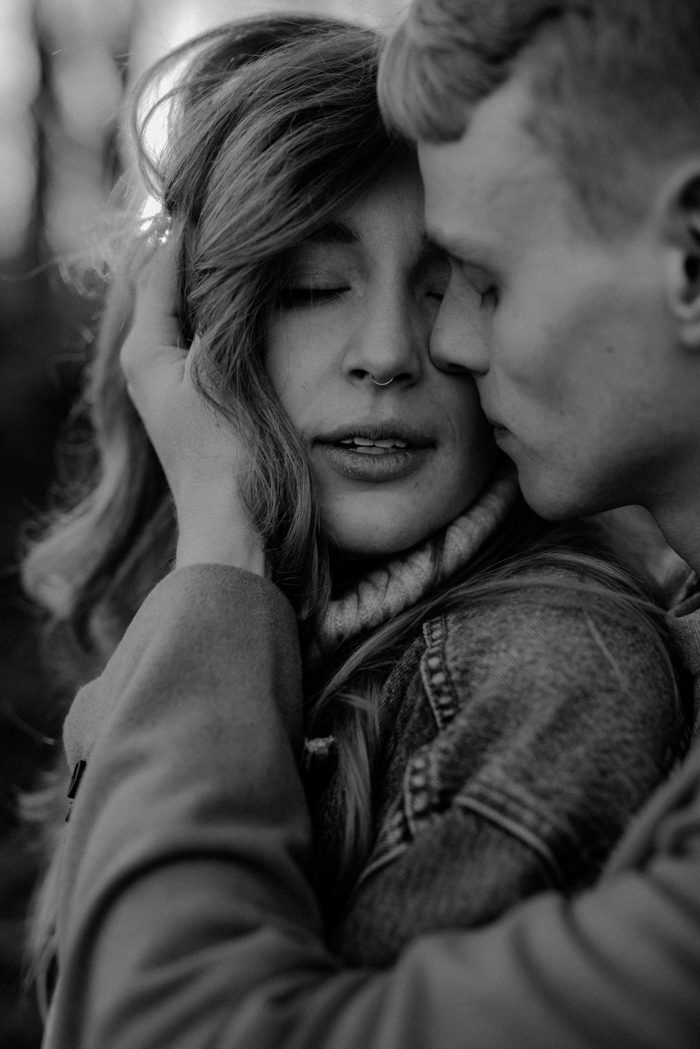 photo by Cheyanna De Nicola Photography
One tip that I have for those trying to stay afloat in the algorithm is this: Stay genuine and approachable. If you feel lost in the algorithm, post an image that day just because it makes you happy. Engage with other people through comments. If you feel stuck, reinvent yourself and shake things up. Potential clients who see authenticity in your feed will respond to that. Honestly I feel like some of the annoying instagram "trends" exist because people are trying to post only what they think will do well in the algorithm, and then before you know it you're seeing the same photo done by a hundred different people. There are always going to be ups and downs, but my advice is to stay true to yourself. Don't let your feed become something you don't identify with or see yourself as an artist in. I know it sounds cliche but for me, that's everything.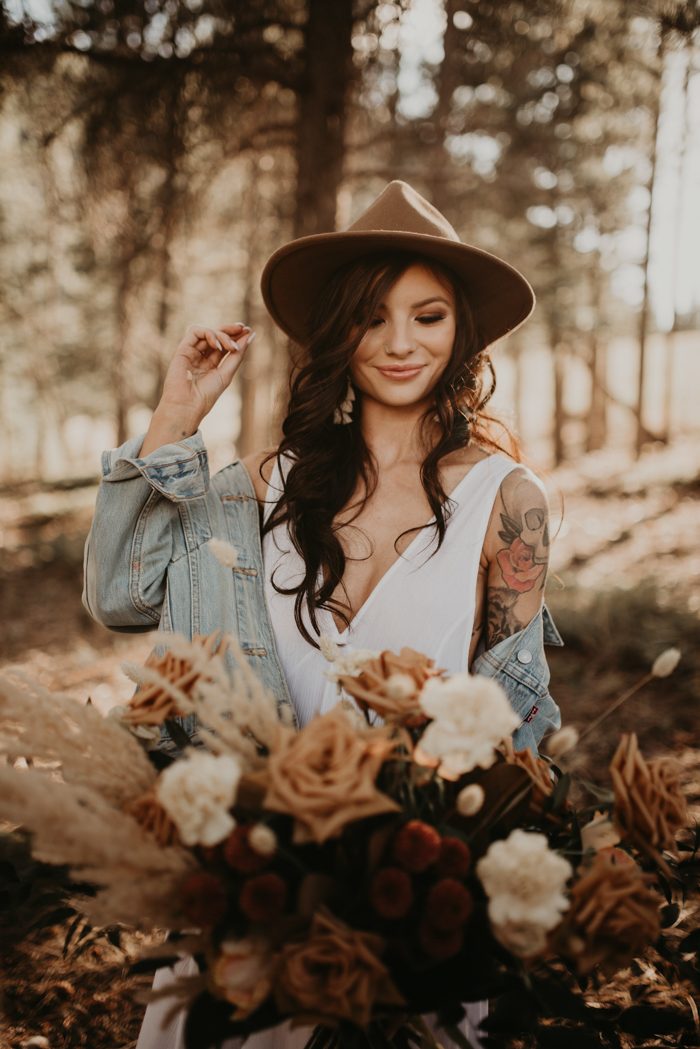 photo by Cheyanna De Nicola Photography
I posted an image of a couple in Oregon with their van/home behind them (below). He has his hands in her hair, and her hands are on his face. They're laughing really hard and embracing at the same time with her nose squished into his cheek. It's a super uncomplicated image and I think it did well for that reason. Their body language, the fleetingness of it, the light hitting them in the right places- it makes me happy when I look at it.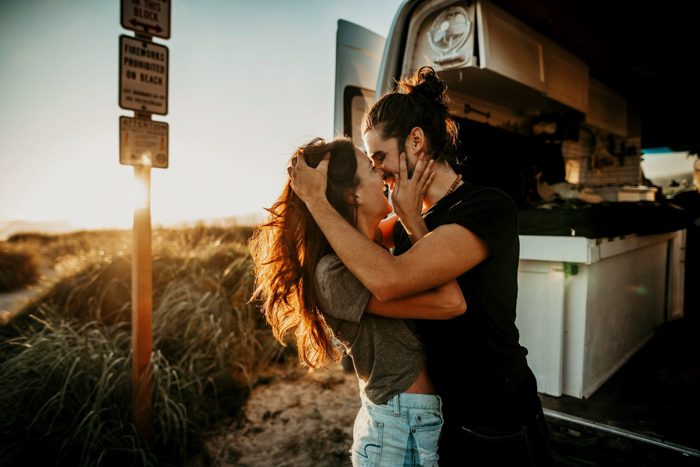 photo by Cheyanna De Nicola Photography
I really admire @laurenapelphoto – her colors and compositions blow my mind. I'm also inspired by @hannah_breidinger and @whoajess. @leo_berne feeds my soul when I need to reconnect with my creativity.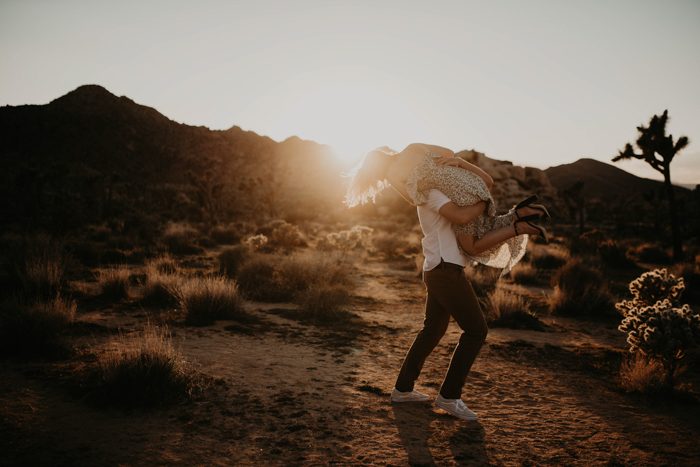 photo by Cheyanna De Nicola Photography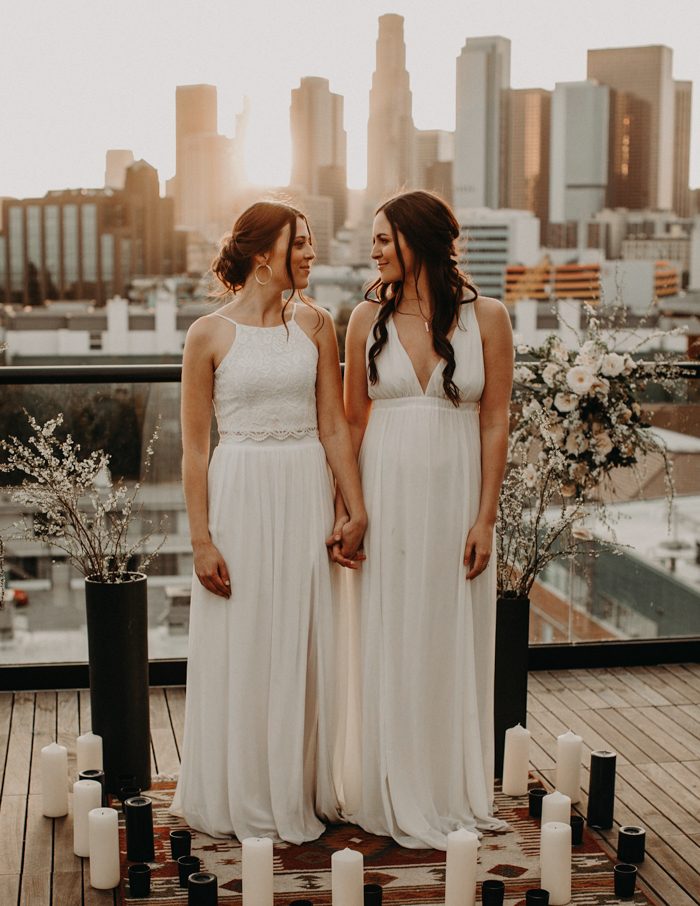 photo by Kelly Balch
It's been amazing to see how Instagram has affected my photography business over the years. When I started my photography business, Instagram was not a thing. I remember when it started and everyone was using it to post their food or clouds. Now, Instagram has been huge in the wedding photog world, and it's been so beautiful to finally not feel alone. Before Instagram I didn't know a single photographer even in the Los Angeles area. From Instagram now I've met the most amazing colleagues, been able to collaborate and work with them, as well as have met the most beautiful clients from all over the world.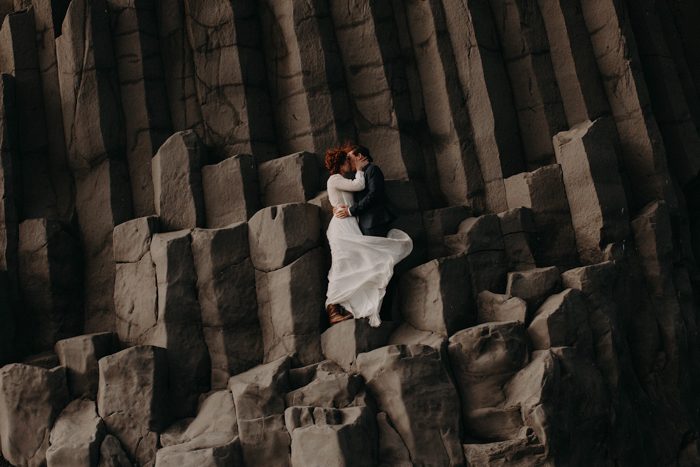 photo by Kelly Balch
Instagram's algorithm will continue to change and update, seeking new ideas and creative ways to run. As should you, being a photographer and videographer myself, I'm always looking for new creative ways to capture a shot or edit a video, finding the new trend, create a trend, yet staying authentic to me and my style. It's frustrating when it changed but learn to adapt. When something changes it's just a new opportunity for creation.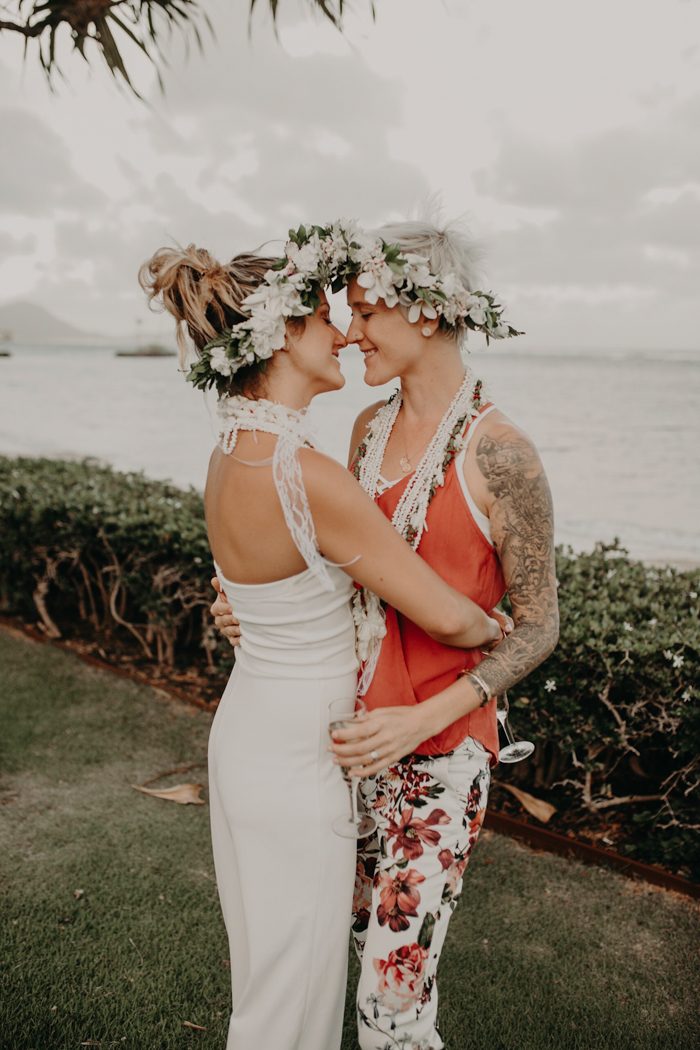 photo by Kelly Balch
The most popular photo that I've posted, aside from a photo of my wife and I, was my good friends' proposal shot on a boat dock in Marina Del Ray, California (below). I feel it did so well because it was the very first same-sex proposal shot that I've seen The Knot post on their Instagram. And it just blew up! Aside from the feature, the pure surprise and happiness my friend Vanessa had on her face was the most beautiful expression ever.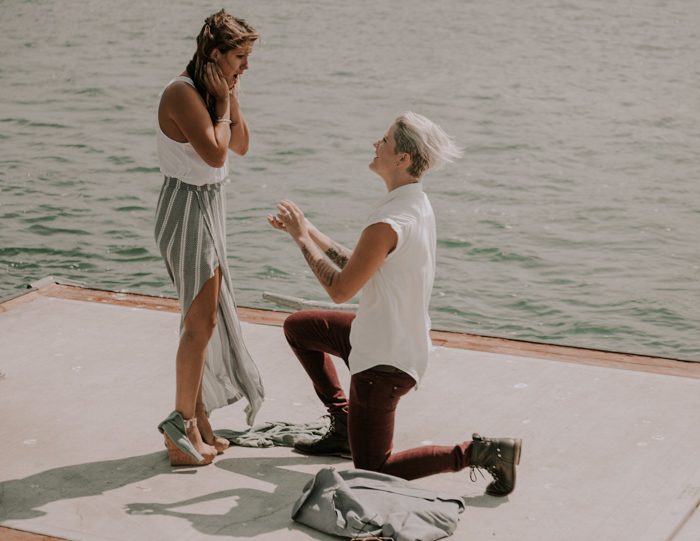 photo by Kelly Balch
The Instagrams that I follow for inspiration are few and far between. Most of these accounts are not anything I shoot. But if you look closely I feel there's a pinch of them in my work. So thank you to these accounts for opening my eyes to your mind and helping me tap into something I've never thought I can translate into wedding photography: @deanastacia, @damon_baker, @icreatelife_, and @maxcutrone.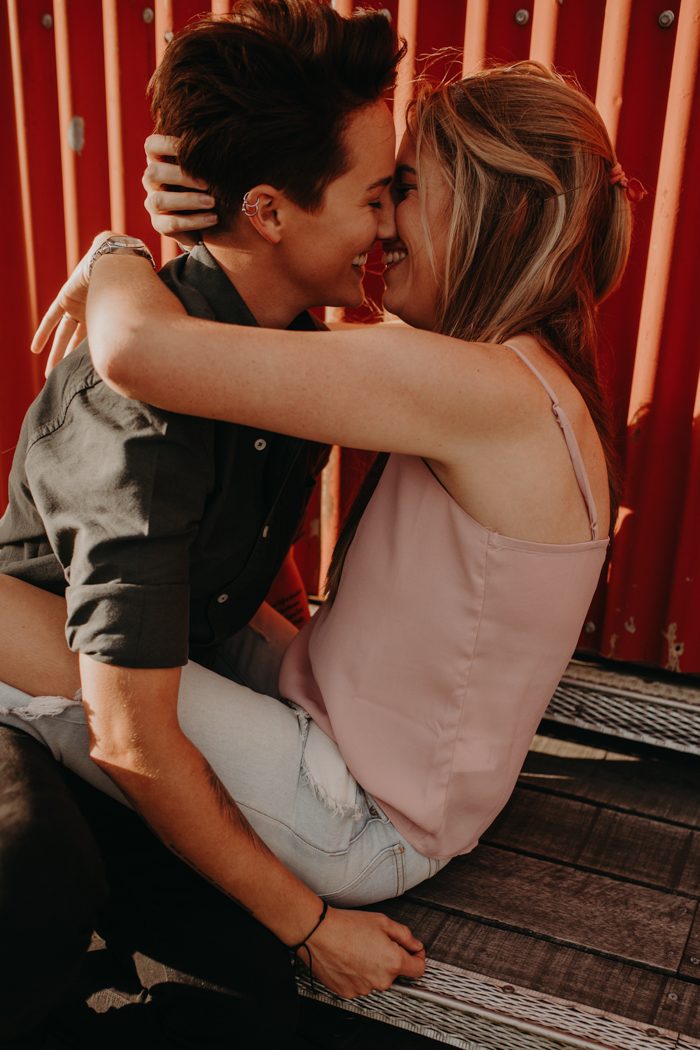 photo by Kelly Balch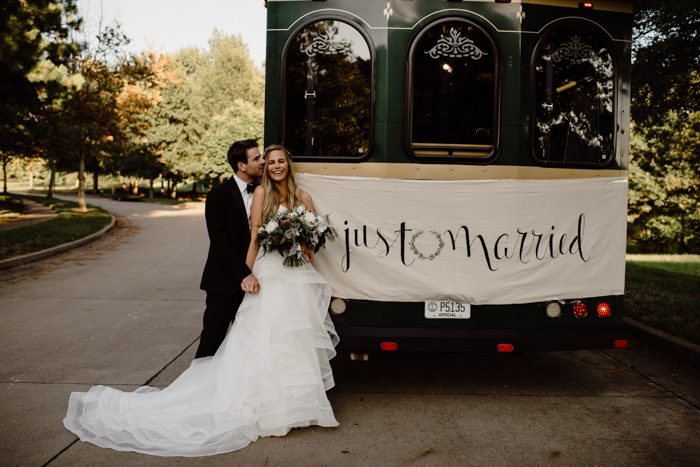 photo by Zach and Rosalie
Out of all of the social networks, Instagram has affected our business the most. When we first began photographing weddings professionally, using hashtags helped us break into markets in areas we wouldn't have been able to reach without some pretty extensive website SEO. We went from photographing weddings in our rural area of Missouri, to shooting on both coasts. We book a lot of weddings through Instagram!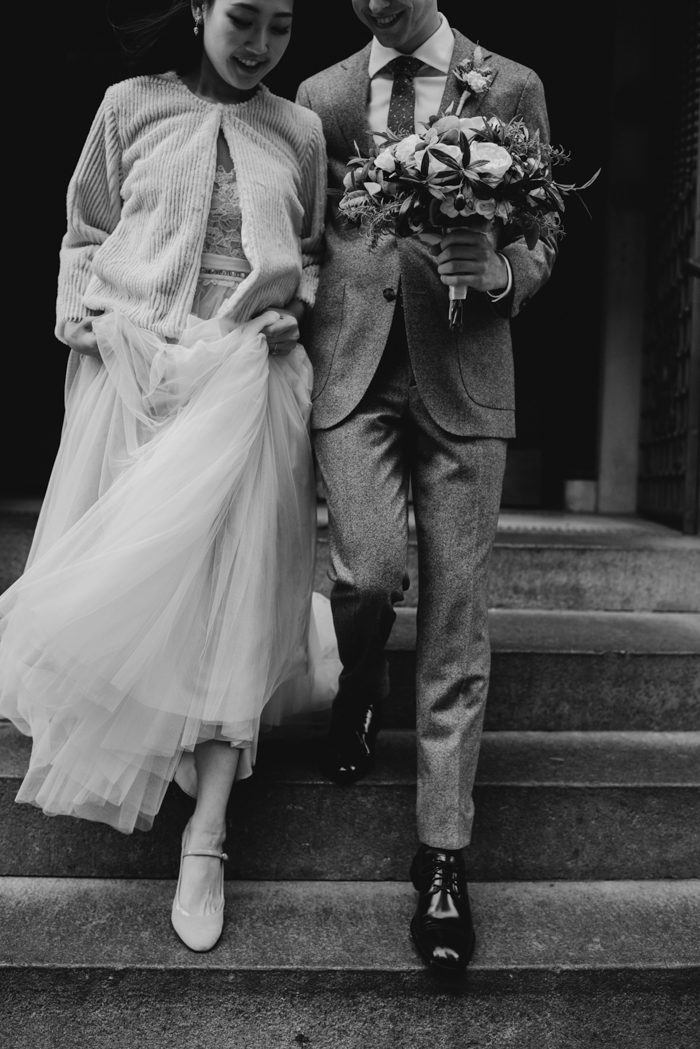 photo by Zach and Rosalie
The algorithm changes can definitely bum you out if you let them. Some tips we would give photographers/videographers battling algorithm is to post unique content and be sincere. You're photographing/videoing unique people with unique lives, so show that. Also, if your account is a business account then you can use the handy Insights feature that allows you to see when your followers are most active. Then you'll know when to post to get the most views! Don't be discouraged if your photos aren't getting a crazy ton of likes. You only need one person to see that photo and connect with it to create a potential client.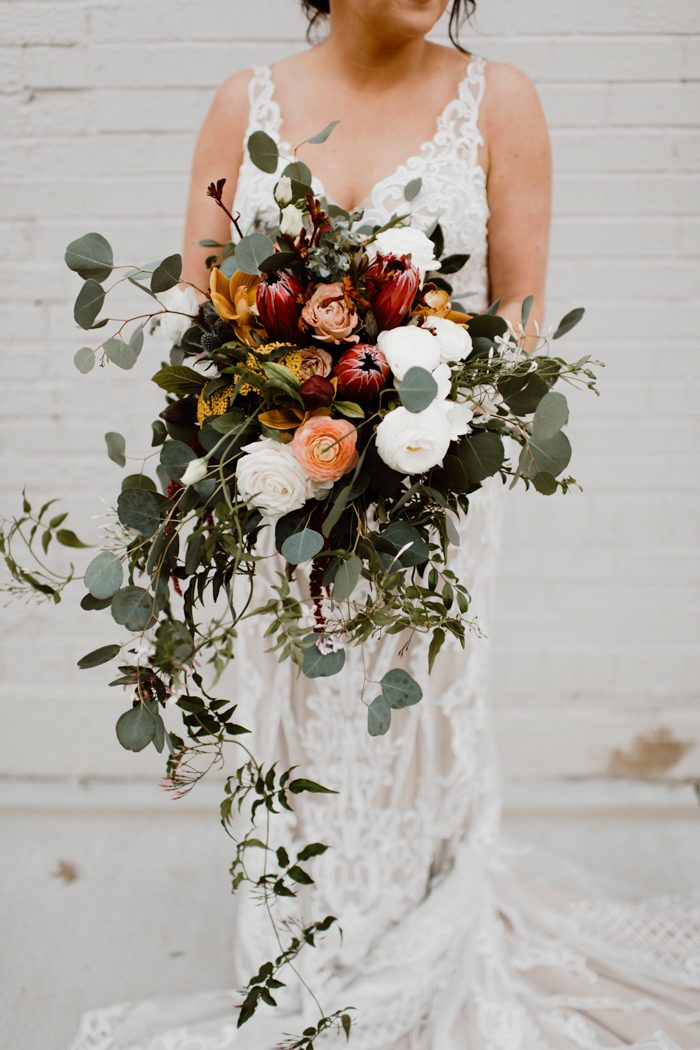 photo by Zach and Rosalie
The most popular post that we've shared with our followers was a double exposure Zach shot in camera (below) in Ohio for our clients Jess and Ryan. Honestly, I think the photo is just impressive. It's framed beautifully and the way the light filters through the leaves in contrast to the deep greens and soft skin, rosy skin tones. I see why our followers loved it so much! It's experimental and cool, but in 20 years I believe it will hold it's creative integrity. (Unlike the selective color and floating head imposed portraits of yesterday.)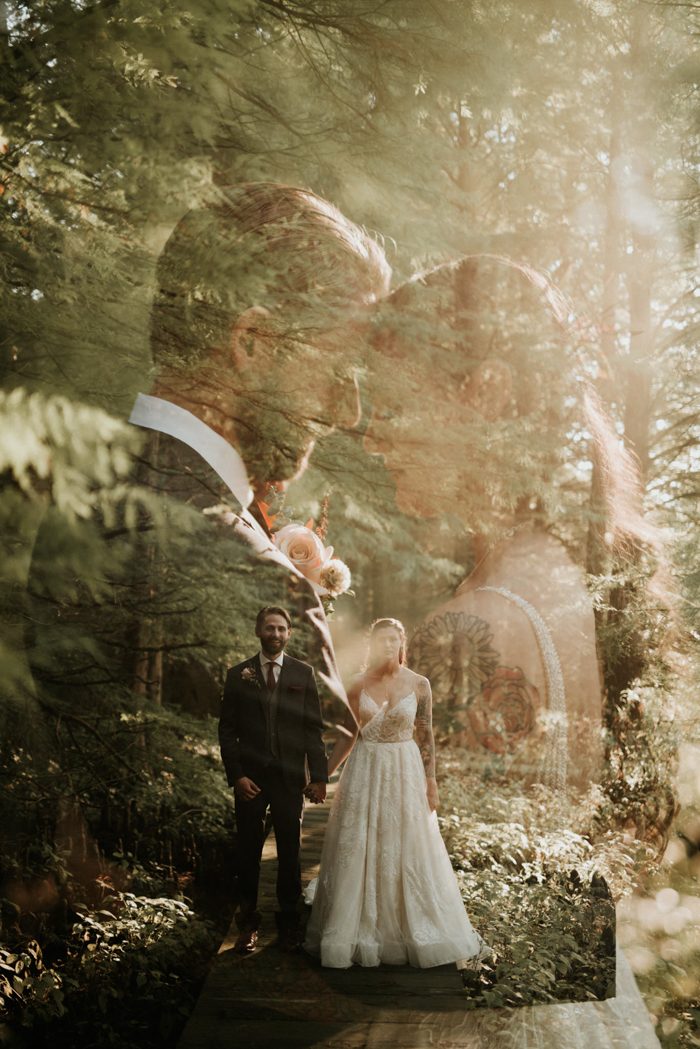 photo by Zach and Rosalie
A few accounts I follow online for photography inspiration are:
@bethssolano – We're constantly inspired by Beth's use of color and the softness that her photos hold. Her feed is curated beautifully, but it's real. It shows a plethora of different lighting situations, portraits, couples, and beautiful families. She's local to Missouri and has actually photographed us a couple of times. Now that I know her personally, I love her connection with her work even more because I know the heart she puts into every single image she takes.
@onenightcereus – Quyn and I were in a Facebook group for photographers when we realized that we actually went to the same high school together! She is my favorite candid photographer and isn't afraid of low light. Plus her business hashtag is the best, #tildeathdousparty. True colors, real moment, great contrast, and a fresh view of weddings in a sea of similar content.
@dilanandemma – Vibrant, loving, affectionate. It's how I'd describe this account, but it's also how I would describe them as well. Dilan and Emma are our brother and sister-in-law and we're always inspired by their use of light and their love of all things outdoors. When I want to photograph couples being affectionate, I think of their work and it gets me in the zone!
@jesswoodsphoto – Adventurous and kind, that's her tagline and it couldn't be more accurate. From driving cross country alone with her pup to photograph couples out in the mountains of Denver, to constantly loving and supporting us and all of the people she loves, we're so inspired by Jess. (Fun fact: She's actually in our most popular Instagram photo above!)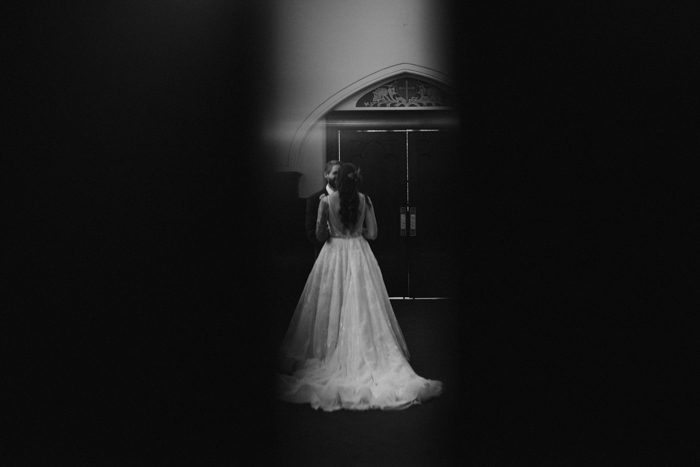 photo by Zach and Rosalie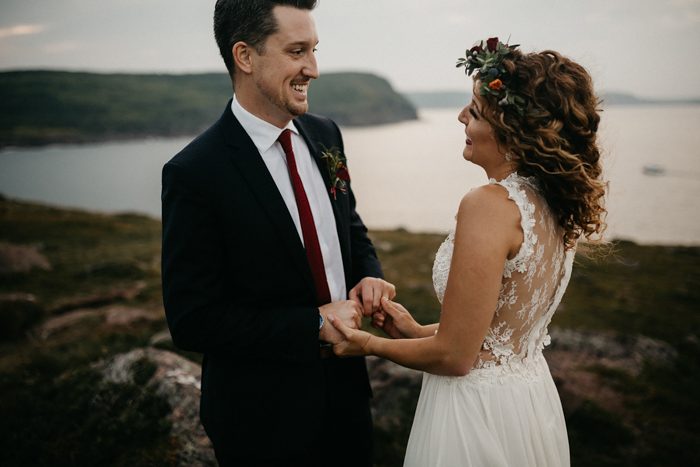 photo by Kim Jay Weddings
Instagram has really helped me build a community around my business. I've made lasting friendships by finding and connecting with other photographers in my area. The app has also helped me connect with clients – I get about 25% of my business from people finding my work on Instagram. It's pretty cool, not to mention that it's basically a free marketing tool!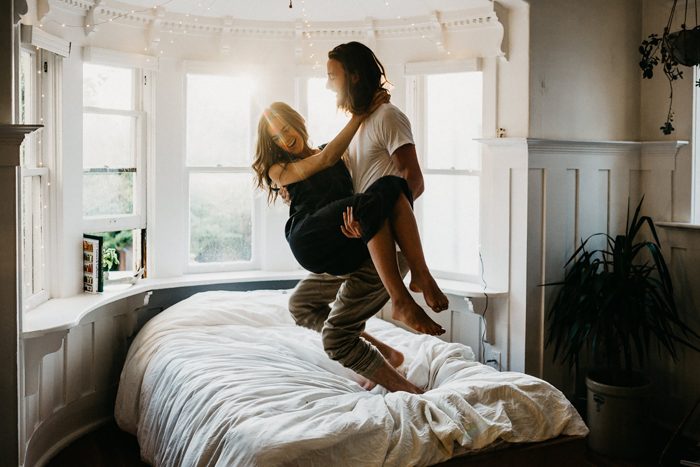 photo by Kim Jay Weddings
Don't let the algorithm get you down! Decide what the best strategy is for you and your business, and then don't stress about it. Post what you love and use the app as a tool. Do be conscious of how much time you're spending on it, too. It's no fun to find yourself in comparison game – it robs you of joy.
Recently, I had my assistant take over a lot of my social media engagement. I plan out my grid and then she posts and engages. It's something that I can outsource and it frees up a lot of my time. Win, win!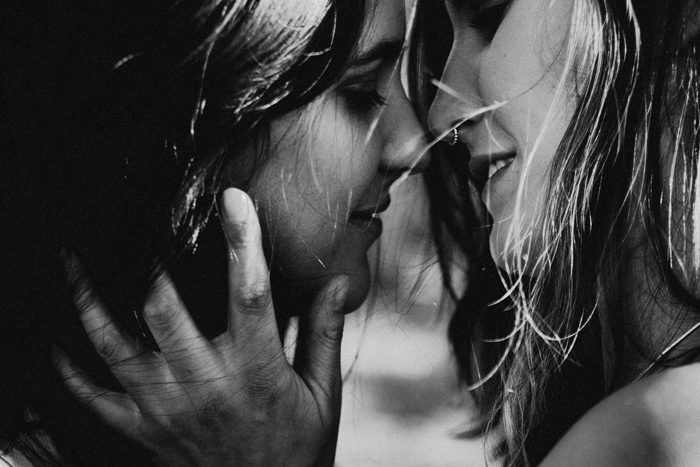 photo by Kim Jay Weddings
This sparkler exit shot (below) is one of my most popular posts. I think because it gives a different perspective from most other exists. It tells a story about the setting and the stillness at this moment just before the sparkler goes out. It's a good example of when shooting through the moment paid off.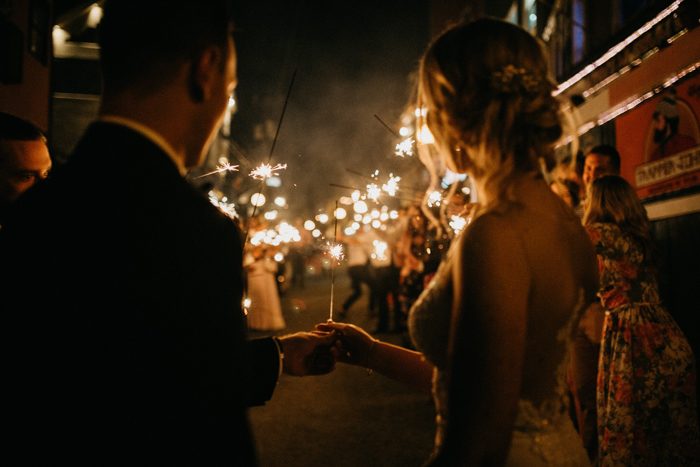 photo by Kim Jay Weddings
There are so many inspiring accounts to follow. @danoday is a constant source of inspiration for me – I love his cinematic, moody vibes! Right now I'm currently obsessed with @muse.and.mirror, @kristenmarieparker, and @sberardweddings.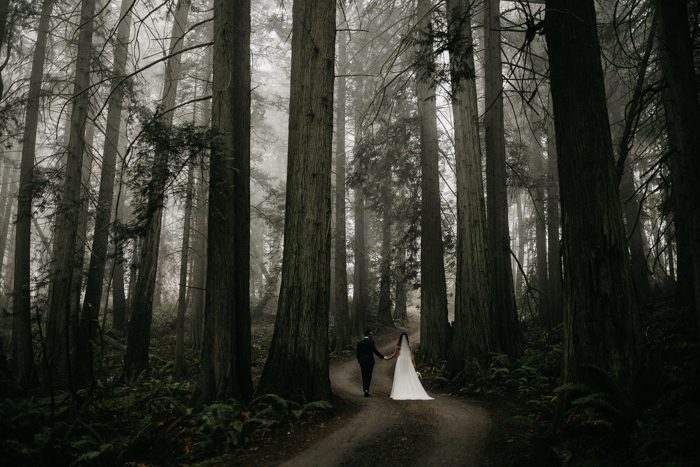 photo by Kim Jay Weddings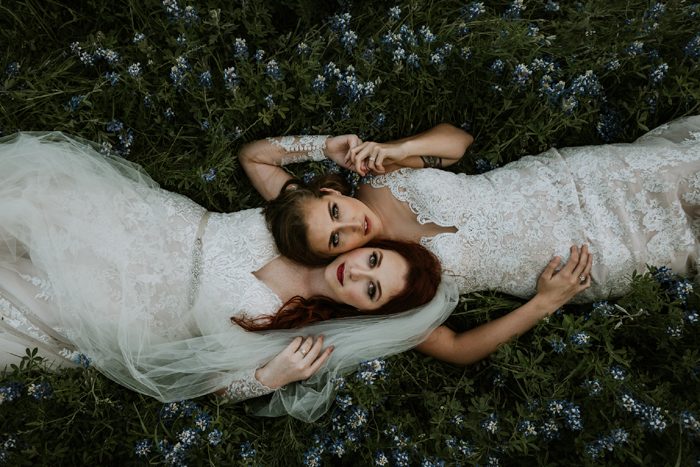 photo by Stephanie Rogers Photography
Instagram has helped us bring our brand together online while having the chance to be much more personal with our clients and other people in our area. The ease of also uploading images quickly and having an updated portfolio daily is absolutely incredible – it's a free source to engage with people while also getting more business which is pretty cool!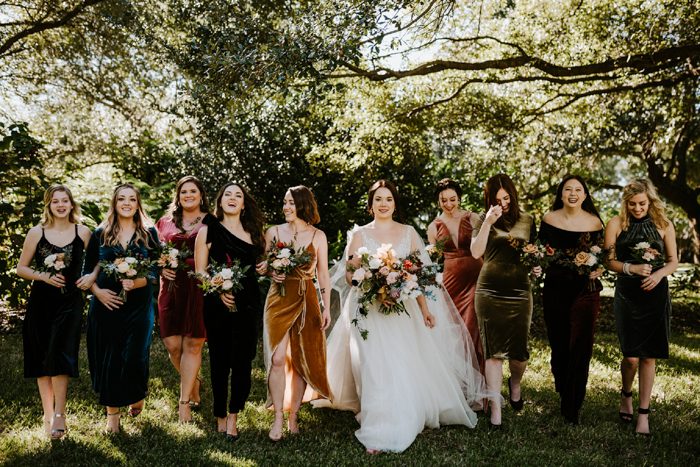 photo by Stephanie Rogers Photography
People love connection so being personal with your posts or talking about your clients and their story can go a long way. To make sure we don't only see other photographers on our business feed, we follow our friends' photography pages on our personal Instagram. This helps our business' feed be full of local hashtags we follow, our couples, potential clients, and inspiration. We also started to feature a series of highlights in our stories from weddings a few days after they were taken which has greatly helped our client and vendor relationships.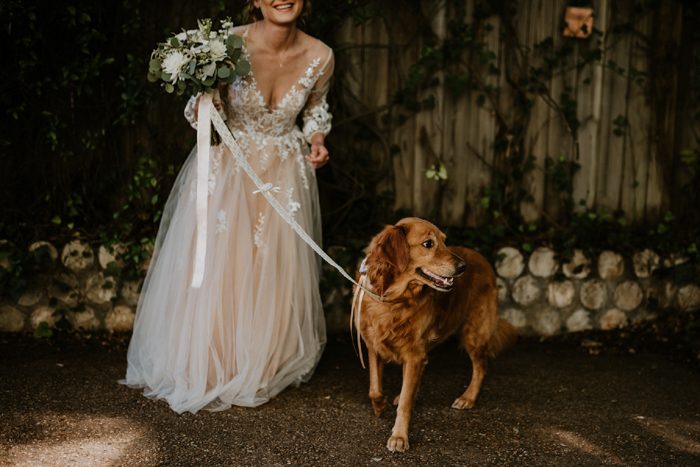 photo by Stephanie Rogers Photography
Our most popular this year was a bridal portrait (below) we took of a bride looking into the camera while her bridesmaids held their bouquets all around her. We think the post did very well since the image has a central focus that also includes eye contact which engages immediately. The florals also help bring the photo together and who doesn't like beautiful florals? 😉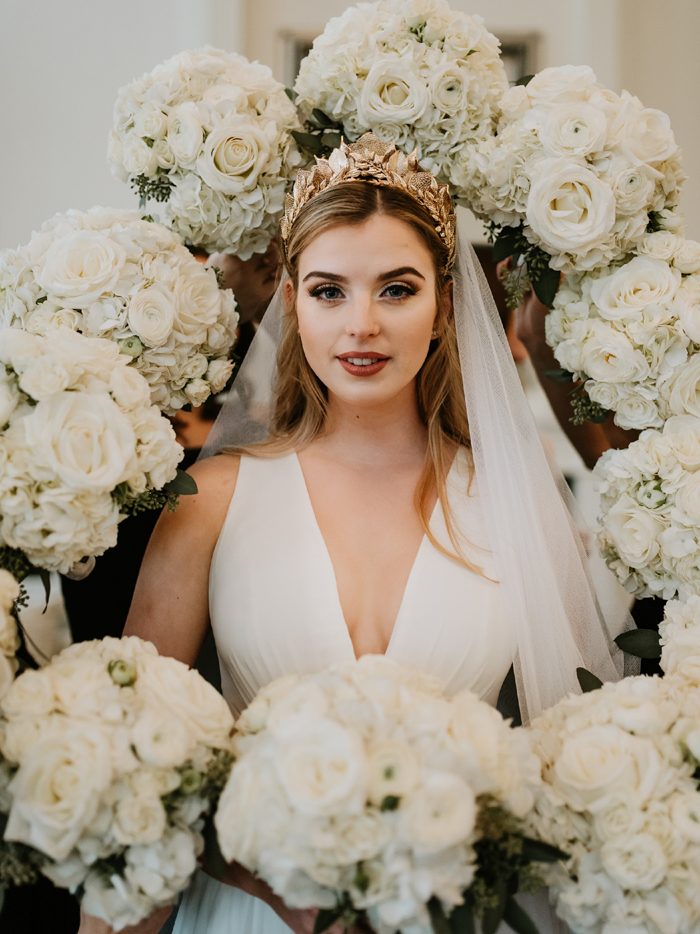 photo by Stephanie Rogers Photography
We're greatly inspired by @webb_norriswebb, @niravphotography, @jeremysnell, and @bensasso.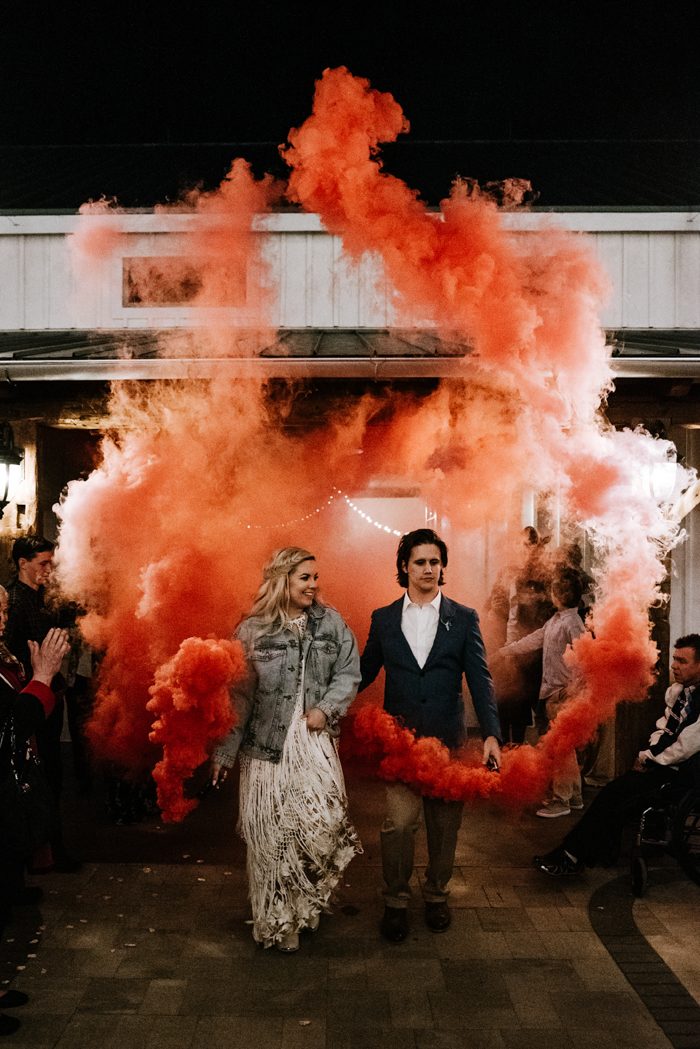 photo by Stephanie Rogers Photography
Thank you to this month's Instagrammers to Follow!
Haven't seen your favorite Insta account on here? Comment below if you'd like to recommend an account for a future Instagrammers to Follow!