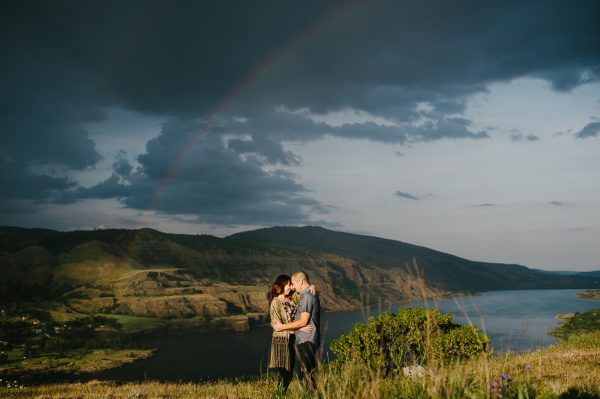 All photos ©Aaron Courter Photography
Based in Portland, Oregon, Aaron Courter is a man on a mission to capture damn good photographs. Plain and simple. We love his authentic style, non-trendy approach to photography, and wacky sense of humor. Today, we're sharing an interview with Aaron in which he discusses everything from his passion for photographing his family to his advice for photographers searching for their voice. Enjoy!
How do you like to spend your time when you aren't shooting weddings?
When I'm not photographing weddings, I'm entrenched in daily life with my two kids (years 8 & 10). I take photographs every single day with the hopes of creating something that will connect with their memories for the rest of their lives. It's so important to me. We do lots of hikes and trips around Oregon, being so lucky to be in such a beautiful state, and so close to the Oregon Coast and Mt Hood. When the kids are in school or during late summer evenings, I climb on my motorcycle, eat bugs, and chase sunsets.
Tell us a bit about yourself.
I'm an Oregonian with an instilled love of Douglas Fir trees, ferns, rugged coastlines, and snowy-peaks. I'm in love with my family and value them beyond anything else. I'm driven to be better and never satisfied, except by food and laughter.
What are looking forward to most right now?
My wife and I get to meet our daughter in November. I hope she likes me!
What gets your heart racing – both personally and professionally?
I love exploring the outdoors and traveling. I love watching my kids grow, be funny, and overcome fears in trying new things.
What really gets to you at weddings? Makes you emotional? Makes you laugh?
Every single wedding is unique. I get to observe so many different family, couple, and social dynamics, and those emotions are all over the place. My favorite weddings to be a part of are when families and guests are totally in the moment, being fully supportive and connected, and with the humor needed to accept the insanity of their celebration. Also, in being a Dad, I always find a good speech by the parents can really test the weather-proofing of my camera.
What are your favorite wedding locations in your area?
My favorite wedding locations are the ones I haven't been to yet. I love the experience of thinking on my feet, seeing light, and creating in a new place. In Oregon and Washington, there is so much breathtaking scenery, and the most stunning weddings can be in non-wedding venues. If I had to choose in my area, I adore Mt Hood Organic Farms, Crag Rat's Hut, Cathedral Park, Timberline Lodge, backyards, and anywhere along the Oregon Coast.
How do you know you've done a great job for your wedding clients?
Even before I've left the wedding, if I get comments from guests about how hard I've worked, how I put people at ease, and how I knew the couple, then I know I've done my job. When people are comfortable around me, then I'm able to capture the personalities and emotions that I think really make a photograph stand out.
What do you find to be the biggest challenge/most difficult part of being a wedding photographer?
It's really exhausting, both physically and mentally. I'm always observing, looking at light, and problem-solving. Being in the moment, being present with the couple and guests is so important to me. On days off, I'll never have coffee after 5pm but if you have coffee at your reception, I'm on it!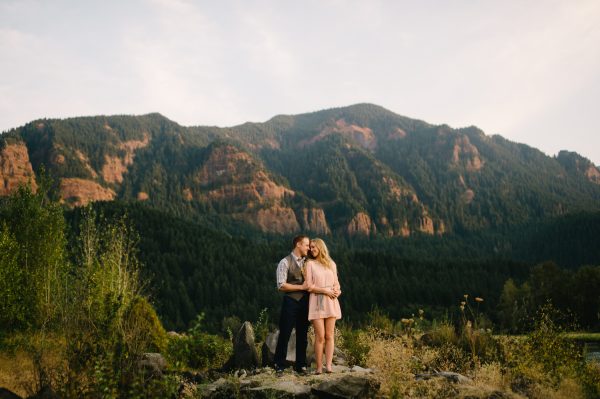 Why photography? What draws you to it?
I have always been attracted to the arts that require a balance of patterns and rhythm. In the same sense that music uses those elements to make you feel something, photography can help you see and experience in ways you often can't naturally with your eyes. When I listen to music, I like to have it prominent so that I'm interacting with it, mentally and emotionally. Music is more than just sounds and photographs can be more than just the image.
Who has influenced your photography?
My wife, Ashley, has influenced me the most (http://www.ashleyforrette.com). I have always had a natural bent towards composition, but she helped me pay attention to the feeling in the moment itself and to follow it. She was also the first one to really critique my work honestly. It hurts sometimes, but it's essential. Instagram likes will never improve your photography. Find someone you can trust to tear down your photos, but always believe in your voice.
What is your creative vision? What do you desire to express with your photos?
I really just want to make great, solid work that is going to look amazing when you are looking through your wedding album on your 40th anniversary. Some photographers are boundary-pushers and trend-setters and that's awesome, but if I am true to myself, I want to do for wedding clients what I already am passionate about doing for my family: creating beautifully classic and authentic photographs that my family will be able to look back on for generations to come. I want to show the joy, spontaneity, sadness, and warmth that comes with each passing moment.
Do you have a favorite camera or lens? Do you shoot digital or film or are you a hybrid-shooter?
I mostly use Nikon cameras for weddings and portraits, but they just do their thing and super boring to talk about. My favorite digital camera is my Fujifilm x100t which is light, creates beautiful images in unobtrusive ways, and in a way that's more manual and enjoyable to operate than a menu bank. My favorite film camera is my Rolleiflex T. There is nothing like film so I try to do a balance of both in my personal work and wedding clients often will have me add a roll or two of film. I do my best to tell the story of the wedding day in those 12 or 36 frames.
Describe your wedding photography style in less than 6 adjectives.
Genuinity, colorfuliciousness, naturalifical, funtisticable, romantisinal, adjectivious. Yes, I made them all up.
Any advice for couples on how to look amazing and feel comfortable in their photographs?
Focus on each other and be in the moment. Whether you have five minutes or fifty minutes for portraits with the photographer, this is your time to be together by yourselves so enjoy it! It's not everyone's favorite thing to be in front of a camera, and "posed portraits" have a really bad rap. If you trust your photographer, let them do what they do to make you feel comfortable and create photos that represent you both.
Do you have any advice for beginning photographers, wedding or otherwise?
Make photographs, every day. Find people to tell you their honest opinion of them. Put some salt on it. Make more photographs. There are a lot of photographers and trends that are easily copied. Make photographs to find your own voice. While it's important to know your gear fluently, photography is 5% using camera skills and 95% people skills.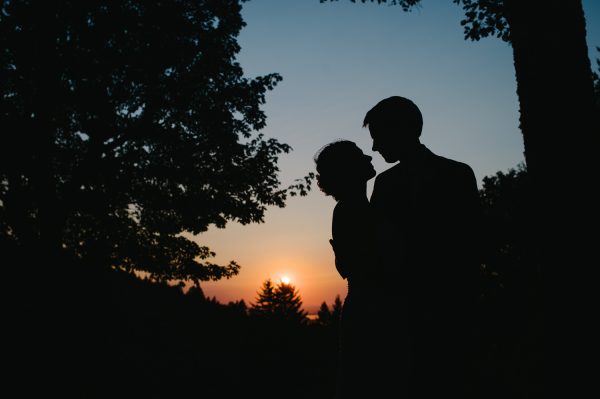 Best advice you've ever received about being a happy human?
The entire lyrics to "Always Look on the Bright Side of Life," by Monty Python.
A big thanks to Aaron Courter for sharing his insight on photographing weddings and more! If you love Aaron's honest approach, be sure and check out his member portfolio and head on over to his website.