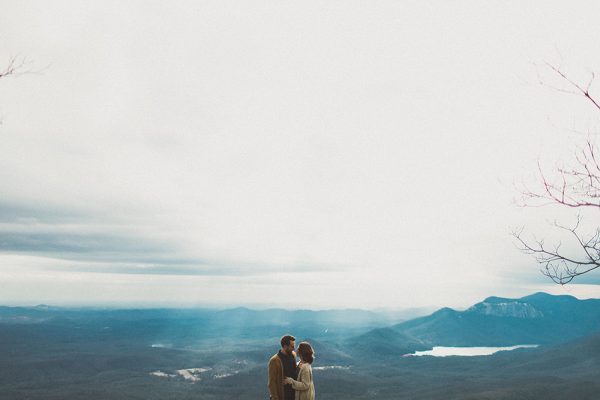 All Photos © We Are the Hoffmans
Masters at capturing the tender and loving moments between a couple, Zach and Jenny Hoffman of We Are the Hoffmans have quickly become Junebug favorites! This husband-and-wife duo kicked off their wedding photography business in South Carolina and then made the big move to Eastern Europe, resulting in some phenomenal moments for their personal and professional lives. We're excited to share their words with you today as they are simply inspiring people. Enjoy!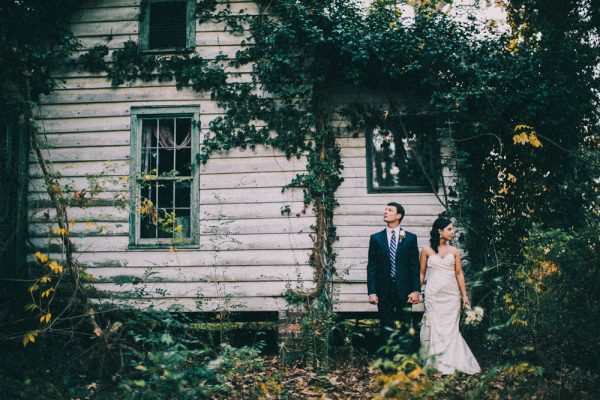 Tell us a bit about yourself.
Call it cliche, but we are truly a very happily married couple that loves working and spending nearly every minute together. In January, we welcomed our first son (Canaan) into the world and in April, we moved from the Carolinas to Eastern Europe. When we aren't shooting weddings you may find us hiking, exploring, going on picnics, eating, shopping for food (yes, grocery shopping is one of our favorite hobbies), and cooking. We love spontaneity, culture and creating new family traditions.
Your website says you offer adventure sessions for couples? Can you explain what an adventure session entails?
Adventure sessions were born by our desire to tell stories of people in love and the rush we get from exploring. Some of our best memories together have happened while experiencing new things or by revisiting a dear place. And how often do you go somewhere and have a tangible way to remember how you felt in that moment, with the one you love? So we thought why not do that? Adventure sessions are for clients who are willing to step outside of the box, spend a day hiking, camping, chasing waterfalls, rock jumping and sometimes wandering aimlessly to find the perfect light. It is about becoming friends as we get out and journey together.
Why the big move from shooting in South Carolina to focusing solely on destination weddings?
We moved to Europe to do photography, video and communications for a non-profit organization. Naturally our business had to make the move with us. We are excited about adventures in different locales and a new client base.
What's next for We Are The Hoffmans?
We hope to focus more on storytelling outside of weddings. Normal every day stories of people living in eastern Europe. Learning about their history and how life is different is really fascinating. Culture is such a beautiful thing and we would love to share more about that. We are blogging a lot about our work in Europe and family life at Wide-Eyed Walkers.
What gets you up in the morning, literally and/or figuratively.
Literally, our sweet boy is such a treasure in the mornings. It would be annoying how early he makes us get up if he weren't so cute!
What are looking forward to most right now?
Watching Canaan learn to understand and explore the world is one of the best things we have ever experienced. We cannot wait to see who he grows up to be and how his little life will affect the world.
Who and what gives you ideas and inspiration?
Spending time outside in God's creation, finding the most beautiful spots and light patterns. Whether it be on a remote mountain somewhere or swinging in a hammock in the backyard. Nature gets our hearts beating and our creative minds flowing.
What is your favorite moment or tradition at weddings?
We love it when couples plan a wedding that really speaks to who they are.
What really gets to you at weddings? Makes you emotional? Makes you laugh?
The weddings that touch our hearts the most are those that are honest and authentic. The ones for whom it really is a special day that will set the course for the rest of their lives. Those are the knee-slappers and the tear-jerkers. The ones that make us feel so honored to be chosen to capture and share those memories for years to come.
What are your favorite destinations locations?
Anywhere with mountains! Austria is our favorite country that we have visited so far. We recently shot in Italy and it is amazingly diverse, we would love to shoot there again. But the dream is New Zealand.
Where do you want to shoot next?
Austria, Norway, New Zealand, Bali, Montana, or really anywhere new and different.
Favorite image of yourself?
This photo is from our maternity session with our dear friend, Michelle Lyerly. It means so much to us, because the photo really captures us, our personalities, and a sweet baby bump, all in one of our favorite places: the mountains of North Carolina.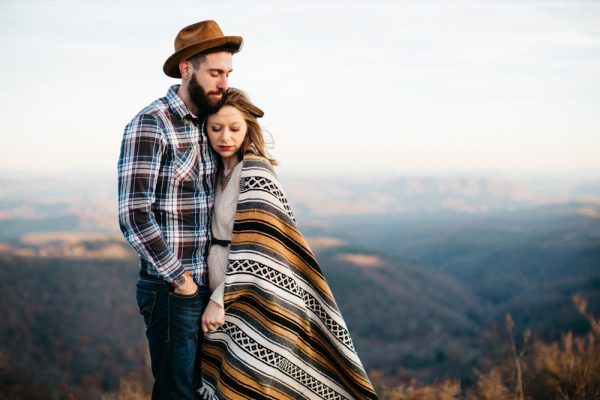 Photo by Michelle Lyerly
How do you know you've done a great job for your wedding clients?
When clients become friends.
What do you find to be the biggest challenge/most difficult part of being a wedding photographer?
It is very easy to get wrapped up in social media and to become consumed with taking that amazing contest winning shot. But we find focusing on that too much, can cause us to lose touch with why we do what we do. As much as we love shooting in epic locations, simple love stories and quiet, every day moments produce some of the most beautiful, authentic imagery and are just as worthy to be shared.
How did you get into wedding photography?
Zachary studied photojournalism in college, so that led to friends asking for photos. After graduation, we found ourselves photographing weddings and were immediately drawn to it. We love being able to work as a team.
Why photography? What draws you to it?
It is the purest form of art. All other forms display the artist more than the subject. With photography it's different, what you see is exactly what the photographer sees. The emotion communicated by the subject, not some artist's interpretation.
What is your creative vision? What do you desire to express with your photos?
We have a desire to turn moments into artistic expressions. To capture spontaneous happenings as they unfold and pair those with creative portraiture. For us, the environment and couples interacting within the landscape is the best way to get the full story.
Do you have a (recent) favorite photo that you have taken? Can you describe how you created it? What is it that you like about it?
Recently we visited a monastery in Moldova where many Orthodox Christians fled the Ottoman Turks, hiding in caves. The light flooding through a small window in one such cave cast a halo reminiscent of renaissance paintings upon the unkempt hair of the remaining monk, acting as caretaker of these monuments. The light was irresistible. More than anything that's how we judge a great photo. Irresistible light.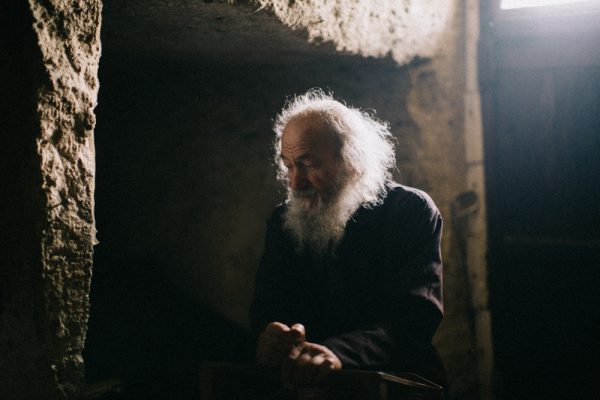 Besides weddings, what/who/where would you love to be able to photograph?
The faces of those who have experienced life are some of the most telling images. It is as if their whole story is encapsulated up in the lines and callouses of their skin, each mark holding a unique moment. It would be nice to take simple portraits of respected elders before our time here in Europe comes to an end.
Do you have a favorite camera or lens? Do you shoot digital or film or are you a hybrid-shooter?
Film: Pentax 67 with 105mm 2.4
Digital: Jenny – Canon 50mm 1.2 Zachary – Canon 85mm 1.2
We are primarily digital shooters, but shoot a great deal of medium format and 35 mm film, depending on the destination and couple's wishes. At any given wedding, you may find us photographing with film, digital and a variety of toy cameras. We love the speed and versatility of digital, but we love that film can give you "happy accidents." Things like light leaks, chemical stains, all the quirky and unique things that can happen when you shoot film. This really helps to make every image truly one of a kind.
This is one of my favorite double exposure film images of Jenny.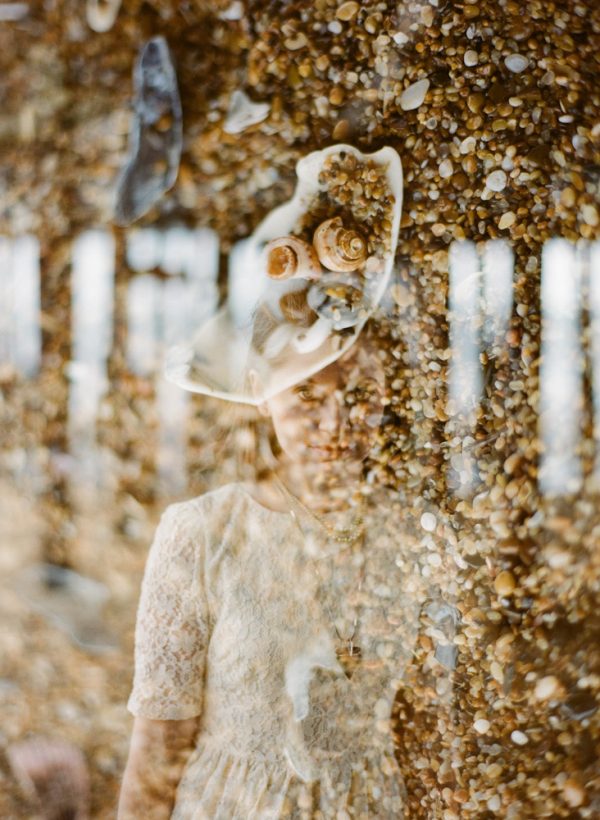 What three photographers do you admire or who has inspired you, either in the past or right now?
Our friend Nirav Patel is a genuine good soul (www.niravpatelphotography.com) and has an eye for moments and light like no other. Above that, his dedication to his family over his successful career is an inspiration. Beth Kirby's food photography (http://localmilkblog.com/) should be curated and makes us only want to photograph still life. Joey L (www.joeyl.com) is an
inspiration, because at such a young age, he can really master a portrait.
Any advice for couples who are looking for their perfect wedding photographer?
Don't settle. Spend time finding a photographer that speaks to you through every image. If you can, get to know them, whether face to face or via Skype. For us, it is really important that our personalities are compatible, that goes a long way in clients trusting us.
Any advice for couples on how to look amazing and feel comfortable in their photographs?
Most people are going to feel uncomfortable being in front of a camera at first, but if you find the photographer that is the best fit for you, your photographs will be amazing. Trust the photographer and their vision. Try not to worry about all the details and just spend the day enamored with one another.
Also we encourage clients that Zachary hates being in front of the camera, so he can relate!
Do you have any advice for beginning photographers, wedding or otherwise?
Take photos for yourself. The easiest way to get burnt out is to photograph for others. Stay true to who you are and view your photographs as art.
Who's ready to wander the world? Thanks so much to Zach and Jenny of We Are the Hoffmans for sharing their thoughts on life, photography, and weddings. If you love their work, be sure to check out their Junebug member portfolio!