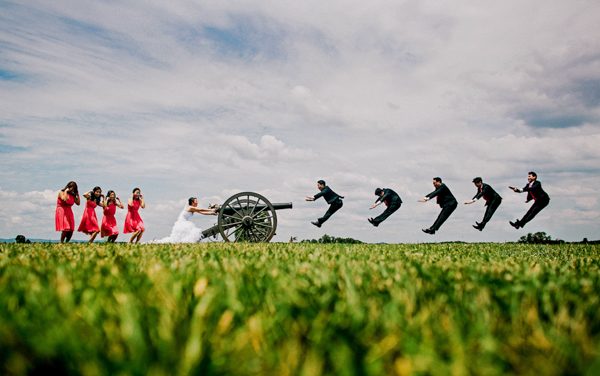 All Photos © Ken Pak Photography
If you've come across the work of Ken Pak before, then you've probably wondered "how did he think of that?" or "how did he get his couple to agree to do that?". It turns out that a great sense of humor and a trusting relationship with his clients are his two secret weapons. Luckily for us, Ken is here today to share his advice on how to connect to clients, stay inspired, and get started in the wedding photography industry. Enjoy!
Your images are some of the most fun and creative we share. How do you stay inspired creatively?
It's part of my nature to find that special humor and quirkiness in every passing moment. A couple's wedding day is supposed to be one of the happiest days of their life! When I'm able to make the couple laugh, loosen up, and just have fun, I capture some of the best images. The more my clients love my images, the more I stay inspired to push myself creatively — to see and capture things in ways that no one else can.
What do you love most about the couples you've worked with in the past?
My favorite couples are the ones that embraced me as if I were a part of their family or in their own circle of friends, and not just a hired vendor. When things are more personal, I feel more connected to them, I share in their joy, and I'm able to produce images with a more intimate feel.
Many of your clients rave about your sense of humor and how fun you are to work with. How do you think your personality affects your business and what advice can you give to photographers who are looking to develop better connections with their clients?
Well, my personality is reflected in my photos. I love making people laugh and I don't take myself too seriously. This is what attracts my clients to both me and my work. My portfolio is filled with fun images, and as a result, fun people want me to shoot their weddings. See how it works? Instant connection! I would probably tell other photographers to integrate their personality into their photographic style. That way, you'll attract clients whose visions are similar to your own.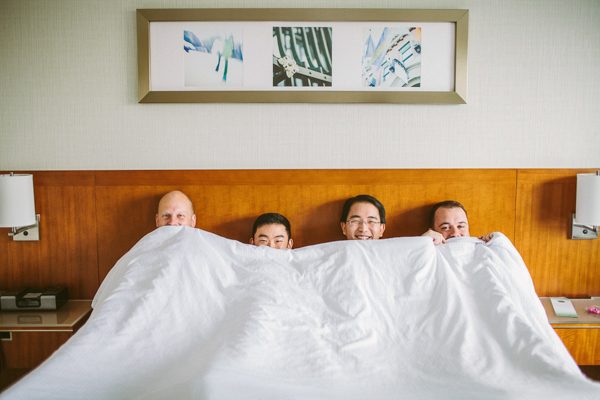 Tell us a bit about yourself.
Kenu bow (dogs), badminton, church (friends), my wife, study in environmental science, Caleb, parents (my dad passed away), fine-art competitions in early school life, hand-drawn portraits for my wife (and my friends), outdoor activity, travel.
How do you prepare for a shoot or a wedding?
I mentally review all of the consultations I've had with the client and I visualize all the important details of the day. I try to envision the flow of the day and predict all the great moments, all before the wedding even starts. But most importantly, I love having some quality time with my wife (coffee, tea, snacks) to mentally prepare myself before I head out to the wedding. I don't like rushing into the shoot.
What are looking forward to most right now?
I'm shooting a destination wedding and a few sessions in Hawaii in a few days. I'm so excited to face new challenges in Kauai, Maui and Northern Oahu Islands.
What gets your heart racing – both personally and professionally?
My son, Caleb and my wife. They're a constant source of love and inspiration. And my friends and mentors in the wedding photography industry, who I really admire, continually push me to elevate my skills as a photographer.
What is your favorite moment or tradition at weddings?
I love listening to the speeches — both the well-prepared ones and the impromptu/drunken ones. I capture those moments of the couple and guests reacting to the speeches while laughing quietly behind the camera. I love the feeling of being in the same mood and in the same moment as the couple & guests that are listening as it makes me feel like a part of the wedding.
What really gets to you at weddings? Makes you emotional? Makes you laugh?
Every time I see the father of the bride/groom get emotional, it makes me think of my own father who passed away shortly after my son was born. At my own wedding, I cried a lot when I hugged my parents. I rarely ever cry, so it was a very special moment for me.
Do you offer albums? What kind? What do you feel is important about wedding photo albums?
Yes. Printing albums are a beautiful way to view and present your wedding photos. I feel like everything is done digitally in this age and photos are easy to lose. Printing your special photos into an album are a great way to preserve and protect those memories.
How did you get into wedding photography?
My dogs. Believe it or not, that's how I picked up flash photography — so that I could capture my two wild Jack Russell Terriers in action. And then a bunch of my friends started getting married and my flash photography knowledge came to good use! By the way, my study during my college years was Environmental Science and worked for the government for 8 years. Also, I used to play Badminton in early school years (My old teammate won the gold medal in Women's singles in Atlanta Olympics). Moreover, I used to represent my school for the regional fine art competitions during my early school years. I would say my interest in the nature, animals/pets, environment, people, fine art and sports helped me to capture all those dynamics and beauties at weddings.
Do you have a (recent) favorite photo that you have taken? Can you describe how you created it? What is it that you like about it?
"Beer Spray." This was taken after the reception was over and there was a lot of beer leftover. The couple and their guests started shotgunning to finish the beer, and one of the groomsmen had the idea of spraying the beer all over the groom. I set up my speedlights and took the picture at the moment of the spray.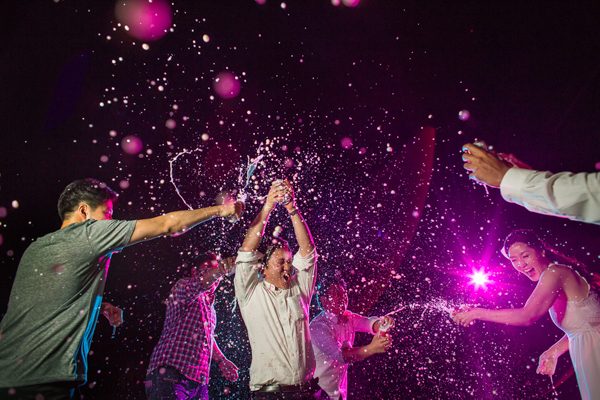 What changes/improvements have you observed within your photography over the years?
In the past year, I focused more on true photojournalism and kept my directing to a minimum. Rather than trying to control the situation, I wanted to capture more authentic and genuine moments in my photos.
Any advice for couples on how to look amazing and feel comfortable in their photographs?
Trust the photographer. Talk to him/her and share your vision. Tell your photographer what you like and what you don't like. Communication is important.
Do you have any advice for beginning photographers, wedding or otherwise?
If you want to be a good portrait or wedding photographer, you have to be confident in the way that you look. I know it sounds funny, but your high self esteem will be contagious and it will transfer to your clients!
Another thing is: Don't step into something that you're not ready to handle. For example, don't let your first gig be a BIG FAT TRADITIONAL wedding if you don't have the proper training. If you fail to meet that client's expectations, it will cause a lot of damage to your professional reputation. Start off small and shoot weddings you know you can handle. Be a second shooter for more experienced wedding photographers to gain hands-on experience.
What makes you give yourself a mental high five?
Two things: 1. When a photo comes out and it coincides with my vision. 2. When I capture a priceless moment that I know the client will love.
Thanks so much to Ken for sharing his sage advice and creative approach! If you love Ken's work, be sure to check out his member portfolio for more!