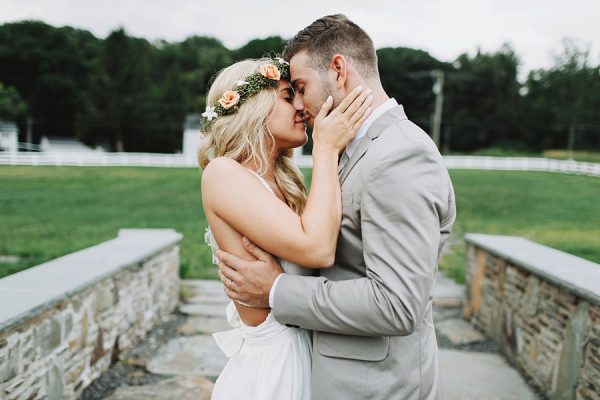 Jillian and Ryan McGrath of With Love & Embers are two of the most down to earth people you will ever meet. They do everything with love, and it's been such a pleasure getting to know them through publishing their gorgeous work on our blog. Today they're here to discuss their love for the clients, photography, and life. Please take a moment to get to know the talented couple behind With Love & Embers, you won't regret it!
What do you love most about the couples you work with?
What we love the most about our couples would be their openness and willingness to let us into their lives, to celebrate the love that they share, and to capture it truly. It Gives us the opportunity to capture their essence and who they truly are as a couple to look back on 50 years from now, to reminisce on their beautiful journey through life together.
What's been your favorite experience as a husband and wife photography team so far?
Our favorite experience so far as a husband and wife photography team would be the opportunities we've had to not only meet some incredible people but to travel the world together. There is something so special about doing this together, it helps us grow, not only as people, but as a couple and strengthens our love in ways I don't think we can truly put into words. Not only are we married but we are best friends, what could be better than doing something you are truly passionate about with someone who has your whole heart?
How do you like to spend your time when you aren't shooting weddings?
When we aren't shooting weddings or working on the backend of our business you can find us out in the wild, hiking, exploring and taking the world in. We absolutely love to travel and see new places in the united states and out, so we are always trying to plan new adventures for our down time where we can get lost together, and just reconnect as a husband and wife. When we aren't traveling though we can typically be found at home schnuggeling our 3 little furry babies (Alistair, Peyton and Winston).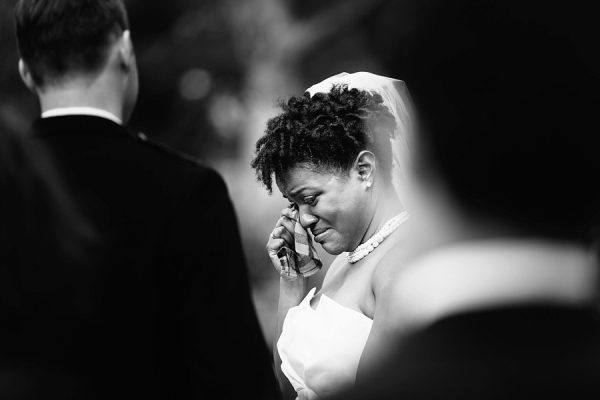 Favorite image of yourself?
We've included an image of us taken by M2 Photography on a trip to Maine, a place we fell in love with so much while visiting.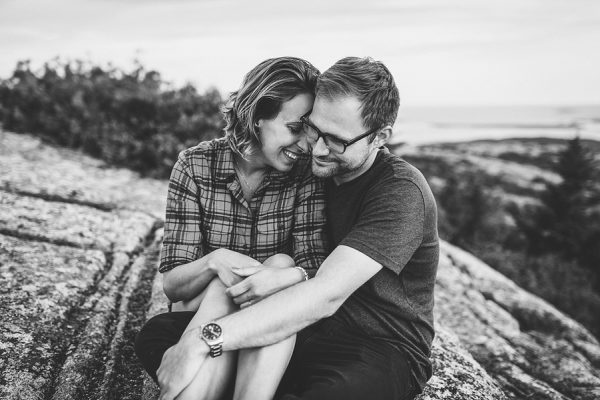 Photo by M2 Photography
Describe your workspace/studio?
We work out of our home, it is nothing fancy but it's our little slice of happiness. A place where our love blossomed and continues to grow with our little family and far enough from the craziness that life sometimes brings where we can take a deep breathe and let the stories we capture speak to our hearts.
How do you prepare for a shoot or a wedding?
Our preparation is probably pretty typical when it comes to getting all of our gear together, but the biggest thing that we like to do the day before capturing a couple's love story is to just take the day off. We like to make sure that not only are our camera's batteries recharged but ours as well, so we will take a quiet walk in the woods with our pup Winston, or go out for a little date night and just relax/enjoy each other's company so we are refreshed and ready to open our hearts for the day to come.
Have you always wanted to be a photographer? If not, when do you remember knowing?
We never had the calling to become photographers, though we have both always been artists our entire lives. We dabbled in photography in high school, and attended the same art school together where photography really started to take hold of Jill's heart. The true moment that we knew photography was for us was after our own wedding, we sadly lost Ryan's best man Sean, his cousin and closest childhood companion. The loss really hit us so hard and was a devastating blow to our family. The one thing that we remember the most about this time was receiving our wedding images, from one of the happiest days of our lives, that we were able to share with a small group of our closest family and friends. Having Sean's memory and essence captured for us to look back on and remember, even more so on such an amazing day, really solidified where we wanted to take photography even if at first photographing weddings wasn't in the forefront of our minds. We quickly fell in love with telling the stories of so many couples. It sounds kind of morbid in a way but we are the capturers of memories and as hard as it is to think of the idea that our minds will grow old and we will lose loved ones we think about it every time we capture a couple's amazing wedding day, mainly because we went through this experience first hand and it was the catalyst of why we are now wedding photographers and why we put so much of ourselves and our hearts into what we do, and also why we love it so much.
What gets your heart racing – both personally and professionally?
What gets our hearts racing actually both personally and professionally would be connection. That sounds so corny in a sense, but connection carries us through our day, connection between each other, we had an instant one almost 12 years ago and we've been inseparable ever since, connection between the people who are the most dear to us, and of course the connection we have with the people we capture. We are always looking for a true genuine connection and that even goes beyond the most obvious human to human connection but even with the earth and our surroundings. We are always so drawn into our need and want to be out in the wild, exploring and connecting with such a beautiful world we get to live on, and in a way that inspires our work. What we do and how we do it has always been built on connection, what really makes our hearts race the most is when we meet a couple who is truly open and loves so fully together that they allow us in during our moments together to capture that connection, those emotions, that love. We get so easily caught up and and carried away in love and connection that our hearts beat so loud and our heads start to spin, it's like being on cloud nine when it all comes together and that connections brings us all closer.
Who and what gives you ideas and inspiration?
We have found a lot of inspiration over the past few years that really inspires and pushes us in our work. we are greatly inspired by the world around us, nature, light, the whimsical time of sunset when the flares from the sun shine so perfectly in through your lens and wrap our couples in what visually looks like love. To the gold age of Dutch masters, their tones and use of light heavily inspire our work, whenever we know there is an exhibit happening near us or even when we are traveling we try to go, to get lost in their tones, their expression of subject and how the darks and lights are represented throughout the imagery. We also find ourselves inspired by writes like one of Jill's favorite poets Lang Leav. Also by other incredible photographers like Sally Mann and Rodney Smith who just spark our imagination with the realistic and the whimsical. Ryan is always inspired the surreal fashion of Alexander McQueen, and learning new ways of photographing.
What are your favorite destinations locations?
So far we've both left a huge piece of our hearts in Iceland, we know it's a huge destination spot right now, but we think it's for a good reason. We've never visited a place before that felt so wild and so free, where our minds could wonder and we could create images that we dreamt about.
Where do you want to shoot next?
We want to shoot everywhere, seriously. We want to experience as much as this beautiful world has to offer while telling as many stories as we possibly can because that is what makes us truly feel so alive and so incredibly happy.
Do you have a favorite first dance song and why?
We are a sucker for Ben Folds The Luckiest, the lyrics can pretty much explain it all, but since we put so much of ourselves into what we do it's easy when we hear that song to truly feel lucky. Not only that we do what we do but that we've found an incredible partner to share what we do with who is as passionate about telling stories as we for each other.
How did you get into wedding photography?
We think that this will just build on the Have you always wanted to be a photographer question, but after the passing of Ryan's best man, Jill started her photography business. So we actually did not start out as a husband and wife team. She had a few people ask her to capture their families or seniors, and then a wedding. Which she was terrified to do, but overly excited about at the same time. It was the first wedding she had ever captured and it was a true love affair, after that day she built a business while Ryan helped in the background the entire time. Until one wedding where Jill asked Ryan to photograph it with her. It was like all of the pieces of the puzzle fell into place on that day, we never turned back and have been photographing weddings together ever since, almost 5 years ago.
Why photography? What draws you to it?
What draws us into photography is the element of story telling and preserving the essence of not only such an incredible day, but some of the most important people in a couple's life. It is truly such a huge honor to be a part of such an incredible day to know that 50 years from now when a couple is reliving their wedding day with their grandchildren that we gave them those images, those memories in images that can be passed down from generation to generation. That when someone looks at a collection of our wedding images that they can be transported back to such an incredible day and relive it all over again. By nature we are people watchers, we feel like this is the ultimate form of people watching times 10.
Who has influenced your photography?
What is your creative vision? What do you desire to express with your photos?
In our images we truly want to express connection and genuine love, it's the building block for what we do and why we do it. We've built our business for the past few years to really focus on telling the stories of our couples with the element of capturing a couple's love in the most honest and truest way that we can. Every wedding, every session we go in with one thing in mind, let's tell their story, capture their love, so when they look back on these images they see just how amazing they are, just how beautiful they are together and just how much they complement and complete each other.
Any advice for couples who are looking for their perfect wedding photographer?
Find a photographer who you first love the style of, what you see on their site and how they capture a wedding day is so important. Those are the photos you will look at for years to come, they are the photos you might hang on your wall, they are the photos that you will look back on happily on your 50th wedding anniversary to relive your day with. If you don't work with a photographer who's style you love you might not be able to look back so fondly on those beautiful moments and that incredible story.
Also find a photographer who you connect with, this goes hand in hand with finding the style you like. If you get along with your photographer and you love them/trust them fully the images will show that. There is something so beautiful about having a great connection with the artist you are working with, it makes your day so much better and go so much smoother.
Any advice for couples on how to look amazing and feel comfortable in their photographs?
Talk to your photographer, ask them how they work and how they work with their couples. We all have so many different styles and we all work so differently with our couples. Find a photographer whose way of working with a couple sounds ideal for you, then trust them, fully, let them work their magic on you. You fell in love with their photos in the first place if you give them full creative range and trust them 110% your images will turn out beautifully, and you will look amazing in them.
Do you have any advice for beginning photographers, wedding or otherwise?
Don't give up. There are so many ups and downs with being a photographer and it is so easy to compare your journey to where another photographer is on theirs. The truth is your journey is so specific to you, and who you are, and it's so incredibly special. To compare where you are to where anyone else is would be short changing yourself. Live in the moments that you've been given and be open to new people, new networks, and of course new growth. You can learn from anyone and everyone, as long as you are open to it.
What makes you give yourself a mental high five?
When we knock our to do list out of the park for a day, that is probably the best feeling as a small business owner.
One thing you'd like couples to know before their wedding?
Live in the moment. The day goes so fast and things might go wrong but you are marrying your best friend, the one person you want to wake up to everyday. Enjoy it, breathe it in, laugh, smile, cry and don't hold it in, because it's one of the best days of your life.
Favorite trick to capture images of reluctant subjects? (kids, grandparents, nervous-in-front-of-the-camera-types)
Hahaha, we make a game out of it, most people will give us a hard time, give us a hard time, and give us a hard time. But we don't give up and at one point if we do it the right way and we are playful with it they will give us a good laugh and then start talking our ear off. Sometimes though you can just tell when someone doesn't want their photo taken…. we just leave them alone.
What's next for With Love & Embers?
What's next for With Love & Embers, we've thought about this a lot and we talked about it so many times on our long car drives from state to state. Really what we feel is next for our business and our love is to continue to grow as humans, artists and a couple, to keep pushing what we do to make more emotional, more connective images that people can relate to and see themselves in. To continue to help our couples openly express themselves together and grow more in their love.
Thanks so much to With Love & Embers for sharing their wisdom and work with us! Love With Love & Embers? Be sure to check out their Junebug Weddings member portfolio!