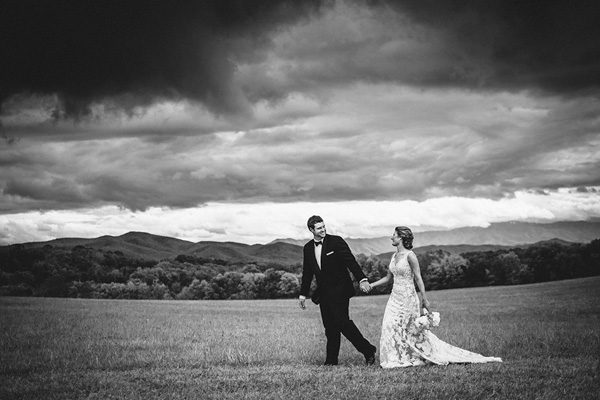 All Photos ©Dixie Pixel
Inspired by love and light, Tara Kneiser of Dixie Pixel has captivated us all with her sense of humor and insanely creative approach to wedding photography. While her last name may be hard to pronounce, it's easy to fall in love with Tara's aesthetic. Interested to learn more about what makes this Nebraska native tic, we decided to sit her down for an interview. No, she didn't ease up on the jokes, and yes, you will love every second of your time reading about her thoughts on life, photography, and Abercrombie & Fitch. Nope, we're not kidding about that last bit!
What's the worst job you've ever had?
I was desperate for a job in college, so my roommate got me a job at Abercrombie & Fitch. I wasn't used to the loud music, and I ended up puking all over a pile of overpriced sweaters on my first day. I reluctantly made it a few more weeks before I found another job.
What gets you up in the morning, literally and/or figuratively?
The urge to pee usually does it.
What are looking forward to most right now?
Oh, I will be so happy when my current house sells and I can move into one with a 2nd bathroom.
Do you offer albums? What kind? What do you feel is important about wedding photo albums?
I include an album in every package. I guess I'm old-fashioned, but isn't the wedding album the sacred family heirloom that everyone wants to look at? It is for me anyway. I love looking at my family's albums, even more so now that time has passed and taken some people away. Photographs are the best way to remember, as well as honor, those who've left us.
Where do you want to shoot next?
I love adventuring. It's a big world, and I'll go to any place where my photography is wanted.
How do you know you've done a great job for your wedding clients?
I'm still taking their photos years after their weddings! Being asked back to document their families is such an honor. I'm going to do a total girl thing and pull a quote that I found on Pinterest: "The reward for good work is the opportunity to do more." There's so much truth in those words. The fact that I continue to have work is such a blessing. It's a tough industry and I'm so thankful for my clients who believe in me and my work.
What is your creative vision? What do you desire to express with your photos?
I hope to make people stop and look at my images. I hope there's an urge to linger on them, rather than click through or scroll down.
Besides weddings, what/who/where would you love to be able to photograph?
I really just love photographing people and making them happy, whether I'm at a wedding or not.
What changes/improvements have you observed within your photography over the years?
So much. Maturity kicked in somewhere during the past 10 years. I'm so much better with the business side of things. I used to overdraw my account every January and wonder what I was doing wrong. Now, I run a kick-ass budget and have the ability to exercise restraint with money. I also quit trying to copy my heroes. I've always said once I started shooting like Tara Kneiser, I became such a better photographer.
Any advice for couples who are looking for their perfect wedding photographer?
What is on the photographer's website is an accurate example what your wedding photos will look like. NEVER ask them to copy another photographer's photos. If you're in love with a specific photo, find the photographer who took it and hire them! Don't put wings on a pig and be disappointed when he doesn't fly.
Any advice for couples on how to look amazing and feel comfortable in their photographs?
Your attitude is EVERYTHING. If you have a poor attitude towards anyone or anything on your wedding day, it makes you ugly. Gracious people are the most beautiful and it honestly shows in photographs. Remember the reason you are having the wedding: not for the flowers, or the dress, or to show off for friends, but for the opportunity to spend the rest of your life with the person you love. That's pretty incredible.
Best advice you've ever received about being a business person?
"You're either known for being cheap, or you're known for being good." -Monte Romohr (a family friend and all around really smart dude.)
Thank you, Tara! We love how you do what you do and can't wait to see what's next for you and Dixie Pixel, including getting that second bathroom. If you love Tara's work as much as we do, be sure to check out her member portfolio!