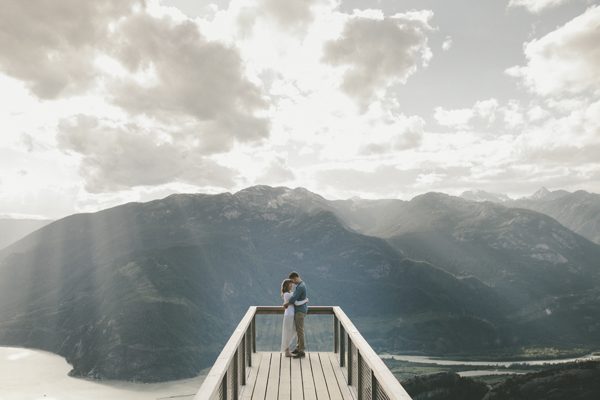 All Photos © Shari + Mike Photographers
We are truly honored to introduce you to Shari and Mike Vallely today. Specializing in destination work, Shari + Mike always wow us with the destinations in which they shoot. Whether it's Iceland or Canada, they know how to utilize light to make any location look like the most magnificent place on earth. The pair also has a knack for capturing all those emotional moments that us Junebug girls love so much. We hope you enjoy learning about how this pair got into photography and why they continue to believe it's their true calling. Enjoy!
How did you two meet?
We met competing on opposing teams during an amazing race in our city. We would like to say it was love at first sight but bikes were on the line + we are both pretty competitive. In the months to follow we became good friends while volunteering for an organization that taught free breakdance lessons to kids in our community. Mike danced, Shari did a mix of registration + photography. A few years later like turned to love and here we are about to celebrate 10 years of marriage.
What's next for you?
We may not know the next steps but that is part of the fun. We do know that we are loving where we are at but realize that growth + change are essential with living a life to the full, which is something we believe so strongly in. Perhaps some sort of teaching is in the near future but that debate is still on the table (along with where to travel to next + if we should have babies anytime soon).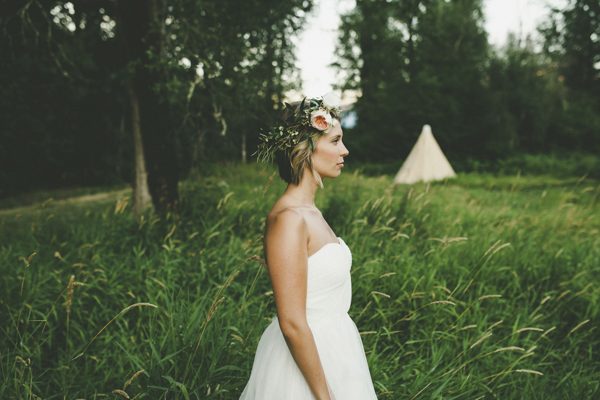 If you could have a superpower, what would it be?
Shari – the ability to edit + sleep at the same time.
Mike – Superhealing – Sometimes the only thing that will hold me back from jumping off a certain cliff height, doing a flip off a wall or climbing a precarious tree to get a photo is the prospect of getting injured. If I had no worry of injury the possibilities of crazy places to shoot from would be endless!
How do you like to spend your time when you aren't shooting weddings?
Like most humans, we love travelling. It was something that was instilled in us from a young age + our love for travel + experiencing other cultures has only increased over the years. It was one of the things that drew us together + we now prioritize in our marriage. You will also find us on the baseball diamond or on the beach volleyball court in the summers. We love being outdoors + being active.
Have you always wanted to be a photographer? If not, when do you remember knowing?
Shari – My fascination with photography started at the end of high school. I went on a family trip to the east coast + my dad let me take his canon AE-1 camera + a roll of film. He taught me the basics + I went for it not really knowing anything except how to load a roll of film + how to expose. I remember the exact spot I was standing at Peggy's Cove in Nova Scotia. I exposed, I framed, and I pushed the shutter + something happened in that moment that I can't fully explain but it was the start of my photography journey. I know it may sound cliche but I literally fell in love with photography at that moment. I had no idea where photography would take me but I did always know that it would be a part of my life in some capacity.
Mike- Photography wasn't even on my radar. My depth of experience was disposable point + shoot cameras on roadtrips with my friends. At first it was all about supporting Shari's dream but in the process it unlocked something inside of me.
What gets you up in the morning, literally and/or figuratively.
Shari – "work"
Mike – "Shari, followed by multiple cups of coffee"
Few people discover what they are truly passionate about. And even fewer make a living out of that passion. We are one of the few + that makes us thankful everyday for the life that we live.
Who and what gives you ideas and inspiration?
We are most inspired by our couples + light.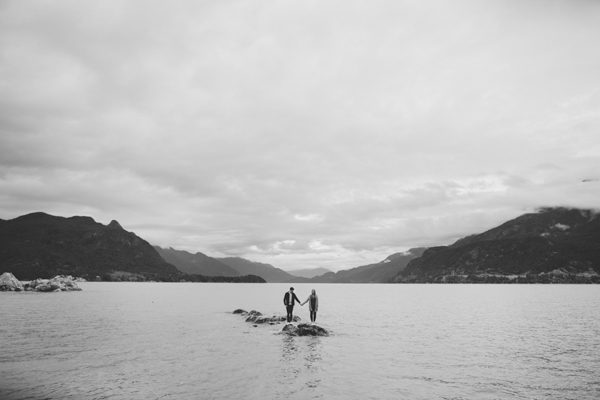 What really gets to you at weddings? Makes you emotional? Makes you laugh?
Real, unrehearsed moments. Like when the bride, while dancing with her dad, bursts into tears when all the guests surrounding them begin to sing along with "you are my sunshine." Or when the dog walking the bride down the aisle decides the decorative tree is a good place to mark his territory.
Favorite trick to capture images of reluctant subjects?
Alcohol. One shot can put your nerves at ease + help you relax + be yourself in front of the camera. It has proven to work wonders for our most nervous couples.
Do you offer albums? What kind? What do you feel is important about wedding photo albums?
We sure do. We use both Vision Art + Renaissance Albums. Starting as a film shooter + transitioning to digital made us appreciate the tangible. Designing albums is one of our favourite parts of the process. We love taking the best images captured on the day + creating a story for our couples.
Where do you want to shoot next?
We would love more than anything to shoot coast to coast in Canada. It's such a beautiful + diverse country. If we were to be more specific, Newfoundland + anywhere in the north would be our top picks. As far as other places in the world, Scotland or Croatia would be pretty rad too.
Do you have a favorite wedding story?
This summer we had the privilege of photographing the weddings of sisters who were married within three weeks of one another. One in Vancouver, the other in the Yukon. Getting to know this family on a deeper level than most was truly impactful. They welcomed us in + made us feel like family from the very beginning. This image is a moment captured of beautiful exchange between proud parents. While people danced around them, they stood still. It was one of the most raw + intimate moments I have ever witnessed. I later showed the mom the image + she told me in that moment they were thanking one another. She grabbed my hand + said something that I will never forget. "You have been a part of two of the biggest days of our lives. You have literally breathed theses moments with us." The importance of what we do became more real than ever in that moment.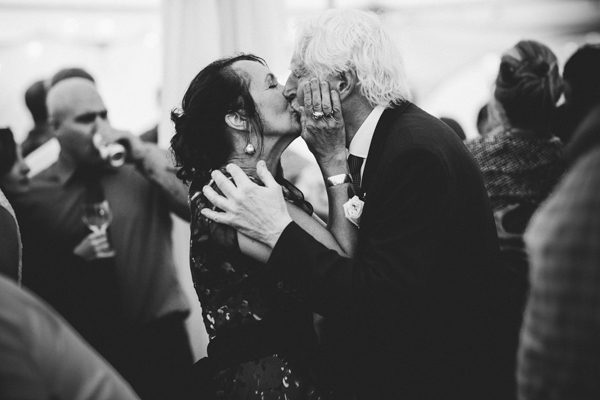 One thing you'd like couples to know before their wedding?
Have fun. Plan + organize + make things awesome but when you wake up on the morning of your wedding, try your best to enjoy every moment. Things may not go as you imagined or planned but that is A OK. The single most important thing is that you get to marry the love of your life. We think that's rad + deserves a day of smiles.
How do you know you've done a great job for your wedding clients?
When we get a hug at the end of the night + they tell us they have enjoyed their day so much more because of us being there. What we love more than anything is adding to the experience of a wedding day. Making our couples feel relaxed throughout the day, comfortable in front of our cameras + adding an extra dose of joy + excitement. Our jobs are so much bigger than just taking pretty photos. We believe our job is about documenting memories, telling a story, and being freaking awesome while we do it. It's also a good sign when the couple + their guests are chanting your name at the end of the night. Seriously, this may have happened on a couple occasions.
Why photography? What draws you to it?
We believe we are all creative beings at our core. Everyone expresses that creative side in different ways + for us, photography is that outlet. We believe we are meant to live full lives, to go after things that inspire us. Photography is that for us. We never feel more alive than when we have our cameras in hand. It awakens the deeper parts of us + brings so much joy into our lives. Why weddings? We were attracted to weddings more than any other outlet of photography because of the range that it allows. We get to document, we get to be creative, we get to tell stories, we get to capture emotion + we get to meet amazing people, which is our favorite part. We love people + are attracted to their stories + inspired by the human connection. We love that every wedding is different because every couple is different.
What do you desire to express with your photos?
It's always our desire to create images that are impactful + make people smile or cry or just feel.
Do you have any advice for beginning photographers, wedding or otherwise?
Fear is the killer of creativity + puts limits on you. Do things that make you feel uncomfortable. In that place you will find your voice.
Do you have a (recent) favorite photo that you have taken? Can you describe how you created it? What is it that you like about it?
At one of our last weddings it poured rain the entire day. Although it limited us in some ways in what we could create, it also allowed us to do something a bit different. We asked the entire wedding party to make their way out to the end of the slippery dock, to hold an umbrella + look awesome. They did what we asked + this is what we got. We imagined this image in the beautiful evening light but I think the mist, rain + umbrellas only added to the end result. We love seeing an image in our mind first + then making it come to life.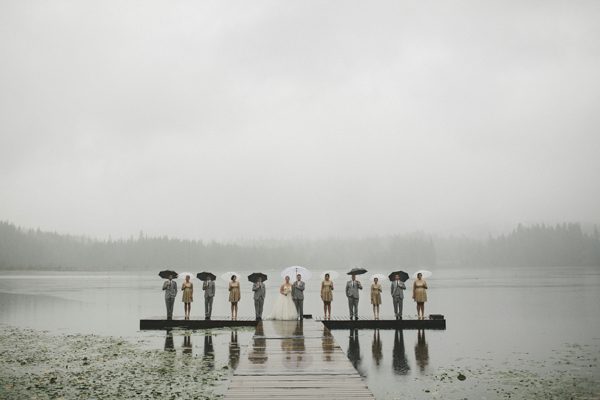 What changes/improvements have you observed within your photography over the years?
The biggest change has been in our use of light. Our work use to be one dimensional + anything that was not either backlit or in perfect even light scared us. Discovering the beauty in all variations of light has changed the way we see + shoot.
Describe your wedding photography style in fewer than 6 adjectives.
Honest, Fresh, Evocative, Jovial
What three photographers do you admire or who has inspired you, either in the past or right now?
Sarah Rhoads – one of the very first wedding photographers that we ever followed + admired. We did a mentor session with them when we were first stepping out to make the business a full time thing + their wisdom + insight really pushed us in the right direction. They no longer do weddings but their Fashion + Lifestyle imagery is the best out there. We continue to be inspired by who they are + the vision that they have.
Fer Juaristi – he continually amazes us. Taking his workshop was one of the best things we ever did. The way we see light + incorporate it into our work is all thanks to this guy.
Dan O'Day – a great mix of awesomeness in life + in his work. We not only want to be good photographers but even better humans. Dan is that.
Any advice for couples who are looking for their perfect wedding photographer?
1. Make sure you connect with their work. 2. Make sure you connect with them on a personal level. There is a really good chance that you will be spending most of your day with your photographer. It's important that you not only love their work but that you feel comfortable around them + trust them completely. The more comfortable you are, the more you are going to enjoy the experience + the images.
Best advice you've ever received about being an artist?
"You're the best at being you" – Sarah Rhoads
Others may try to imitate you and your work. Don't focus or worry about what others are doing. Focus on you. Who you are, what you create and bring to the table.
Thanks so much to Shari + Mike for their advice, stories, and heartfelt words. You can check out their Junebug member portfolio for more stunning work!