With the start of a new year, we are excited to share all sorts of new and exciting business tips to help you flourish in 2019. Thanks to your help, we have an incredible list of the best conferences and workshops that you can attend this year! From small and intimate groups to large conferences with other wedding photographers, there are many choices for you to find the best option for you and your business!
Pssst. We only want to showcase the best and reporting events that didn't meet your expectations helps us weed the ones that may not be the most beneficial or inclusive – we take educational opportunities and this community seriously, and we want attendees to feel safe and taken care of by their organizers. Workshops with at least two valid complaints will be removed from the 2019 list. Thanks!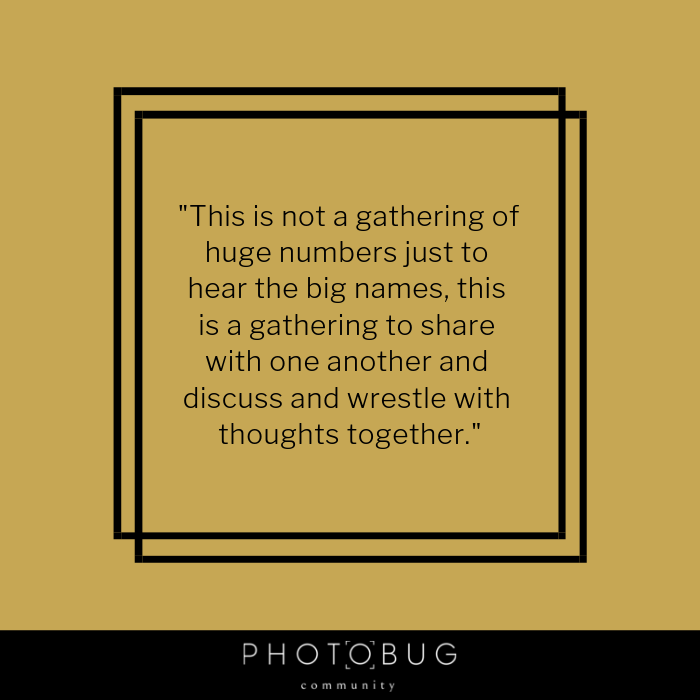 Location: Newcastle, England
Dates: April 4-5, 2019
Price: £500
Size of Event: 20
Testimonials:
"This was the first actually workshop I've attended but won't be the last. I've been to many a meet up where workshops have been called out on having almost 'celebrity like' approach to interacting.
Constellation was exactly what it described itself as – 'no stardust, just an open book'.
I came away from the event with a lot more knowledge of the inside of what people do in the world of photography. Some people that i'd Looked up to for years. No question was too much, if you wanted to know you'd find out in black and white – exactly how it is.
From technical know how to looking at where you take inspiration and which direction you'd like to take your business – constellation had it all." -Dan M.
Speaker Lineup: Paul Santos, Caroline Briggs, Nigel John, Heather Shuker
More Info: https://constellation-workshop.co.uk/wedding-photography-workshops-uk/
Location: Cannon Beach, Oregon
Dates: April 16th – 19th 2019, November 2019
Price: Begins at $2000
Size of Event: Less than 50
Testimonials:
"I attended Lets Go in 2017 and it was one of the best gatherings I have been to in my life. The attendees and the teachers became family. The energy was constantly positive and vibrant, and it left some of us crying happy tears. The shoots were done rain or shine, the models were unique and different in their own ways, and the knowledge we gained on top of it all made this workshop one of the best investments of my career. Grace Burt is phenomenal at creating a workshop that leaves the attendees feeling fulfilled in all areas and aspects of their photography journey." -Shannon W.
"Let's Go is absolutely awesome. I have gone two years in a row and plan to go for a third. Grace does a amazing job at selecting instructors who are passionate in their work, yet truly care about building a strong community. There are no egos… even from the instructors. Let's Go is the best kind of family." -Erin A.
Speaker Lineup: April – Grace Burt, Maciej Suwalowski, Jennifer Moher, Junebug Weddings, Jacob Loafman, Hannah Millard
November – Grace Burt, India Earl, Helena and Laurent, Catalina Jean, Jonathan Suckling, Junebug Weddings, Jacob Loafman
More Info: http://www.letsgoworkshop.com/
Location: TBD
Dates: TBD
Price: $980
Size of Event: Less than 50
Testimonials:
"Alex and Ben desire for Ramble to be an opportunity for creatives to come together and discuss what makes them tick, ask questions they've had for years, and learn about, appreciate and enjoy the world we have around us. There aren't many "workshops" set up like this and I think that solidifies the need for Ramble even more. It's intimate. Honestly, it has to be when you are outdoors with 15-20 other humans camping and roughing it. This is not a gathering of huge numbers just to hear the big names, this is a gathering to share with one another and discuss and wrestle with thoughts together. While there is a schedule, if adaptations need to occur for inspiration and creativity to flourish, they will. This is because being outdoors in such wonderful places, the roots of it all become exposed. Nature brings out more in us, allows for a deeper connection not only with the scenery and land around but the people you share it with. Ramble encourages a level of respect for one another and for nature which I have not witnessed at any other event, in our outside of the photography community." -Ben K.
Speaker Lineup: Levi Tijerina, Mitch and Destany Colagrossi, Ashley and Ben Kochanowski, Andrew and Shannon Horton, and Alexander Lefler
More Info: http://letsramble.us/
Location: Dingle, Ireland
Dates: October 2019
Price: €1,950
Size of Event: Less than 50
Testimonials:
"I've just come back from a week in County Kerry in the Southwest of Ireland and I am still absolutely buzzing from this event! The speaker line-up was amazing, we visited some of the most beautiful countrysides in the world, and the group was filled with lovely humans. It was under 30 people, and so it felt really intimate and friendly, and all of the speakers stayed all week, so we could chat to them over lunch or pints in the pub as well as attend their talks and live shoots. We stayed in Ballintaggart House on the Dingle peninsula and breakfast and lunch were included all week, and it was delicious. Sean and Kate, the organizers, have obviously put everything they have into this and they've created something really special." -Mairead M.
"Sean and Kate have poured their heart and soul into Feckin Workshop. They have really created a unique and special thing. It is so much more than just a photography workshop, its a community, gathering and inspirational event. We connected with so many amazing humans and made friends for life. The experience is unlike any other and we came away refreshed, buzzed and inspired. handpicked speakers, beautiful and epic Irish landscapes it's a whirlwind adventure in the south of Ireland!" -Christin M.
Speaker Lineup: Dylan M Howell, Becy Farr, Michael Toman, Rafal Bojar, Johnny the Baba, Declan and Jo-Anne, and Lexi Heimdal of Junebug Weddings
More Info: http://feckinworkshop.com/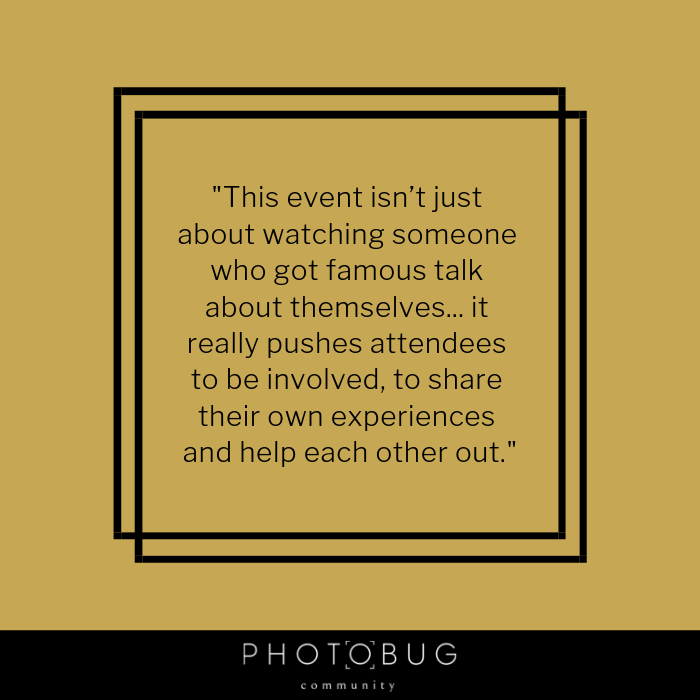 Location: West Coast, The Rockies, Great Lakes
Dates: TBD
Price: TBD
Size of Event: Less than 50
Testimonials:
"This event isn't just about watching someone who got famous talk about themselves. The Camp Collective really pushes attendees to be involved, to share their own experiences and help each other out. It also gives them so many opportunities to create & shoot without just standing behind the teacher – they get the chance to be kids again and try new things while learning from leaders in the community as well as the others at camp. It's awesome!!!" -Jennifer V.
"Attending camp was the BEST thing I've ever done not only for my business but for myself. We learned from photographers and business entrepreneurs we admired, we played games, we had so many amazing styled shoots with real couples to bring back to our portfolios, and above all we connected with amazing, creative people. Every person who arrived at camp on the Monday left a completely different (and better) person on Thursday. I still get emotional and tears fall when I reflect on my week at the camp collective." -Janita M.
Speaker Lineup: 
West Coast – Sara Rogers, Tara Lilly, Shari and Mike, Angela Ruscheinski, Nisha Ravji, and Erin Bishop
The Rockies – Cole Hofstra, Sara Rogers, Dave Moss, Abby Taylor, Dana Cole, and Emilie Iggiotti
Great Lakes – Frances Beatty, Tara Lilly, TJ Tindale, Liat Aharoni, Jennifer van Son, and McKenzie James
More Info: https://www.thecampcollective.com/
Location: Groznjan, Croatia
Dates: April 2019
Price: 595 €
Size of Event: Less than 50
Testimonials:
"I was on few workshops but this was THE BEST. It was around 12 people which is great because you can talk to everyone. Accommodations were like you were in a fairytale, and the hosts (Katja&Simon) were the best host in the world. They were so open and honest about their business so you could ask anything you want. Everything was just perfect…I have a feeling that I met my new photo family there and made friendships that will last :)" -Marina R.
"Katja and Simon are so humble and nice that you feel like home during the two days of the workshop. They have a unique ability to make leave the workshop sure that you'll be a different and better photographer afterward." -Giulia S.
Speaker Lineup: Katja and Simon Avbar, Daniel Alonso, and Alena Milkovic
More Info: https://katjasimon.com/monte-istra-workshop/
Location: Asheville, NC and South Africa
Dates: Asheville – April 28 – May 1, 2019
South Africa – Winter 2019/2020
Price: $1250
Size of Event: Less than 50
Testimonials:
"The Wild Places Workshop breathed new LIFE into my business! In addition to an in-depth roundtable learning sessions from Carolyn (covering everything from prompting to marketing to your dream client), and beautiful hands-on styled shoot, this workshop fostered a REAL community of talented lady bosses. You'll climb to epic mountaintops, but learn to balance that with capturing real emotions, as well (which of course, is the most important part of our job!)" -Juliana S.
Speaker Lineup: TBD
More Info: http://carolynmariephoto.com/wildplacesworkshop/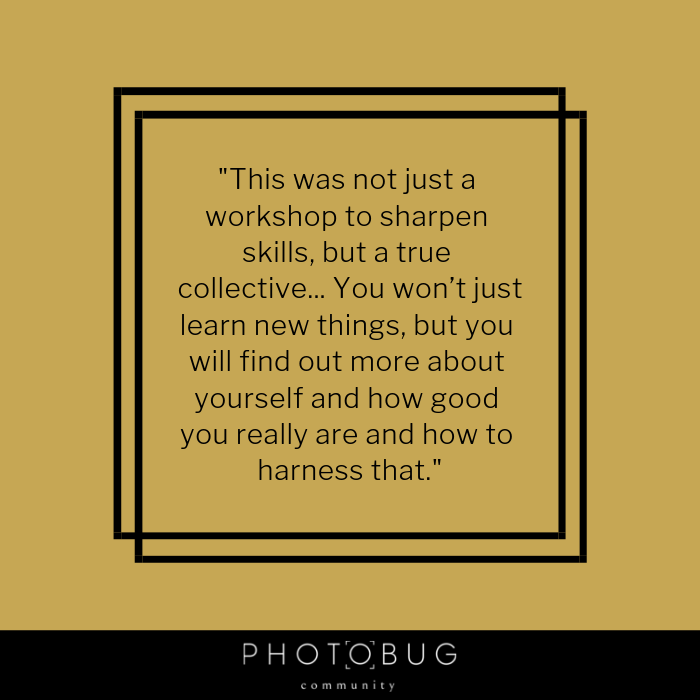 Location: Virginia and Tuscany
Dates: Virginia – TBD
Tuscany – April 9-11, 2019
Price: Begins at $1700
Size of Event: Less than 50
Testimonials:
"I can't say enough good things about my experience at Rooted to Thrive. I not only loved getting to meet and network with other photographers, but to also learn from their experience. Pat & Lindsey are great instructors and mentors and I'm so glad they decided to put this workshop together! I left after 2 days with a very long to-do list and a lot of motivation to make things happen. If you're thinking about attending, you absolutely should!" – Molly H.
"I had a life changing experience in this workshop. This was not just a workshop to sharpen skills, but a true collective. I learned things about running a business, how to stay fresh with your ideas, and I gained friends. Instruction was a mix of advice and leading. There were so many times where I just needed someone to say "yes that's a good instinct" You won't just learn new things, but you will find out more about yourself and how good you really are and how to harness that. If you are reading this JUST DO IT!" – Taylor R.
Speaker Lineup: Robert J Hill, Brandi Potter, Seth Sanker, Lindsey Paradiso, and Pat Cori
More Info: https://www.rootedtothrive.co/
Location: Vancouver, BC, Canada
Dates: October 1, 2019
Price: $800 Early Bird – $1050 CAD
Size of Event: 100+
Testimonials:
"I had the incredible opportunity to attend ARC last week and it has quite literally altered the course of my life and the way that I view this path I have chosen. I am SO thankful for the amazing people I met and connected with, and for all the wildly..like I'm talking WILDLY helpful, insightful and deep messages shared by each presenter!" -Bethany L.
"Ahhhhh! This time last week was the final day of this amazing photography conference. 3 days of inspiration, ideas, business development conversations, workshops and meeting an incredible community of photographers and creatives and new friends. Gamechanger. My butt has been kicked into the next gear and my heart was filled up by community and the beautiful presentations. I HIGHLY! encourage you to check out the ARC podcasts for convos on everything around entrepreneurship & creativity & life. <3 peace love hugs and growth." -Maxine B.
Speaker Lineup: TBD
More Info: https://experience.thisisarc.co/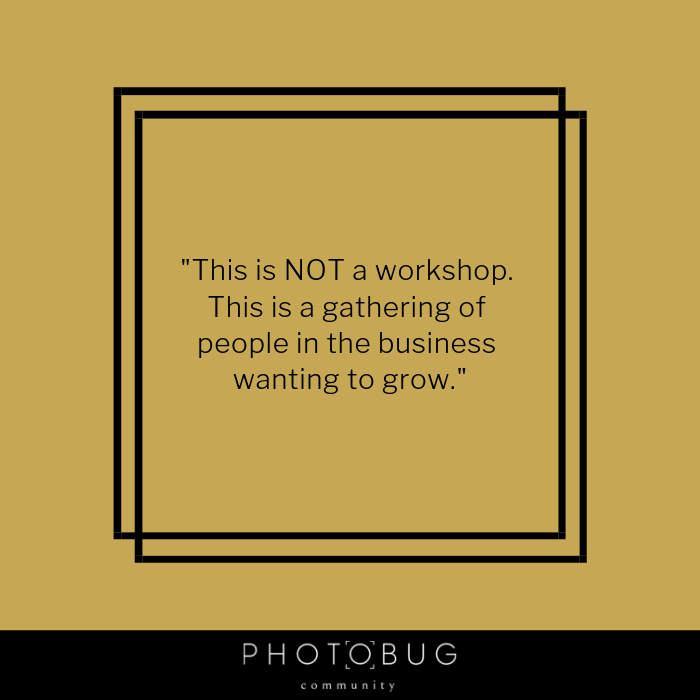 Location: Cannes, France
Dates: April 2-3, 2019
Price: Starts at 395€
Size of Event: 100+
Testimonials:
"This event just has everything. You live, you love, you learn. Inspiring speakers, lovely people arranging it and you always meet tons of new friends. It feels like taking back all the time you miss out on hanging with colleagues while sitting in you editing cave all year. Then you go to WUN and just come back to life. I love it." -Maria B.
"This is NOT a workshop. This is a gathering of people in the business wanting to grow. It's an hour of your idols, talking to you about what they do, how they do it, what they don't do. It's networking like never before. It's friends and coworkers and it's simply amazing." -Martina L.
Speaker Lineup: Si Moore, Jean-Laurent Gaudy, Rosie Hardy, Emilie White, Fer Juaristi, Bonjo and Govinda, Kara Mercer, Michael Antonia, and Sandra Åberg
More Info: https://wayupnorth.co/
Location: Springfield, Missouri
Dates: August 13-15, 2019
Price: TBD
Size of Event: Less than 50
Testimonials:
"This event was for photographers of all stages in their career. I had the opportunity to meet such creative women in the area and afar that I might not have otherwise met. Since then, I have seen a lot of them flourish and thoroughly enjoy the photog community I was not apart of before. 2018 was their first workshop and there were only very minor things that could have been different. Nothing to make or break it. I can't wait to attend for years to come!" -Jordan B.
"This workshop is specifically geared toward female photogs, with the goal of empowering women photographers to chase their dreams!" -Caitria G.
Speaker Lineup: Beth Solano, Kyndal Hawkins
More Info: https://theivyworkshop.com/
Location: Cle Elum, Washington
Dates: October 21-24, 2019
Price: $1100-$2200
Size of Event: Less than 50
Speaker Lineup: Brandi Potter, Kyndall Elliott, Paul Woo, Seth Sanker, Dan Hand, Kaila and Jay Loftus
More Info: https://www.thisworkshopdoesntsuck.com/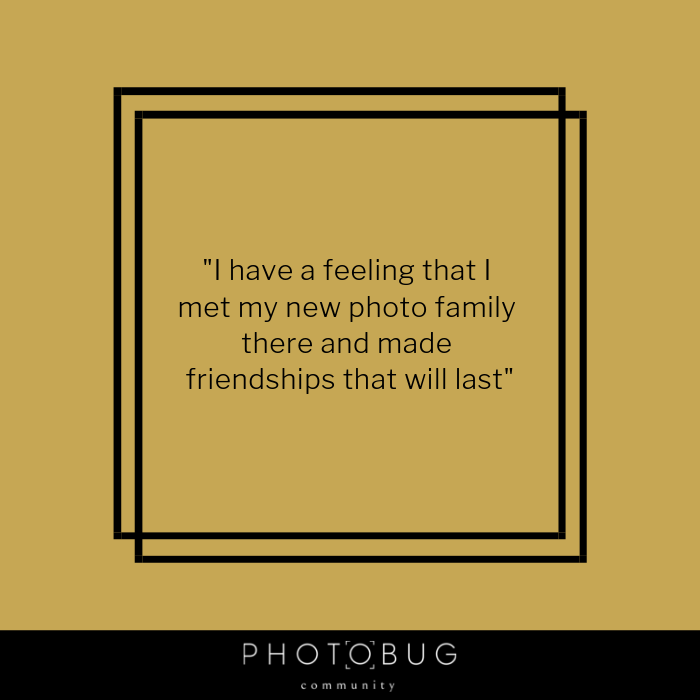 Is your favorite wedding photo event not on the list? Check out our 2019 workshops and conferences nomination page and submit your favorite today!
**We will update this list monthly.**