All Photos © Andy Gaines Photography
This beautiful photo, taken by Andy Gaines, proves that epic couple portraits aren't limited to outdoor settings. After seeing this image featured in our 2016 Best of Wedding photo collection, we knew there had to be an interesting story behind the photo. Luckily, Andy is here today to give us the 4-1-1 on how he was able to capture such dramatic light at a church wedding. Enjoy!
Location
Left Bank Arts Venue, Leeds, United Kingdom
Time
6 pm
Equipment/Gear
Nikon D750, 35mm 1.8 lens
Camera Settings
35mm lens, f3.2, 1/200s iso 100
Presets
"I am The Camera" – Just my own basic preset I use on all my images – very light – just makes the photo look a bit like it did on the back of my camera!
Detail Shot Process
Left Bank is a fantastic old, deconsecrated church, close to the city centre of Leeds in England. It now serves as an arts space (and fantastic 'blank canvas' wedding venues for creative couples.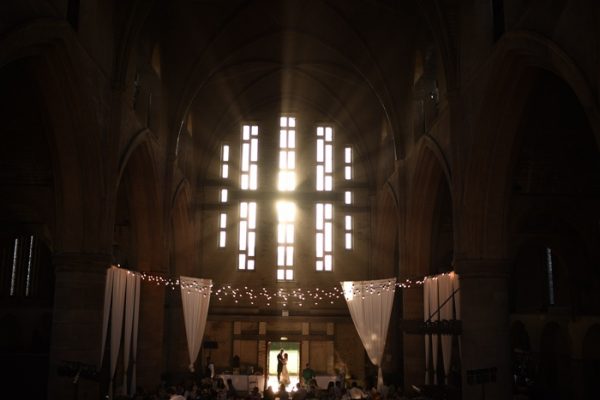 I never plan portrait sessions with the couples – preferring to do portraits on the fly with couples to fit around their plans and their day – the less interruption and time away from their guests the better. I'd seen the sun moving around the building over the afternoon – so as it started to line up centrally with the end of the church I grabbed the bride and groom for 2 minutes from chatting with guests between meal courses to make this photo. To get the height I needed, to not only get a clear shot of the couple in the door but also to get the light flares, I managed to gain access to a balcony that ran along the half height of the building – it involved the sweet talking of the duty manager to get the key, a torch, a climb up some cramped, dusty spiral stairs, a lot of cobwebs and some dead pigeons to step over – but it was the perfect vantage point to get the angle and shot I wanted, just as the sun moved into position!
I shot a lot of frames with a couple of different compositions and also on a 24mm lens and an 85mm lens too. Also to deal with the fact guests kept walking in and chatting to the couple! But the simple, squared up composition, with the 35mm was my favourite!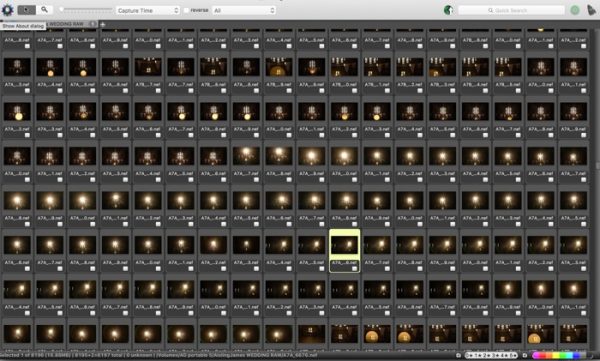 Post Production
I keep all my post production pretty straightforward – the same basic preset on all my images and then some dodging and burning. I also did a bit of cloning to clear up a few distractions and tidy up the image.
Massive thanks to Andy for sharing his process and the story behind this incredible shot.
If you love learning more about some of our favorite images, be sure to check out more Behind the Photo features.