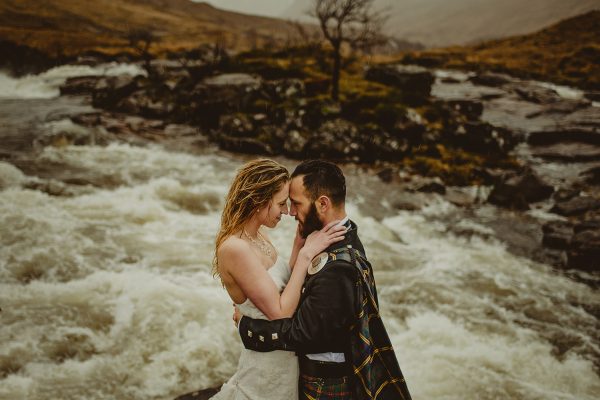 Expectations. We all have them. Regardless of what we do, where we go, we all have expectations, and with the wedding day being one of the most important moments in everyone life, there's a little surprise that quite often expectations can be sky high. As a wedding community, we are partially to blame for this as the bar for the most amazing wedding is going up all the time. The best flowers, most exotic destination, the coolest DJ — you name it. On top of that, we only show a perfectly-curated, small part of our work, and publish less than 1% of the total number of photographs taken.
I'm quite sure every bride planning her wedding must wonder how is it possible that most of the weddings she can see online are close to ideal — perfectly dressed beautiful people, the best venues and of course the weather and light is perfect. Reality is nearly always different, and the only way to avoid disappointments on both sides is clear and honest communication. As an example of how you to turn elements going against you into something positive I will show you a a few photos from a recent session I photographed in Scottish Highlands…in the winter.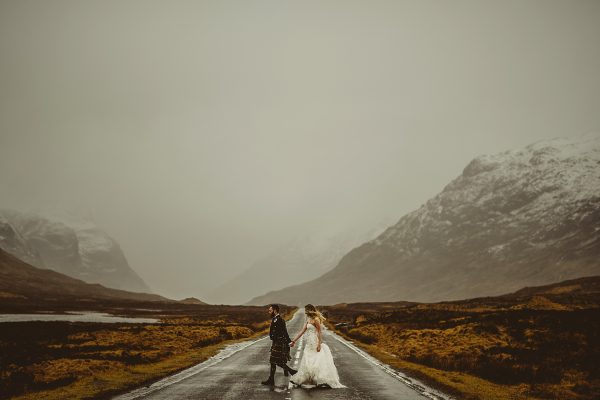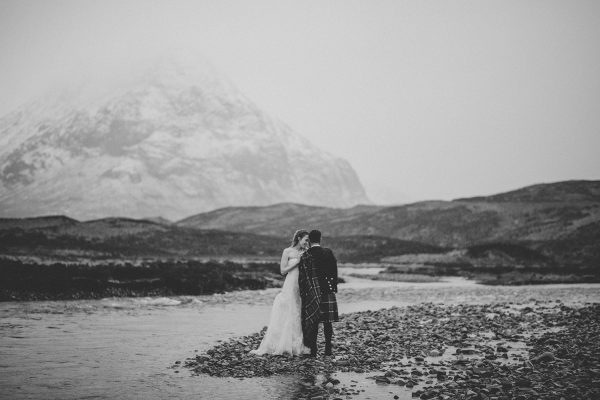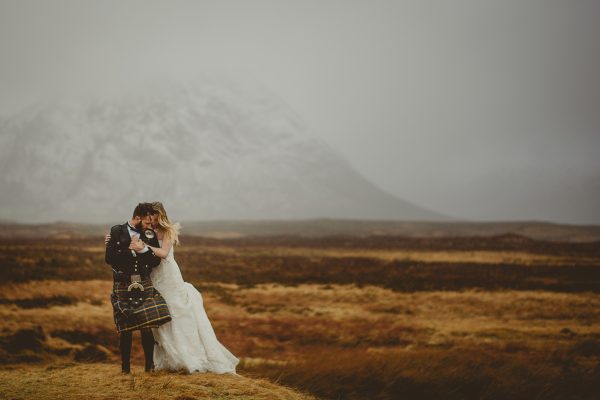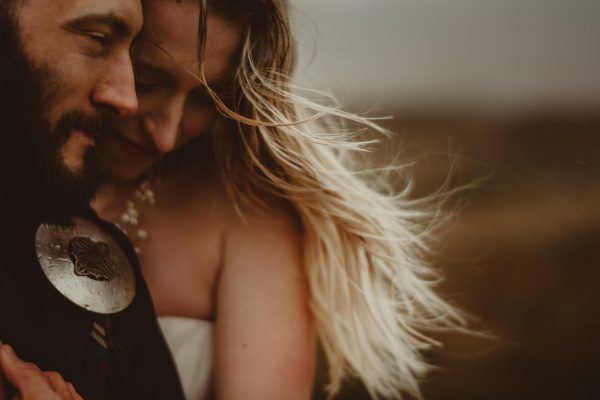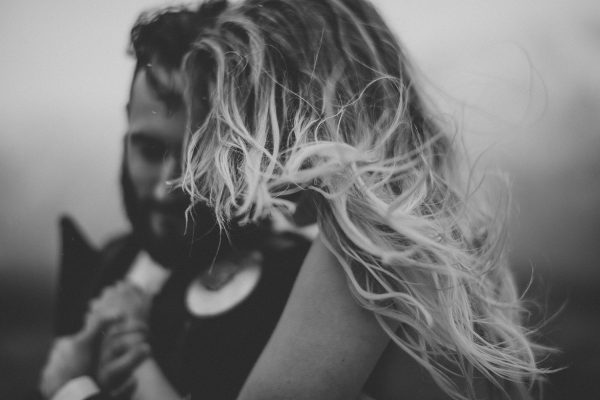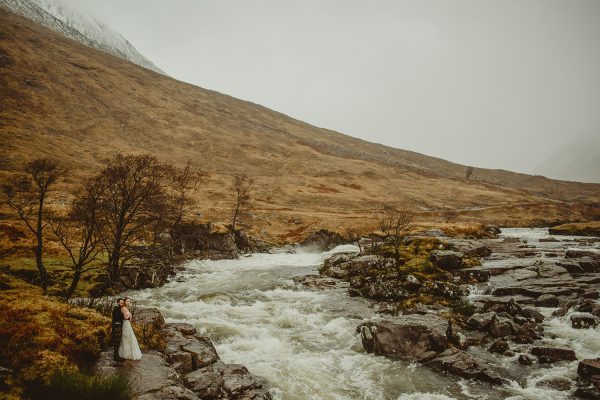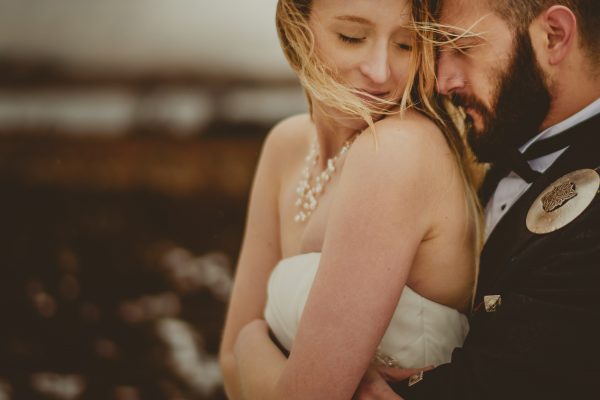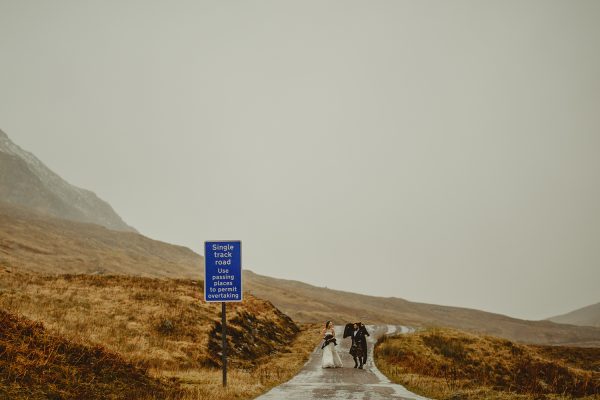 How I Managed Client Expectations
Eva and Kelly's session was by far the most extreme adventure I ever had photographing people, all because of the weather. We got completely soaked within 10 minutes and all my equipment had to be serviced afterwards. It was also one of the most positive and rewarding experiences ever. It all went smoothly because of two things: Eva and Kelly being absolutely amazing and me sending them warning after warning about what they can expect in Scottish Highlands in the winter. I can't remember how many times I asked if they knew what they were getting themselves into! Once they convinced me that they were fully aware, I sent them a list of things that they should bring with them, including spare boots, jackets etc. It might seem obvious, and maybe I was over cautious, but they came all the way from Texas to have their photos taken just on that one day, so I guess it's better to be over prepared than have risk the session being cancelled after half an hour. In addition to communicating what they could do, I was doing all I could to make it easier for them. From trying to make them laugh about the holes situation, to not letting them out of the car before I scouted the location and knew exactly where I want them to stand.
The First Impression
The first point of contact between the client and potential client is the website. From the photographer's point of view, there are hundreds of different factors that make a good website, but in terms of communication, one thing is the most important. Your website should be the clear representation of your style, and the final product that you're going to deliver your clients in 12 months. A good website, and your social media in general should be all about consistency. From the way you tell the story, approach the portraits and finally edit the photos, your style should be perfectly clear. Changing something with every wedding or session can be confusing to your audience and clients, but your also creating a scenario when the images delivered to the couple after the wedding might look completely different than they expected when the booking was made. That obviously doesn't mean that change is bad, as creatives we should always look at the ways to better our craft and look for new challenges, but the changing the style of our professional work should be a slow and smooth process.
Attracting Your Ideal Clients
How many times a day to you hear / read about "booking the ideal clients." The term is being overused, but the truth is that "filtering" clients is one of the best way to avoid problems in the future. Filtering might sound a bit harsh, but sometimes you just know that you're not right fit for the couple, and it's better to say no now, than face problems later. A perfect tool for getting the right people more interested interested, and steer the steer the rest of them away is a good brochure. Good brochure should not only be about pricing, packages, albums etc. Large portion of my brochure is all about me, my approach, what I think it the most important in the way I photograph weddings and people. I like portraits that catch the emotions on people's faces, and since my favourite lenses are 35 and 58mm, that means that often I'm really close to the couple. Not everyone is will be comfortable with this so by adding a few images to my brochure that make it obvious that that is the way I work I "scare" the non cuddly couples away. Ok, I might not get the booking, but it's more important that I work with clients who understand my style.
Honesty is the Best Policy
Finally, and I think this is the most important of it all. Be honest. If there's something you can't do it, don't say it's possible. If you don't feel confident, say it to the couple, who knows, they might still give you a chance. Don't ever make promises that you can't keep. Your portfolio, your business, another booking and the income might be important for you, but all that matters to the couple is their wedding. It's something that can not be redone, you have only one chance, so being honest with yourself and you clients is the best way to avoid misunderstandings and disappointments. Don't try to build up expectation for yourself, and don't be angry when the epic image you have planned didn't work out, because the couple wanted a photograph with the grandparents and the and you've missed the best light. Push the boundaries, ask the couple to trust you, but remember that the most important image from the wedding, is not always two people standing on the top of the mountain in the perfect light.
How have you managed client expectations in your own business?
——————————————————————————————————————————————————–
Meet Your Contributor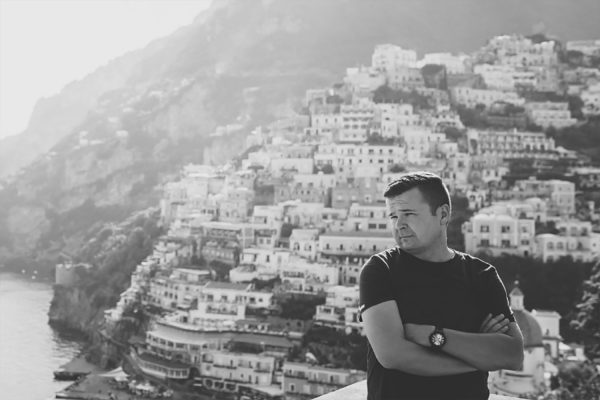 So who am I? I'm Mark, I'm based in Scotland, I love nature and after living here for 13 years I'm still learning how not to hate the weather. Most of all though I'm a photographer. I'm a photographer because I don't just photograph weddings once or twice a week. I'm a photographer because I take the photos all the time – with my d750s, my iPhone, but most of all with my eyes. I believe there's a bit of magic in what we do – to be able to freeze the moment and then print it on the piece of paper it's something like a miracle for me, and not because I can't understand the technical process behind it. To be able to do it as a job, and on one of the most important days in someones life, is a gift and a privilege. I think every photographer should remember how lucky they are with what day do, and every couple should realise that when they're looking for a photographer it's not just another box to be ticked off the list. What we do is important.
And the boring stuff? I've been doing this for over 3 years, and thanks to hard work, a bit of luck, the support of community and friends, but most of all my amazing wife, it's been the most fantastic time of my life.