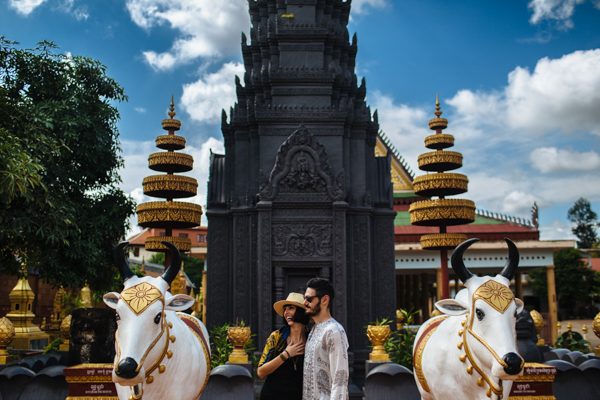 All Photos © Wainwright Weddings
Having flown all the way from NYC to Siem Reap, Cambodia for their elopement, Abbey and Ben decided to hire one of the world's best wedding photographers in order to capture their journey. With Julian Abram Wainwright at their side, the couple experienced a magical nighttime ceremony with monks from the Angkor Wat temple as well as couple portraits in the surrounding jungle. Julian captured every laugh, clothing change, and quiet moment flawlessly. We're excited to share their elopement with you today, as well as a few words from Julian regarding one of his favorite photos from the adventure. Enjoy!
From the Photographer – 
Abbey and Ben are an American couple who eloped in Siem Reap, Cambodia. They had enlisted the help of a local fixer to arrange the necessary permits so that we could do a portrait session and then the marriage ceremony in the Angkor temple complex. Unfortunately, the fixer didn't get the paperwork done, and after just 5 minutes of shooting, we were stopped by the park security and told we couldn't make pictures anymore. 
Having flown halfway around the world from the US to Cambodia for this ceremony, they were understandably disappointed, even distraught. But, there is always – ALWAYS – a solution to problems like this, and we found out that the park security's shift ended at 5pm. So we went back at 5:30, and had barely enough light under the thick jungle canopy to make a few portraits amid the ruins. Then they had their marriage ceremony – a blessing by local monks – as night fell in the jungle. 
The only light was a few small candles, and the rapidly fading glow of dusk. I always want to include the environment in my pictures to give a sense of place and context as much as possible. But there was almost no light to work with, and I couldn't focus in the near dark. I used the live view function on the camera to attempt focus, and I found the vantage point halfway up a tree to show the temple in the background, the line of monks, and Abbey and Ben. 
And then the dog walked by. And for me, he kind of makes the picture, because the dog adds a strange layer to the image, and he immediately reminded me of this dog from the famous Magnum photographer Josef Koudelka. 
Thanks so much to Julian for sharing Abbey and Ben's day with us. To see more of Julian's work, be sure to check out his member portfolio!