Today on Photobug, we have the Unscripted Posing App team here to share their favorite tips for natural, authentic posing on a wedding day. If you haven't heard of Unscripted,  it's an amazing tool to have handy when you're with your clients. If you've ever found yourself stumped when it comes to posing your couples, the Unscripted app is the easy go-to for posing inspiration and prompt ideas for all kinds of settings, scenarios, and personality types. Plus, the app comes with a slew of other helpful features such as a sun tracker, settings guide, and agenda book for your photoshoots. Built by a photographer, this app has been thought out so incredibly well for new photographers and experienced shooters alike! We're excited to share Unscripted's posing guide with you, because they truly are the posing experts. Enjoy!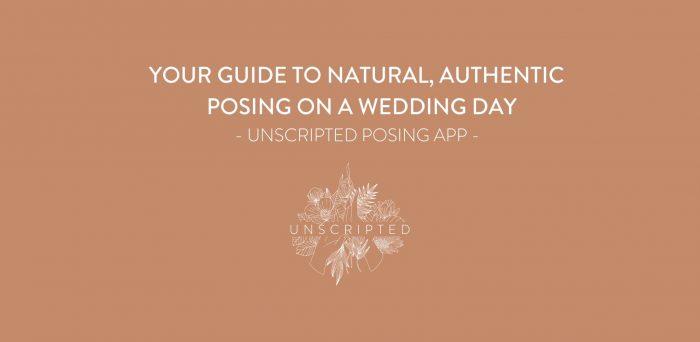 There's a subtle art to posing people. And when it comes to posing a nervous, slightly boozed couple on their wedding day, it can feel like you're calling in miracles just to get them to keep their eyes open at the same time. It's a juggling act, for sure; getting them to relax, put their best, fancy shoe forward, and capturing the lighting when it turns on the magic. A deep breath goes a long way for your sanity (and for the sanity of those around you). 
With the Unscripted Posing App in your pocket (be sure to use code PHOTOBUG for $10 off the app!), you'll have all the tools you need to lean into and harness the energy of The Big Day. We've got you covered with prompts to guide you through every aspect of the wedding day; from the bridal party to the groomsmen, to the bride and groom together, with separate prompts giving you ideas for solo portraits of each of them. Not to mention all of the categories in the app that helps you tell their love story before and after the wedding, with engagement shoots to family prompt ideas, solidifying your role as their photographer and allowing you to grow your business with regular clients you have the opportunity to get to know over a period of time.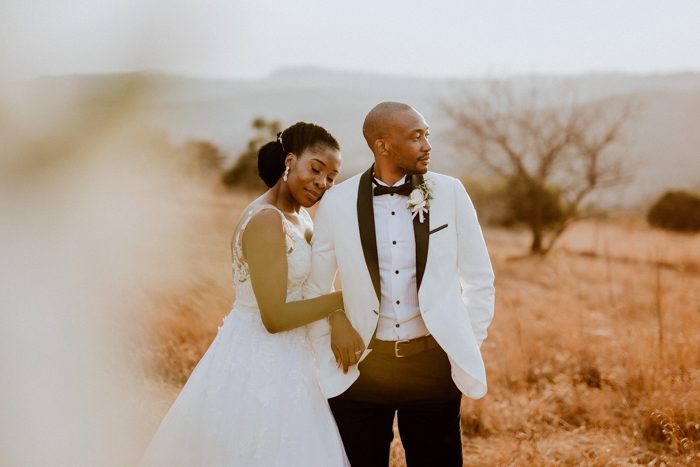 photo by A Bear Photography
Our wedding prompts have been divided into 2 categories: fun and romantic. The fun ones are the cheeky and playful kind — dynamic, loud, and energetic. The romantic ones are softer, fit for intimate expressions of love and the warm fuzzies. Kind of like a one-two-punch of the best kind, they're designed to coax even the most introverted folk out of their shell. 
Break the ice with the fun ones, then swiftly follow up with the romantic ones. Once they're laughing, they'll drop their guard enough to melt into the sweeter quieter poses and you'll have the chance to witness that classic wedding day goosebump-inducing melt. Ah, we love, love.
There are a lot of hopes riding on The Big Day, and as easy as it is to get swept up in the chaos, it's important to slow down enough to pull into sharper focus all of the beautiful moments unfolding around you. 
And because we love you, we've put together a little guide so you can be extra sure to keep your cool amongst The Big Day frenzy.
Make Plans to be Spontaneous
What's the trick to navigating the balance between posing and authenticity? We're looking for the goldilocks zone, that sweet spot right in the middle that treads the line between planning and spontaneity. If you can be the subtle orchestrator of things, and get in front of the ball, you'll be able to anticipate moments and be ready with your finger on the shutter when the magic happens. Hone your powers of invisibility, and be a fly on the wall (not the elephant in the room). For the sake of you and the couple you're photographing, try to avoid telling them to act natural. 
Be patient. You know the old adage, good photographs come to those who wait (and have their cameras charged/settings dialed). Frame up what you hope to be the final composition, and use the environment and other people to accent or contrast the happy couple. Anticipate the moment by being a low-key creep; tune into conversations, body language, and wait. Move things along through the art of suggestion and subtle prompting. The Unscripted Posing App has heaps of prompts that give your subjects a sense of purpose (like whispering the alphabet seductively in their partner's ear). Capturing them in a state of reverie or engagement with something other than the camera imbues the photograph with an energy unique to that moment.
Prompt ideas: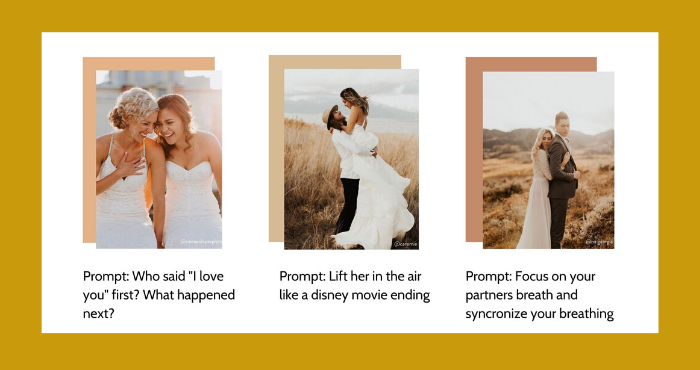 Download the Unscripted Posing App and receive $10 off your plan when you use code PHOTOBUG 
Let Them In On The Creative Love Collaboration
Let the couple in on the process, and welcome the different perspectives that come from listening and being in the moment. What unfolds organically is never identical to what you'd expect, so don't restrict yourself to diligently carrying out a vision if it means you'll miss all of the little moments in between the structure. The more you embrace imperfections, and the readier you are to adjust to your subjects, the more this natural process will be apparent in the frame. You're not looking for perfect, you're looking for real.
Don't hesitate to ask them about what they'd like to create, and if they get silly, get silly with them! You're allowed to have fun, too. Sometimes it can even be helpful to play games like telephone, or charades. Play is a beautiful way to connect! It also plays an essential role in reducing stress, and the movement that accompanies it allows people to drop their self-conscious guard. 
Also, get close. The closer you are, the easier it will be for you to understand what they're feeling and relay the feeling of that day back to their future selves. You want them and their families to be reminiscing over these photos for years to come, and if you're able to co-create a photograph that is capable of preserving the feel of this time in their lives, then everybody wins.
Prompt ideas: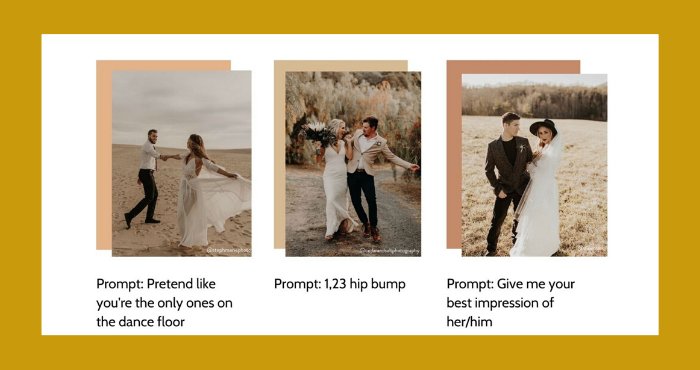 Download the Unscripted Posing App and receive $10 off your plan when you use code PHOTOBUG 
Invite Them To Be Alone Together
In the whirlwind of weddings, sometimes couples really appreciate being given the permission to step away from their guests to steal some quiet time with each other before carrying on with the evening. As their photographer, you're in the perfect position to provide them with an excuse to do so. This can come in the form of a first look, an opportunity to document the first time the bride and groom see each other all dressed up before the wedding, or even a mid-reception game of hooky. It allows you to capture the more quiet interactions that happen outside the moments they share with their guests. 
Prompt ideas: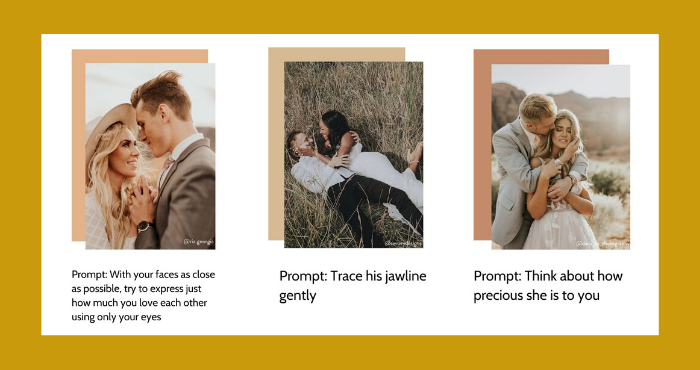 Download the Unscripted Posing App and receive $10 off your plan when you use code PHOTOBUG 
Be A Prepper
Regardless of whether you're photographing the wedding or marrying your best friend, we know for certain that you're better off  going into a wedding feeling prepared. Have a vision, save some poses from the Unscripted App to your photoshoot mood board, and look over them a few times so they feel familiar.
Prompt ideas: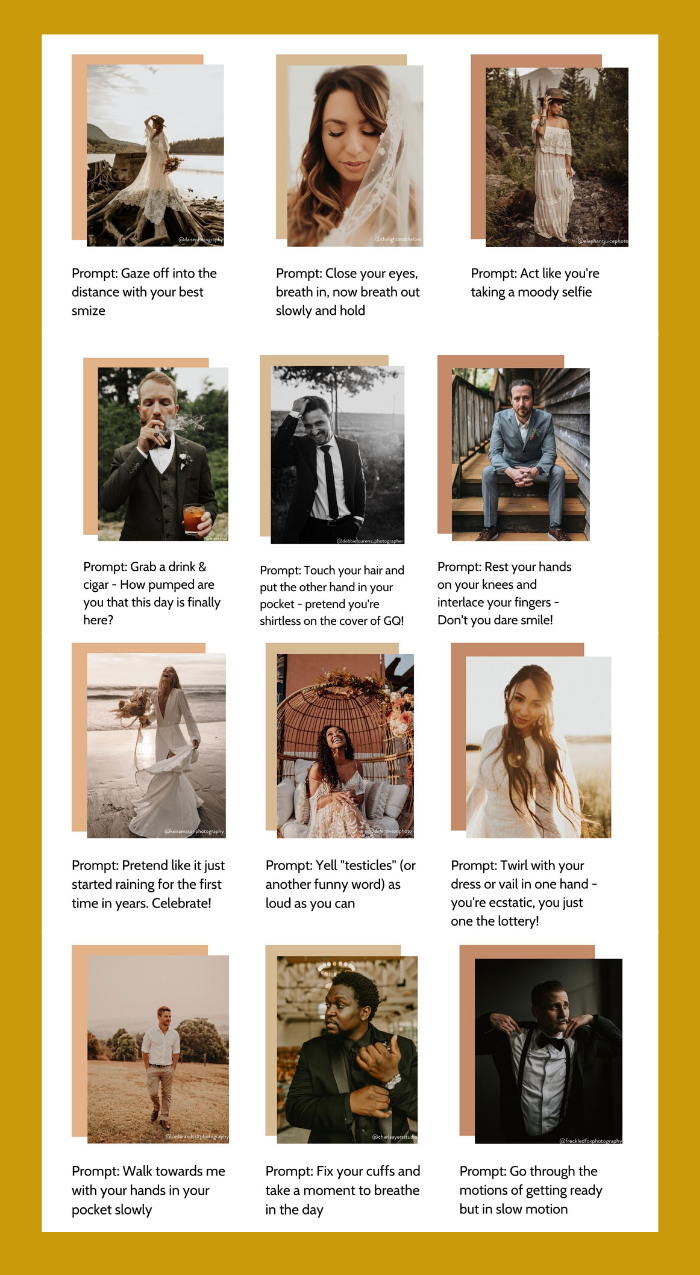 Download the Unscripted Posing App and receive $10 off your plan when you use code PHOTOBUG 
Embrace Your Bossy Side
There are times to hold your tongue, and times when it's absolutely essential that you be bossy AF. When posing anyone at a wedding, you definitely need to err on the bossy side. I'm not saying you need to get frantic, just be commanding. It helps to remind everyone that the sooner they get their photos out of the way, the sooner they'll be into the food and dancing. A couple of other things to keep in mind when dealing with groups are to encourage everyone to stand at an angle, pull their arms away from their bodies, hug each other, hold hands, or put their hands on a bouquet or in a pocket. Give everyone a pretty good idea of where they're to stand, and then encourage them to add their own flavor to the picture. Have a flick through the 'groups' tab on the Unscripted Posing App for more inspiration.
Sometimes it can feel like herding cats getting people into position, so make the most of each scenario by creating slight variations on a theme. Do a silly version, or a serious version, or a bet-you-weren't-expecting-this version. Alternatively, adjust your crop or your angle. 
Prompt ideas: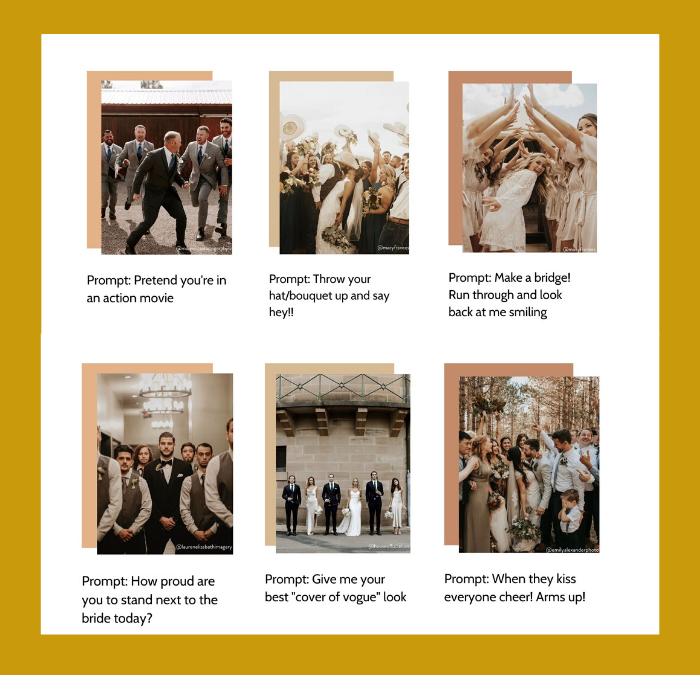 Download the Unscripted Posing App and receive $10 off your plan when you use code PHOTOBUG 
As the guests raise their glasses, and you raise your camera to continue to capture the magic, remember to always allow room for spontaneity. We love plans, but not the kinds that confine you. You've been hired to inject your unique creative flair in capturing this wedding, and you'll need to be ok with deviating from a strict schedule because of #life. But being armed with a pocket full of prompts and poses in the Unscripted Posing App will allow you to embrace the daunting task of posing one or a dozen rowdy guests with ease.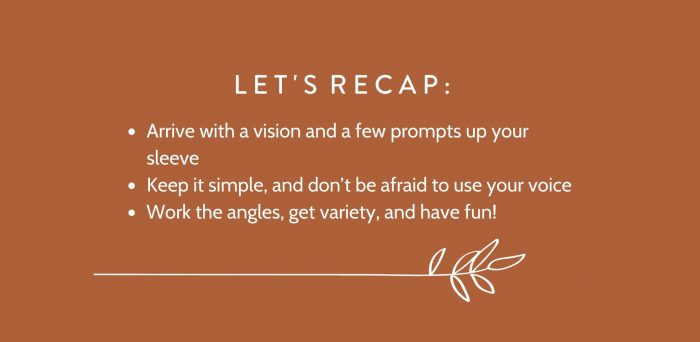 A big thanks to the Unscripted team for their words of advice. If you're interested in testing out the Unscripted Posing App, don't forget to use code PHOTOBUG for $10 off the app!