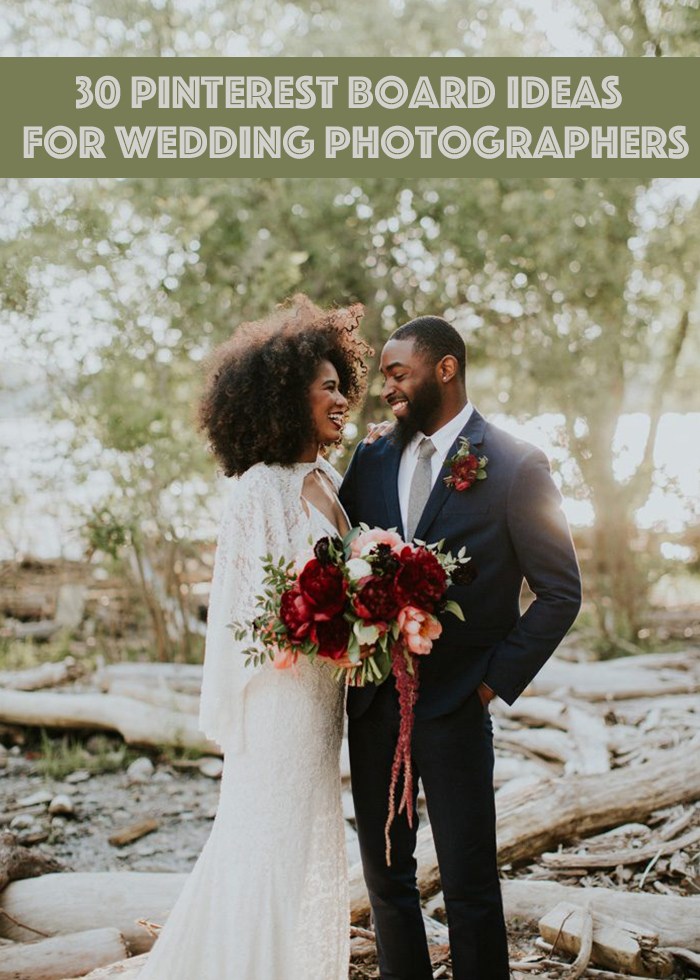 photo by Erin Trimble Photography
If there's anything you may know about us, it's our love for Pinterest! In hopes to get you and other wedding photographers on the Pinterest train, we came up with 30 Pinterest board ideas that will help you jump start your Pinterest success. No more feeling like you're in a Pinterest rut or not knowing where to start! Whether you're new to using Pinterest or you just need a refresh, this post will have you feeling amped to utilize Pinterest for your business!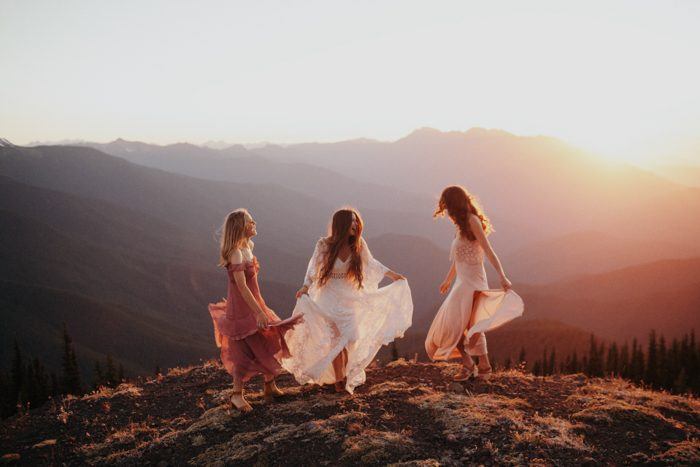 photo by Jordan Voth
Photo Inventory
Before creating Pinterest boards left and right, there are a few things to consider. First off, look at your own content and see how you could potentially organize and label those images. Do you photograph a lot of rustic, outdoor weddings? Or maybe you're more city-based and photograph a lot of weddings in industrial wedding venues. Whatever it may be, take a quick inventory or what you already have – this will make it easier on yourself when you go to name and organize your boards.
As well, taking a look at your own content will give you insight on what you photograph a lot of and areas you may want to grow your portfolio. If there is an area you're wanting to expand your reach on, then go make some magic and make people notice you! This is the perfect opportunity to make some goals to help you get your ideal client.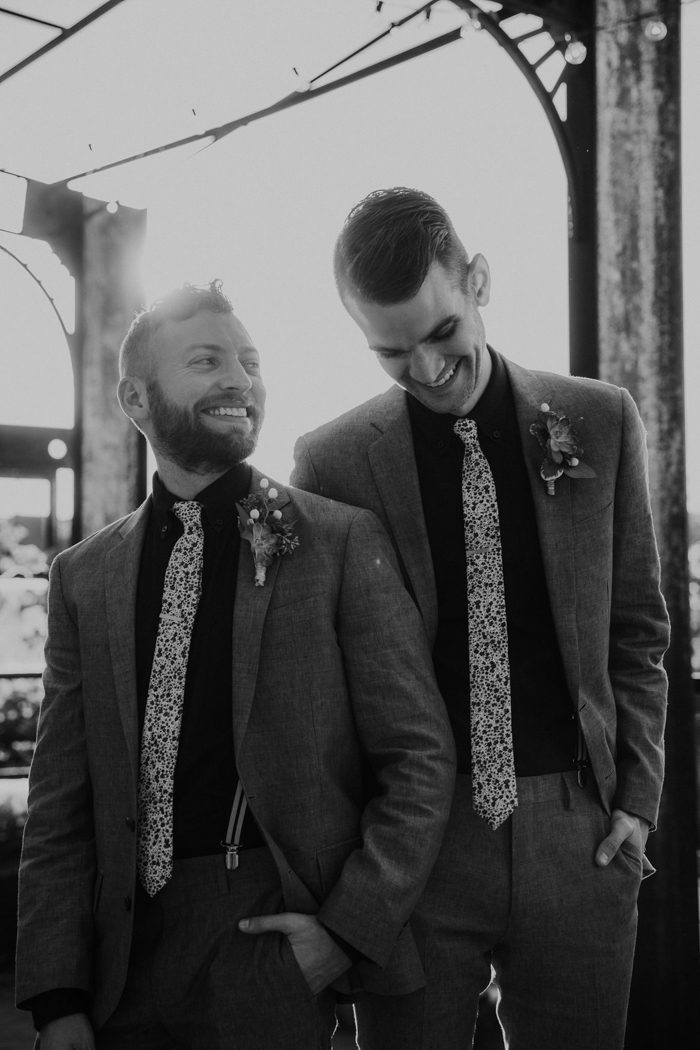 photo by T&K Photography
Naming Your Boards
When it comes down to naming your Pinterest boards, you want to stay clear of naming them something that is hip or aesthetically pleasing. What do I mean? Steer clear of general and basic names like "wear," "her style," "his style," etc. Think in terms of what actual people (like your future clients) are searching. Brides and grooms are using Pinterest as a search tool and will be searching specifics more than anything. Is a couple wanting a boho wedding vibe? Then I bet they're using search terms like "boho bridal style," "bohemian ceremony decor," and more of the sorts. Because of that, you want to name your boards similar to the keywords and phrases people are using when they search Pinterest.
Another way to name of your boards is based on the location you are marketing. Are you from the midwest? Think of naming boards with those specifics in it – Midwest Wedding Photography, Illinois Wedding Photography, Chicago Elopement Inspiration. The more specific you can get, the better.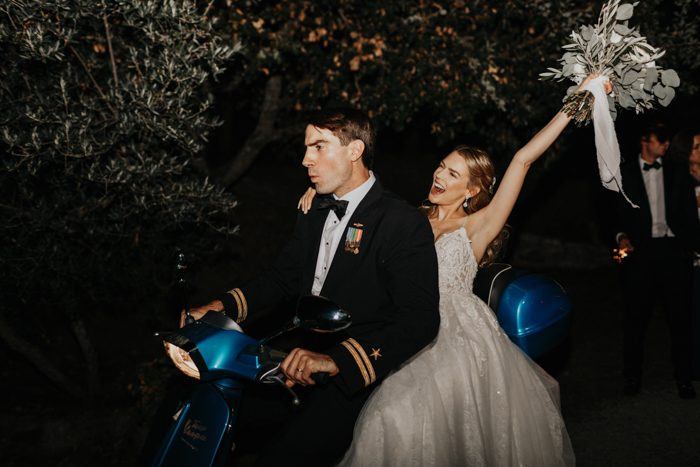 photo by Autumn Nicole Photo
Pinterest Board Ideas
Once you've taken inventory of your images and have figured out how to organize your boards, naming your Pinterest boards will be a breeze. We've gone ahead and have come up with 30 Pinterest board ideas to get you started.
Bohemian Wedding Inspiration
Modern Wedding Inspiration
Rustic Wedding Inspiration
Desert Wedding Inspiration
Waterfront Weddings
Mountain Weddings
Industrial Ceremony Spaces
Outdoor Ceremony Spaces
Romantic Ceremony Spaces
Boho Bridal Style
Modern Bridal Style
Classic Bridal Style
Groom Style
Wedding Party Style
Rustic Reception Decor
Industrial Reception Decor
Geometric Reception Decor
Centerpieces and Table Decor
First Look Photo Inspiration
Romantic Couple Portraits
Same Sex Portraits
Fall Wedding Inspiration
Winter Wedding Inspiration
Spring Wedding Inspiration
Summer Wedding Inspiration
(Location) Wedding Inspiration
(Location) Engagement Photo Inspiration
Engagement Session Fashion
Urban Engagement Session Inspiration
Adventure Engagement Session Inspiration
Pin this handy sheet for future use!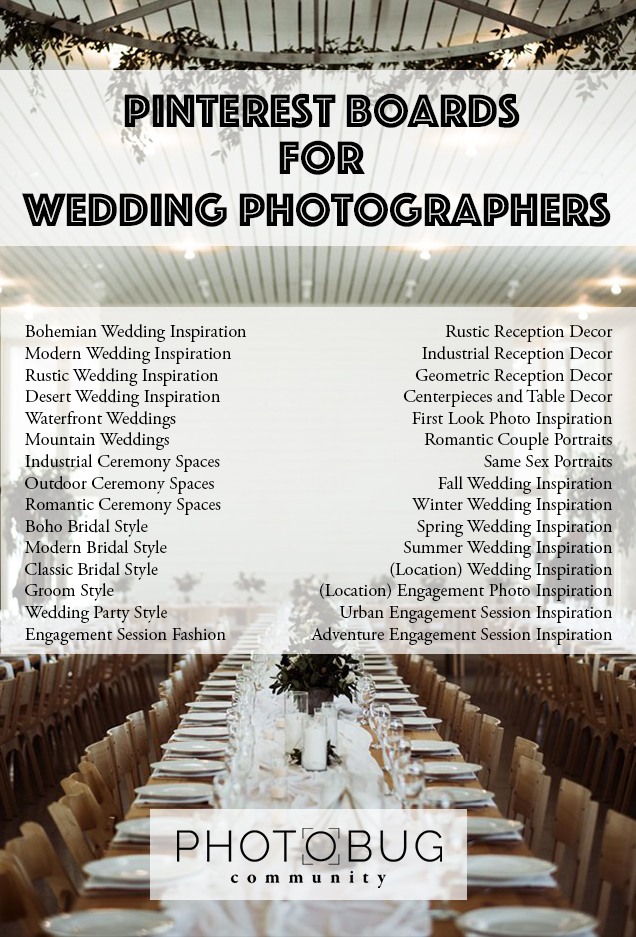 photo by Stephanie Rogers Photography
If you're ready to dive into the more nitty-gritty details on how to turn your Pinterest account into a way to get more leads and traffic to your site, then check out our e-course, Pinterest for Wedding Photographers!