How are your Instagram captions – are you somewhere between posting a few emojis or typing out "I'm bad at captions but this couple sure is cute." If you think a photo can stand alone and get top-notch engagement, guess again. Instagram captions are important because, just like punchy headlines, they can make you stop everything you're doing.
That's a useful tool to have when you're trying to break the zombie scroll, a mindless state where your followers are browsing but not tapping on anything at all. As a wedding photographer, you want the opposite to happen. You want your images to get the likes, comments, and shares they rightfully deserve. For most of us, that means intriguing our followers so much that their thumbs are left hanging over the screen, ready for a double-tap.
So what does it take to freeze a scrolling thumb? That's easy. All you have to do is be shocking, intriguing, or relatable. Coming right up, we've got seven ideas to help you write engaging Instagram captions this week.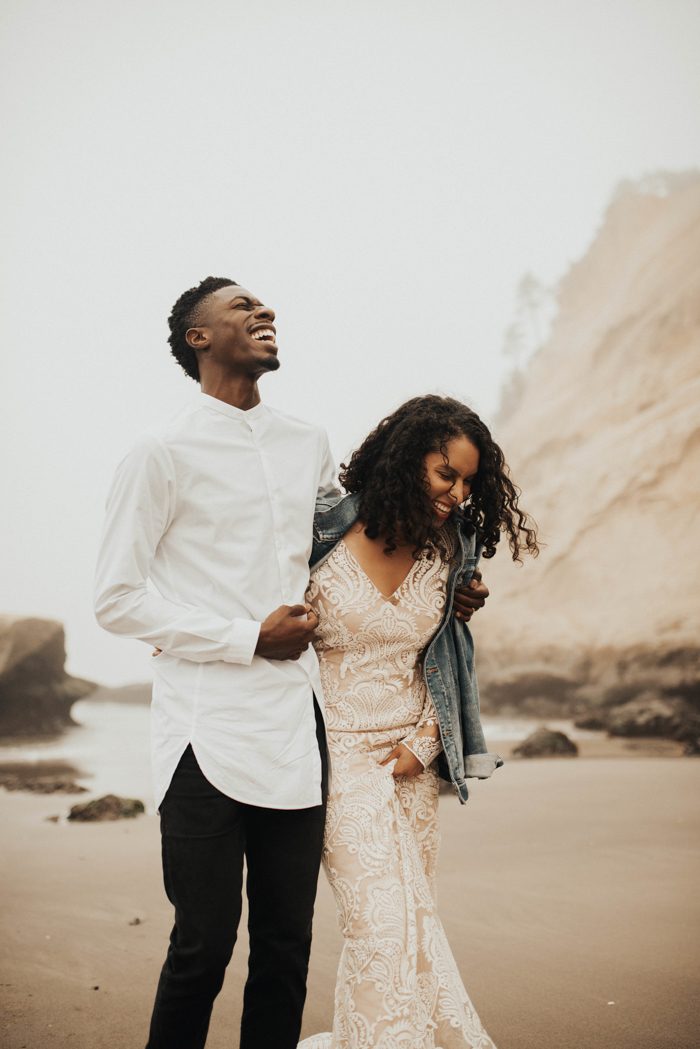 photo by Hana Alsoudi
Caption 1: Teach your audience something new
We're still in the new year season, so don't miss out on the self-improvement wave. If you want to hook your followers this week, write a caption that teaches them something new.
One of the best ways to do this is by sharing wedding planning tips that matter most to potential clients. We'd suggest teachable moments that go hand in hand with what your clients are already thinking about – things like whether to take first look photos, hire a wedding planner, or book a destination wedding.
Start this caption by speaking directly to your client, addressing key challenges they'll face before and during their ceremony. In the examples below, you can sub the bracketed phrases for whatever info you'd like to share.
Finally! An easy way to [find a wedding planner] for your special day.
30 seconds from now, you could [be booking the destination wedding of your dreams].
Does the first photo HAVE to be at the altar? Not if you need some pre-wedding quiet time! Here are 3 more reasons to take first look photos.
You don't want to make your Instagram captions too long, so don't go overboard here. Three bullet points of quick advice or a video explaining your methods will do.
Caption 2: Share a personal triumph
You achieved something major in 2019; we're sure of it. For the sake of a great Instagram caption, don't keep this story to yourself. January is when people love to be inspired, so help them get their motivational fix!
Before the month ends, think back on all the challenges you've conquered. There's likely one accomplishment or hard-fought battle that stands out from the rest. You can use that victory to craft a caption that's honest, vulnerable, and extremely relatable.
Most of the time, a caption length of 125 characters (or less) yields great results on Instagram, but don't be afraid to break the rules. When a photo warrants a story, many users capitalize on the technique of micro-blogging. This works best for lifestyle influencers rather than huge, impersonal brands, so give it a shot. As long as you front-load the most important stuff at the beginning, you're totally safe.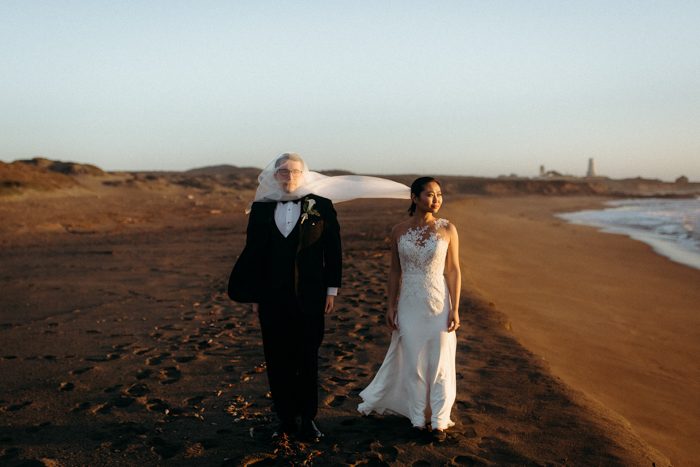 photo by Ryan Chard Smith
Caption 3: Poll your followers about their dream photo session
Here's a fun caption idea that could yield dozens of comments:
Imagine you have unlimited cash and a freshly-married boo. Where are you taking the wedding photos? Drop a 🌲 for enchanted forest, 🐪 for sand dunes, or ❄️ for winter wonderland.
This caption is gold because your followers don't have to do much to participate. With one emoji, they'll indulge a rare fantasy while quickly getting their point across.
For the best results, pair this caption with several wedding photos in various habitats. According to Socialinsider, carousel posts earn higher engagement rates for accounts with less than 50k followers. If you're in that follower range, get your carousel game on point!
Furthermore, as you experiment with this method, remember that engagement is just one benefit. This Instagram caption is unique in that it puts you directly in the mind of your followers. For example, what if the most commented emoji leads you to test more forest scenery on Instagram?
Caption 4: Post an ode to married couples on National Spouses Day (1/26)
Sometimes it's hard to know if a national day or its hashtag will trend. You can do research on last year's participation, and it still won't be a clear determiner of what will happen in the future.
The best thing you can do is see what types of photos people are posting with a hashtag. In the case of #NationalSpousesDay, there's a good amount of wedding imagery, which means two things: It aligns with what you already post and could draw in new followers who are interested in the same thing.
For this Instagram caption, show some customer appreciation to all the newlyweds who trusted you to shoot their wedding. The options are limitless, as you could do this by sharing hilarious memories from a shoot or how a couple's love inspired your process. And if you follow any of the spouses, take it a step further by tagging them! This shows potential clients that shooting with you means creating a lasting relationship.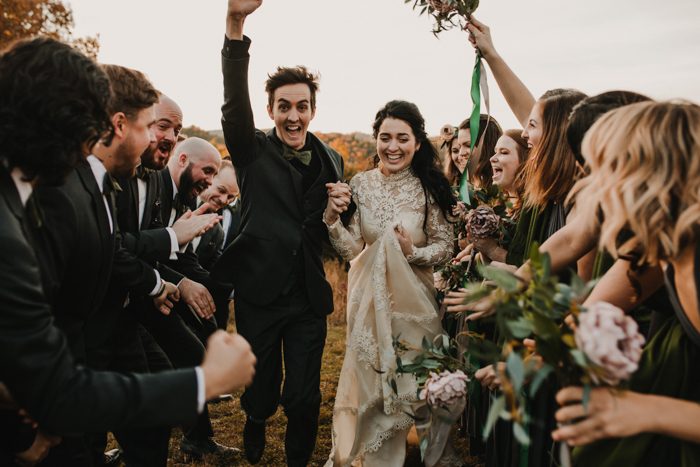 photo by Asher and Emily Photography
Caption 5: Introduce the person behind the camera (you).
Some photographers prefer to stay behind the lens, but stepping into the spotlight is just as powerful. If you haven't done that yet, it's time to shake things up! For this Instagram caption, get a little personal and write about yourself.
If you need more bookings, this caption will bring the right eyeballs to your business. After all, clients are probably wondering what it's like to work with you right now! Help them do just that by sharing some fast facts about yourself. In staying aligned with your business, you could even talk about why you decided to go into wedding photography. As long as you post this caption with a good photo of yourself – a self-portrait or an image of you shooting couples – it will make your business seem more personable.
Caption 6: Give every embrace a wacky name for National Hugging Day (1/21)
Of all humans, who knows more about more hugging than a wedding photographer? No one! That alone makes you a shoo-in for dominating on #NationalHuggingDay.
On January 26, take that power and do something unexpected with it. In celebration of the unofficial internet holiday, write a witty caption labeling various hugs. If you need some ideas to get started, we have a few in mind, such as:
The Human Backpack (one partner hanging from another's back)
The Cheek Smash (a couple hugging cheek to cheek)
The Windmill (the spin and lift)
The Head Cradle (one partner hugging another's head)
Whatever you come up with, be sure to post a carousel of your best hugs and label them affectionately!
Like we mentioned before, predicting the viral potential of a national day isn't easy. But if you're okay with placing originality before going viral, naming hugs on National Hugging Day will definitely help you stand out.

photo by Melissa Cervantes
Caption 7: Share a memorable story about photographing one of your couples
Some couples are just a joy to shoot. When the love is evident, and the smiles and jokes flow freely between them, it's hard not to have fun.
For your next Instagram caption, share one of these wonderful occasions with your followers. As you write, be sure to emphasize the joyous moments shared between the couple, such as uncontrollable laughter or sweet, loving exchanges. For partners who want to have the same experience, this alone might convince them to book you. Plus, if you pair this caption with a stunning photo of the couple, you'll have the opportunity to tag them.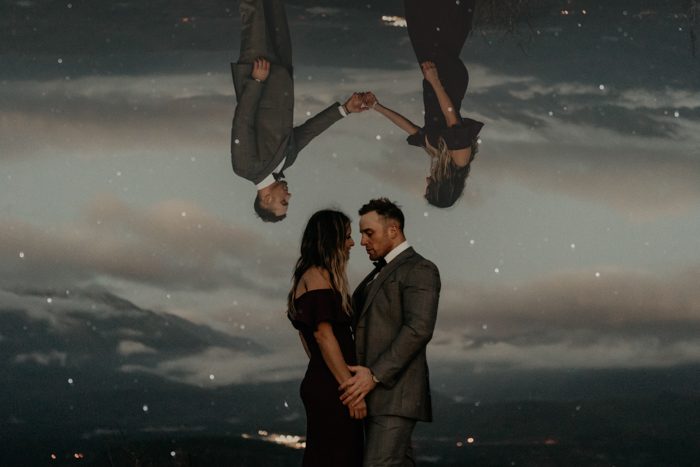 photo by Henry Tieu
Your Instagram captions matter, so don't skip this crucial step! Remember, the real sauce is in the storytelling that takes place right below it.
Now that you know what to post, get some tips for writing amazing Instagram captions!