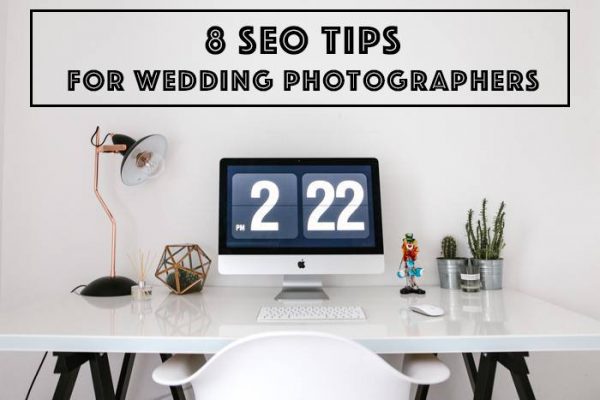 Photo by Dan McCourt
While you can find clients via social media and word-of-mouth, don't be fooled into thinking that your site's organic traffic isn't as important as your other marketing channels. Your website can either do nothing for you or it can be one of your most valuable lead generation tools. But how can you take your website from living unseen in the depths of the internet to being on page 1 in Google? You need to optimize your website for search… or in other words, you need to spend some time understanding SEO.
What is SEO??
Your site is crawled by search engine bots all the time. Those bots determine what information can be found on your site and if that information is reliable and popular. If you have a southern food blog, search engine bots will compare your site's pages and posts to other blogs about the same topic. Let's say you have a blog post about deviled eggs and you want to rank on page 1 of Google for the term "deviled eggs recipes." That blog post will be competing with other deviled eggs recipes and Google (or Yahoo, Bing, etc.) will have their bots decipher if your blog post will give a searcher the most credible information. To sum it up, SEO, or search engine optimization, is a term used to explain the idea of enhancing your website in ways that will boost its rankings in search engines.
What does this mean for your wedding photography website?? A whole heck of a lot, my friends. If you're a Marfa, Texas wedding photographer and you only have one blog post referencing "Marfa wedding photography," you're probably not getting those Marfa wedding clients via search traffic and you're missing out on a big opportunity.
Whether you're targeting a specific keyword or you'd just like your local rankings to increase, here's a list of 8 SEO tips to enhance your credibility in Google's eyes and get your site to pull in search results.
8 SEO Tips for Wedding Photographers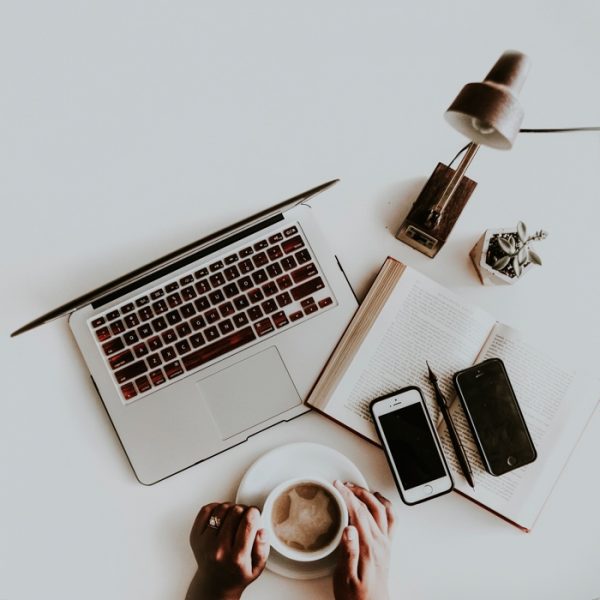 Photo by Lynn Lewis
1. Create great content
Here are a few things to watch out for when creating content for your site.
Never create duplicate content. Be sure to create original content and never copy and paste content from other sites. If you have separate URLs pointing to the same page, have your web developer set up a redirect (more on this below) so that you only have 1 URL pointing to that content.
Be sure to optimize your images. Are you uploading images to your site that don't have alt text? Do you give your files numerical names instead of names that include keywords? Content does not just mean text. Google definitely evaluates images when crawling the web. Be sure that if you're uploading photos from a recent wedding that you include the keywords from that wedding before uploading the images to your blog. For example, if you shot a wedding in Marfa and it was a bohemian wedding, you might want to name your files "bohemian-marfa-wedding-texas-nameofcouple.jpg." On top of changing the file names, you should also include alt text in your images. Using the same example as before, you might update the alt text for one of your Marfa images to "Marfa wedding bridal portrait." Alt text should be more specific to each image.
Write. Write. Write.: Do you have beautiful blog posts filled with phenomenal photography but no words to describe what's happening in your images? Try adding at least 200 words to every blog post you publish. Within those 200 words, be sure to include keywords like "Marfa wedding photographer" or "weddings in Marfa, Texas," so that Google can understand what your blog post is covering.
Helpful Resources:
Siteliner: A seriously amazing tool that will check your site content for duplicate content.
Google Webmaster Tools: Here's the thing: Google Webmaster Tools is the actual bomb. If you have access, you can easily spend hours looking through all kinds of data through this free Google product. However, one of the biggest reasons to use Webmaster Tools is to see if there are any problems with your site. Once you're logged into Webmaster Tools, click on HTML Improvements (found under Search Appearance). You'll see a list of errors found in site meta description and title tags, including duplicate meta descriptions and duplicate title tags. These are both errors related to duplicate content, so make sure that you get these fixed asap!
2. Make sure your links are functioning
Have you ever been on a site and clicked to go to the About Us page or tried to go to a specific blog post and been redirected to a 404 page? Annoying, right? Well, this site flaw is super duper annoying to Google, too.
While it may seem like nothing, these broken links actually signal to Google that you're not a credible website. Luckily, this problem is easy to diagnose! Siteliner, which I mentioned above, can also detect broken links on your site (both external and internal links). You can also use Google Webmaster Tools to check this out, as well. Once you've diagnosed the broken links, just go and update those links in your content management system.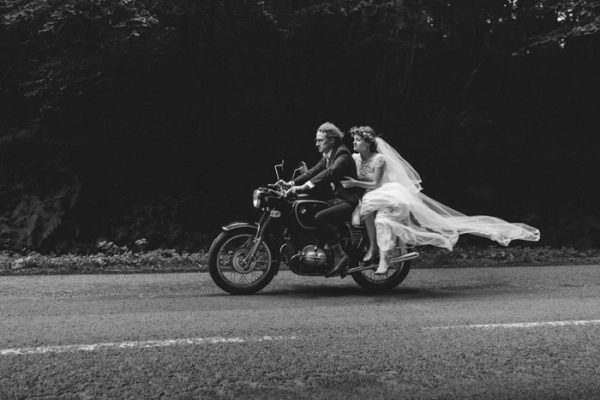 Photo by Megan Saul Photography
3. Have a fast site
Google actually penalizes slow sites. In such an image heavy industry, that can be a tough pill to swallow. As a photographer, you want nothing more than to showcase your work in the highest quality, but Google wants you to keep in mind that users don't want to wait 10 minutes for a blog post to load.
The average speed for a website to load is 5 seconds. You can fix your site load time by cutting down on the size of a page. The biggest way to add to the size of your page? Slapping on tons of huge images. So, how can you fix this? First, you can resize images prior to uploading them to your site via Lightroom and you can optimize your images via a service like Kraken.io.
Helpful Resources:
PageSpeed Insights: Google is awesome and offers a ton of services for free, including this page analyzer which gives you suggestions to decrease your load times.
Pingdom: Pingdom can help you determine your site speed (Pingdom has a free, 14-day trial). With Pingdom, you can also set up alerts to know if your site is ever down.
Kraken.io: Kraken can help you to optimize your images without loss in quality (Kraken has a free image optimizer tool, which you can find right here).
4. Make your content easy to share
Do you post a ton of content on your site, but no one ever shares that content on social media (specifically, Facebook and Pinterest)? Social signals have become increasingly important to Google as they infer your site's popularity. For example, Google is going to think a site is more credible if tons of people are sharing articles from that site. Again, it's all about credibility.
So, what's the solution here? Social signals are definitely one of the most difficult problems to fix, but as wedding photographers, you are at an enormous advantage! Why? You've got an amazing photography community and you've got couples who want to share their wedding day with friends and family. The easiest way to increase your shareability on your site is to 1. Make it easy for people to share content on your site by using social sharing buttons on your blog posts and 2. Promote your content on your social media accounts like your life depends upon it!
Helpful Resources:
5. Make sure your site is indexed
Remember when I was discussing bots and how they crawl your site? Well, what happens when bots are unable to crawl your site for whatever reason? If a bot can't reach a number of pages on your site, then those pages are hidden from Google and are not indexed (analyzed and filed away for potential search results). The good news is that this is a relatively easy problem to diagnose. Type site:yoursite.com into the search bar in Google and see if the number of results that are pulled matches the numbers of pages you have on your site. If there's a discrepancy, you'll want to dig a little deeper. Google Webmaster Tools can help to show you the exact pages that are not indexed.
Helpful resources:
Google Webmaster Tools: By now, you can tell that my love for Webmaster Tools is here to stay. But seriously. This free tool can let you know if there are any crawl errors on your site and what those errors entail. The most likely culprit is an URL that is resulting in a 404 error, meaning that the page the URL is taking users to cannot be found. If you think of your site as a map, you'll understand why a broken link (or no link at all) can hinder Google from finding their way around your website.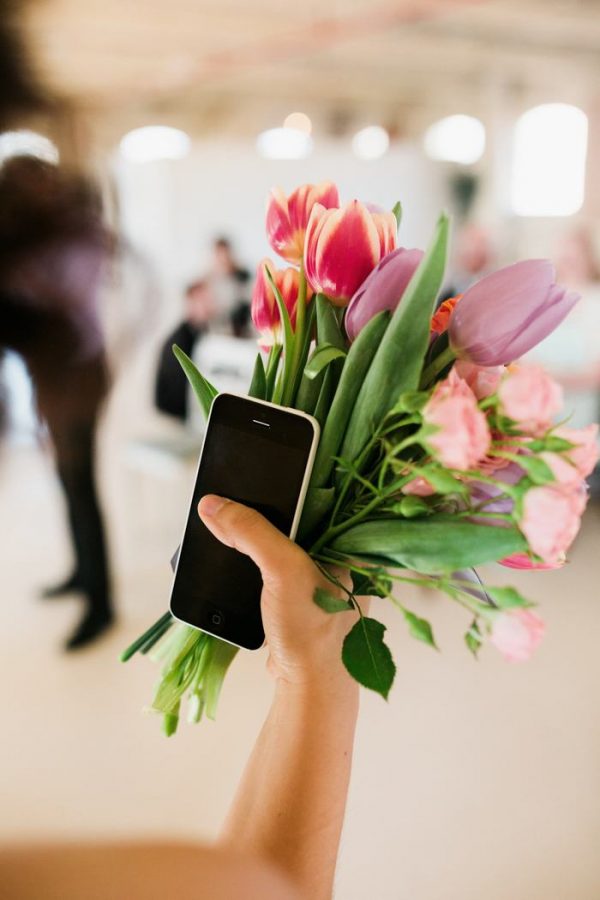 Photo by Grace & Jaden
6. Have a mobile friendly site
While having a mobile friendly site hasn't always been a reason for penalization, Google's algorithm has to change with the times and more and more internet browsing happens on smartphones. If your site is not mobile-friendly, you'll need to consult with your web developer to look into your options. At Junebug, when we launched our mobile friendly site redesign, we witnessed organic traffic shoot through the roof almost immediately. I cannot stress the importance of this tip enough because I've seen the direct (and immediate) effects of what can happen when a site is redesigned to work for mobile use.
Helpful resources:
7. Make sure your redirects are set up correctly
Did you just launch a new site? Congratulations! But what about your old site's URLs?? What happened to them? Well, if your new site was set-up correctly, then those old URLs are using a 301 redirect to send your visitors to your new site. But, redirects are tricky and sometimes mistakes happen. For example, let's say that your old URLs are actually using a 302 redirect or that you have multiple URLs directing visitors to the same content. That's a problem. A 302 redirect is only temporary and as we discussed earlier, you do not want separate URLs pointing to the same content. You need to 301 redirect your separate URLs to one single URL. Luckily Google Webmaster Tools can save the day and identify all of these bad redirects for you!
Helpful resources:
8. Build backlinks
I've saved the most difficult and crucial tip for last. Backlinking is still and will always be an important SEO factor. The more sites that point to your website, the more credible your site appears to Google. Having wedding-related sites with high domain authorities pointing to your website is crucial. Why? Because if a wedding blog links out to you as "wedding photographer in Marfa, Texas," Google will see your site as having to do with wedding photography in Marfa, Texas. And Google will trust the link from that wedding blog, because of their high domain authority, which means, you'll pick up some credibility points. Also, what do most couples use as a keyword when searching for a wedding photographer?
Wedding photographers in "INSERT CITY/REGION HERE"
The easiest way for wedding photographers to build credible backlinks is to get their work featured in wedding related publications (digital publications, that is). Dylan Howell actually created this awesome spreadsheet that lists wedding blogs/websites by their domain authority. If you need help figuring out how to get your work featured, check out our blog post on how to get published. Here are some other easy and credible ways to build backlinks:
Get your business listed in local directories
Sign up for a business listing in wedding vendor directories
Pin your site content to Pinterest
Sign up for a Google Local Business Page (even if you describe yourself as a destination photographer)
Helpful Resources:
Majestic – see what backlinks are already pointing to your site!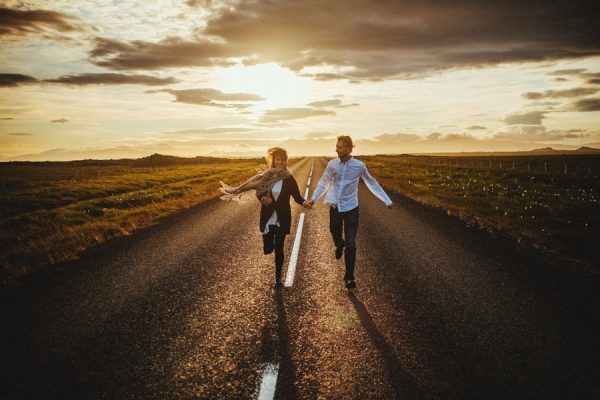 Photo by Maciej Suwalowski
These 8 tips are really just scratching the surface when it comes to SEO. There are definitely more than 8 variables that Google uses to determine the credibility of your site for different search terms. Here are a few additional resources that you should check out if you want to read up on SEO:
Do any of these 8 tips stand out to you as a top priority for your website? Let us know below!
Pssst.! Feeling like you need a little bit more help? We've put together our entire SEO strategy for you in our new e-course, SEO for Wedding Photographers. In this course, you'll learn how to use keywords, write killer blog content, and how to supercharge your website's authority on Google.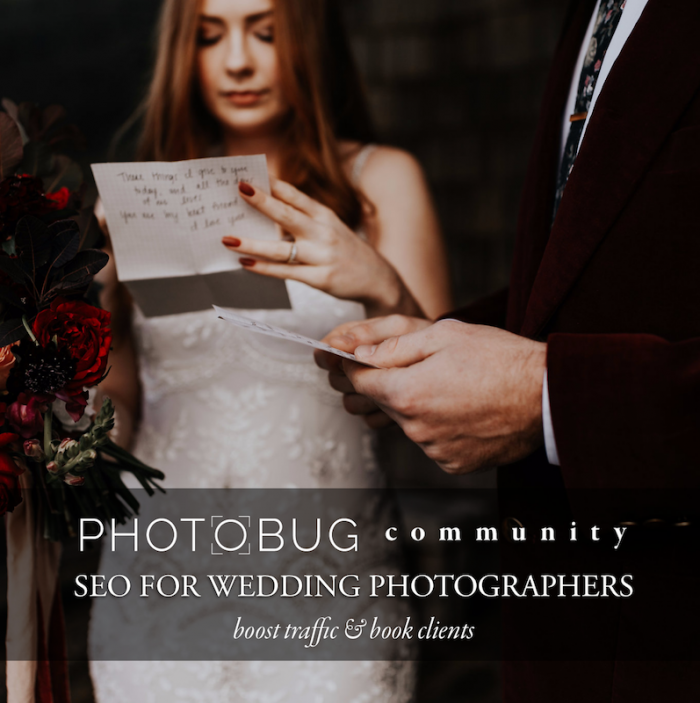 It's time to take full advantage of your website. It's time to create a long-term marketing strategy that isn't tied to the whims of a social media algorithm. It's time to optimize your site with SEO for Wedding Photographers: ENROLL HERE