You pour your heart and soul into your work, so why not have that reflected after the wedding day is all said and done? From their initial inquiry to delivering their digital images, you're responsible for the experience that you give your couples. Surprising your clients with a small thank you gift is the perfect way to give a wonderful lasting impression. Plus, these gifts will remind your couples of you and their special day.
That's why we've rounded up our favorite thank you gift ideas that your couples are sure to love. From personalized candles with scents that remind you of their wedding to art prints with beautiful poetry, your couples are going to be touched that you went above and beyond to thank them!
Thank You Gift Ideas
1. Set of Prints
We love the idea of gifting your couples with a small set of prints from their wedding day! What better way to show your gratitude than with a token from the service you provided. Plus, you can include a keepsake box or mini album for the photos.
2. Frame
If you don't have their gallery ready yet but have one photo that you just can't wait to share with the newlyweds, print it out and frame it. If you're still editing away, don't fret. You can also frame a love poem or one of their wedding readings.
3. Gift Card
One of our favorite thank you gift ideas is a gift card to a local coffee shop or restaurant. It can be a fun way to gift your couples a date night. Be sure to include a customized gift card envelope too! Whether you like to get crafty with a custom-made stamp or stickers to put on the envelope, or you rather order personalized envelopes in bulk, the gifts cards will have a nice and personal touch to them.
4. Mugs
For coffee and tea lovers, a set of matching mugs would be the perfect gift. Whether your couple is starting off their busy day or getting cozy on the couch after work, there is always time for a warm drink.
5. Map
Did your couple tie the knot in a destination wedding? Gift them with a map of their wedding destination that they can frame or hang in their home as a reminder of one of the best days of their lives.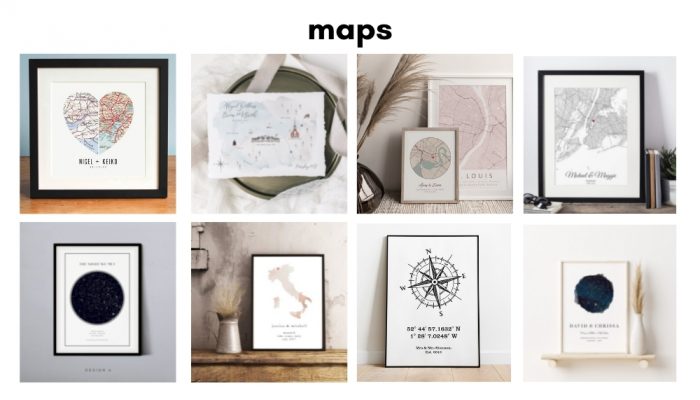 1.Wedding Gift Heart Map 2. Custom Watercolor Wedding Map 3. Custom City Map Print 4. Personalized Wedding Map 5. Custom Star Map Print 6. Personalized Watercolor Destination Travel Map 7. Special Place Map Coordinates Print 8. Watercolor Star Map
6. Wall Prints
A small print of a cute saying that reflects your couple's vibe is the perfect gift for any newlywed. Whether they've moved into a new place together or have been living in the same place for a while, a new piece of art will freshen up the place and remind them of their wedding day.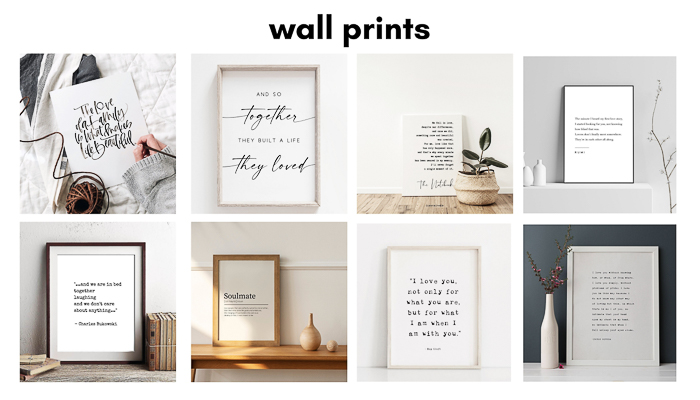 1.Custom Print Hand Lettered Watercolor Print 2. And So They Built A Life Together Print 3. The Notebook Love Quote 4. Rumi Love Story Quote Print 5. Charles Bukowski Quote Print 6. Soulmate Definition Print 7. Roy Croft I Love You Not Only Print 8. Pablo Neruda Poetry Print
7. Thank You Card
The classic thank you card is timeless all on its own. A quick hand-written letter will show your appreciation and gratitude for your couple.
8. A Personalized Wedding Candle
There's nothing like a personalized wedding candle to evoke memories of their special day. If you know their favorite scents or there are scents that remind you of their wedding (i.e. cedar or pine if they had a forest wedding), incorporate those to bring the nice touch to the next level.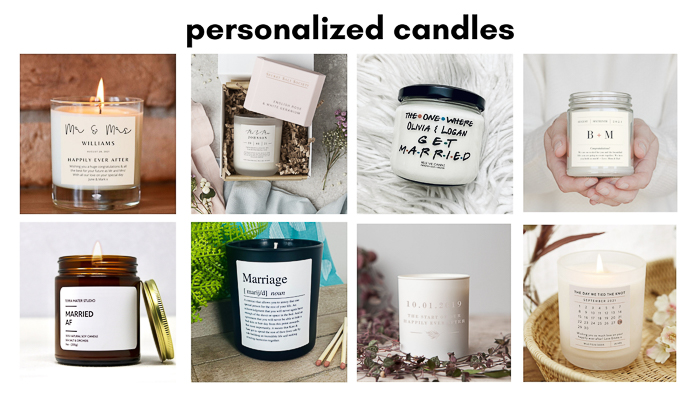 1.Mr & Mrs. Personalized Candle 2. Personalized Candle Wedding Gift 3. Friends-Inspired Candle 4. Custom Wedding Candle 5. Married AF Candle 6. Marriage Definition Candle 7. Wedding Date Candle 8. Wedding Date Calendar Candle
9. Wedding Ornament
If your couple tied the knot during the holiday season, show your appreciation with a wedding ornament. The best part is that there are hundreds of options online, so you can find one for any style.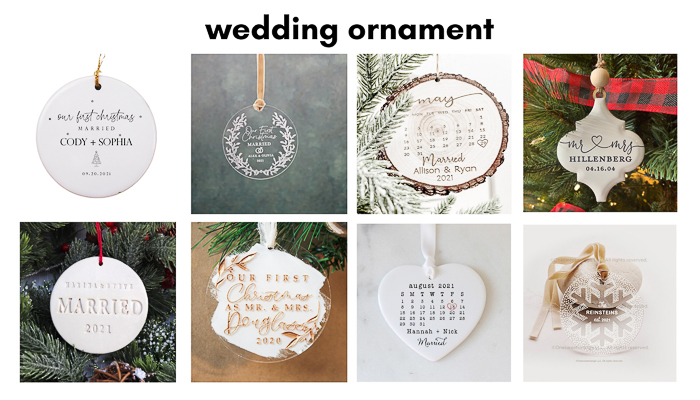 1.First Christmas Married Ornament 2. Clear Acrylic Just Married Ornament 3. Wood Just Married Ornament 4. Personalized Engraved Christmas Ornament 5. Clay Married Ornament 6. First Christmas Together Ornament 7. Married Calendar Heart Ornament 8. Snowflake Wedding Ornament
10.  A Date Night Kit
Put together a small gift basket containing goodies that they can use for a date night. Whether it be a bottle of wine and pasta or a candle and bubble bath, they'll love the thought and the chance to come together as newlyweds.
No matter what you choose, we think these thank you gift ideas will have your couples feeling extra loved and appreciated. Needing more spare time in your schedule to plot out your thank you gifts? Take a look at the best photo editing companies for wedding photographers!