The Quirky is a team of two that includes Beatrice (photographer) and Jeremie (videographer). Together, they shoot weddings, couple sessions, and portraits with an alternative twist.
Take a trip to The Quirky's website, and you'll instantly know the philosophy that inspires their edgy films and photos. Everywhere you look, confident affirmations encourage you to embrace your quirks, such as an about-page note describing The Quirky as a haven for "wild souls and vagabond hearts."
Deep down, that's exactly who The Quirky are. Beatrice and Jeremie are wildly creative, and they unite as fierce personalities who "dare to be themselves."
To view their exciting portfolio of rock-and-rollers, boho brides, and nomadic free spirits, keep scrolling. Our Spotlight Interview with The Quirky reveals their process for capturing authentic, one-of-a-kind couples.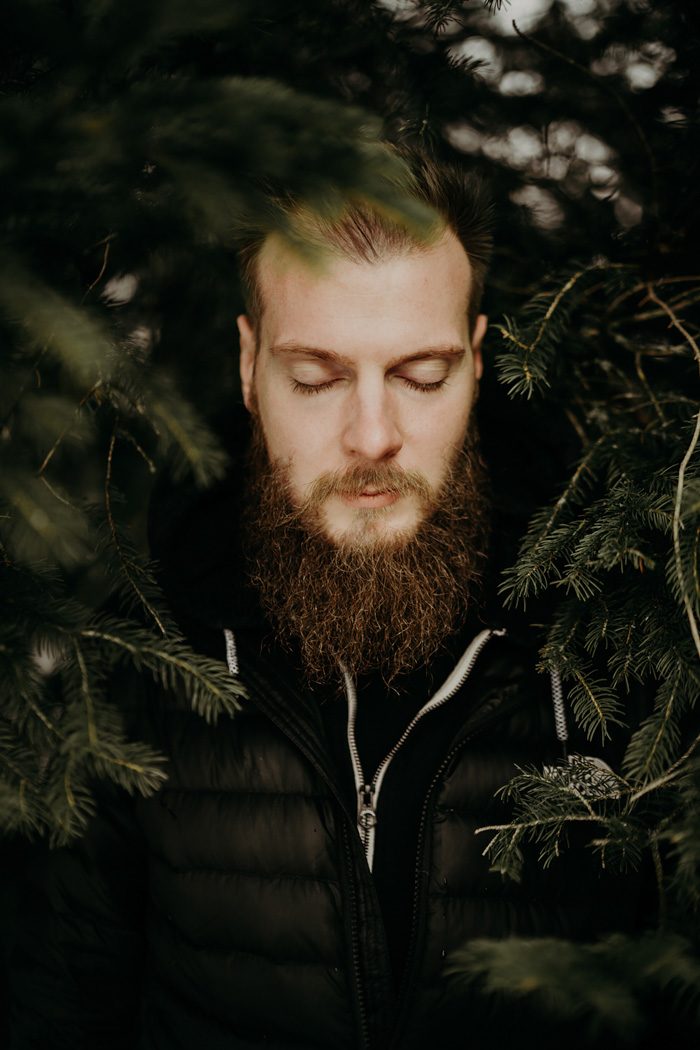 Jeremie of The Quirky
Beatrice of The Quirky
All photos by The Quirky except where other photographers are credited.
Introduce yourselves! How long have you been shooting and how old is your business?
We are Beatrice and Jeremie, a couple in business and in everyday life. Beatrice started her own photography company 11 years ago. And Jeremie joined her six years ago with the videography portion. That's how The Quirky was born in 2014.
Describe your workspace/studio.
Our home is our office. We have two separate rooms, so we can stay in our bubble to edit our weddings. They're like little cocoons. We spend a lot of time working (and also browsing, chilling, chatting…) on our computers, so we need to feel well to give our best to couples.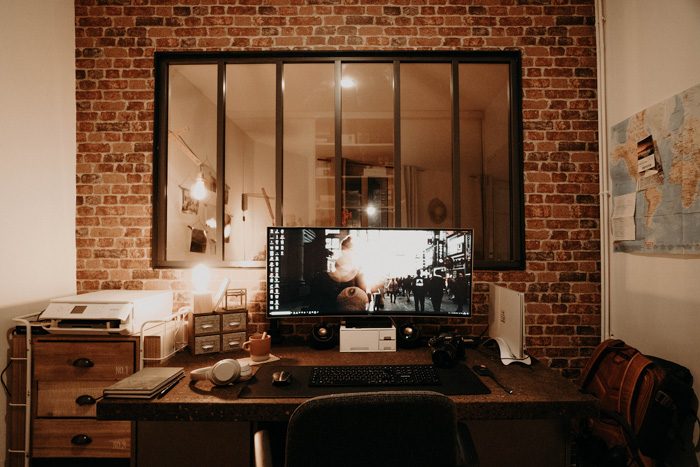 Beatrice's office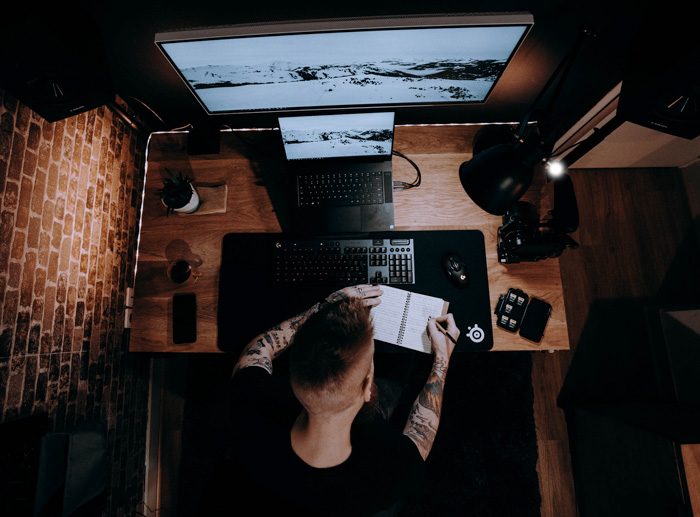 Jeremie's office
Describe an average day for you. 
Our morning routine always starts when the cat is hungry and wakes us up around 9 a.m. Then a cup of tea for Beatrice and a big mug of coffee for Jeremie. We determine what we have to do during the day and then sit in front of our computers. Beatrice answers client emails, while Jeremie drinks his third cup of coffee. Then edit, edit, edit… Instagram, article reading, blog post planning… edit, edit, edit until 11 p.m. Then we watch a bit of Netflix or Youtube. After that, it's time to go to bed around 2 a.m. 
Where do you find inspiration?
Beatrice: I listen to a lot of music. I'm working with my imagination. When listening to music, I often associate the mood with images or scenarios in my mind. That gives me new ideas to test. I'm also spending a lot of time on Instagram and Pinterest.
Jeremie: We also like staying up late for hours to watch music videos. We can spend 3-4 hours binge-watching Youtube, jumping from one video to another before crashing on a Nyan Cat video. Then it's time to go to bed. 
Is there any specific figure/person who has influenced your work?
Beatrice: I started photography with my brother. He is 10 years older than me and used to run a photo studio for many years. He taught me the basics of photography and how to apprehend the different moments of a wedding day. And then, I found my own path, made my own recipe.
Also, women inspire me. I want them to be proud of themselves, their bodies, their forces, and their weaknesses. That's why 8 years ago, I had a portrait and boudoir studio before moving to a new city, and that has influenced the way I'm shooting brides.
Jeremie: I love Night Shyamalan style and filmography (Unbreakable, Split, The Sixth Sense). And day to day, working with Beatrice also influences the way I film a wedding. The focal lens I use, how I interact with the couple…
What has been a memorable roadblock in your journey to becoming a successful, confident wedding photographer?
Definitely ourselves! Trying to be confident and believe strongly in what we are offering has been and probably always will be the main roadblock. 
What achievement, moment, or success are you most proud of?
Beatrice: I don't remember one specific moment, but here are a few: My first wedding feature, when I became a Sony Ambassador, being featured at the Photokina. Not huge things, but just little victories that made me proud.
Jeremie: Having my first conference in a movie theater and seeing one of my wedding films on a giant screen.
If you could go back and tell yourself anything during your first month of business, what would it be?
Don't try to skip the important steps. And recognition from your peers is not everything. Recognition from your clients is way more important.
What's your favorite image of yourself? What's the story behind it?  
This photo was taken by our friend Yoris. It was a quick, last-minute session we asked him to do because we needed a photo for the day after. We arrived just in time for the 5 last minutes of sunset, stopped the car, and ran through a path. We really like this photo.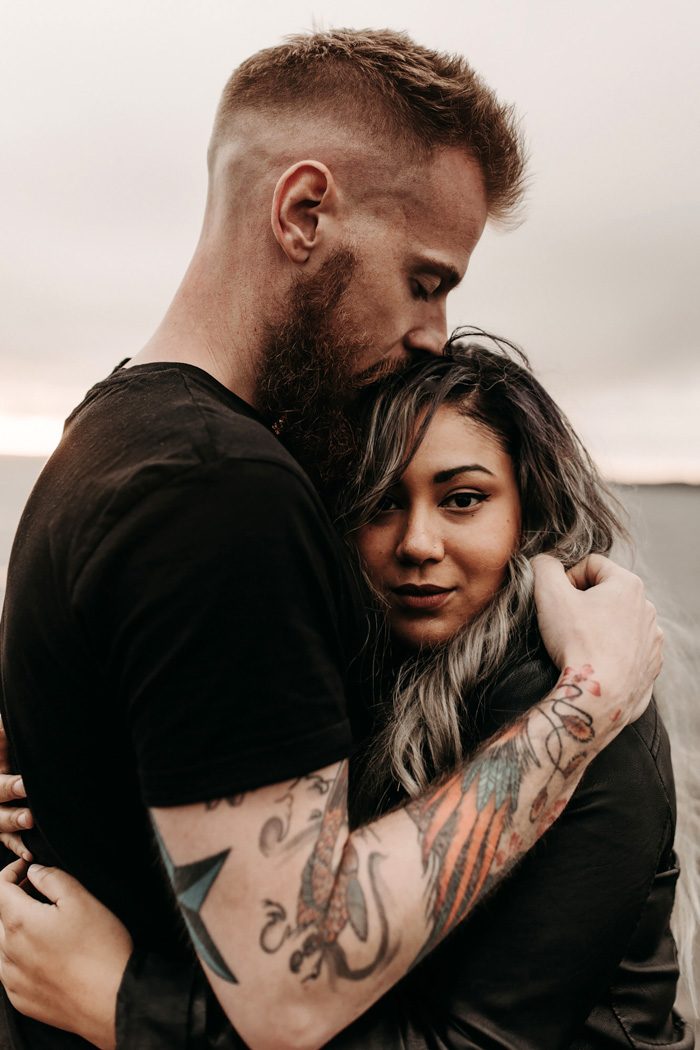 photo by Yoris
What's your favorite part of the wedding day to capture?
The couple session. Having this moment with and for the couple is a real privilege. The dancefloor too, for the craziness!
How has witnessing so many weddings impacted your life/outlook?
I think it helps us understand people a bit better – seeing so many different ways people can love each other, different relationships between the couple but also the families, and their different reactions to the same event. It's a real social experience.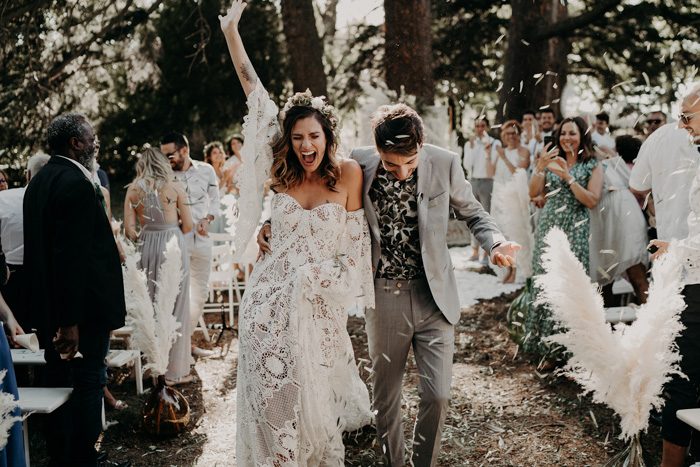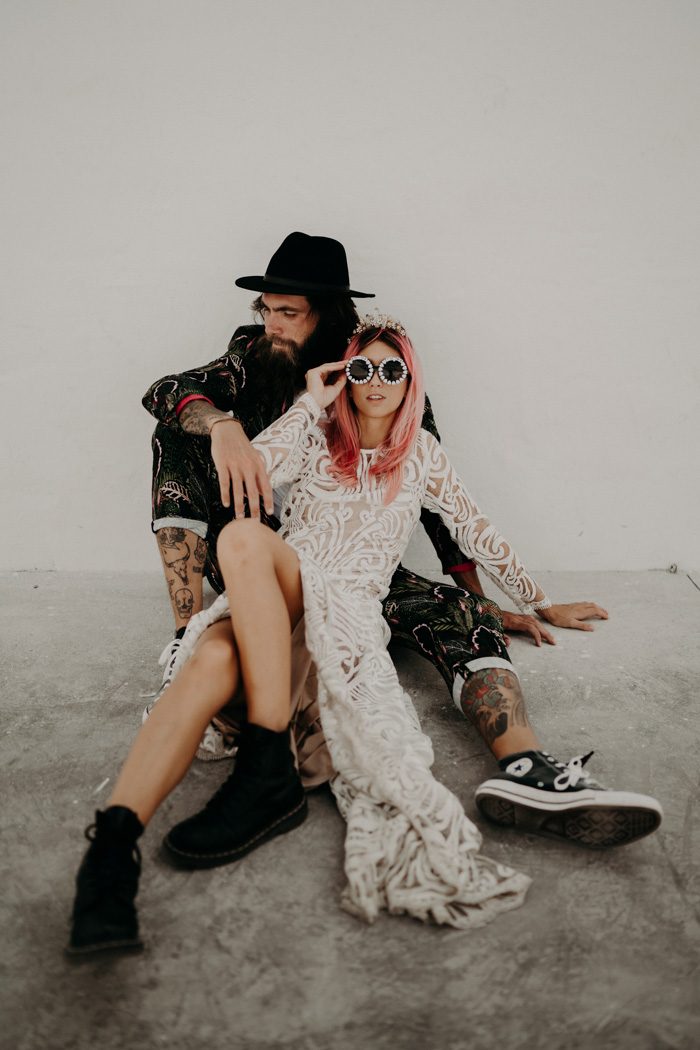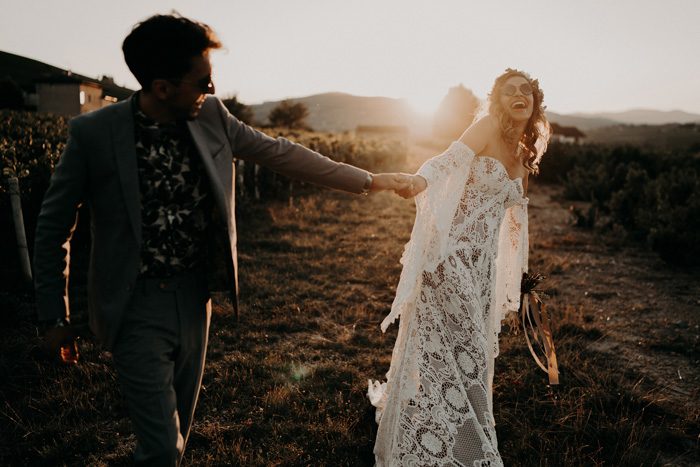 What are you doing to market your business to couples?
Beatrice made a website that reflects exactly who we are and what our work is about.
Also, we try to explain our vision quickly. Beatrice uses Instagram and Pinterest to show our "touch" (as much as possible).
We are also convinced that everything is not about the images but the people behind them. There is a type of photographer for each couple and wedding. And we can't match every time. So we try to be our brand.
Tell us about an engagement session that stands out to you the most and why. 
Beatrice: Lately, I'm really into in-home engagement sessions. There's something very personal to it, and I like the idea that it reflects the couple's life.
 What are your 3 favorite questions to ask prospective clients?
What is important to you?
How do you imagine your wedding day?
What caught your eye in our work?
Walk us through how you connect with your couples prior to the wedding day?
It always starts with a video call. We like to see the couple to analyze the non-verbal signs: their attitude, how they interact together, if they are smiley or shy kind of people. And for them, it's important if we match too.
Then a few weeks after the contract is signed, we send them a questionnaire with about 20 questions about their wedding day and some more personal information.
If we book them 6 months or more before the wedding day, we make another call two or three months before. And then, one last call the week before.
If possible, we arrive the day before the wedding, so we can meet them for real and they feel comfortable. 
Do you stay friends with your couples after the wedding? 
Sometimes, yes. We often stay in touch after. And some of them have become really close friends.  
What are you doing with your branding to attract clients?
We're just trying to be ourselves. No bullshit, no fake descriptions of ourselves or what we do.
How do you get your clients comfortable in front of the camera? 
We suggest they have a drink! It's almost not a joke. For the couple session, that is probably the most stressful part for the couple because we always shoot during sunset. So if they have time during the cocktail hour to drink a little bit, we think it helps.
But mainly, we are lucky to be a team of two because we have different characteristics. So there is a 100% chance that one of us is close enough to the bride or the groom. It's a strength.
We talk a lot with them at the beginning of the day, very genuinely, so they feel like we're "people" and not just the photographer and videographer.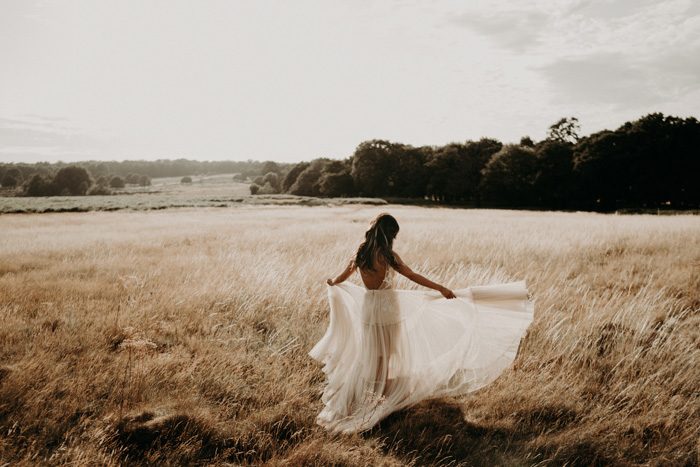 What is your data management workflow? 
We have dual-slot cameras. So as soon as the wedding ends, we split the cards. One in the backpack, and one with us.
Then when we're back home, we copy everything onto two hard drives and do one last cloud backup.
How do you keep your business organized? Do you use a client management system? 
It's been two years now since we started to use a CRM. We use Dubsado to answer our emails, do our accounting, and send our questionnaire. We use it to manage every step, from the first email to photo delivery. Also, it makes it easier for us to know and follow what has been done or not, as we're both working on projects.
How do you organize/schedule your work week? 
When at home, mornings are dedicated to emails and administrative tasks, afternoons are for editing, and late evenings are for social media and blog post planning.
How much of your time is taken up by social media?
Too much! When at home, I would say two hours a day, just by looking five minutes here and there. It's a bad habit to look at the phone when a pause is needed.
How has social media affected your business? 
We're using social media, mainly Instagram, as an updated portfolio and a way to easily communicate with people. So it's a strong professional tool. But it's also a place where we can be us as humans, and you can find random things in our Stories.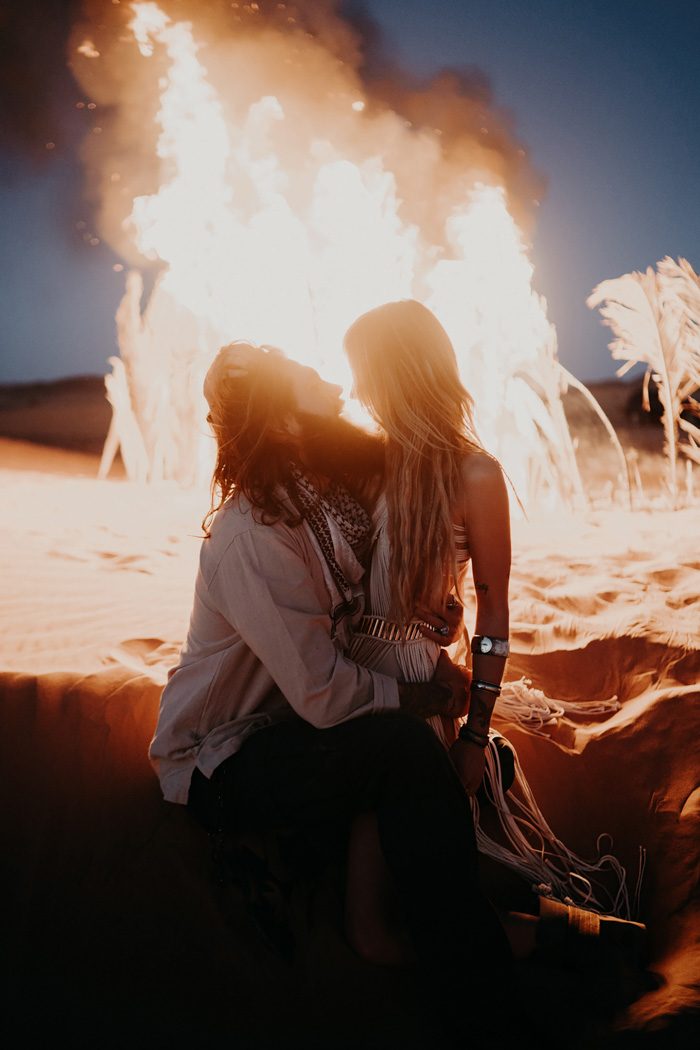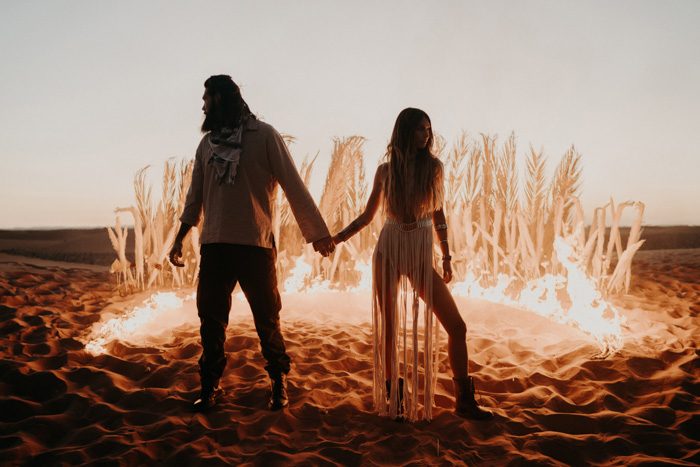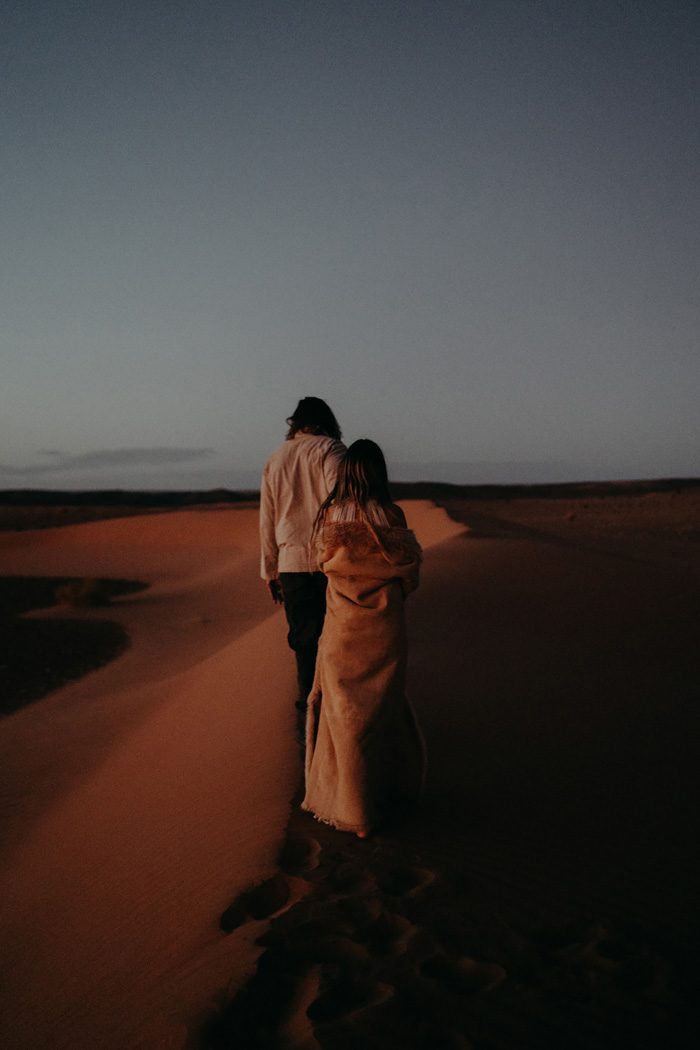 List all of the gear that you bring to your weddings: 
Beatrice :
Sony A9II and Sony A9
Sony Zeiss 24mm / 35mm / 135mm
Flash
Straps
Jeremie :
Sony A7III, Sony A7SII, Sony A6300
Zeiss Loxia : 35mm, 85mm
Tamron 28-75mm
Audio recorders: Zoom H4N pro, Zoom H1, Tascam dr10l 
Nd Filters: Nisi Pro nano nd
How have you continued your photography education?
We've attended some workshops, we're using online education platforms, and we can learn a lot just by talking with other photographers and videographers.
Do you have any bucket list locations that you hope to shoot at one day?
If only we could go everywhere in the world! But if we have to choose: Mexico, Cuba, and Yosemite to start.
What is your favorite image that you've taken? 
Beatrice: It's an image from 2016. With a bunch of friends, we traveled to Spain for a workshop, and we decided to stay an extra two days. And I said to them, why don't we use this time to shoot a couple? So I organized a quick trip into the desert, and this image is from the photoshoot. This image made me realize what I really liked about couple photos: different types of colors, wind, sunset, movements. After that, my photography style changed.
Jeremie: My favorite video is this one from Hawaii, below.
Shy and Rafa – Hawaii wedding – Oahu from The Quirky on Vimeo.
Do you have any advice for those who are just beginning to pursue a photography career?
If you can, don't jump into wedding without a little practice. Educate yourself, second shoot, and you'll save a lot of time and avoid unnecessary mistakes.
Describe your editing process?
Beatrice: I'm using three different presets to match different lighting situations. I outsource only if I have multiple projects that need to be delivered in a short time. Usually, I upload all my photos in Lightroom using smart previews. Then I select the ones I want by using stars. Once the selection is done, I edit them and also make another selection for the blog post. When done, the photos go to Pass Gallery for the client to see them.
Jeremie: It's more difficult to outsource video editing. There's something very personal in the way a film is built.
What software/applications could your business not live without? 
Lightroom and Adobe Premiere. We're using those every day.
What gear would you recommend for a beginner photographer?
Definitely go for Sony (and we're not saying that because we are ambassadors). What made us chose Sony a few years ago is they have great cameras, and they're light-weight at reasonable prices for professional tools. For example, the Sony 7aIII has the best value for your money. And if you can have only one lens, probably choose a 24-70mm. If you can have two, choose a 35mm and 85mm. Don't go for bad lenses, because they are a long-time investment even when the camera changes.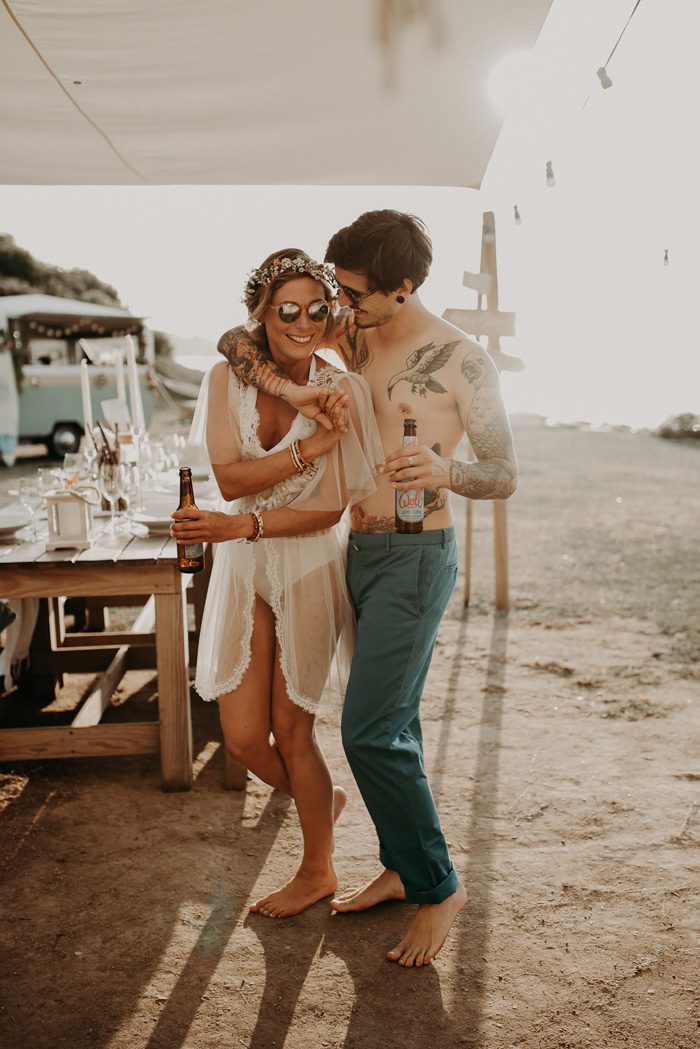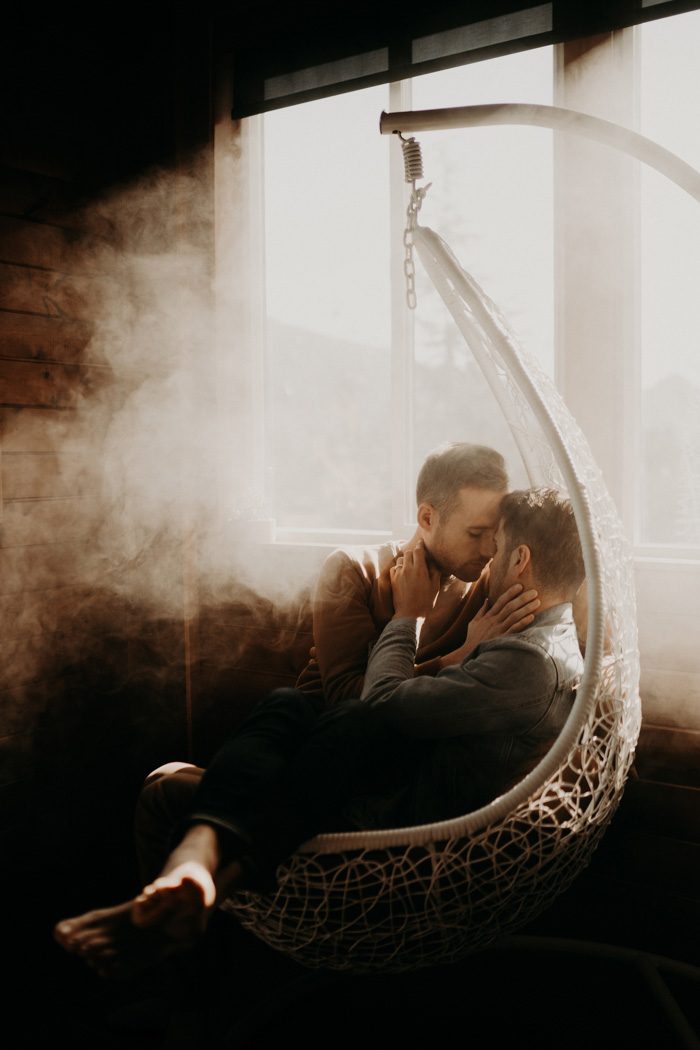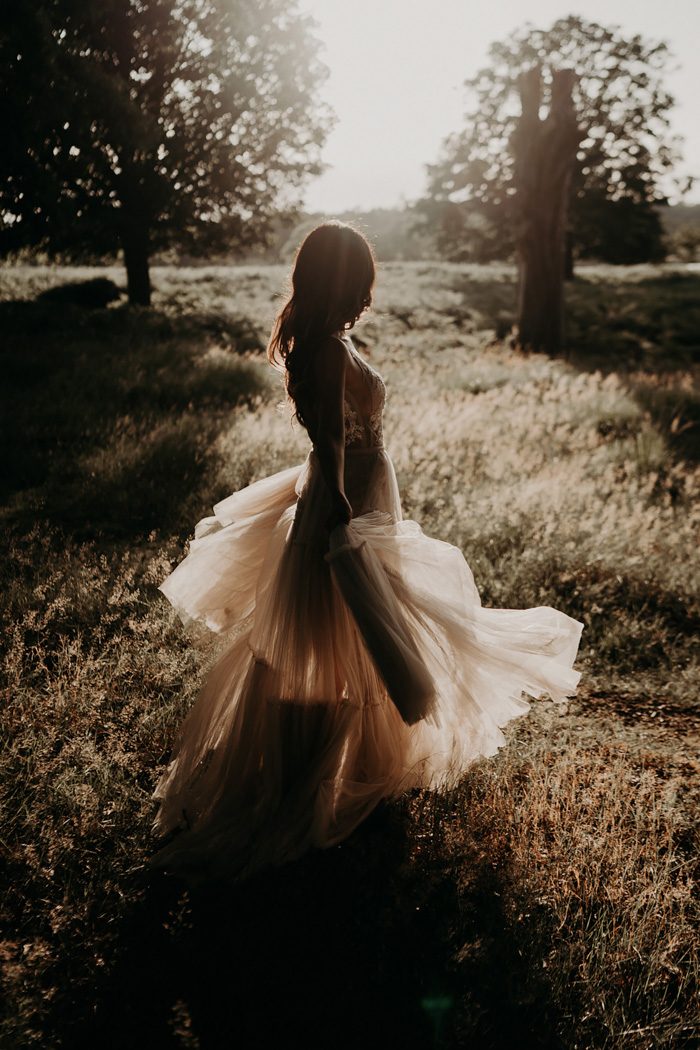 What's playing in the background while you edit?
Beatrice: Depending on my mood I'm listening Foals, Alt-J, Jungle, Parcels, Sylvan Esso… Or Beyonce, Cardi B, The Weeknd…
Jeremie: French rap and U.S. Hip Hop.
This is why we have two offices!
Best advice you've ever received about being an artist, business person, or happy human? 
If it works for you, and you're happy with it, don't change.
What's next for your business?
We would like to make more corporate stuff, like commercials for small brands, craftsmen…
Is there anything you want readers to know about that you're working on or where they can learn more from you?
We give online mentoring to help you improve in different parts of the business. Editing, social media, branding…
Jeremie is also selling his video Lut so filmmakers can achieve cinematic color grading in their work.
Where can people follow you and your work?
If you liked this interview with The Quirky, you can read all the interviews from our Spotlight series here! We recently interviewed Paulo Santos, a photographer who shoots with a classic touch, and Spirit of Revelry, a photography duo with a dreamy, ethereal portfolio.