The go-to WordPress solution in our industry is Flothemes. Not only are we big fans of their themes and support for WordPress sites, but we're also fans of their commitment to our industry and dedication to supporting creatives around the world to build better, faster, and healthier websites! As masters at building photographer websites, Flothemes is here to share their tips when it comes to building a new website or giving your existing site a clean-up. Enjoy!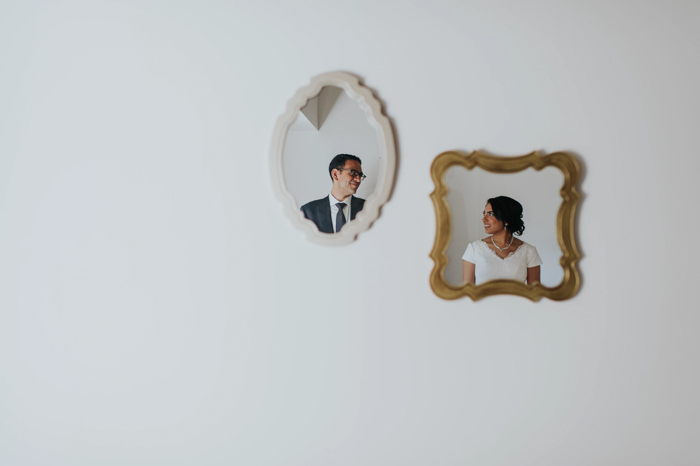 photo by Ampersand Grey
Let's make one thing clear, as everything we'll be sharing today is meant to reinforce this one idea – your website is not about You. Yes, it showcases your work, describes your personality, area of service and types of sessions your offer – but it should never be about you. All your images, your words, your buttons and promises should be about and for your client. Each element needs to communicate clearly and powerfully the value you offer and how you're different from the 50 other photographers covering the same location, shooting in a similar style, and charging comparable rates.
The photography industry is oversaturated, that's no secret. Each year, fewer couples choose to get married, while there are more new creatives entering the market. This means that you need to find new, clever ways to position and promote yourself online. While Instagram, Pinterest and Facebook are great platforms for exposure (the last one mostly effective for ads), and some clients will book you straight through these social channels, a big majority of users still need to snoop around your website first, before deciding to reach out.
Your goal is to leave tiny "emotional hooks" on each page of your website to help users connect with you, like you, and feel genuinely excited about the opportunity to hang out with you as a person, not just as a service provider. After all, we're all big preachers of real, intimate moments captured in a beautiful and unique way, right? That takes trust and a personality fit. In this article we'll share five simple, yet powerful tips that will help you make your website more noticeable and attractive to your potential clients.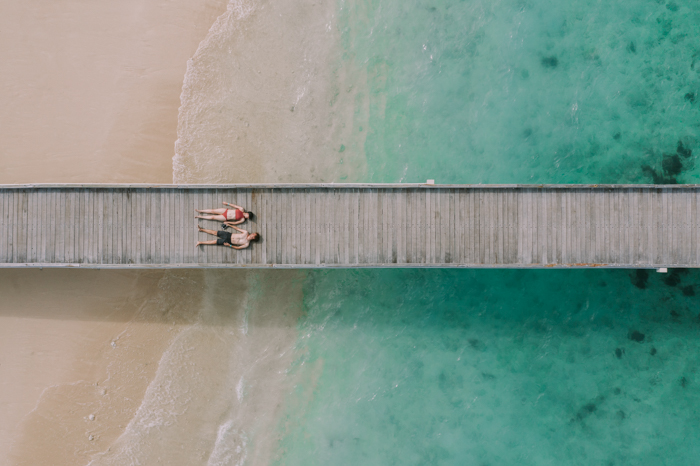 photo by Charlotte Kiri Photography
1. Who are you selling to? Who's your ideal client?
Yes, you've heard about Ideal Client Profiles a gazillion times, but there's a reason why this is still strongly advocated — it's vital for any business. If you have no idea who your ideal clientele is — where they live, what they like, how they talk, what movies they watch, what hobbies and entertainment they prefer – how the heck do you plan to attract them?
Everything on your website from your galleries, blog posts, to your call-to-actions should appeal to your ideal client. If you haven't already, figure out what type of customer you want to work with… What does their dream wedding or couple session look like? Are they outdoorsy hikers or do they prefer an elegant setting with a fancy cocktail? Are they into blurry, moment driven images, or perfectly posed photoshoots? It goes without saying that the needs of your ideal client should live in complete harmony with what you love and what you want to shoot more of in the future.
So, grab a piece of paper and start listing out things that describe the type of clients you love(d) to work with. Create an overall profile that encapsulates all these characteristics, then go through each page of your website – your images, your text, and determine whether those clients can relate to it. Adjust things accordingly.
Yes, it may take you a few days, but it will result in two wonderful outcomes:
1. You will notice an increase in inquiries from people you're thrilled to work with.
2. You'll notice a decrease in inquiries from people who do not match your Ideal Client profile.
The second outcome is probably as exciting as the first one, because you don't get to waste time on people who are not a good fit.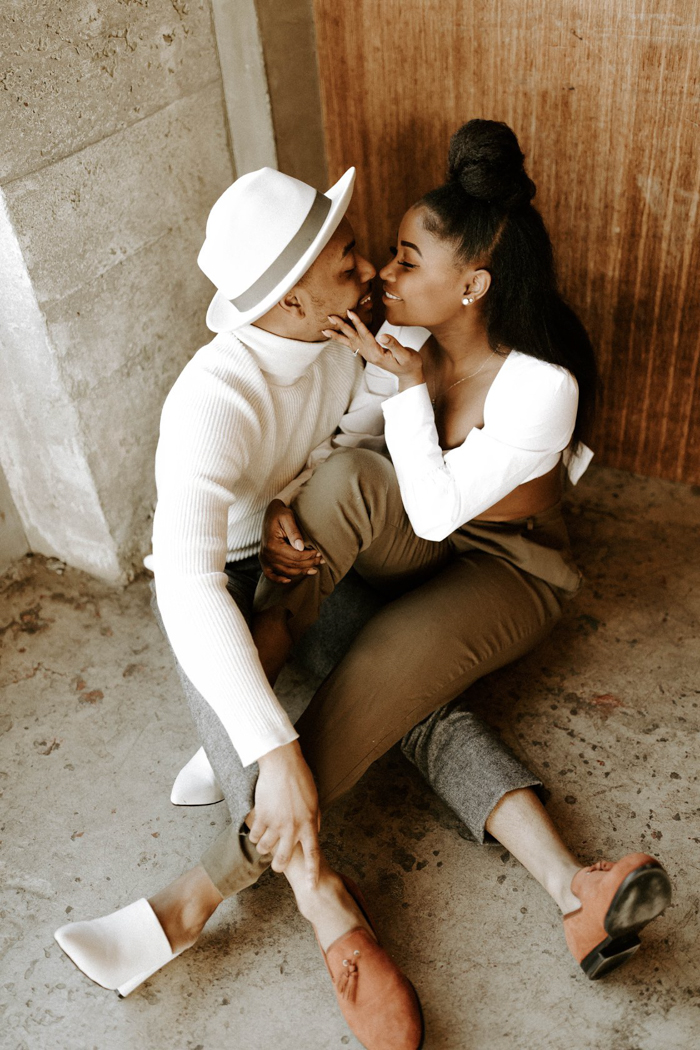 photo by Naba Zabih Photography
2. Clarity over trendy sophistication
You'd be surprised how often we stumble upon websites of clients (photographers, videographers, event planners, etc.) and have no idea what their brand is all about. The overly popular use of "visual storyteller" leaves too much room for ambiguity and confusion. We're pretty sure that nobody Googles "storyteller." They type specific keywords like "best wedding photographer in San Francisco" or "top destination photographers New Zealand."
We're not saying – don't use sophisticated language. If that's how your clientele speaks, fire away. But for clarity and SEO purposes do make the following information crystal clear, especially on your homepage:
– Who you are (photographer, videographer, florist, event planner, etc.)
– Where you're located or which areas you serve (even for destination photographers, it's still nice when a potential client can pin point you on a map)
– What services you offer (weddings, elopements, couple shoots, portraits, new born, etc.)
If you're not sure whether your current wording is explicit, ask a few strangers to evaluate it. It can be someone in a coffeeshop, members of a Facebook community, etc. Sometimes, this exercise can be a real eye opener.
One more tip: Try to write as if you'd be speaking to a person sitting in front of you. Use your own words. Add some wit if that's a big part of your personality. You want your copy to be relatable and fun, but it should also be true to who you are.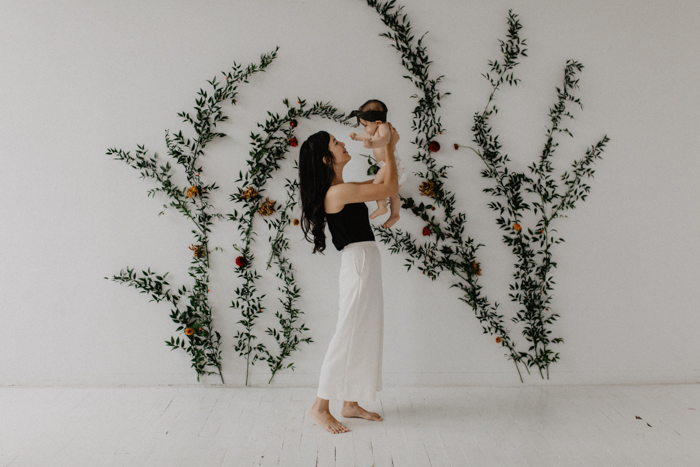 photo by Alejandra Maria Photography
3. Your About Page is not about YOU
We lightly touched on this subject in the intro paragraphs, but this is too important and needs to be explained further. Your about page is one of the most viewed pages on your website, after your home and portfolio. This is where you need to add a few of those "emotional hooks" and captivate your site visitor's attention and curiosity.
Here's the thing, most photographers start their bio in a very similar way – a parent, grandparent, or friend gifts them their first camera and they fall in love with this art. Or, they pick up a camera when their first child is born, and the craft slowly develops from a hobby to a profession. It's a wonderful story, it's your journey and it matters, BUT the client may not care, especially if they've snooped around 5-12 photography websites before yours. This story doesn't show the value you offer to your clients, it doesn't explain how you are different from the five other photographers they're considering, nor does it detail how you plan to deliver exactly what they need.
Use your about page to point out WHO THEY ARE, what they like, and how well you'll connect with each other – because you have the exact same interests and values. Describe your approach and photography style. Explain how you will help them feel comfortable in front of your camera and how they will enjoy the experience of working with you as much as they enjoy their photos.
And please, oh please include at least one photo of yourself on your about page. We are all visual animals, and warm up to people a lot faster once we see their face, snippets of their life, and funny, relatable moments. That's why people spend so much time on Instagram, scrolling through strangers' profiles.
Don't leave your potential clients wondering who you are, what you look like, and why the heck are you hiding: "Are they too shy?" or "Do they look weird in photos?" Add an image where you are windsurfing, camping, painting, playing with your dog or cat. Add a photo of you and your family having a blast. These images will show your interests, values, and personality better than any words, offering more reasons for your potential client to like you and feel comfortable reaching out to you.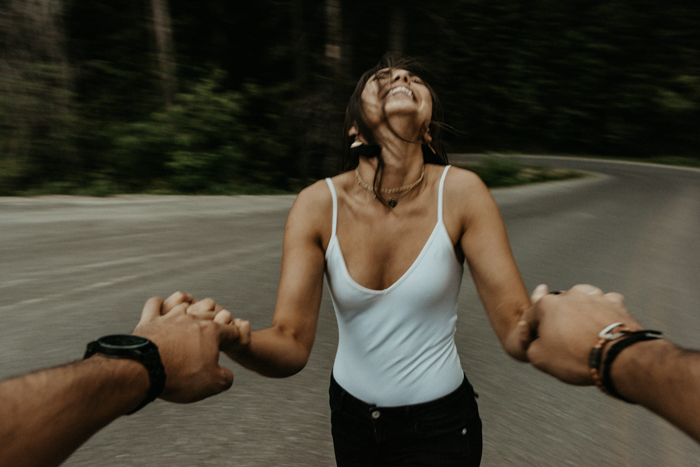 photo by Laurken Kendall
4. Clear Navigation, Strong CTAs, and Short Forms
Yes… this whole article revolves around clarity, because as CEO of StoryBrand Donald Miller mentions in his book, customers don't like to waste calories figuring out what your website is all about and what it is that you offer.
If you've built out your pages long, consider implementing a sticky menu, so the user can easily navigate to a different page at any time. Or, make sure that you have enough call-to-actions (CTAs) throughout your pages to guide them to your portfolio, about, and contact info.
A breathtaking portfolio and a beautiful website design is not always enough. You need to guide your users through your site. Help guide them to the point where they are comfortable and ready to click "contact me." There are two ways to address this when figuring out your user flow:
1. Analyze your site stats. Look at the path most users take. Which pages do they land on? What content do they go to see next? When do most of them exit your website? If your bounce rate is extremely high for certain pages, that's where you need to start making changes first. A/B test various text, button, and image alternatives to find out what works best, or ask some friends to check out those pages and share their objective opinion.
2. Use tools like Crazy Egg to record videos of users interacting with your website content. You'll notice if anything is wrong, as it's usually the area where they abruptly leave your website. Based on your findings implement changes, one at a time. If you adjust too many elements at once it will be difficult to identify the problem.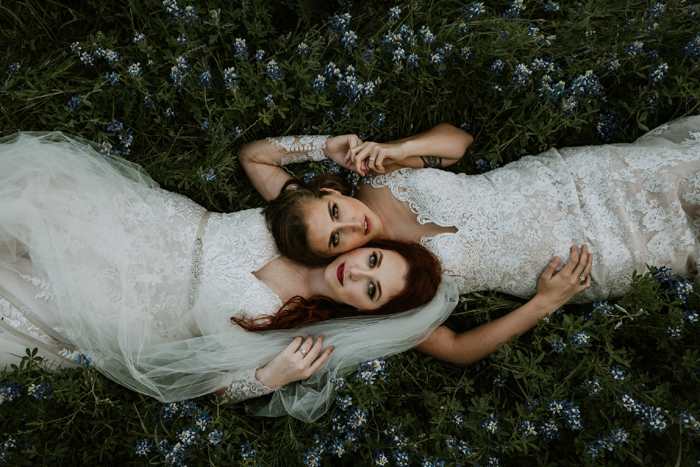 Photo by Stephanie Rogers Photography
Let's get back to CTAs for another moment. Keep your buttons clear and strong. Instead of using puzzling phrases like "explore client memories" say "view galleries." If you have a block linked to your experience or process page, don't say "Begin this journey with me" or "Discover the adventurous experience;" use simple, obvious wording like "My process" or "How I work." Ambiguous phrases can decrease the click rate of your buttons, harming your chances of getting contacted.
And lastly, contact forms. Have you ever found yourself in front of a painfully long survey form thinking, "Oh man, this is going to take forever to complete," then ending up postponing it because it's too overwhelming? The same rule applies to your website visitors. While a thorough contact form helps you get as many details as you need during that initial stage of contact – it can intimidate some people, because they are not fully committed to the idea of hiring you, yet. Why should they waste so much effort filling out the form, if they aren't 100% sure?
A super long contact form may become a barrier, rather than an aid in your client conversion funnel. Your goal should be to get the conversation started. Basic details like – name, email, date, and a short open paragraph should be enough to get your foot in the door. Note: If your business blooms and you receive tons of inquiries weekly, a more complex contact form can actually help you filter out customers who are not a good fit for you. But since you're reading this article, you're probably looking for tips on how to increase your inquiries, not weed them out.
P.S. If you prefer to collect more information from your leads, try to make some of your form fields optional, to remove a bit of the friction for those who take longer to decide.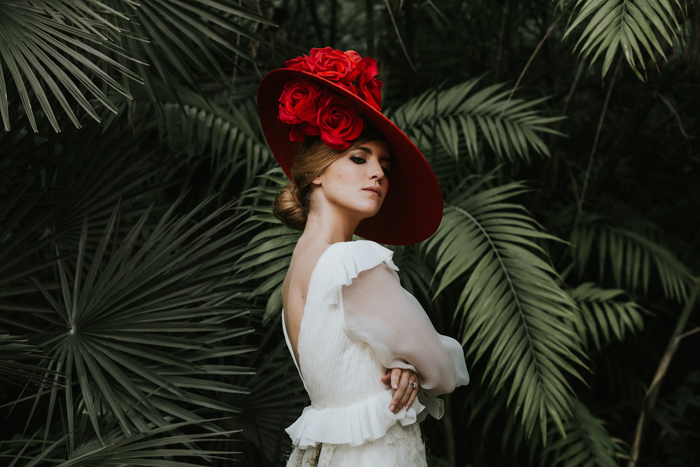 photo by Juanlu Rojano
5. Ignoring metrics and SEO (speed, keywords)
Don't just assume that your website is doing a good or poor job. Track its performance, analyze the data, and make adjustments based on numbers, not gut feelings. Two favorite analytics tools that we use here at Flothemes and recommend to all our clients – are Google Analytics and Google Search Console. Both tools are completely free and offer invaluable details on your site traffic and performance. You can track data like – where do your site visitors come from, on which devices do they access your website, where do they live, which pages do they view most often, who refers your website, how much traffic do they send your way, and so on and so forth. If you don't have a Google Analytics and Google Search Console account, create them right NOW!
Here's a useful resource on how to track your inquiries using Google Analytics.
Another important aspect that every photography website owner should take into consideration is SEO. Yes, we all keep hearing about SEO and Google ranking everywhere these days. Trying to read and follow all the resources, article, guides, webinars, PDFs, ebooks, YouTube tutorials can be overwhelming, exhausting, and frustrating, especially when the recommendations contradict each other.
While there are over 200 factors that influence Google's algorithms, working on the following five will get you ahead of many competitors:
– Website Speed
– Mobile-friendliness
– Keywords
– Content Strategy
– Backlinks
We'll briefly describe each of these five points and link you to resources that offer even more insight on each topic.
Website speed
Nobody likes slow websites, especially mobile users and Google. Stats show that around 53% of users will abandon your website if it takes more than 3 seconds to load. That's 53% of your potential customers. The speed with which your website loads is influenced by a few main factors: your hosting, the size of your image files, your plugins, and third-party integrations.
Resources:
How to choose a reliable hosting
How to optimize images for the web
Plugins you should use to speed up your site + other tips
Mobile-friendliness
Currently, most people browse the web and search on Google via their mobile device. That's why Google started using the mobile version of your website to index it and rank it. It's very important to have a website that is mobile friendly and provides a great experience on portable devices.
Test your website here and follow Google's suggestions to improve your mobile compatibility.
Resources:
Why your website should be mobile-friendly
5 Steps for a Better Mobile-first Compatibility with Google
Keywords
Remember in our second point how we stressed the importance of stating clearly who you are, what you offer, and which area you serve? Well, this is very important for your brand discoverability, too. These are your main keywords, the words that you want to be found by when someone looks for a photographer online. Make sure to include some of your keywords in your headings, your blog post, your gallery titles, etc.
Resources:
What are heading tags and how to use them
What to do when multiple blog posts target the same keyword
Are you using the right keywords to get found by Google?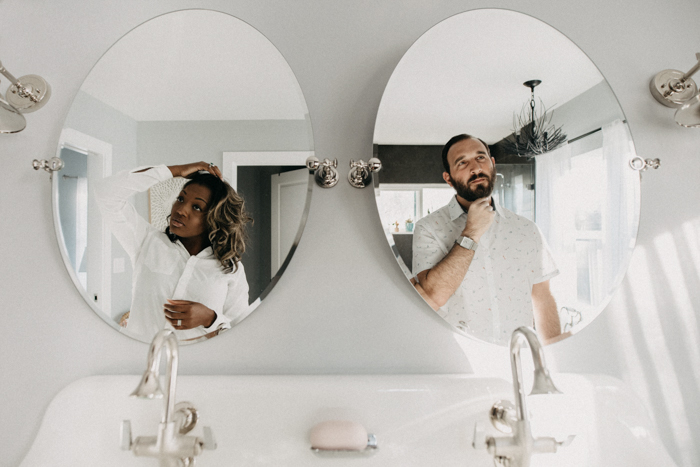 photo by Karmathartic
Content Strategy
There are a few ways that you can show your value to your potential clients on your website like describing your approach and style on your home and about pages. You can also utilize blog posts and galleries to share valuable information and tips relevant to your clients' needs. Think about it, from the moment a lead inquires with you, up to the point you deliver their images, you get tons of questions and requests. Make a list of the FAQs that your potential clients have, related to their wedding, their baby shower, or couple session, and answer each of those questions via a blog post. Include strong image examples from your portfolio as well as vendor, venue, or location recommendations. This will not only boost your website traffic, but this resourceful content will also put you on the radar of a whole new group of potential clients.
Resources:
How to blog like an SEO expert
211 ideas for photography blog posts
10 Steps to Get Your Next Blog Post on Page One of Google
Backlinks
Whenever someone links to your website (a page, a blog post, or gallery) they create a backlink for you. As MOZ states, backlinks are like a "vote of confidence" from one website to another. The more popular and industry-relevant the website that mentions you, the stronger and more beneficial the backlink.
When your work gets published on a popular blog, when you get listed in the directory of a trustworthy website, or when you do a guest post that links back to your brand – you're getting "karma points" from search engines like Google, which will ultimately help you to rise in the rankings and appear in more search results.
Resources:
Improving SEO: How to Build Backlinks
A Quick Guide to WordPress SEO
Overhauling your whole website content and the way you present your brand online can sound daunting at first. However, if you think about the positive impact and business growth it can bring to you in the long run – it's worth the energy, effort, and time. Start with the simple things – draft up your ideal client profile and reword the paragraphs that you feel are too generic, confusing, or poetic. Bring in focus the images and words that have the highest chances to attract your ideal clientele. Invest some time in optimizing your site's loading speed and start sharing valuable recommendations via your blog, not just client galleries. All of these steps will surely bring significant results for your site and business.
Good luck and feel free to check out Flotheme's blog for more useful tips and resources for photographers and WordPress website owners.
About Flothemes: Flothemes are premium, elegant website themes, designed for photographers, videographers & other creative businesses. All themes work on WordPress, come with predefined layouts and blocks that you can customize and personalize to your own preference and business needs. The themes have a very refined aesthetic and make your website look custom at the price of a template. They are SEO friendly and don't require any coding knowledge. There's no subscription fee, you only pay once and get all future updates and support help for free.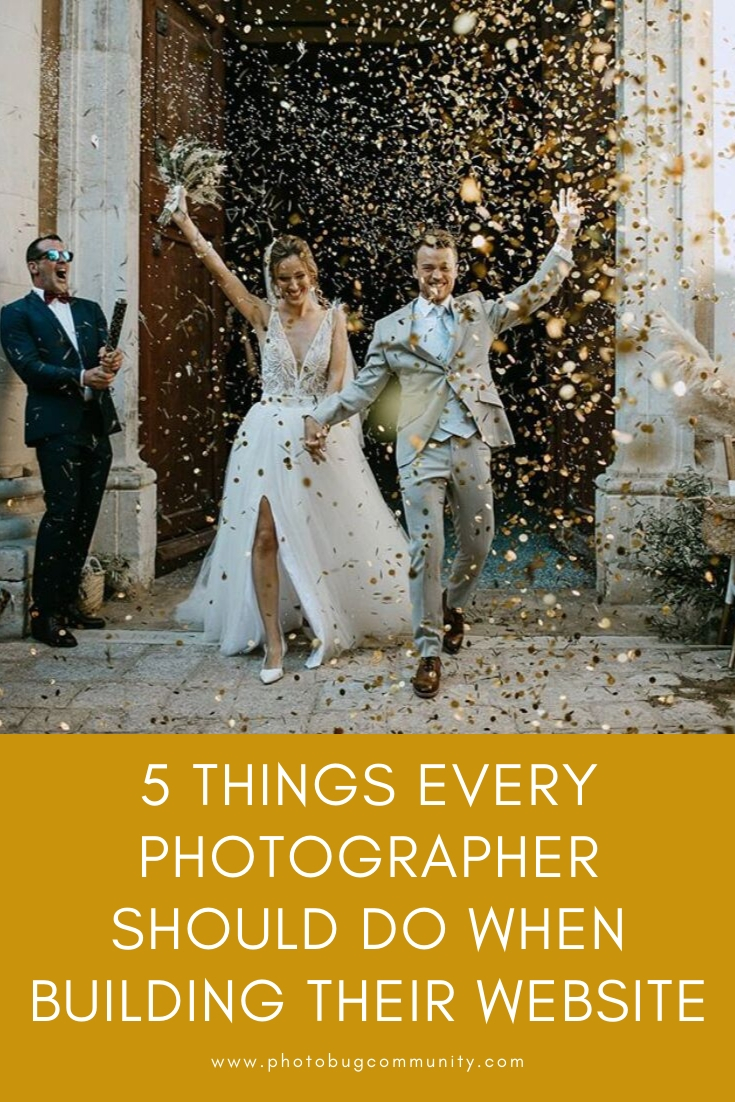 This post is sponsored by Flothemes!