Aerial photography is a growing medium for professional photographers and novices alike–and for a good reason. Drones are becoming more affordable and accessible than ever. What once was reserved for government and commercial use has now become an obtainable and respected art form for photographers.
Aerial and drone imagery offers a view of the world that once seemed unimaginable. Through the bird's-eye perspective, we can see life off the ground, transporting us into an almost surreal visual experience. So what could be better than offering this dream-like style to couples on the most surreal day of their lives?
We're here to share the best tips and advice surrounding drone wedding photography. Whether you already own a drone or are considering your first, we're making it as easy as possible for you Plus, we're rounding up tips from fellow expert aerial wedding photographers Sharyn Hodges, Magdalena Glowacka, and Joe Brier.
1. Practice, Practice, Practice
You'll need to spend a significant amount of time practicing with your drone before bringing it to a wedding. And according to Sharyn of Sharyn Hodges Photography, going to a large, empty field can be a great place to start.
"When I first started flying, someone suggested I go to a field and fly around. It helped me so much– learning to launch and land."  She also notes that the more you fly, the more comfortable you will become, which is important for flying at an event as high-stakes as a wedding. 
"Never fly over people if you do not feel confident," says Magdalena of Italy's Fotomagoria studio. "Practice long enough until it is as easy as driving a car."
2. Have Proper Licenses and Approvals 
Across the globe there are locations that prohibit the use of drones. Rules can vary by country, state, city, and private property. "Do as much research as you can before your shoot. You never want to get to a location and realize you can't fly while your client is standing right next to you," shares Joe Brier of The Happy Couple Photography. Some typical locations that prohibit drone use are those near airports, schools, hospitals, and emergency departments like police and fire stations.

If you're in the U.S., you'll want to check that your venue is FAA-compliant. This is easy to do through the FAA's B4UFLY website. Shooting outside the U.S.? We found this great resource from UAV Coach that lists standard drone laws by country. 
As of 2021, in the U.S., all drone pilots (even recreational ones) must pass a test in order to legally fly a drone. The test is free and available online, and once passed, the certification never expires. You can find out more about the FAA recreational drone test here. 
3. Insure Your Drone
It's no surprise to any photographer that accidents happen. Just like you'd protect your main photography gear, getting liability insurance and hull coverage for your drone is a smart idea. On-demand drone insurance is becoming popular, making it possible to buy singular-day coverage instead of an annual policy. This is a great way to save some money since you most likely don't use your drone every day. 
4. Get Your Shots Before The Light Fades
While the tech is always improving, drone cameras still aren't as advanced as ground cameras–especially their ISO capabilities. To avoid extra editing and improve the shot's exposure and grain level, make sure to get your images before the sun starts to set. 
Most of the time, you'll want to have your ISO as low as possible. But if you are in a scenario with low lighting, Sharyn suggests: 
Selecting the manual shooting option for total control 
Set the drone to the lowest aperture possible 
Set your ISO to 400 or 800 (if you must) 
Adjust your shutter speed accordingly as shooting
She mentions that with these settings, it's also crucial that your subjects be as still as possible.
Although most things can be fixed in post-production, remember it gets tougher to achieve killer shots as the light fades. "If you can't get the image in camera, or pretty close to it, don't expect to work miracles in post-production. It's not going to happen without really compromising the quality of the resulting image," mentions Joe. Shooting right before sunset or after sunrise will be your best light options.
5. Don't Forget Batteries
Another contrasting feature of drones versus standard cameras is their battery life. While you can get around six hours out of your DSLR's battery, a standard drone has about a 30-minute battery life. If you have more than one battery, you'll definitely want to bring them along. You'll also want to make sure to charge them close to the wedding day, as these batteries can lose their charge over time. If you only have one battery, double-check that you have the charger, too. 
As pointed out by Sharyn, "One of the coolest features of these batteries is they charge really quickly. So if you fly during the ceremony, you can quickly recharge your battery before the couple's creative portrait session."
6. Check the Weather Forecast Beforehand
This may seem like common sense, but weather conditions are a huge factor in successful drone wedding photography. Make sure to check the UAV forecast the morning of. Any wind speeds higher than 15 mph could affect the drone's flight behavior and battery performance. If you're worried about your drone, look up the specific device's highest wind speed tolerance for peace of mind. Most drones aren't waterproof either, so avoid use on a rainy or misty day.
7. Be Aware of the Noise 
Drones aren't silent. Even as models get more advanced with less noise, it's something you'll want to keep in mind during a wedding. 
"If the drone is noisy, do not fly over the ceremony or dinner tables during speeches," says Magdalena. "I prefer not to disturb anyone, so I focus on taking pictures from a very high position.". 
Our Panel's Favorite Drones   
Final Tips for Drone Wedding Photography: 
Magdalena: Think unconventionally. Flying gives you new possibilities as a photographer. Also, as a destination wedding photographer, I treat the place where I shoot like a separate character in the story.
Sharyn: Don't forget about composition. Ask yourself, "Are all the elements in this shot adding to the creative value?" And shoot in RAW format, always.
Joe:  It's always helpful to connect with couples beforehand, discuss potential drone shots, and show examples. It's true that not all couples will want to lay on the ground. But if they go for it, that is the picture they'll hang on their wall.
Drone work can be challenging, but your business, creativity, and artistry will benefit–especially when it comes to your couples' satisfaction level. 
"I intertwine their individual story with landscape photos, so when they look at their gallery, they really feel as if they're traveling in time and space," says Magdalena regarding capturing a couple's wedding day. "My drone has become a very important tool in achieving this. My couples love the drone photos I deliver, and it's become my trademark."

Looking for other ways to spice up your shooting routine beyond drone wedding photography? Check out these six tips for making your next couple session creative and unique.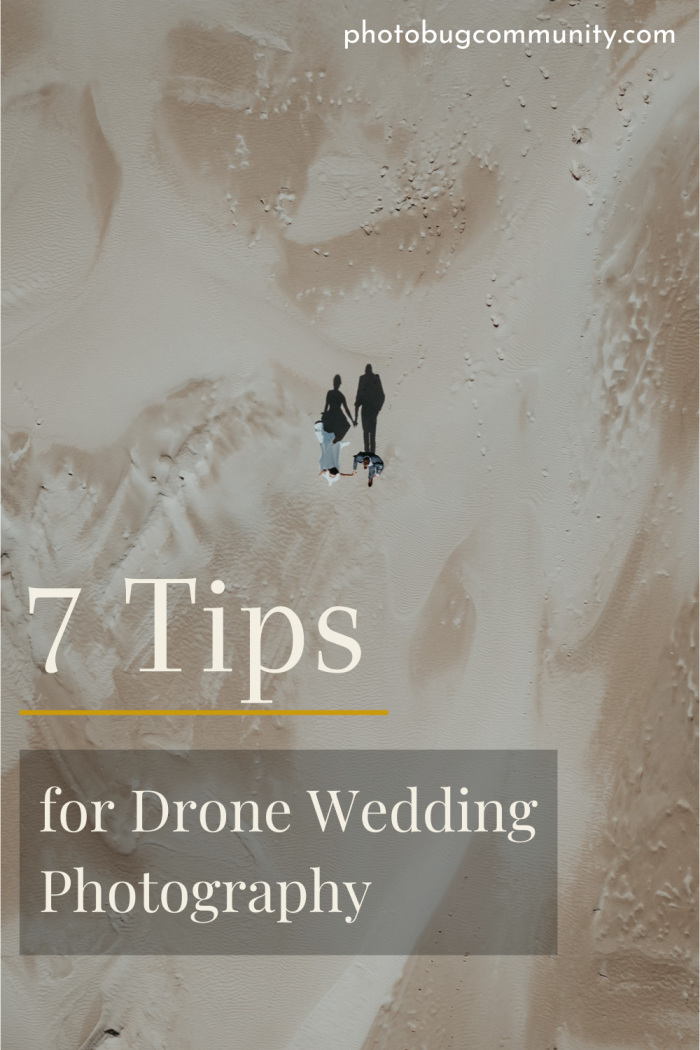 photo by Sharyn Hodges Photography