All Photos © Cooked Photography
Hannah and Ben made the most of their windy wedding day by hiring one of the world's best to capture the fun. The photo above has quickly become an iconic Jeff Cooke image, at least for us Junebug girls, which is why we are over the moon excited to hear the scoop behind the photo from Jeff Cooke himself! Enjoy!
Location:
Le Centre Goeland, Wellington, Prince Edward Island, Canada
Time:
5:30 pm
Equipment:
Nikon D4s. Sigma 50mm
Camera Settings:
1/1600 @f/3.5 ISO 125
The Inspiration:
After Hannah + Ben's ceremony, we headed out for some photos to a spot that overlooked the Northumberland Straight. The location was stunning … red cliffs, a late day sun over the ocean, trees lining the coast, a beach and a lighthouse … everything you could hope for with an East coast wedding. But as soon as we stepped out of the car we were confronted with hurricane force winds blowing in from the ocean. At first we weren't sure how to shoot the girls (and some of the guys!) without having some pretty wild hair situations. We stuck them behind the lighthouse to try and minimize the wind. But we knew Hannah + Ben would want some photos with the ocean as their backdrop. So we ventured out knowing that we'd figure it out along the way. As expected, hair started flying everywhere. There was absolutely nothing that anyone could do, so we decided to use it to our advantage. I simply asked Hannah + Ben to stand still and embrace the wind while I waited for the perfect moment.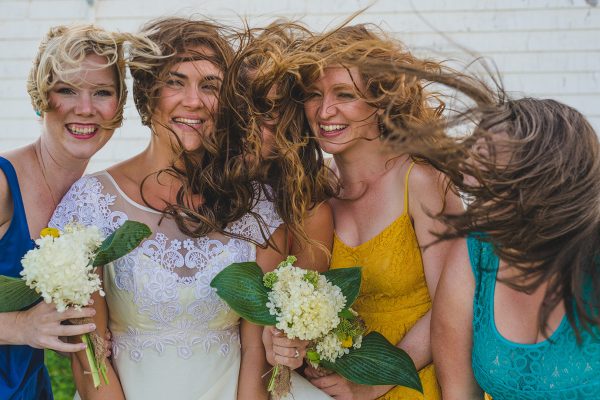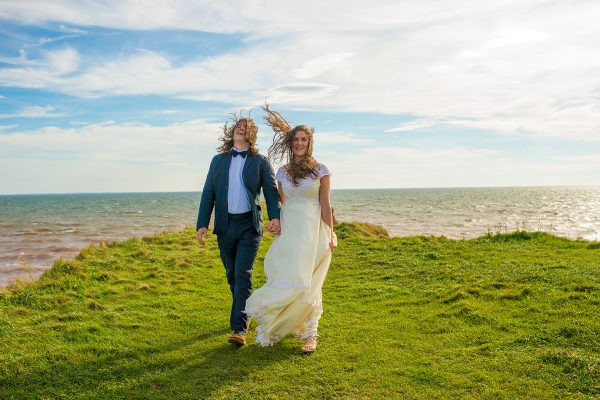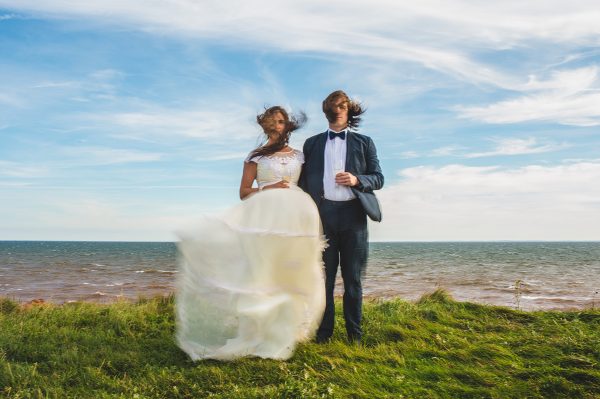 I took more than one as I shot through the moment to ensure I had the perfect shot. I chose one setting and stuck with it. Jenn did a head to toe shot of the same scene with the 35mm and a slower shutter speed to capture the movement + motion. I decided to go in for a tighter, closer portrait, freezing the moment.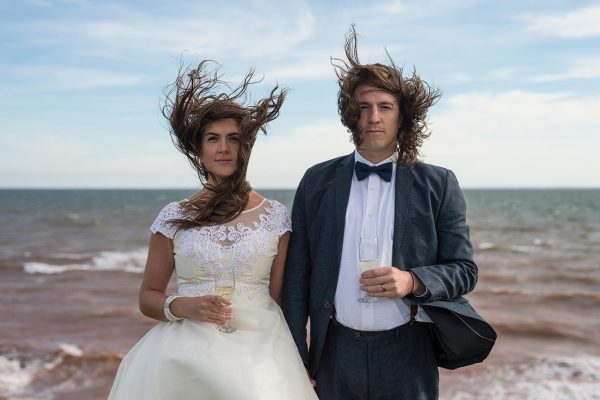 Post Production:
There wasn't much that had to be done to this photo afterwords! I had the right exposure, so I did the usual crop, sharpen, etc., and added our own little touch to it.
Thanks to Jeff for sharing the genius behind this windy couple portrait. If you have a photo that you'd like to see on the next Behind the Photo, please comment below!