Aaron and Whitney DuRall are the fun and inspiring creatives behind Aaron and Whitney Photography, an award-winning wedding photography studio based in Missouri. Known for images that are honest and filled with emotion, Aaron and Whitney are pros at capturing moments clearly and beautifully. We decided it was about time that we interview this dynamic duo, which is why they are here today to detail how they got into wedding photography, what makes them tick, and what advice they have for other wedding photographers looking to grow both creatively and professionally. So, sit back, relax, and enjoy getting to know one of our favorite photography teams!
If you could have a superpower, what would it be?
Our superpower would undoubtedly be the ability to control and extend/shorten time. Whether it's for an extra hour or two of sleep, an extra hour for portraits, or knocking an hour off of a commute, being able to speed up and slow down would be quite incredible. Next up would be the ability to reverse aging and unwanted beer bellies.
How do you like to spend your time when you aren't shooting weddings?
We are huge lovers of life. If we aren't out shooting a wedding or doing something wedding/photo related like editing, we are either at home cuddled up with our four cats binging on Netflix, in the kitchen whipping up an epic meal while listening to our favorite music (busting moves and dancing up a storm generally plays a part in this as well) (wine may or may not be involved) (that's a fib, wine is definitely involved), or we are busy getting lost with our cameras on the backroads of the Missouri and Arkansas Ozarks. We love food, visual stimulation (fancy way of saying couch potato-ing), and exploring.
What are looking forward to most right now?
Our PA/NYC roadtrip in August hands down. We trek off to Huntingdon, PA for what is sure to be an incredible wedding with a fascinating and brilliant couple. After that, we are off to Brooklyn for a week for a couple of different engagement sessions and general shenanigans. By shenanigans I mean exploring rooftops, taking photos, making friends, and eating delicious food that doesn't exist in Missouri.
What are your favorite wedding locations in your area?
Definitely Northwest Arkansas. Beautiful, beautiful area. It's like the closest thing you can get to Colorado in the Midwest. Huge rolling hills, superfluous pine trees, light for days, etc. We could shoot in various Arkansas locations every single week without ever getting tired of it.
What do you find to be the biggest challenge/most difficult part of being a wedding photographer?
Truthfully, and this might bug others, what we do isn't incredibly hard. I never understand why people make it out like it's more difficult than it is. What is hard is developing a unique and consistent style. Once you've found that, things get pretty easy because you're no longer searching for your voice. A defined style and great customer service/customer experience are why people hire you. As long as you're honest, accessible, and really care about what you do, this whole being a wedding photographer thing gets pretty dang easy. That's not to reduce what we and others do. It's just an honest assessment that as long as you care about what you're doing in this industry, it's not hard at all.
How did you get into wedding photography?
After we started shooting photos it was just the natural progression with the art. Friends needed photos here and there is how it began. Before we knew it, we had a business. Life is weird. Awesome. And weird.
Why photography? What draws you to it?
The allure of photography will always be real life. That is also the allure of shooting weddings. The ability to freeze moments in time and hold them forever (that is SO deep!) is about as cool as it gets. We like to call photos tangible memories because, to us, that is exactly what they are. Moment of truth: We'd be painters and stuff if we could do any better than emotionless stick figures. Alas, most people don't care to have stick figure renderings that document the big moments of their lives. Perhaps one day. And, if that day comes, we will blow that market wide open. Trust me, we are quite skilled in the stick figure department.
What three photographers do you admire or who has inspired you, either in the past or right now? (Please list their website urls, if possible.)
Our most influential photographers aren't even wedding shooters. You have big names like Mary Elen Mark, Sally Mann, and more. But today? Dude…We have to give it up to these three without question. I also hope this question makes it in the piece because everyone should know the work these three produce.
Jessica Lehrman: http://www.jessicalehrman.com/2442086-hip-hops-new-new-york#0
Josh Wool: http://www.joshwool.com/
Anthony Ryan Tripoli: http://www.thrashonistas.com/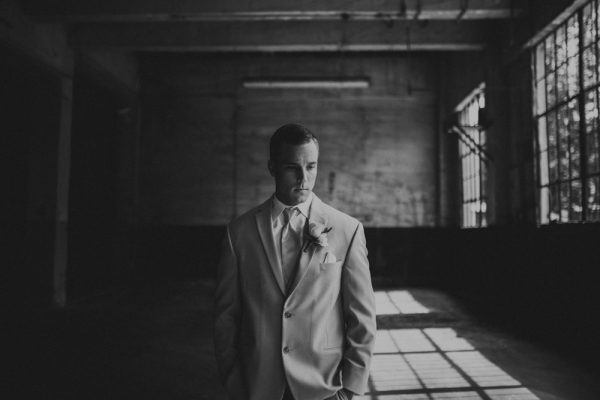 Any advice for couples who are looking for their perfect wedding photographer?
You need to connect with your photographer on a personal level. Awesome photos aren't made because of a certain camera, a certain lens, processing, whatever. Awesome photos are made because of the relationship between the artist(s) and the subject. It's that simple.
Do you have any advice for beginning photographers, wedding or otherwise?
Work your ass off. Discover yourself and what makes you tick. This will help you when it comes to finding and defining your personal style and aesthetic. Like I said, I don't believe this stuff is hard – The act of shooting weddings that is. It was everything that led up to this point that was difficult.
Thanks so much to Aaron and Whitney for their inspiring words and magnetic energy! To view more work from Aaron and Whitney Photography, check out their Junebug member portfolio!