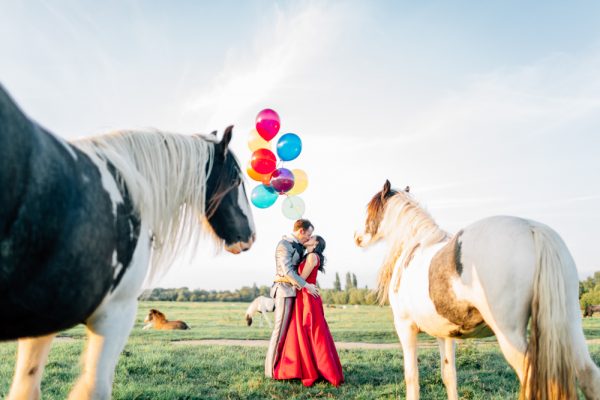 All Photos ©Jacob and Pauline Photography
We love when we get to work with photographers who can't imagine a job where they aren't photographing weddings. It's such a joy to see and their passion and happiness is totally contagious. That's why we're excited to share our spotlight interview with Jacob and Pauline Photography today. Adored by their clients, Jacob and Pauline are more than just great photographers, they're great at building relationships and staying true to their brand. Whether they're shooting a royal wedding in Qatar or photographing a more modest wedding back home, it's clear that Jacob and Pauline are truly passionate about what they do and how they do it. We hope you enjoy learning a little bit more about this dynamic duo and what they have to say about life, photography, and making your clients happy!
If you could have a superpower, what would it be?
We are fortunate enough to actually have a superpower! Our superpower is the ability to make happy memories live forever.
How do you like to spend your time when you aren't shooting weddings?
Pauline: I love crafts, I even have my own brand of jewellery. I also love yoga and running. It's so important for me to keep up physical activity, as shooting a wedding is quite a workout.
Jacob: I love riding bicycles. I play in a London bike polo league, it's a pretty cool sport and I usually come home covered in bruises. It's like ice hockey, but on bicycles! I also love my all-mountain bike, which I take free-riding in the mountains.
Describe your workspace/studio?
It's a calming white room, and we try to keep to a white colour scheme – we have two white tables, white chairs, a white bookshelf and a white orchid and wall year calendar. Simplicity is the key; we think that the simple, stark and bright design creates peace and clarity of mind, and makes the perfect space for creativity.
Have you always wanted to be a photographer? If not, when do you remember knowing?
Jacob: I always wanted to shoot TV commercials and music videos, which is why I originally studied at film school. Going into photography was an easy decision for me, as it was when I started dating Pauline and we shot our first wedding together.
Pauline: I wanted to be an artist or a graphic designer, until my Dad — who was also a wedding photographer – took me on as his assistant when he was shooting a wedding.
What's the worst job you've ever had?
Pauline: It would have to be working as a waitress at corporate events – it was the least creative job ever! I've had quite a lot of jobs; for example I have worked as a graphic designer, an art class teacher, and an interior designer. It has been great as these jobs gave me the opportunity to use my creativity and express my artistic ideas.
Jacob: For me, it was pretty much the same job — working in events back at university. The job was soul destroying!
Describe an average day for you.
Jacob: I have always hated waking up early in the morning, school days used to kill me! I take my time and wake up between 9 and 10 AM (I know – I'm so lazy!).
I usually start working straight away, reading through emails and spending time answering them. Pauline then cooks a lovely lunch, and we will usually do our editing and other photography related work up until 4 PM. After this, I will answer the rest of the emails from the day (a lot of emailing!) and we aim to finish at around 5 PM.
In the evening, we have dinner together and then Pauline will go for a run or to Yoga class, and I will either go to a bike polo match, or to the gym. We finish the day on our sofa, watching movies and looking for inspiration.
Who and what gives you ideas and inspiration?
Jacob: I still love movies even though I stopped studying at film school. Cinematography and photography are quite inter-linked for me – cinematography is almost like photographs taking flight – so we love watching movies which are visually stunning.
Pauline: I love fashion, travel and design. I love visiting art exhibitions or reading an inspiring magazine.
What is your favorite moment or tradition at weddings?
We love shooting couple portraits. This is the moment during the wedding day when we can usually be the most creative. As for tradition, we love it when the bride and groom read their personal vows to each other!
What are your favorite wedding locations in your area?
There is a beautiful street just around the corner from the Berkeley Hotel in Central London, which we love. The houses are stunning and the surroundings are perfectly white, making this the ideal spot for our style!
What are your favorite destination locations?
Our favourite destination is definitely Barbados! We will be going there to shoot a wedding this spring, and it is already our favourite! We can't wait to shoot there. We are also so looking forward to shooting in the Dordogne, as well as in Rome and in Santorini. We can't wait to find out where our next season will take us!
Where do you want to shoot next?
Weddings in London are so beautiful, but at the moment we're focused mainly on destination weddings as we love to shoot at locations that we have never shot before – it's always such an adventure.
How has witnessing so many weddings impacted your life/outlook?
Over the years we have realised that more than anything else, our job is a mission to capture the beautiful story and memories of the couples we shoot, and their love for one another.
How do you know you've done a great job for your wedding clients?
Pauline: Every wedding is actually a little competition between Jacob and I! We compete to see who will capture the best picture of the day. The feeling we get when we capture a beautiful picture of the couple, which they will show to their kids one day, is just indescribable. The best feedback is when the couple tells us that they had tears in their eyes whilst watching their slideshow! Nothing compares to this moment, it always makes us so happy.
What would you be doing if you weren't a wedding photographer?
Jacob: I have no idea! I have been so lucky that I met Pauline, and that I can shoot with her.
Pauline: Thanks to my Dad, I would probably be a wedding photographer anyway.
How did you get into wedding photography?
Jacob: As we mentioned earlier, it was when we started dating. Pauline's father was also a wedding photographer, and he set us up with our first wedding together. I had no idea what I was doing but Pauline had been helping her father since she was fifteen, so she guided me through it, and it went really well! We spent two more seasons in the Czech Republic, where we're both from, and when we had finished university, we decided to move to London and start our career here.
Why photography? What draws you to it?
Pauline: I always wanted to be an artist, but it takes so long to create a painting and this just wasn't the right thing for me as I like seeing the results of my work quickly! So I chose photography as I mistakenly thought that I would just push a button and the masterpiece would be complete. The reality is that we spend a lot of time editing, but we love this as we can make sure that our clients get the perfect photos.
What is your creative vision? What do you desire to express with your photos?
Aesthetics play a very important role in our photography. We aim to wrap the couple's unique story in romantic, beautiful, soft and gentle photographs.
Do you have a favorite camera or lens? Do you shoot digital or film or are you a hybrid-shooter?
We shoot digital, and Pauline's favourite lens is 50mm. She could shoot a whole wedding with just 50mm! For Jacob it's definitely 35mm, as it's a great lens for storytelling. We also love 85mm for our couple portraits.
Our favourite camera for our destination trips would have to be the Fujifilm XT-1 with a 50mm lens, we definitely feel that it's the best!
Describe your wedding photography style in less than 6 adjectives.
Our style is romantic, gentle, soft and timeless.
Which three photographers do you admire or who has inspired you, either in the past or right now?
Pauline really admires Jose Villa. For both of us, we would say Ed Peers, Fer Juaristi, Jonas Peterson.
Any advice for couples who are looking for their perfect wedding photographer?
You have to feel the connection with the photographer's work, and really fall in love with it. You should also feel sure that you want your memories to be captured in your chosen photographer's style. And, most importantly, never choose the photographer based only on budget or price.
Any advice for couples on how to look amazing and feel comfortable in their photographs?
Just be yourself! It really is that easy. You don't have to be a supermodel to be comfortable in your poses. We gently guide our couples at the beginning of the portrait session and soon after this we find that they will naturally relax. It's all about them, not us, so we do everything we can to make them comfortable. I would say, just relax and enjoy this time with your other half.
Do you have any advice for beginner photographers, wedding or otherwise?
Shoot a lot and learn from your mistakes. The truth is, we'll never stop improving our skills and capabilities; there's always so much you can do to ensure that you are the best you can be as a photographer. Also, be patient and don't give up- – they say that the first three years are the most difficult ones — so keep shooting, work hard and persevere.
What makes you give yourself a mental high five?
For us, it's when we achieve a truly great shot at a wedding. Another example might be when we have been booked for a destination wedding in a beautiful location. It makes us feel great that our hard work and our photography can make our dreams come true, and let us travel around the world together.
Favorite trick to capture images of reluctant subjects? (Kids, grandparents, nervous-in-front-of-the-camera-types)
Jacob is the best at this — he has this fantastic technique where he hides and shoots photos so the subject won't even know that they have been captured. Pauline tries to make a silent friendship with her smile first, this breaks down barriers and makes people feel more comfortable when it comes to having their picture taken.
Many thanks to Jacob and Pauline for sharing their words of wisdom with us and for being just downright awesome. If you want to see more of Jacob and Pauline's work, be sure to check out their Junebug member portfolio!