Have you found it difficult to promote your wedding videography business? If so, we've got some tried-and-true marketing tips for wedding videographers that will help you get more bookings and increase your online visibility this year.
To do this, we enlisted the help of four wedding filmmakers who know a thing or two about growing a videography business: Michael Toman of Story of Eve; Vanessa & Ivo; and Gione da Silva Images.
Ready to learn all the juicy tips about absolutely killing it on Instagram, Pinterest, your website, and even getting published as a videographer? Yes!? Keep reading for their top 12 marketing tips for wedding videographers!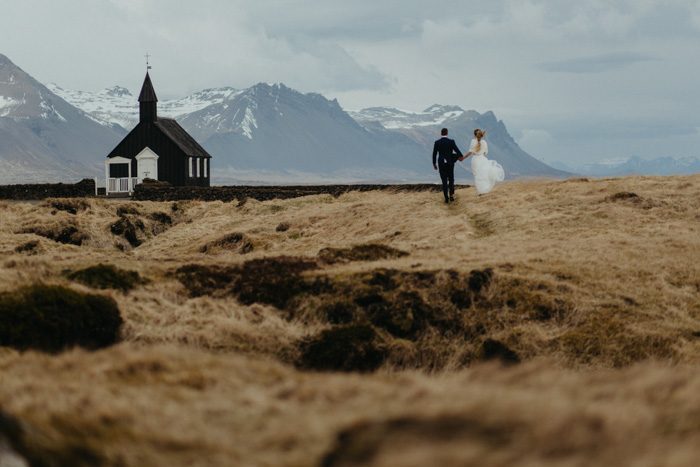 photo by Iskra Photography
Tips for Getting Published as a Wedding Videographer
Wedding publications can grow your reach by introducing your work to thousands of people, some of whom may choose to book you for their next wedding!
Before you start submitting though, consider this: most blogs don't accept video-only submissions. This makes it hard for videographers to get published by themselves, so you have to find a creative workaround.
1. The solution: Team up with a photographer, then submit a wedding story that includes video
Instead of trying to go it alone, Vanessa & Ivo started focusing on collaborative wedding submissions.
"It's easier to be published if we tag along with the photographers," they say. "So we try to team up with good photographers, choose the wedding blogs that respect wedding video, and coordinate the submission to include the video."
2. Submit the content wedding blogs want to see
Once you've formed your mighty submission duo, the next step is to be mindful of what wedding blogs want to publish. For that, Gione recommends two things: focus on storytelling and emotion, as well as wedding-day details. These could be decor, stationary, the ceremony location, or other details that will impress wedding planners.
When it's time for editors to choose submissions, Gione says their main goal is to inspire prospective brides; therefore, you can't wrong if you spend 20% of your time shooting details and coordinating with a photographer to tell a cohesive story.
"From a marketing perspective, it's about approaching blogs – the editors and art directors – introducing yourself, and offering to help," he says. "Offer to serve. This will get you in their mind and when an opportunity comes, such as features and interviews, you will be remembered."
3. Format your videos for the web
The next thing to consider is how you should present your wedding videos. It's a good idea to make sure they're the right length and that they come with an engaging description of why the wedding, event, or shoot was unique.
All of those things are important, of course, but pay special attention to video length. Editors are busy people and so is any blog's audience. Almost every online user has their attention divided between different headlines, images, and videos. To make sure your submission is considered, Michael (Story of Eve) says videographers should keep their videos short and sweet.
"If you're sending a 20-minute film, no one is going to have time to watch that," Michael says. "I try to submit a 15-second Instagram Story (portrait) video and a 30-60 second trailer. Most publications are focused on content that's driving social engagement so think short, inspiring, and mind-blowing."
If you need some inspiration, check out this beautiful castle wedding shot by Story of Eve:
This video is short, filled with emotion, details that inspire, and tells the story of a couple's love in an exciting way!
How to Get More Bookings from Your Website
Your videography website is important, so spend some time creating one that truly stands out. This one-stop-shop houses who you are, what you shoot, and how to book you.
If your site is out of date or just needs a complete overhaul, check out these Flothemes designs created specifically for videographers.
Once you have a good design template to build from, you're ready to share your films with the world. Use these three tips to create a website that encourages bookings and inquiries:
4. Make your videography website simple
The same website a videographer loves can be cumbersome for potential clients, Michael (Story of Eve) says. Most of them just want to view your work quickly, decide if you're a good fit, and contact you. Simplify those three tasks,  and you'll be ahead of the competition.
"I try to reinforce my four-tab philosophy, which describes a typical bride or groom searching for their vendors," Michael says. "They might have three to four tabs open at the same time with a different videographer on each tab. If the first video on your homepage is anything longer than 60 seconds, they've probably already clicked out of there! Make your site uncomplicated."
Go to the Story of Eve website, and you'll see that it's a continuous scroll. It flows from Michael's portfolio to his bio to his pricing sheet to his booking form. And most conveniently, all his videos are grouped together, as you can see below: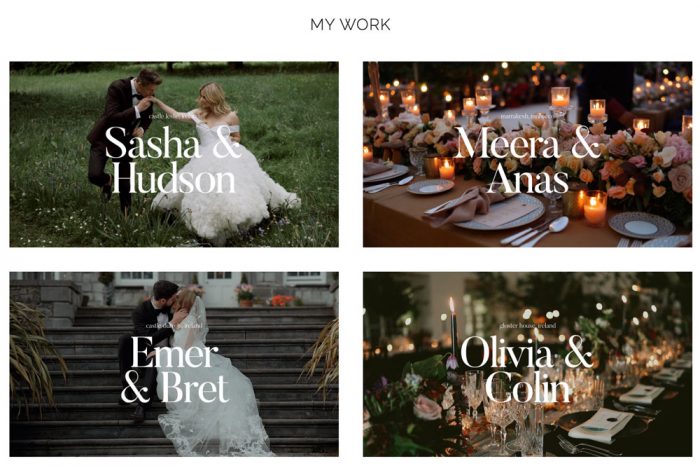 5. Sell an experience, not your services alone
Gione says the best way to get booked is to show people what you want to sell. That may sound simple, but it's a bit more involved than most people think. For one, listing your services won't encourage potential clients to book you. What you actually have to sell is your couple's love story, authentically documented, and forever preserved on film.
"Make them feel something," Gione says. "Create engaging content that will excite them and somehow transport them to that wedding."
It's also helpful to have your website copy mimic the way you speak, for warmth and authenticity, Gione says. Plus, videographers should make sure to have call-to-actions everywhere on their website, including clickable 'contact' buttons or links to a booking form.
6. Add some movement to your videography website
This one's pretty simple. As a videographer, potential clients need to see some form of movement on your website, and quickly. Vanessa & Ivo have mastered this useful strategy:
"Because we do videography, we try to make the best out of moving images," they say. "With that in mind, we chose a site design that plays videos on the background of the homepage, so clients feel our vibe and style."
Instagram Post Tips for Wedding Videographers
We can't talk about marketing tips for wedding videographers without mentioning the 'gram! Did you know that 87% of photographers acquire leads for their business through Instagram? With a focus on promoting imagery, Instagram is the perfect platform for both photographers and videographers to support each other and market their businesses.
As a videographer, Gione receives several inquiries via Instagram. Above all, he attributes this success to the quality of his videos.
7. Always Post Your Best, Most Unique Videos on Instagram
Here is Gione's philosophy on posting to Instagram as a videographer: "It is necessary to have solid work, as there is no point reaching an audience and not converting them [into paying customers]. I have found that posting something different and sometimes challenging, without offending, can often help to create engagement and really hone in on particular niches. I sometimes post abstract stuff, some non-standard photos, and videos with different editing styles."
Here's an example of an Instagram post that did well for Gione. At the time of writing, this experimental wedding video has almost 2,000 views. It's proof that posting unique content can help you market your wedding videography business:
View this post on Instagram
8. Optimize Your Instagram Posts for Maximum Reach
As you probably know, posting your videos to Instagram and then closing the app isn't the best way to promote your wedding videography business. To get the most out of the platform, follow these marketing tips for wedding videographers every time you post:
Tag the entire wedding team you worked with
Use the best hashtags to describe the video
Share one video at a time (due to short attention spans)
Use the right aspect ratio for your videos (4:5 works best on Instagram)
Elaborate on a couple's wedding story in your Instagram captions
Ask questions in your captions (to encourage answers via comments)
Ask your followers to do something meaningful (click your bio link, for example)
These are tried-and-true tips that both Vanessa & Ivo and Gione have tested, so rest assured: They really work! Check out this Instagram post from Vanessa & Ivo, where they saw increased engagement (over 1,000 views and nearly 100 comments) just by promoting the photographers they worked with, and vice-versa.
View this post on Instagram
As you can see, it not only helps to do some extra optimizing on Instagram but some extra networking as well.
Instagram Story Tips for Wedding Videographers
Michael (Story of Eve) says posting an Instagram Story is the best way to sell your videography services. While sales content may not be a good fit for your main feed, the same content feels natural on Instagram Stories. Best of all, Instagrammers with 10,000 followers have the option to add a swipe-up link (which could send viewers to your videography website).
Because Instagram Stories have become so popular in this industry – for selling videography packages, sharing testimonials, and revealing upcoming projects – Michael shoots with that Instagram feature in mind.
9. When you can, shoot in portrait mode to create better Instagram Stories
Shooting in portrait mode means that your videos won't be cropped afterward. If you're keen on using Instagram Stories, Michael says this method has three advantages:
You'll automatically create shots with the final output in mind
The framing and composition of your visuals will look better on Instagram Stories
Tall video is king right now, so your portrait-mode films will mesh with other platforms
10. On Instagram Stories, it's all about the 'power of tease.'
Another thing to keep in mind about Instagram Stories is their 'preview power.' When you want to market your wedding videography business using this feature, Gione says videographers should follow the ancient rule of storytelling: Show, don't tell.
"Every time you have a new film, make sure to create an Instagram feed and Stories version," he says. "With that, you create engagement and interest by posting teasers. Tease it on your Instagram story with that awesome 15-second video – just the most compelling material. Invite viewers to check your feed for the 60-second version, offering a bit more substance with a big call to action: 'Check out the full highlights on our IGTV!' And that again needs to be awesome. End with a bigger call to action, such as, 'Visit our website to read more about it,' and share the full blog post or a link to your website portfolio."
Here's an example of one of Gione's Instagram Stories. It's brief, captivating, and makes the viewer want to see the couple's full love story!
Pinterest Tips for Wedding Videographers
While Instagram brings more bookings to Story of Eve, Michael says Pinterest drives more traffic to his website than any other source – including publication features, Instagram, Facebook, or paid advertising. But the benefits of Pinterest don't stop there; for videographers, Michael says it's the place to be to market your work.
"Video has exploded on Pinterest over the past year," Michael says. "When Pinterest introduced videos playing in real-time in the feed, the nature of the Pinterest user interface experience is that users are seeing multiple Pins at the same time on their screen. Visuals that have movement are going to grab your attention more."
Because of all that, Michael has some suggestions to market your wedding videography business on Pinterest:
11. Create pins that communicate a sense of place, humanity, and a strong color palette.
For these, it's best if we just show you what Michael means. Below, you'll find some examples of his amazing Pins:
12. Post single, moving images to Pinterest
Michael says this method, which gives the illusion of moving photographs, yields amazing results on his Pinterest. Check out some examples below:

Michael says the important thing to remember is that couples just want some inspiration to plan their wedding. Videographers can achieve this by shooting the stuff that matters to them: tablescapes, reception rooms, cake decor, dress design, etc.

Big thanks to Michael Toman of Story of Eve; Vanessa & Ivo; and Gione de Silva Images for sharing their tried-and-true marketing tips for wedding videographers!

Now that you know how to promote your work on Instagram, Pinterest, and your website, it's time to start creating! Use these helpful marketing tips for wedding videographers to get more bookings and grow your business.